ZigZag Basecamp
Rhododendron, Oregon 3 Bedrooms Vacation Rental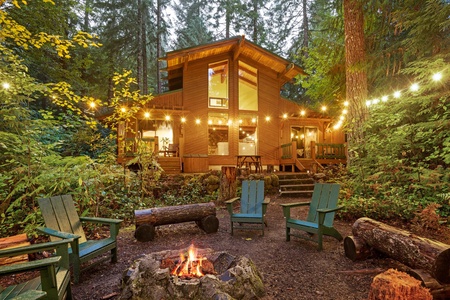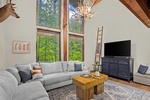 Show All Photos
Unit Photos
Step inside the well-appointed cabin, a seamless blend of antique aesthetics and modern comfort welcomes you.

The narrative of comfort continues in the sunken couch area, where a classic wood-burning fireplace sits ready to serenade your evenings with a warm crackle, casting a soft glow on the antique furnishings.

The interiors tell tales of timeless charm with vintage hunting trophies adorning the walls, while modern amenities promise a convenient stay.

Indulge in the rustic charm of the dining area, where every meal becomes a gathering worth cherishing.

Soak in the private hot tub, tucked discreetly for a serene outdoor experience.

The newly redesigned space morphs into a rustic lodge of luxury where every corner resonates with coziness.

The narrative of comfort continues in the sunken couch area, where a classic wood-burning fireplace sits ready to serenade your evenings with a warm crackle, casting a soft glow on the antique furnishings.

The theater room, a cocoon of entertainment waiting to host your favorite movies, providing a cinematic escape amidst the woods.

Enjoy a movie night in the cozy theatre room, complete with a popcorn set for that authentic cinema experience.

The newly redesigned space morphs into a rustic lodge of luxury where every corner resonates with coziness.

With vintage hunting trophies adorning the walls.

Get warm by the fireplace

The heart of ZigZag Basecamp, the kitchen, stands fully stocked awaiting your culinary adventures.

Whisk up a hearty meal.

Coffee corner for coffee lovers!

Indulge in luxury in the primary suite with direct access to a private hot tub, perfect for unwinding under the stars.

Cozy primary with a king bed

Complete with a smart TV

With ensuite bathroom and a wide vanity

The family suite comes with a double bed and a twin bunk beds

Double for mom and dad.

Twin bunk bed is perfect for the little ones.

The family suite comes with a double bed and a twin bunk beds

The guest suite with a full-sized bed, cozy with natural lighting

Common bathroom with an enclosed shower.

Common bathroom with wide vanity space

Whisk up a hearty meal and take it outside to the private patio, where a gas grill sits amidst new, comfortable patio furniture, inviting for a BBQ under the canopy of stars.

Embrace the calm as twilight descends, gathering around the outdoor firepit for an evening filled with stories and laughter.

Gather 'round the firepit for a memorable night.

The patio with a gas grill.

Ideally located, and embracing the serene, rustic charm, ZigZag Basecamp is not just a cabin; it's your gateway to a sanctuary where nature, adventure, and tranquility dance in a beautiful rhythm.

Ample outdoor furniture

The patio with a gas grill.

Gather 'round the firepit for memorable conversations and shared moments.

Welcome home!!

Twilight at the patio

Ideally located, and embracing the serene, rustic charm, ZigZag Basecamp is not just a cabin; it's your gateway to a sanctuary where nature, adventure, and tranquility dance in a beautiful rhythm.

Welcome home!!

Starry starry night filled with fairy lights.

Welcome home!!

Starry starry night filled with fairy lights.

Ideally located, and embracing the serene, rustic charm, ZigZag Basecamp is not just a cabin; it's your gateway to a sanctuary where nature, adventure, and tranquility dance in a beautiful rhythm.

Floor Plan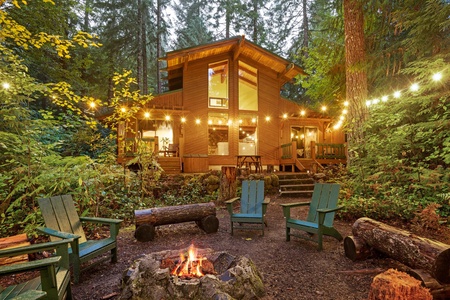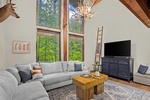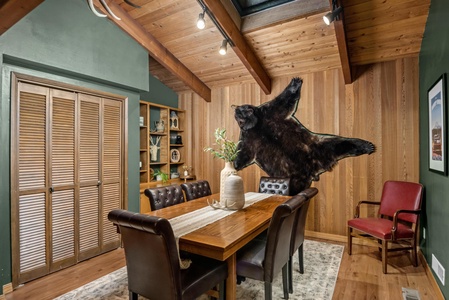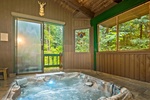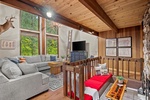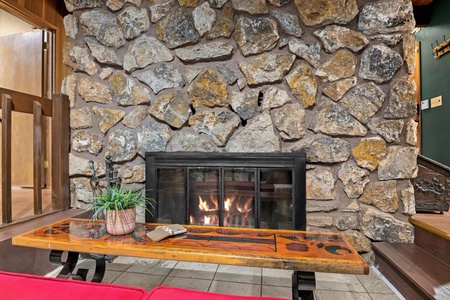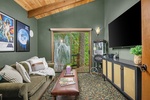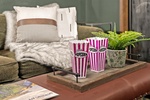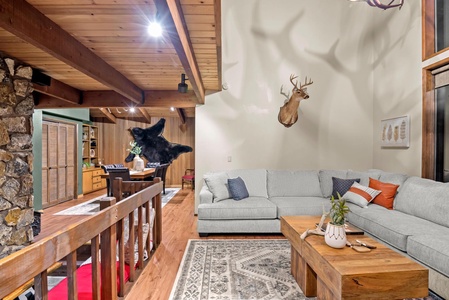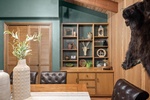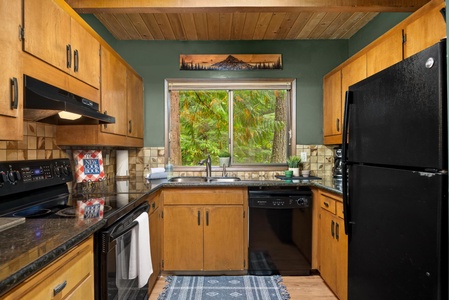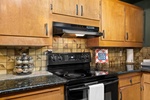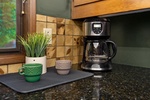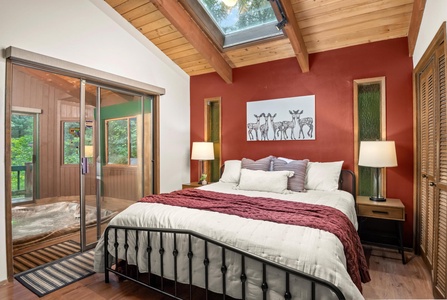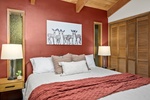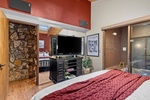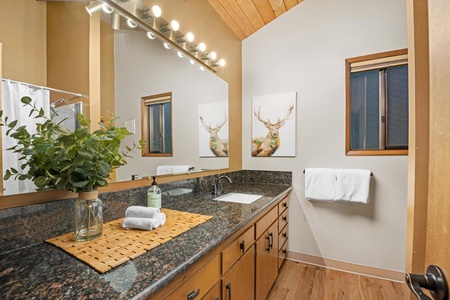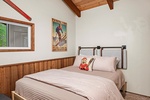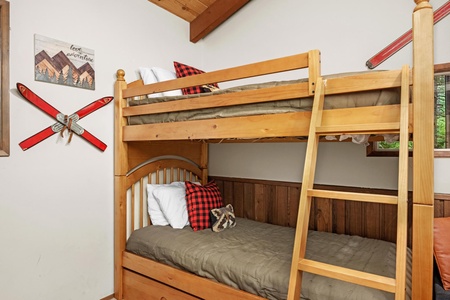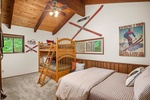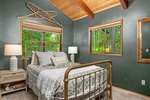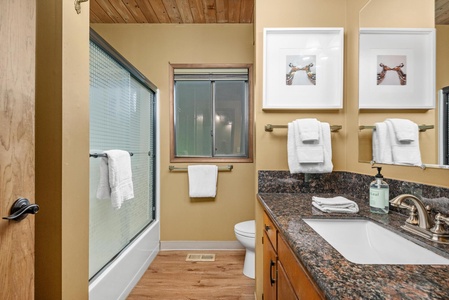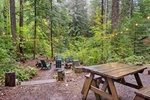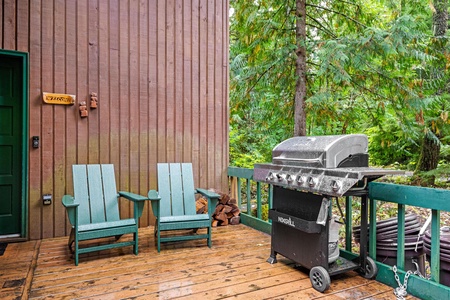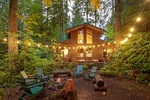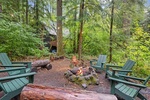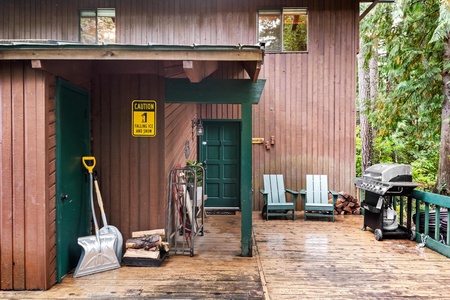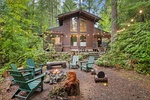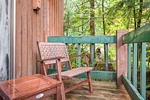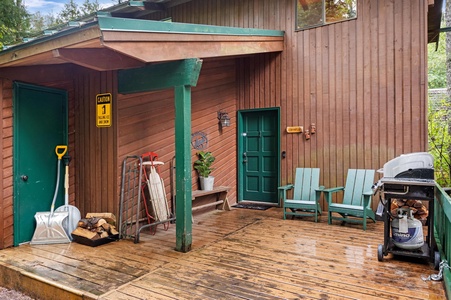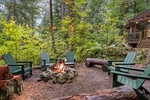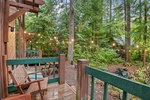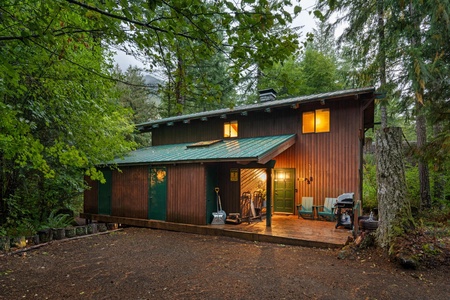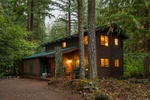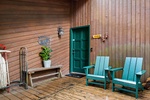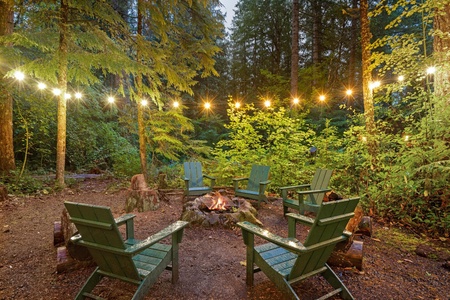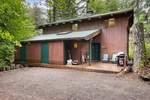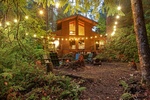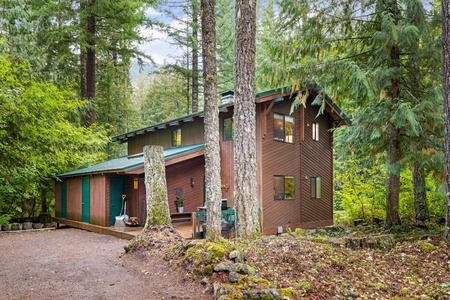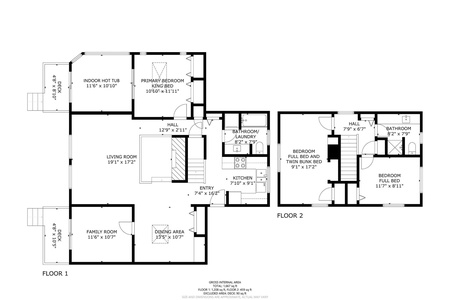 Rooms
rooms
Bedroom # 1

Primary Bedroom

1 King

Bedroom # 2

Guest Bedroom 2

1 Queen

Bedroom # 3

Guest Bedroom 3

1 Queen, 1 Bunk Bed,

Common

Additional Sleeping
---
---
Description
Amidst a verdant embrace, where the whispers of nature echo through towering trees, awaits the ZigZag Basecamp by Gather, your rustic haven nestled at the base of majestic Mt. Hood. Engulfed in a landscape woven with endless trails and rippling rivers, this cabin is a door to Oregon's pristine wilderness.

Upon arrival, as you step inside the well-appointed cabin, a seamless blend of antique aesthetics and modern comfort welcomes you. The interiors tell tales of timeless charm with vintage hunting trophies adorning the walls, while modern amenities promise a convenient stay. The newly redesigned space morphs into a rustic lodge of luxury where every corner resonates with coziness.

Meander through the cabin to discover a quaint theater room, a cocoon of entertainment waiting to host your favorite movies, providing a cinematic escape amidst the woods. The narrative of comfort continues in the sunken couch area, where a classic wood-burning fireplace sits ready to serenade your evenings with a warm crackle, casting a soft glow on the antique furnishings.

The heart of ZigZag Basecamp, the kitchen, stands fully stocked awaiting your culinary adventures. Whisk up a hearty meal and take it outside to the private patio, where a gas grill sits amidst new, comfortable patio furniture, inviting for a BBQ under the canopy of stars.

Each season unfolds a different chapter of beauty at ZigZag Basecamp. Come winter, the outdoor firepit becomes a hub of warmth and camaraderie, whereas in summer, respecting the mountain's well-being, the cabin adheres to the fire ban ensuring a harmonious stay with nature.

Your relaxing retreat is incomplete without a soothing soak in the private hot tub, tucked discreetly for a serene outdoor experience. Let the warm bubbles massage away the fatigue of the adventurous days spent exploring the trails leading to the Sandy River or challenging yourself on the tennis and basketball courts of the nearby community center.

With nature's bounty at your doorstep, every day here is an invitation to explore. The local coffee at Mtn. High Coffee will energize your mornings before you set off to discover the myriad trails for hiking or biking. Ski enthusiasts will find their paradise just a short drive away at Mt. Hood Ski Bowl and Timberline Lodge. For those with a passion for golf, The Courses beckon with a promise of a serene golfing experience amidst nature's backdrop.

Ideally located, and embracing the serene, rustic charm, ZigZag Basecamp is not just a cabin; it's your gateway to a sanctuary where nature, adventure, and tranquility dance in a beautiful rhythm. Whether you are here to challenge the slopes, explore the trails, or simply to breathe in the serenity of the mountains, the cabin awaits to wrap you in its warm, rustic embrace. Each dawn brings with it new adventures, and each dusk beckons a comforting retreat into your cozy abode. Your mountain escapade at ZigZag Basecamp, embroidered with nature's serenity and cabin comfort, is bound to etch memories of a lifetime.

Please note that pets will be considered on a case by case basis. If you would like to travel to this home with your pet, please reach out to us!

Additionally, please note that cell phone service is very limited in this area. Difficulty has been reported with certain carriers including AT&T. In cases where cell service is limited, the best option is to try WiFi calling/ connection.
Room
Beds
---
No AC
---
Guest Bedroom 2
Queen (1)
No AC
---
Guest Bedroom 3
Queen (1)Bunk Bed (1)
Twin-over-Twin Bunk No AC
---
image
---
image
---
Air Mattress Available
Kitchen and Dining
Dining Area
Kitchen Basics
Kitchen
Refrigerator
Coffee Maker
Microwave
Dishwasher
Dishes Utensils
Stove
Toaster
Oven
BBQ
Freezer
Kettle
Coffee Grinder
Disposal
Coffee Filter
Accommodations
House Cleaning Optional ($)
Other Services Chauffeur ($)
Other Services Concierge ($)
Other Services Private Chef ($)
Other Services Massage ($)
Amenities
Essentials
Shampoo
Dryer
Washer
Hair Dryer
Linens
Iron
Parking space
Private Entrance
Smartlock
Keypad
Extra Pillows And Blankets
Wifi/Internet
High Chair
Pack and Play
Ski storage
Fire pit
Snow shovel
Cleanliness
Self Check In / Check Out
Safety Features
Carbon Monoxide Detector
First Aid Kit
Fire Extinguisher
Smoke Detector
Deadbolt Lock
Outdoor Lighting
Suitability
Children Welcome
Pets Considered
Smoking Not Allowed
Minimum Age Limit
Free Parking
Fireplace
Snow Removal Provided
Heating
Bath Tub
Long Term Stays Allowed
Firewood Provided
Hot Water
Entertainment
Television
Laptop Friendly
Smart TV
Home theater / Theater room
Pool/Spa
Community Pool
Indoor hot tub
Outdoor Amenities
Private yard
Outdoor seating
Nearby Activities
Snowboarding/Skiing
Hiking
Fishing
Horseback riding
Golfing
Watersports
Cycling
Tennis
Emergency
Emergency Medical Contact
Emergency Police Contact
Emergency Fire Contact
November 2023
| S | M | T | W | T | F | S |
| --- | --- | --- | --- | --- | --- | --- |
| | | | 01 | 02 | 03 | 04 |
| 05 | 06 | 07 | 08 | 09 | 10 | 11 |
| 12 | 13 | 14 | 15 | 16 | 17 | 18 |
| 19 | 20 | 21 | 22 | 23 | 24 | 25 |
| 26 | 27 | 28 | 29 | 30 | | |
December 2023
S
M
T
W
T
F
S
01

$241

02

$241

03

$241

04

$241

05

$241

06

$241

07
08
09
10

$193

11

$193

12

$219

13

$219

14

$249

15

$291

16

$293

17

$263

18

$279

19

$249

20

$265

21

$269

22

$259

23
24
25
26
27
28
29
30
31
January 2024
S
M
T
W
T
F
S
01

$277

02

$185

03

$185

04

$237

05

$360

06

$311

07

$303

08

$279

09

$279

10

$279

11

$283

12

$328

13

$310

14

$398

15

$320

16

$299

17

$299

18

$299

19

$348

20

$331

21

$374

22

$299

23

$299

24

$299

25

$299

26

$333

27

$345

28

$299

29

$299

30

$299

31

$299
February 2024
S
M
T
W
T
F
S
01

$221

02

$305

03

$305

04

$273

05

$189

06

$185

07

$185

08

$227

09

$304

10

$287

11

$246

12

$201

13

$192

14

$194

15

$259

16

$331

17

$334

18

$347

19

$393

20

$339

21

$311

22

$333

23

$299

24

$306

25

$326

26

$246

27

$239

28

$238

29

$299
March 2024
S
M
T
W
T
F
S
01

$295

02

$307

03

$231

04

$219

05

$207

06

$205

07

$210

08

$219

09

$226

10

$257

11

$244

12

$224

13

$230

14

$296

15

$288

16

$304

17

$267

18

$200

19

$220

20

$224

21

$237

22

$221

23

$234

24

$201

25

$235

26

$209

27

$222

28

$221

29

$263

30

$282

31

$240
April 2024
S
M
T
W
T
F
S
01

$252

02

$221

03

$230

04

$265

05

$399

06

$420

07

$287

08

$227

09

$216

10

$217

11

$261

12

$383

13

$396

14

$281

15

$221

16

$204

17

$207

18

$262

19

$367

20

$378

21

$270

22

$213

23

$204

24

$207

25

$263

26

$363

27

$383

28

$271

29

$213

30

$204
May 2024
S
M
T
W
T
F
S
01

$204

02

$219

03

$299

04

$319

05

$224

06

$204

07

$204

08

$204

09

$221

10

$304

11

$323

12

$231

13

$204

14

$204

15

$204

16

$226

17

$315

18

$327

19

$240

20

$204

21

$204

22

$204

23

$232

24

$433

25

$442

26

$388

27

$339

28

$213

29

$213

30

$242

31

$331
June 2024
S
M
T
W
T
F
S
01

$344

02

$278

03

$236

04

$235

05

$239

06

$268

07

$352

08

$367

09

$301

10

$271

11

$277

12

$282

13

$306

14

$392

15

$406

16

$336

17

$304

18

$317

19

$319

20

$336

21

$452

22

$477

23

$431

24

$368

25

$317

26

$324

27

$340

28

$427

29

$426

30

$346
July 2024
S
M
T
W
T
F
S
01

$363

02

$368

03

$375

04

$465

05

$509

06

$473

07

$399

08

$331

09

$332

10

$337

11

$371

12

$440

13

$557

14

$420

15

$334

16

$330

17

$334

18

$373

19

$442

20

$438

21

$377

22

$339

23

$338

24

$343

25

$383

26

$457

27

$451

28

$380

29

$339

30

$337

31

$340
August 2024
S
M
T
W
T
F
S
01

$541

02

$631

03

$508

04

$376

05

$336

06

$332

07

$335

08

$375

09

$453

10

$460

11

$377

12

$336

13

$324

14

$322

15

$360

16

$482

17

$518

18

$424

19

$359

20

$350

21

$363

22

$416

23

$423

24

$437

25

$351

26

$314

27

$297

28

$298

29

$315

30

$554

31

$561
September 2024
S
M
T
W
T
F
S
01

$472

02

$432

03

$273

04

$273

05

$286

06

$388

07

$392

08

$297

09

$328

10

$312

11

$304

12

$312

13

$417

14

$375

15

$268

16

$232

17

$221

18

$232

19

$255

20

$366

21

$358

22

$252

23

$219

24

$213

25

$219

26

$248

27

$362

28

$360

29

$252

30

$220
October 2024
S
M
T
W
T
F
S
01

$213

02

$217

03

$246

04

$360

05

$365

06

$258

07

$215

08

$213

09

$213

10

$232

11

$343

12

$375

13

$276

14

$229

15

$213

16

$213

17

$231

18

$348

19

$346

20

$253

21

$213

22

$213

23

$213

24

$270

25

$436

26

$329

27

$246

28

$213

29

$213

30

$213

31

$229
Available
Unavailable
Check-In Only
Check-Out Only
Please select dates
+ tax/fees