Villa Capricho
Fairfield, California 7 Bedrooms Vacation Rental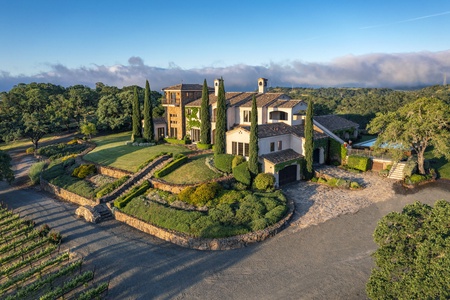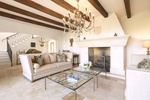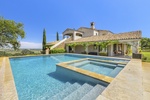 Show All Photos
Unit Photos
Welcome to Villa Capricho, a luxurious vacation home located in the heart of California's wine country

Step inside Villa Capricho and you'll be transported to a world of luxury and elegance

The estate grounds are meticulously manicured and cared for with gorgeous outdoor areas.

The formal living room offers comfortable seating and breathtaking views of the vineyards

Lounge under your private patio enjoying the country view

The double-gated entrance and private road provide the utmost sense of privacy and seclusion while its beautiful landscaping and olive grove create a tranquil setting for guests to unwind and enjoy the natural beauty of the area

The home's Tuscan-inspired architecture can be felt throughout, with beautiful art and high-end furnishings creating a warm and inviting atmosphere

Guests can sit at the breakfast bar, dine in the breakfast nook, or opt for a more formal dining experience in the elegant dining room

The gourmet kitchen is a chef's dream, with high-end appliances and ample counter space to create a stunning farm-to-table meal

Breakfast Table with views of the backyard and pool.

The family room is the heart of the home, centered between the kitchen, living and dining rooms.

Play chess, watch the ball game or cozy up by the fire in the comfortably appointed family room.

Open the French doors in the family room to access the spacious patio, where you can soak up the California sunshine while sipping on your favorite Suisun Valley wine

The living area and family room offer comfortable seating and breathtaking views of the vineyards

Spacious covered patio off the family room and kitchen offers amply outdoor dining and lounging.

Gorgeous lawn and expansive views from the large covered backyard patio

Entrance and Dining Room

Surrounded by luxurious tapestries and with a gorgeous view of the outdoors, the dining area provides a truly unforgettable experience

Formal Dining room

Entrance and Living Room

An antique harpsichord is one of the many delightful and interesting decor pieces.

The main estate home boasts a total of five spacious and beautifully decorated bedrooms, each with its own unique charm

The first bedroom on the right, located on the second floor, is the primary suite and features a king bed, luxurious furnishings, and absolutely breathtaking views of the vineyards

Ensuite bath with walk-in shower

Guest Bedroom with King Bed

Ensuite bathroom with walk-in shower

The estate home offers expansive patios and decks with stunning views on both floors

Stunning views from an Upstairs Patio

Guest bedroom with queen bed

Ensuite Guest bathroom with walk-in shower

Guest Bedroom with King Bed

Ensuite bathroom with walk-in shower

Downstairs Guest Bedroom with Queen Bed, gorgeous views and access to front yard garden

Ensuite bathroom to downstairs bedroom with walk-in shower

Front yard with beautiful landscaping and flower garden

Villa Capricho also features a game room complete with a game console, foosball table, and billiards table

Ensuite bathroom in Game Room with walk-in shower

The Tower with 390-degree California wine country views

Views from the Tower Balcony looking over Suisun Valley

Guests can take a leisurely stroll through the private vineyards or relax by the fishing pond

This expansive 25-acre estate is part of a gated community and sits on a private vineyard, overlooking Suisun Valley

The double-gated entrance and private road provide the utmost sense of privacy and seclusion while its beautiful landscaping and olive grove create a tranquil setting for guests to unwind and enjoy the natural beauty of the area

Private Pool and Jacuzzi

Surrounding the pool and jacuzzi is a pickle ball court, a bocce ball court, a large outdoor shower, cricket, horseshoes, stone seating, a BBQ, and more

Aerial view of the Villa's backyard

The grounds include a private Chapel

A 2-bedroom Guest House, equally beautiful, sits above the winery just a short walk away

Quaint, elegant, and private, the Guest House is perfect as an in-law suite, nanny's quarters, or for any Guest seeking a private space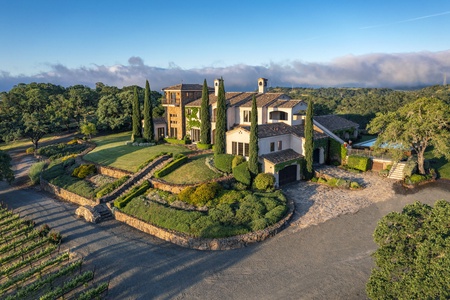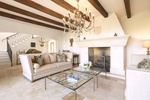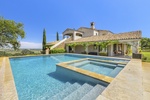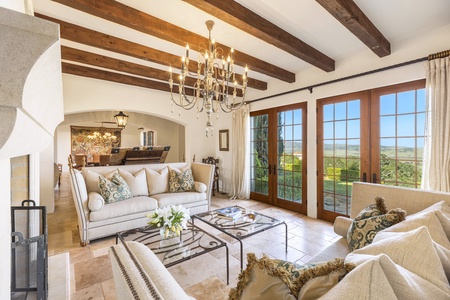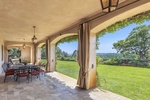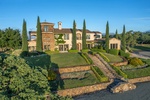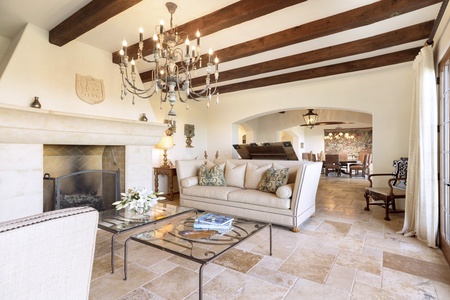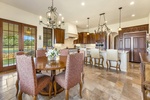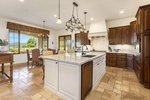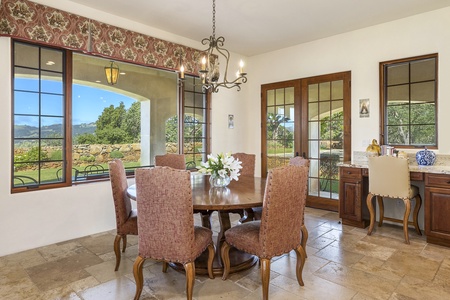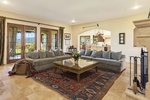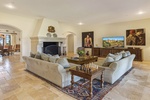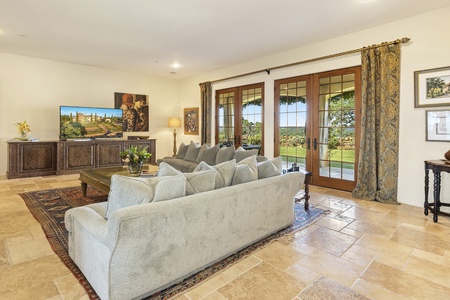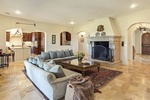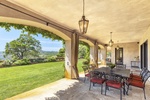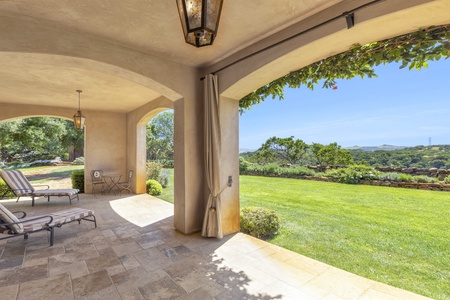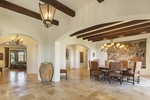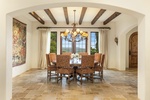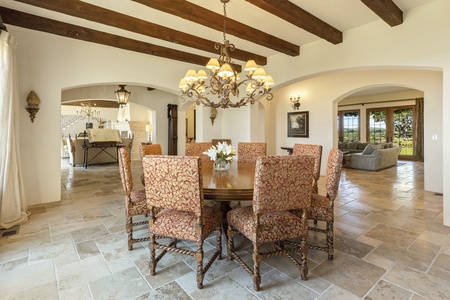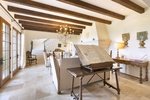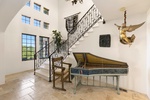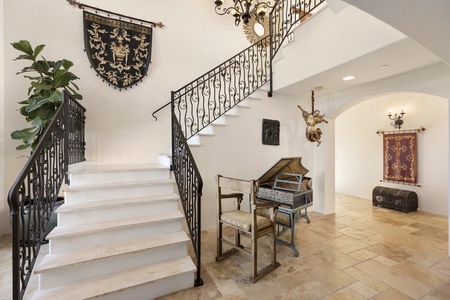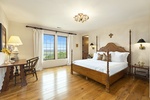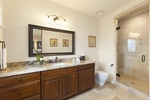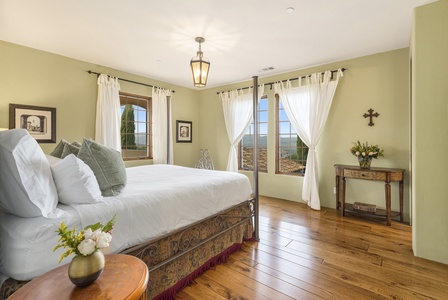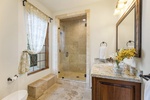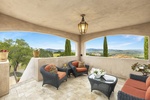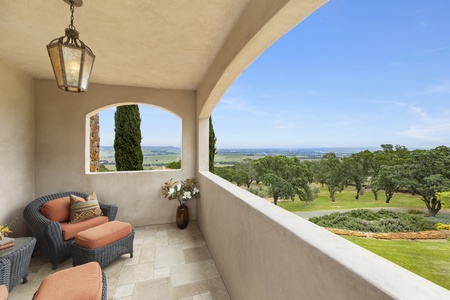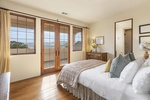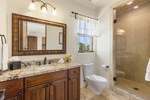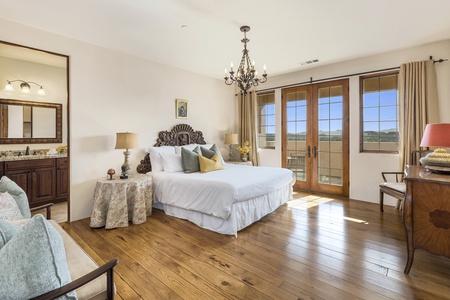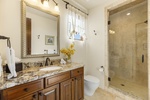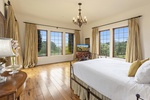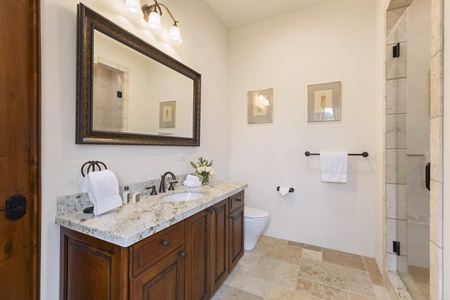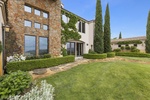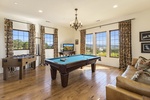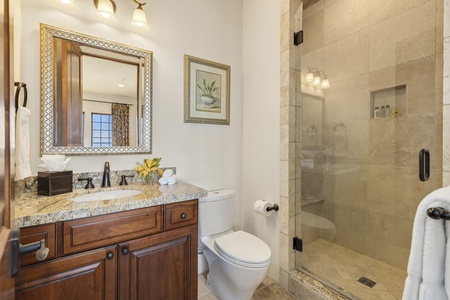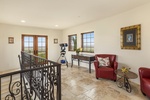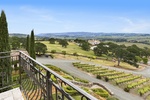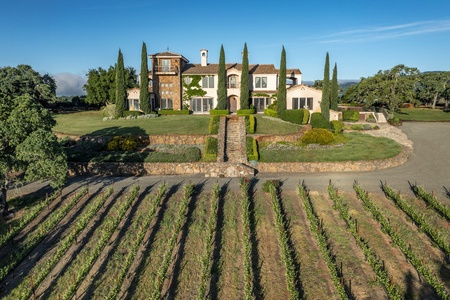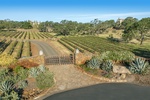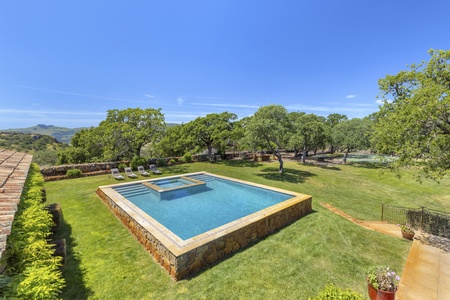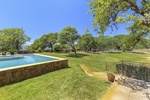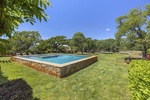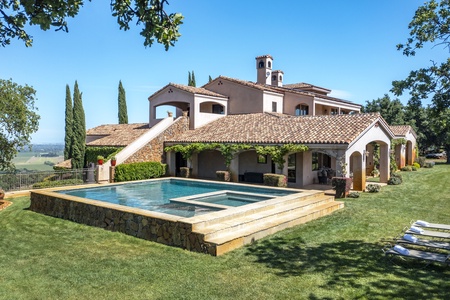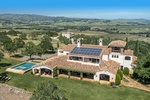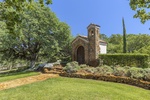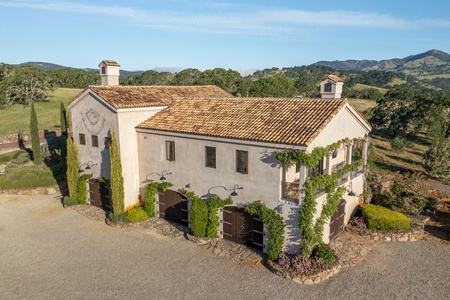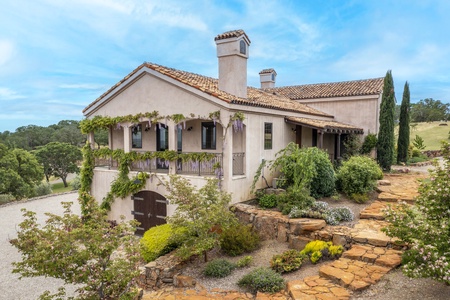 Rooms
rooms
Bedroom # 1

Primary Bedroom

1 King

Bedroom # 2

Guest Bedroom 2

1 King

Bedroom # 3

Guest Bedroom 3

1 King

Bedroom # 4

Guest Bedroom 4

1 Queen

Bedroom # 5

Guest Bedroom 5

1 Queen

Bedroom # 6

Guest Bedroom 6

1 King

Bedroom # 7

Guest Bedroom 7

1 Queen
---
---
Description
Welcome to Villa Capricho, a luxurious vacation home located in the heart of California's wine country. This expansive 25-acre estate is part of a gated community and sits on a private vineyard, overlooking Suisun Valley. Just 15 miles east of Napa, Villa Capricho offers stunning 360-degree views of the surrounding countryside. The double-gated entrance and private road provide the utmost sense of privacy and seclusion while its beautiful landscaping and olive grove create a tranquil setting for guests to unwind and enjoy the natural beauty of the area.

Step inside Villa Capricho and you'll be transported to a world of luxury and elegance. The home's Tuscan-inspired architecture can be felt throughout, with beautiful art and high-end furnishings creating a warm and inviting atmosphere. The living area and family room offer comfortable seating and breathtaking views of the vineyards. Open the French doors in the living area to access the spacious patio, where you can soak up the California sunshine while sipping on your favorite Suisun Valley wine.

The gourmet kitchen is a chef's dream, with high-end appliances and ample counter space to create a stunning farm-to-table meal. Guests can sit at the breakfast bar, dine in the breakfast nook, or opt for a more formal dining experience in the elegant dining room. Surrounded by luxurious tapestries and with a gorgeous view of the outdoors, the dining area provides a truly unforgettable experience.

The main estate home boasts a total of five spacious and beautifully decorated bedrooms, each with its own unique charm. The first-floor guest suite features an ensuite bath, beautiful garden views, and direct access to the front lawn. Upstairs, guests will find four additional suites, each offering stunning views and an ensuite bath. The first bedroom on the right, located on the second floor, is the primary suite and features a king bed, luxurious furnishings, and absolutely breathtaking views of the vineyards.
The estate home offers expansive patios and decks with stunning views on both floors. Surrounding the pool and jacuzzi is a pickle ball court, a bocce ball court, a large outdoor shower, cricket, horseshoes, stone seating, a BBQ, and more. Guests can take a leisurely stroll through the private vineyards or relax by the fishing pond. Villa Capricho also features a game room complete with a game console, foosball table, and billiards table. The Tower room is a must-visit, with 360-degree views, perfect for stargazing in the California wine country.
That's not all! A 2-bedroom Guest House, equally beautiful, sits above the winery just a short walk away. Hanging wisteria frames the expansive wine country views overlooking Suisun Valley. Quaint, elegant, and private, the Guest House is perfect as an in-law suite, nanny's quarters, or for any Guest seeking a private space.
For those who want to explore the local area, Suisun Valley is the new wine country hot spot. Emerging as the new Napa, Suisun Valley is trendy and modern with exceptional wine tours and tastings at local vintners and farm-to-table meals made with sustainable produce and meats from local farms.

Villa Capricho is the epitome of a true California wine country vacation home. With its convenient location, luxurious amenities, and stunning views, this estate offers guests the perfect place to relax, unwind, and experience the beauty of the area. Whether you're looking for a romantic getaway or corporate retreat, Villa Capricho has something for everyone in a perfect setting to gather and make unforgettable memories.

This villa is great for stays but unable to accommodate any sort of event at the property or its grounds.
Room
Beds
---
Ensuite Bathroom, Central A/C
---
Ensuite Bathroom, Central A/C
---
Ensuite Bathroom, Central A/C
---
Guest Bedroom 4
Queen (1)
Ensuite Bathroom, Central A/C
---
Guest Bedroom 5
Queen (1)
Ensuite Bathroom, Central A/C
---
Ensuite Bathroom, Central A/C
---
Guest Bedroom 7
Queen (1)
Ensuite Bathroom, Central A/C
---
image
---
image
---
image
---
image
---
image
---
image
---
image
Kitchen and Dining
Dining Area
Kitchen Basics
Kitchen
Refrigerator
Coffee Maker
Microwave
Dishwasher
Dishes Utensils
Stove
Toaster
Oven
BBQ
Freezer
Kettle
Ice Machine
Disposal
Accommodations
House Cleaning Optional ($)
Other Services Chauffeur ($)
Other Services Concierge ($)
Other Services Private Chef ($)
Other Services Massage ($)
Amenities
Essentials
Shampoo
Dryer
Washer
Hair Dryer
Linens
Iron
Parking space
Private Entrance
Wifi/Internet
Emergency
Emergency Medical Contact
Emergency Police Contact
Emergency Fire Contact
Safety Features
Carbon Monoxide Detector
First Aid Kit
Fire Extinguisher
Smoke Detector
Deadbolt Lock
Outdoor Lighting
Suitability
Pets Not Allowed
Smoking Not Allowed
Minimum Age Limit
Free Parking
Fireplace
Suitable for Elderly
Air Conditioning
Firewood Provided
Heating
Hot Water
Entertainment
Television
Stereo
Pool Table
DVD
Satellite or Cable TV
Laptop Friendly
Location/Property Types
Mountain
Rural
Mountain View
Garden View
Popular Town
Private Gated Community
Private / Secluded
November 2023
| S | M | T | W | T | F | S |
| --- | --- | --- | --- | --- | --- | --- |
| | | | 01 | 02 | 03 | 04 |
| 05 | 06 | 07 | 08 | 09 | 10 | 11 |
| 12 | 13 | 14 | 15 | 16 | 17 | 18 |
| 19 | 20 | 21 | 22 | 23 | 24 | 25 |
| 26 | 27 | 28 | 29 | 30 | | |
December 2023
S
M
T
W
T
F
S
01

$2,000

02

$2,000

03

$2,000

04

$2,000

05

$2,000

06

$2,000

07

$2,000

08

$2,000

09

$2,000

10

$2,000

11

$2,000

12

$2,000

13

$2,000

14

$2,000

15

$2,054

16

$2,099

17

$2,000

18

$2,000

19

$2,000

20

$2,035

21

$2,201

22

$2,079

23

$2,183

24

$2,205

25

$2,381

26

$2,174

27

$2,069

28

$2,165

29

$2,269

30

$2,278

31

$2,247
January 2024
S
M
T
W
T
F
S
01

$2,225

02

$2,172

03

$2,113

04

$2,115

05

$2,000

06

$2,052

07

$2,000

08

$2,000

09

$2,000

10

$2,000

11

$2,229

12

$2,250

13

$2,297

14

$2,189

15

$2,063

16

$2,000

17

$2,000

18

$2,000

19

$2,000

20

$2,008

21

$2,000

22

$2,000

23

$2,000

24

$2,000

25

$2,000

26

$2,000

27

$2,016

28

$2,000

29

$2,000

30

$2,000

31

$2,000
February 2024
S
M
T
W
T
F
S
01

$2,000

02

$2,212

03

$2,315

04

$2,128

05

$2,013

06

$2,025

07

$2,056

08

$2,171

09

$2,390

10

$2,437

11

$2,173

12

$2,096

13

$2,096

14

$2,114

15

$2,902

16

$3,094

17

$3,188

18

$2,870

19

$2,913

20

$2,211

21

$2,221

22

$2,322

23

$2,438

24

$2,602

25

$2,245

26

$2,294

27

$2,279

28

$2,300

29

$3,095
March 2024
S
M
T
W
T
F
S
01

$2,560

02

$2,725

03

$2,319

04

$2,229

05

$2,190

06

$2,192

07

$2,127

08

$2,446

09

$2,589

10

$2,226

11

$2,052

12

$2,087

13

$2,130

14

$2,237

15

$2,454

16

$2,600

17

$2,234

18

$2,037

19

$2,139

20

$2,216

21

$2,336

22

$2,638

23

$2,750

24

$2,334

25

$2,088

26

$2,185

27

$2,486

28

$2,743

29

$3,112

30

$3,174

31

$2,642
April 2024
S
M
T
W
T
F
S
01

$2,343

02

$2,301

03

$2,418

04

$2,605

05

$3,005

06

$3,214

07

$2,629

08

$2,317

09

$2,322

10

$2,442

11

$2,621

12

$3,233

13

$3,306

14

$2,556

15

$2,324

16

$2,261

17

$2,386

18

$2,619

19

$4,000

20

$3,985

21

$2,901

22

$2,310

23

$2,239

24

$2,343

25

$2,643

26

$3,205

27

$3,394

28

$2,560

29

$2,303

30

$2,250
May 2024
S
M
T
W
T
F
S
01

$2,333

02

$2,670

03

$3,220

04

$3,274

05

$2,521

06

$2,331

07

$2,280

08

$2,383

09

$2,787

10

$3,141

11

$3,266

12

$2,690

13

$2,559

14

$2,506

15

$2,674

16

$3,180

17

$3,333

18

$3,557

19

$3,113

20

$2,935

21

$2,840

22

$2,960

23

$3,443

24

$4,000

25

$4,000

26

$4,000

27

$3,821

28

$2,959

29

$3,068

30

$3,537

31

$3,679
June 2024
S
M
T
W
T
F
S
01

$3,871

02

$3,199

03

$2,944

04

$2,958

05
06
07
08
09

$3,350

10

$3,199

11

$3,221

12

$3,724

13

$4,000

14

$4,000

15

$4,000

16

$4,000

17

$3,472

18

$3,550

19

$3,595

20

$3,824

21

$4,000

22

$4,000

23

$3,495

24

$3,294

25

$3,160

26

$3,181

27

$3,383

28

$3,712

29

$3,719

30

$3,157
July 2024
S
M
T
W
T
F
S
01

$3,327

02

$3,203

03

$3,156

04

$3,518

05

$3,702

06

$3,767

07

$3,235

08

$2,568

09

$2,573

10

$2,625

11

$2,884

12

$3,336

13

$3,349

14

$2,809

15

$2,654

16

$2,654

17

$2,737

18

$2,941

19

$4,000

20

$3,412

21

$2,812

22

$2,665

23

$2,690

24

$3,306

25

$2,912

26

$3,364

27

$3,411

28

$3,206

29

$2,648

30

$2,683

31

$2,696
August 2024
S
M
T
W
T
F
S
01

$2,876

02

$3,268

03

$3,352

04

$2,781

05

$2,655

06

$2,716

07

$2,730

08

$2,921

09

$3,264

10

$3,322

11

$2,860

12

$2,711

13

$2,799

14

$2,785

15

$3,403

16

$3,680

17

$3,319

18

$3,380

19

$3,129

20

$2,838

21

$2,782

22

$3,013

23

$3,338

24

$3,287

25

$2,988

26

$2,868

27

$2,851

28

$2,788

29

$3,027

30

$3,835

31

$3,778
September 2024
S
M
T
W
T
F
S
01

$3,513

02

$3,426

03

$2,854

04

$2,762

05

$3,011

06

$4,000

07

$3,261

08

$3,021

09

$2,969

10

$3,066

11

$3,121

12

$3,458

13

$3,844

14

$3,869

15

$3,533

16

$3,268

17

$3,237

18

$3,244

19

$3,521

20

$3,893

21

$4,000

22

$3,365

23

$3,757

24

$3,296

25

$3,061

26

$3,915

27

$4,000

28

$3,715

29

$3,219

30

$2,553
October 2024
S
M
T
W
T
F
S
01

$2,476

02

$3,105

03

$3,052

04

$3,485

05

$3,979

06

$2,890

07

$3,327

08

$2,469

09

$2,683

10

$3,046

11

$3,487

12

$4,000

13

$3,726

14

$3,349

15

$2,468

16

$2,662

17

$2,992

18

$3,437

19

$3,680

20

$2,905

21

$2,578

22

$2,513

23

$2,646

24

$2,984

25

$3,418

26

$3,603

27

$2,868

28

$2,582

29

$2,521

30

$2,597

31

$2,913
Available
Unavailable
Check-In Only
Check-Out Only
Please select dates
+ tax/fees