Seashell Cottage
Blaine, WA 4 Bedrooms Vacation Rental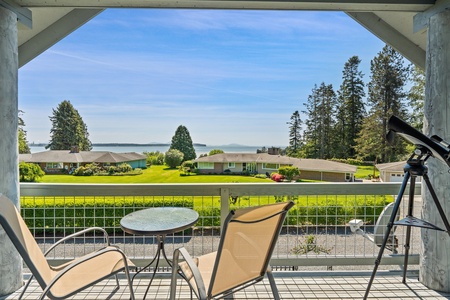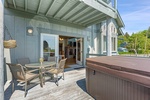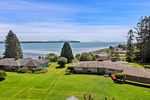 Show All Photos
Unit Photos
Stunning bay view captured from the Seashell Cottage's upstairs game room

Relaxation options abound: unwind in the hot tub or soak up the sun on the patio

A bird's eye view of your serene getaway amidst lush greenery and a stunning bay

Fun for all ages in our family game room - the perfect spot for a memorable Gathering!

Discover the ultimate beach and dining experience from above in this picture-perfect neighborhood

Unleash your furry friends in our secure yard for some outdoor fun

Aerial view of your home away from home

Welcome to our humble abode - featuring the stunning front entrance of our home

Warmer welcome as you take the steps inside this beautiful home

Living room bathed in natural light through glass windows

Inviting and expansive living space featuring beautiful wooden flooring

Cozy nights in just got better with our living area fireplace and flat-screen TV

xperience luxury dining with a view - enjoy access to our patio and hot tub

Enjoying a meal with a view at the dining bar table.

Stylish dining décor at its finest

Stunning dining bar table perfect for meals or drinks

Gather 'round and dine together in the cozy dining area

Experience luxury dining with a view - enjoy access to our patio and hot tub

Unwind in the hot tub or soak up the sun on the patio?

Delightful meals crafted in this lovely kitchen

Fully-equipped home kitchen featuring a countertop induction cooker and microwave

Revolutionize your meal prep with the convenience of a microwave

Modern kitchen setup with sleek induction cooker and spacious double-door fridge

Stylish and functional kitchen island countertop, perfect for meal prep and entertaining guests

Scenic dishwashing: A kitchen sink with an incredible view

Coffee maker for coffee lovers!

Scenic dishwashing: A kitchen sink with an incredible view

Ample storage and natural light flood this stunning kitchen with the help of sleek glass windows

Step into elegance with our master bedroom

Stylish and functional: A master bedroom with a built-in workstation

Stay connected and attend important meetings remotely while on a vacay!

Master bedroom featuring plush and lavish linens for ultimate comfort

Private luxury: Enjoy ultimate relaxation in your very own ensuite bathroom with a bath tub

Relaxation at its finest in the bath tub

Neatly organized cloth storage

Relaxation at its finest in the bath tub

Double the space, double the style: A stunning pair of bathroom sinks

A roomy laundry area

Laundry area with plenty of storage cabinets

A roomy laundry area

Step into elegance with this minimalist powder room

Welcome to the game room upstairs

Stunning bay view captured from the upstairs game room

Stunning view of lush evergreens

Captivating conversations against a stunning backdrop

Experience luxury in our elegantly designed guest room

Ultimate relaxation: cozy linens and breathtaking window view

Immaculate upstairs bathroom ready to pamper you with its pristine cleanliness

Spacious bathroom with sleek shower sliders for added privacy

Our bunk beds offer a cozy solution for accommodating extra guests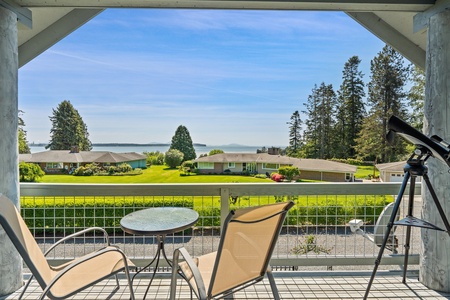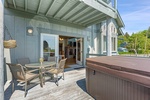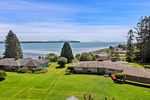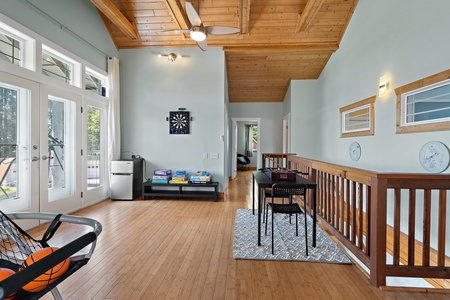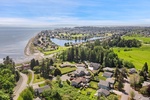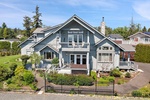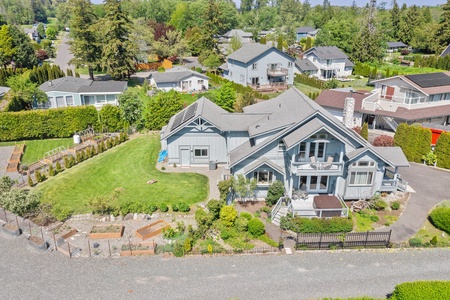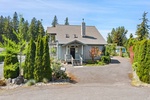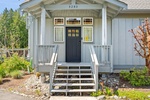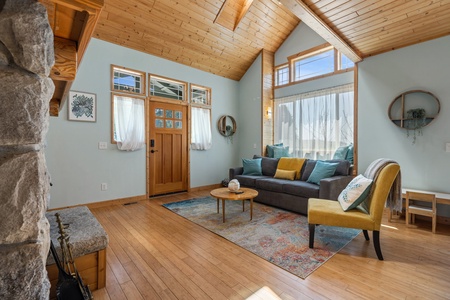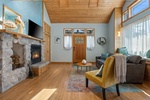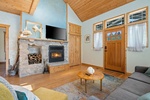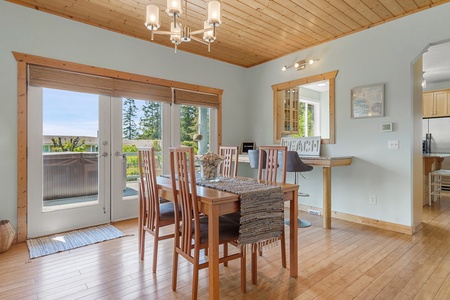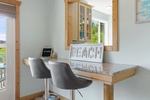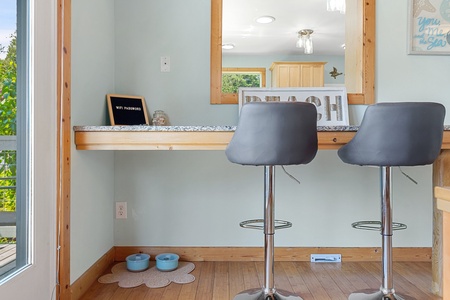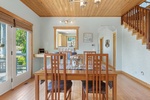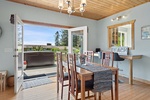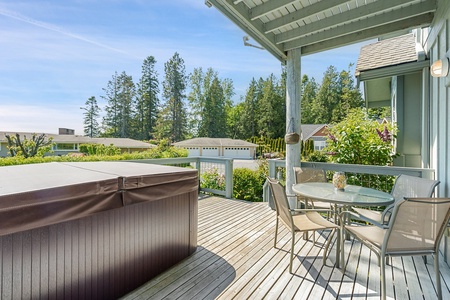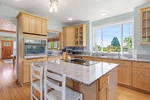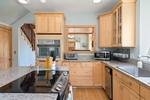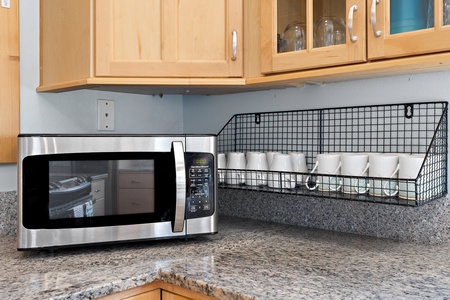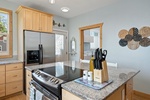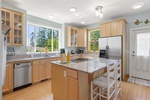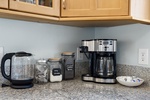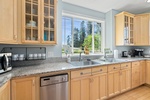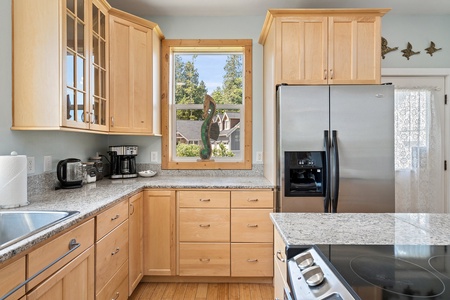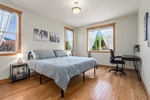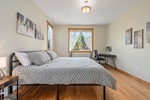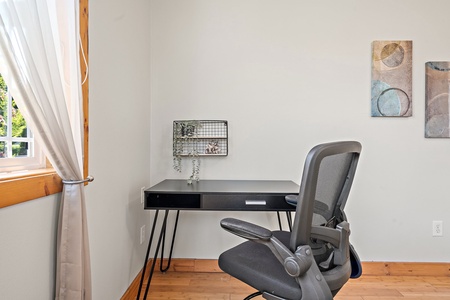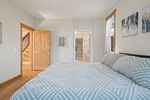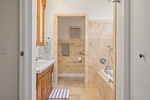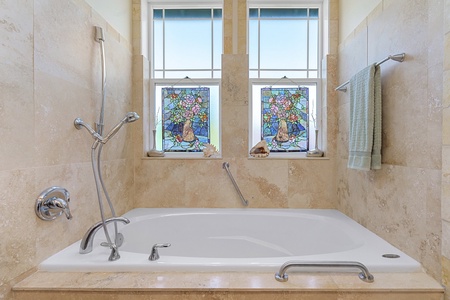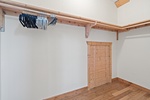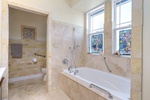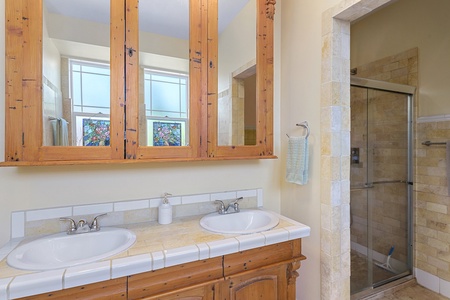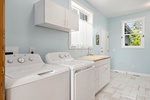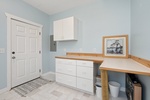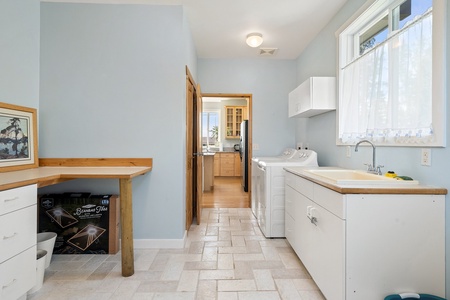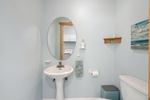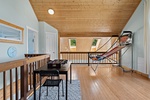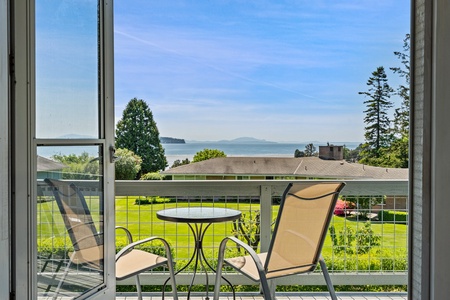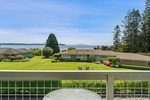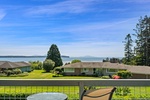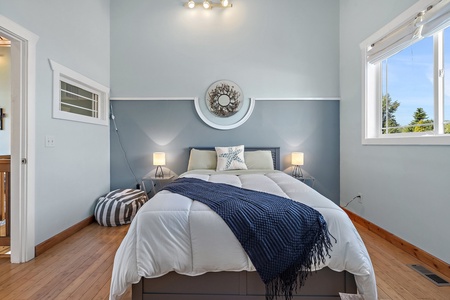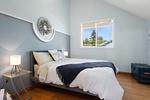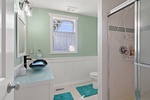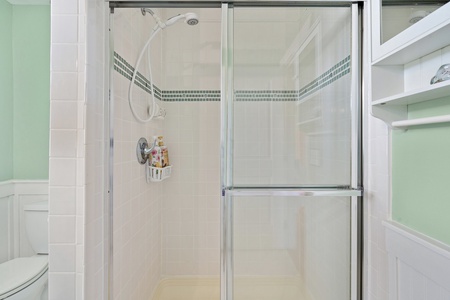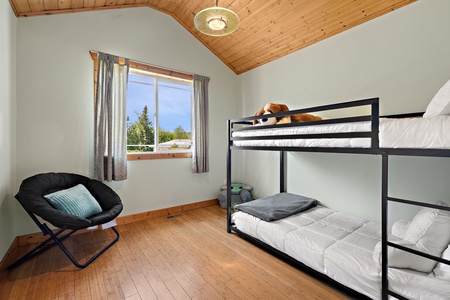 Rooms
rooms
Bedroom # 1

Primary

1 King

Bedroom # 2

Guest BR 1

1 Double

Bedroom # 3

Guest BR 2

1 Double

Bedroom # 4

Guest BR 3

1 Bunk Bed
---
---
Reviews
Reviews
May 01, 2023

My family and I booked this for my birthday weekend getaway.

My family and I booked this for my birthday weekend getaway. My best friend ended joining as well and there was plenty of room for all 9 of us! When we arrived we struggled with the door code (that was an us problem lol) but the host was extremely responsive, like within seconds, and helped us gain access to the home. The kitchen was fully stocked for us to make breakfast in the morning, big lunch in the afternoon and barbecue for dinner. Everything was clean and organized and exactly how pictured. The host welcomed us with a beautiful card and even remembered it was my birthday and made me feel extra special. We would definitely come back and recommend this place to others. Thank you to the host for such a great weekend experience

Lindsay
---
Description
Welcome to Seashell Cottage by Gather, a serene coastal retreat nestled in the quaint town of Blaine, WA. This spacious 4-bedroom, 2.5-bathroom home comfortably accommodates up to 9 guests and up to 2 pets, making it the perfect destination for a memorable family vacation or tranquil retreat with friends.

As you step inside, you'll find a cozy living area with wood siding, skylights, and a stone fireplace creating a warm ambiance. The natural wood shiplap ceilings and a large flatscreen TV above the fireplace provide a perfect setting for intimate gatherings or relaxed evenings in. The home's large windows flood the spaces with abundant natural light, enhancing the airy charm.

The primary bedroom serves as a private sanctuary, featuring a king bed, ample storage, a workstation, and an attached ensuite bathroom. The ensuite bathroom is equipped with a soothing soaker tub, a double sink vanity with ample storage, and a separate glass-enclosed shower, all bathed in natural light.

The heart of the home is the fully stocked kitchen. With an island, updated appliances, and plenty of workspace, it's perfect for preparing gourmet meals. The bar seating at the island promotes a convivial atmosphere for lively mealtime discussions. The dining room, with its French doors leading to the patio, ensures a seamless indoor-outdoor living experience.

Step outside to the sunny patio, which not only boasts a relaxing hot tub for unwinding after a day of exploration, but also offers stunning views of the Pacific Ocean. The fully fenced yard makes it an ideal destination for those traveling with their furry friends.

Additional amenities include large guest bedrooms with a shared guest bath, a half bath, and a spacious laundry room with a washer/dryer and storage. A desk and high-speed Wi-Fi are available for those combining work and play.

Head upstairs to the game room for fun-filled activities, all while soaking in the beautiful bay views. And when you're ready to venture out, nearby beaches and restaurants are ready for exploration.

Every detail at Seashell Cottage has been thoughtfully considered to provide you with a delightful and memorable stay. Welcome home!

Please note that this property is equipped with exterior security cameras.
Room
Beds
---
Central AC, Ensuite, best room for a crib.
---
Central AC, room for a crib
---
Central AC, room for a crib
---
Central AC, room for a crib
---
image
---
image
---
image
Kitchen and Dining
Dining Area
Kitchen Basics
Kitchen
Refrigerator
Coffee Maker
Microwave
Dishwasher
Dishes Utensils
Stove
Toaster
Oven
BBQ
Freezer
Kettle
Blender
Accommodations
House Cleaning Optional ($)
Other Services Chauffeur ($)
Other Services Concierge ($)
Other Services Private Chef ($)
Other Services Massage ($)
Amenities
Essentials
Shampoo
Dryer
Washer
Hair Dryer
Linens
Iron
Private Entrance
Extra Pillows And Blankets
Wifi/Internet
Pack and Play
Safety Features
Carbon Monoxide Detector
First Aid Kit
Fire Extinguisher
Smoke Detector
Suitability
Pets Considered
Free Parking
Ceiling fans
Fireplace
Air Conditioning
Long Term Stays Allowed
Heating
Bath Tub
Hot Water
May 01, 2023
My family and I booked this for my birthday weekend getaway.
My family and I booked this for my birthday weekend getaway. My best friend ended joining as well and there was plenty of room for all 9 of us! When we arrived we struggled with the door code (that was an us problem lol) but the host was extremely responsive, like within seconds, and helped us gain access to the home. The kitchen was fully stocked for us to make breakfast in the morning, big lunch in the afternoon and barbecue for dinner. Everything was clean and organized and exactly how pictured. The host welcomed us with a beautiful card and even remembered it was my birthday and made me feel extra special. We would definitely come back and recommend this place to others. Thank you to the host for such a great weekend experience
Lindsay
November 2023
| S | M | T | W | T | F | S |
| --- | --- | --- | --- | --- | --- | --- |
| | | | 01 | 02 | 03 | 04 |
| 05 | 06 | 07 | 08 | 09 | 10 | 11 |
| 12 | 13 | 14 | 15 | 16 | 17 | 18 |
| 19 | 20 | 21 | 22 | 23 | 24 | 25 |
| 26 | 27 | 28 | 29 | 30 | | |
December 2023
S
M
T
W
T
F
S
01

$203

02

$203

03

$203

04

$199

05

$199

06

$199

07

$203

08

$203

09

$203

10

$203

11

$199

12

$199

13

$199

14
15
16
17

$203

18

$199

19

$199

20

$199

21
22
23
24

$449

25

$449

26

$449

27

$449

28

$449

29
30
31
January 2024
S
M
T
W
T
F
S
01

$236

02

$199

03

$199

04

$203

05

$233

06

$238

07

$203

08

$199

09

$199

10

$199

11

$210

12

$238

13

$238

14

$238

15

$199

16

$199

17

$199

18

$203

19

$220

20

$236

21

$203

22

$199

23

$199

24

$199

25

$203

26

$228

27

$225

28

$203

29

$199

30

$199

31

$199
February 2024
S
M
T
W
T
F
S
01

$203

02

$215

03

$228

04

$203

05

$199

06

$199

07

$199

08

$203

09

$238

10

$238

11

$203

12

$199

13

$199

14

$199

15

$238

16

$238

17

$238

18

$238

19

$238

20

$199

21

$199

22

$208

23

$238

24

$238

25

$204

26

$199

27

$199

28

$199

29

$203
March 2024
S
M
T
W
T
F
S
01

$238

02

$238

03

$203

04

$199

05

$199

06

$199

07

$203

08

$238

09

$238

10

$205

11

$199

12

$199

13

$199

14

$203

15

$238

16

$238

17

$223

18

$209

19

$199

20

$199

21

$215

22

$238

23

$238

24

$233

25

$210

26

$204

27

$219

28

$238

29

$238

30

$238

31

$238
April 2024
S
M
T
W
T
F
S
01

$238

02

$238

03

$238

04

$238

05

$238

06

$238

07

$238

08

$227

09

$230

10

$231

11

$238

12

$238

13

$238

14

$238

15

$219

16

$220

17

$227

18

$238

19

$238

20

$238

21

$238

22

$220

23

$219

24

$229

25

$238

26

$238

27

$238

28

$238

29

$221

30

$219
May 2024
S
M
T
W
T
F
S
01

$222

02

$238

03

$238

04

$238

05

$238

06

$219

07

$219

08

$219

09

$238

10

$238

11

$238

12

$238

13

$219

14

$219

15

$219

16

$238

17

$238

18

$238

19

$238

20

$229

21

$219

22

$219

23

$259

24

$429

25

$429

26

$362

27

$324

28

$229

29

$229

30

$273

31

$354
June 2024
S
M
T
W
T
F
S
01

$354

02

$277

03

$233

04

$229

05

$240

06

$297

07

$381

08

$391

09

$321

10

$275

11

$270

12

$286

13

$407

14

$450

15

$450

16

$393

17

$301

18

$299

19

$323

20

$354

21

$412

22

$421

23

$373

24

$300

25

$297

26

$299

27

$347

28

$409

29

$421

30

$352
July 2024
S
M
T
W
T
F
S
01

$362

02

$398

03

$437

04

$450

05

$450

06

$450

07

$411

08

$328

09

$329

10

$331

11

$385

12

$423

13

$435

14

$376

15

$342

16

$344

17

$352

18

$399

19

$439

20

$444

21

$391

22

$358

23

$351

24

$361

25

$429

26

$450

27

$450

28

$442

29

$359

30

$344

31

$355
August 2024
S
M
T
W
T
F
S
01

$390

02

$436

03

$437

04

$384

05

$354

06

$345

07

$365

08

$396

09

$446

10

$446

11

$391

12

$355

13

$351

14

$389

15

$444

16

$450

17

$450

18

$412

19

$340

20

$321

21

$317

22
23
24
25
26
27

$285

28

$298

29

$339

30

$450

31

$450
September 2024
S
M
T
W
T
F
S
01

$390

02

$337

03

$261

04

$255

05

$298

06

$380

07

$370

08

$282

09

$231

10

$229

11

$229

12

$281

13

$376

14

$400

15

$298

16

$243

17

$229

18

$230

19

$286

20

$401

21

$411

22

$283

23

$229

24

$229

25

$229

26

$275

27

$369

28

$380

29

$261

30

$229
October 2024
S
M
T
W
T
F
S
01

$229

02

$229

03

$244

04

$343

05

$358

06

$247

07

$229

08

$229

09

$229

10

$247

11

$335

12

$361

13

$258

14

$229

15

$229

16

$229

17

$262

18

$350

19

$438

20

$246

21

$229

22

$229

23

$229

24

$233

25

$279

26

$289

27

$233

28

$229

29

$229

30

$229

31

$233
Available
Unavailable
Check-In Only
Check-Out Only
Please select dates
+ tax/fees