Tickle Creek
Boring, Oregon 3 Bedrooms Vacation Rental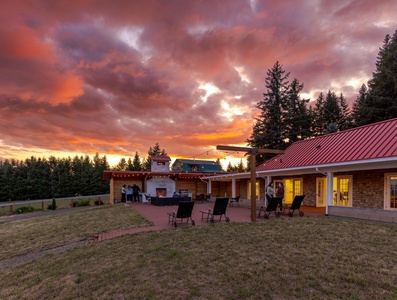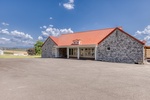 Show All Photos
Unit Photos
Twilight colors above this lovely home away from home.

Welcome to Tickle Creek!

Warmth meets stunning vistas for your ultimate relaxation experience.

Open living with vaulted ceilings connects living, kitchen and dining room

Expansive outdoor living with fireplace, grill, lounging area for the perfect vacation vibe

Bright and airy open spaces connect dining to kitchen

Open space with modern design for a relaxing getaway

Modern updated kitchen fully stocked is a chef's dream

A modern open floor plan for your home away from home

Plenty of seating with fireplace for chilly nights or ambiance any time

A wall of windows provides natural light throughout the living spaces

Gather the family for movie night with large screen tv

Settle in with a book in front of the fireplace for a quiet evening

Sleek new modern flooring for airy vibes

Seating for the whole group, for game night or reliving the day's adventures

Settle in with a book in front of the fireplace for a quiet evening

Three sets of french doors lead to the fantastic patio area

Vistas from every room

The outside patio area is connected throughout the home

Open space dining area

Dining with a view from the french doors and many windows

A modern open floor plan for your home away from home

Kitchen and dining open space

Dining table has six seats

Double islands with plenty of counter space for prep and serving

Large island with storage, hooded vent and tons of storage

Updated appliances and double island for your group's chef

Huge island provides plenty of space to prepare your meals

Stylish countertop

Huge island provides plenty of space to prepare your meals

Updated appliances and double island for your group's chef

Coffee station to get you started for the day

After meal clean up is a breeze

Sleek and modern kitchen

Completely updated with modern design and fixtures

Primary bedroom is spacious and connected to patios through french doors

Primary bedroom with luxury appointments

Flat screen tv in primary bedroom

Primary bedroom with luxury appointments

Primary bedroom is spacious and connected to patios through french doors

Fully tiled primary ensuite with large vanity and storage

Amazing soaker tub in fully tiled primary bathroom

A perfect relaxing soak at the end of your day

Modern glass enclosed shower in primary bathroom

Secondary bedroom with access to the patio

Secondary bedroom with luxury appointments

Secondary bedroom with flat screen TV

Secondary bedroom with flat screen TV

Secondary bedroom with luxury appointments

Ensuite bathroom with a tub and glass shower enclosure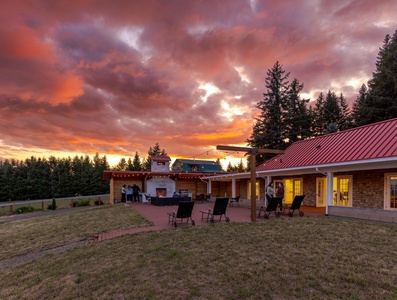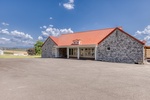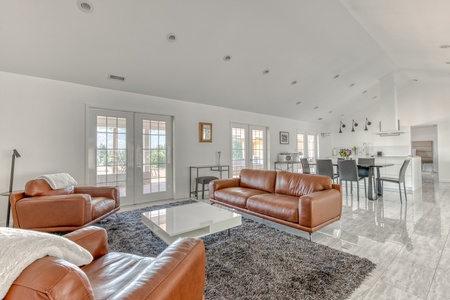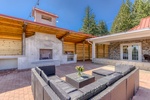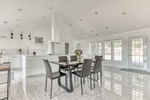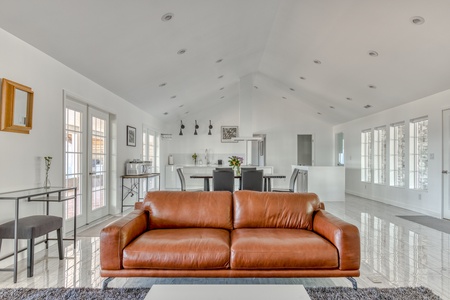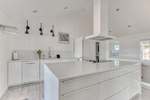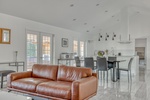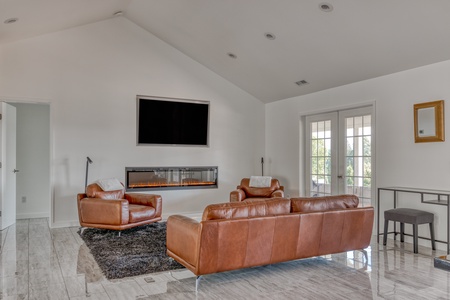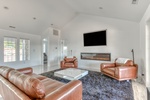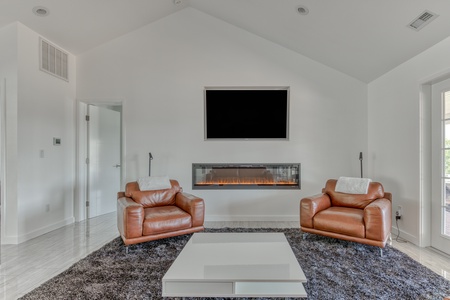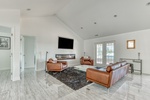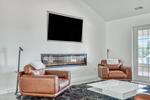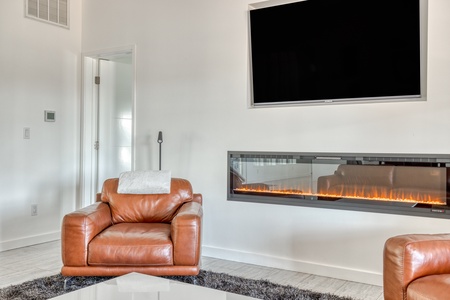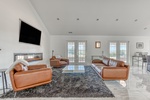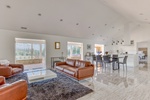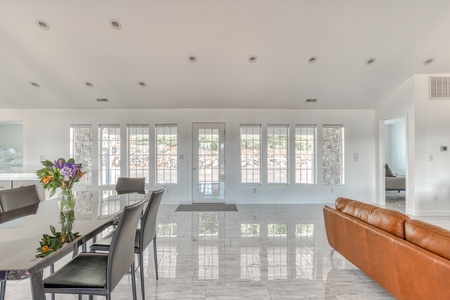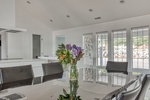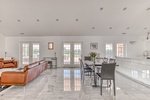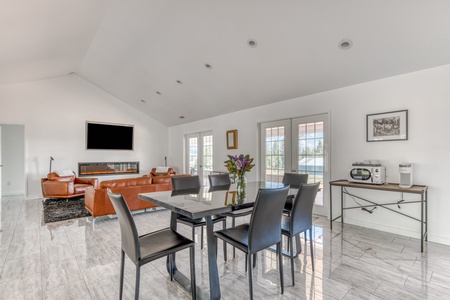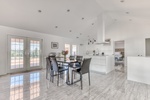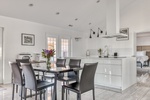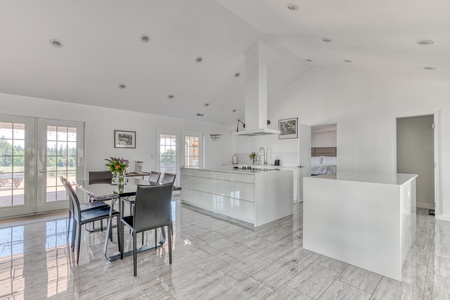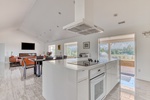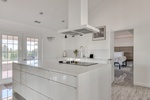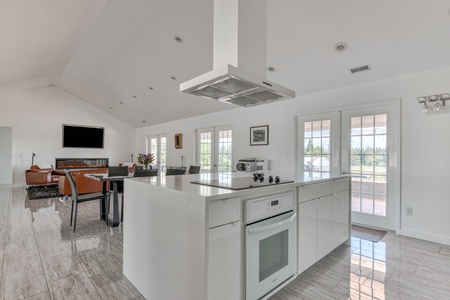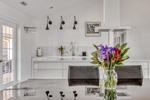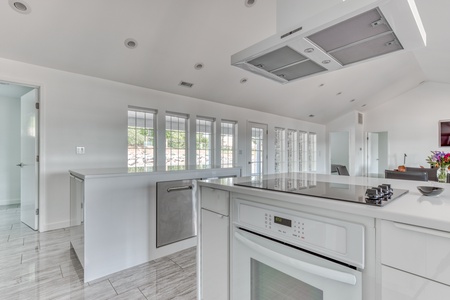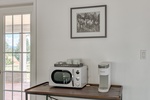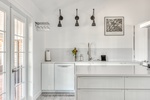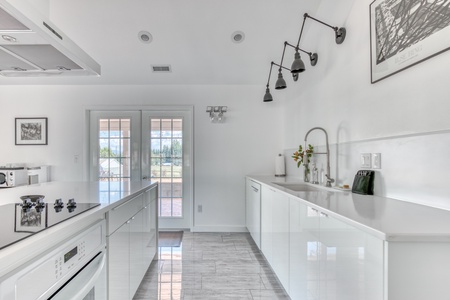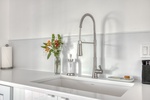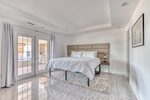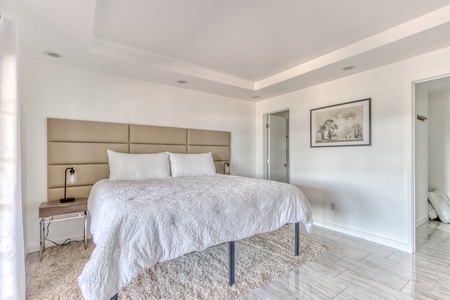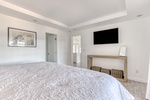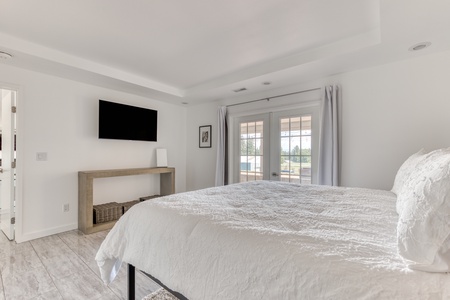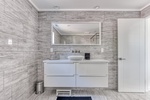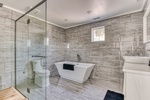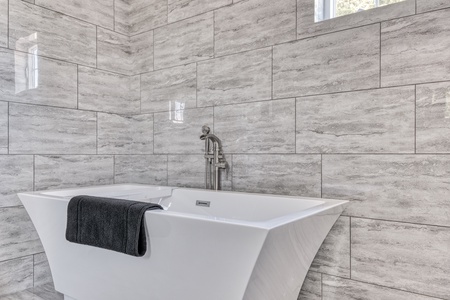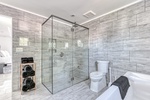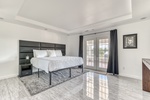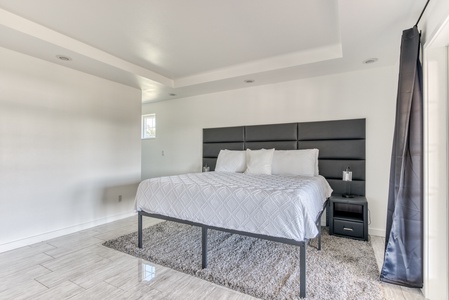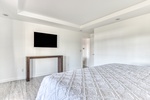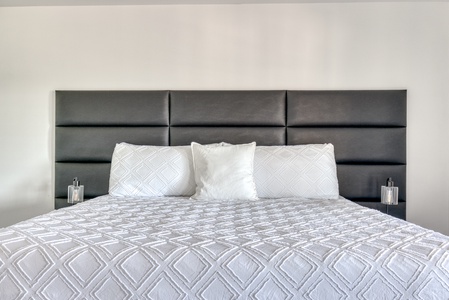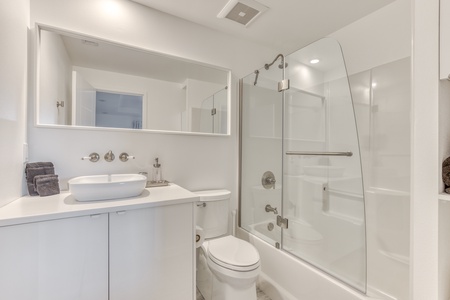 Rooms
rooms
Bedroom # 1

Primary Bedroom

1 King

Bedroom # 2

Guest Bedroom 2

1 King

Bedroom # 3

Guest Bedroom 3

2 Twin

Common

Additional Sleeping
---
---
Description
Welcome to Tickle Creek by Gather, a contemporary gem nestled in the heart of Boring, Oregon. This luxurious, newly-built single-family home comfortably accommodates up to six guests across three bedrooms and 2.5 bathrooms. Please note, this home may accommodate up to a total of eight guests with use of a queen air mattress. Inspired by the expansive porch featured in the movie "Out of Africa", Tickle Creek redefines luxury living with its sleek, modern, and minimalist design.

Upon entering, you'll find yourself in an open concept living, dining, and kitchen area. This space showcases lofted ceilings and a sleek white design that mirrors the elegance and simplicity of modern aesthetics. The built-in electric fireplace in the living room adds a cozy touch to the stylish ambiance, perfectly complimented by a large flatscreen TV for your entertainment.

The property hosts two primary bedrooms, each featuring a plush king bed and a private en-suite bathroom. The first, situated off the kitchen, boasts a large closet and patio doors, providing direct access to the outdoors. The en-suite bathroom features a tub/shower combo, offering both luxury and convenience. The second primary bedroom, located off the living room, follows suit with a large closet and patio access. Its en-suite bathroom houses a soaking tub and stand-up shower, providing a spa-like sanctuary within the comfort of your bedroom. The third bedroom is perfect for younger guests, equipped with two comfy twin beds.

Stepping outside, you'll find yourself on an enormous patio area laid with beautiful brick pavers, featuring a lounging area for relaxation or entertaining. Here, five French doors seamlessly blend the interior and exterior, offering a spacious yet intimate setting under the stars. The patio is equipped with an impressive wood-burning fireplace complete with a gas starter, along with a built-in gas grill for your alfresco dining experiences. Night lighting further enhances the ambiance, making this space ideal for evening social gatherings or tranquil nights spent under the Oregon sky.

Your stay wouldn't be complete without indulging in the private hot tub or lounging on the covered porch, taking in the breathtaking view of Mt. Hood. The two-acre yard, fully fenced for your privacy, makes for a spacious playground or a serene haven for relaxation.

Tickle Creek is the perfect place to create memories with family and friends. It marries the sophistication of modern design with the charm of the great outdoors, making every stay a unique and unforgettable experience. Whether you're seeking a tranquil retreat or a base for your Oregon adventure, Tickle Creek offers a luxury vacation experience that's hard to beat. Come, stay, and make this modern marvel your home away from home.

This house maintains a strict NO PARTY policy. Since this is a family-friendly neighborhood, there is a strict 10 pm noise policy in place. If you violate the noise ordinance, you will get one warning. If we receive a second complaint, we may ask you to leave without a refund. Our home is the only vacation rental on the road, so we kindly ask that guests respect the rules of the neighborhood and are mindful of their local neighbors.

This home is monitored by external cameras and noise sensors. Cameras are located at the entrance of the home facing the driveway and one out back facing the barn. The cameras cannot see into the home or the hot tub. The noise monitoring system only measures decibels and will auto message you if triggered. We operate on a three strikes rule, if you feel the noise monitoring system is too sensitive, please reach out to management.
Room
Beds
---
Ensuite Bathroom, Balcony / Deck
---
Ensuite Bathroom, Balcony / Deck
---
image
---
image
---
image
---
image
---
1 Queen Air Mattress
Kitchen and Dining
Dining Area
Kitchen Basics
Kitchen
Refrigerator
Coffee Maker
Microwave
Dishwasher
Dishes Utensils
Stove
Toaster
Oven
BBQ
Freezer
Ice Machine
Blender
Accommodations
House Cleaning Optional ($)
Other Services Chauffeur ($)
Other Services Concierge ($)
Other Services Private Chef ($)
Other Services Massage ($)
Amenities
Essentials
Shampoo
Dryer
Washer
Hair Dryer
Linens
Iron
Parking space
Private Entrance
Keypad
Extra Pillows And Blankets
Wifi/Internet
Pack and Play
Fire pit
Emergency
Emergency Exit Route
Emergency Medical Contact
Emergency Police Contact
Emergency Fire Contact
Cleanliness
Self Check In / Check Out
Safety Features
Carbon Monoxide Detector
First Aid Kit
Smoke Detector
Outdoor Lighting
Suitability
Children Welcome
Smoking Not Allowed
Free Parking
Fireplace
Suitable for Elderly
Air Conditioning
Single Level Home
Long Term Stays Allowed
Heating
Pet Friendly
Bath Tub
Hot Water
Entertainment
Television
Laptop Friendly
Smart TV
Location/Property Types
Rural
Mountain View
Private / Secluded
November 2023
| S | M | T | W | T | F | S |
| --- | --- | --- | --- | --- | --- | --- |
| | | | 01 | 02 | 03 | 04 |
| 05 | 06 | 07 | 08 | 09 | 10 | 11 |
| 12 | 13 | 14 | 15 | 16 | 17 | 18 |
| 19 | 20 | 21 | 22 | 23 | 24 | 25 |
| 26 | 27 | 28 | 29 | 30 | | |
December 2023
S
M
T
W
T
F
S
01

$134

02

$134

03

$134

04

$134

05

$134

06

$134

07

$134

08

$134

09
10
11

$134

12

$134

13

$134

14

$134

15

$202

16

$202

17

$202

18

$202

19

$202

20

$202

21

$287

22

$287

23

$287

24

$287

25

$287

26

$287

27

$287

28

$287

29

$287

30

$287

31

$287
January 2024
S
M
T
W
T
F
S
01

$173

02

$144

03

$134

04

$139

05

$155

06

$164

07

$145

08

$134

09

$134

10

$158

11

$203

12

$229

13

$243

14

$226

15

$144

16

$134

17

$134

18

$134

19

$145

20

$151

21

$134

22

$134

23

$134

24

$134

25

$148

26

$182

27

$186

28

$164

29

$134

30

$134

31

$134
February 2024
S
M
T
W
T
F
S
01

$134

02

$163

03

$163

04

$147

05

$134

06

$134

07

$134

08

$145

09

$178

10

$178

11

$161

12

$144

13

$142

14

$140

15

$198

16

$205

17

$207

18

$206

19

$196

20

$147

21

$146

22

$159

23

$193

24

$200

25

$166

26

$162

27

$156

28

$152

29

$170
March 2024
S
M
T
W
T
F
S
01

$202

02

$212

03

$167

04

$147

05

$139

06

$134

07

$160

08

$193

09

$201

10

$154

11

$135

12

$134

13

$134

14

$173

15

$206

16

$213

17

$187

18

$141

19

$220

20

$208

21

$258

22

$210

23

$216

24

$176

25

$156

26

$155

27

$152

28

$213

29

$251

30

$239

31

$193
April 2024
S
M
T
W
T
F
S
01

$171

02

$155

03

$147

04

$190

05

$223

06

$224

07

$180

08

$172

09

$153

10

$147

11

$180

12

$215

13

$213

14

$166

15

$156

16

$147

17

$147

18

$180

19

$224

20

$230

21

$183

22

$163

23

$147

24

$156

25

$186

26

$232

27

$243

28

$196

29

$168

30

$155
May 2024
S
M
T
W
T
F
S
01

$174

02

$196

03

$246

04

$265

05

$213

06

$175

07

$161

08

$180

09

$198

10

$261

11

$279

12

$221

13

$172

14

$153

15

$176

16

$198

17

$274

18

$294

19

$235

20

$183

21

$163

22

$183

23

$210

24

$321

25

$331

26

$283

27

$228

28

$171

29

$192

30

$227

31

$298
June 2024
S
M
T
W
T
F
S
01

$298

02

$242

03

$193

04

$189

05

$208

06

$242

07

$308

08

$304

09

$255

10

$208

11

$212

12

$229

13

$259

14

$319

15

$315

16

$261

17

$215

18

$222

19

$238

20

$276

21

$320

22

$329

23

$268

24

$228

25

$219

26

$224

27

$263

28

$311

29

$330

30

$258
July 2024
S
M
T
W
T
F
S
01

$274

02

$268

03

$273

04

$319

05

$366

06

$390

07

$308

08

$236

09

$230

10

$235

11

$282

12

$325

13

$345

14

$262

15

$235

16

$228

17

$244

18

$294

19

$337

20

$346

21

$265

22

$229

23

$213

24

$225

25

$276

26

$309

27

$314

28

$243

29

$212

30

$200

31

$221
August 2024
S
M
T
W
T
F
S
01

$276

02

$320

03

$358

04

$296

05

$232

06

$216

07

$233

08

$273

09

$320

10

$322

11

$265

12

$225

13

$213

14

$231

15

$261

16

$312

17

$309

18

$253

19

$210

20

$199

21

$223

22

$250

23

$307

24

$304

25

$245

26

$202

27

$191

28

$207

29

$231

30

$324

31

$323
September 2024
S
M
T
W
T
F
S
01

$256

02

$213

03

$174

04

$184

05

$216

06

$279

07

$284

08

$210

09

$171

10

$202

11

$228

12

$214

13

$275

14

$285

15

$209

16

$168

17

$161

18

$175

19

$206

20

$258

21

$275

22

$208

23

$167

24

$161

25

$182

26

$207

27

$250

28

$271

29

$208

30

$167
October 2024
S
M
T
W
T
F
S
01

$160

02

$182

03

$206

04

$246

05

$271

06

$209

07

$164

08

$160

09

$179

10

$204

11

$251

12

$285

13

$223

14

$175

15

$156

16

$170

17

$196

18

$247

19

$262

20

$204

21

$162

22

$154

23

$163

24

$192

25

$248

26

$246

27

$192

28

$159

29

$154

30

$154

31

$176
Available
Unavailable
Check-In Only
Check-Out Only
Please select dates
+ tax/fees