Riverside Retreat
Brightwood, Oregon 3 Bedrooms Vacation Rental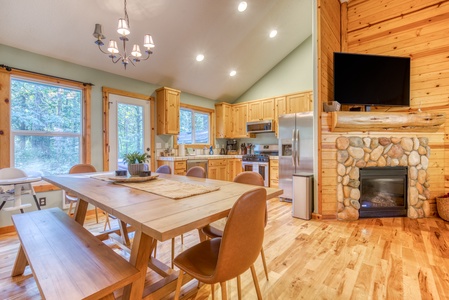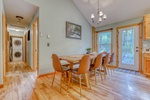 Show All Photos
Unit Photos
The open-concept communal spaces make this home aptly fit for entertaining

Step inside and you'll find a cozy living area with a flatscreen TV and fireplace

The formal dining area is just off of the kitchen and living areas

Take a warm, relaxing soak in the private hot tub

There's a carport for a covered parking option

Create memories that will last a lifetime right here

Get cozy on the couch next to the fire and have a movie night with your group

This large, sectional sofa is perfect to seat the entire group together

The entrance to this home sits just behind the living area

Use the back door right off the kitchen to access the wonderful amenities this home has to offer

Spacious kitchen to prepare your favorite meals

The kitchen is fully equipped with stainless steel appliances

Mix up one of your favorite cocktails

The dining table comfortably seats 10

Gather with loved ones for a dinner feast after a long day of fun

The living area is just of the kitchen and dining areas

Equipped with a full size washer and dryer just down the hall from the common areas

The Master Bedroom will be on your right down the hallway

The Primary Bedroom is outfitted with a king bed, flatscreen TV, split A/C, and an ensuite bath

Get a good night's rest in this king bed

The ensuite bath is just off the foot of the bed

Enjoy a restful sleep after a long day of adventure in Mt Hood

Enjoy views of the garden from the privacy of the Primary Bedroom

The ensuite bath has a single vanity and walk-in shower

Walk-in shower with sliding doors

There's plenty of storage space in this vanity for your personal toiletries

There's also lots of storage space for extra towels if needed

Guest Bedroom 2 is located across the hall

This bedroom is furnished with a queen bed

The warm touches in this bedroom really make it feel like home

There's also a full-size closet in this bedroom

Equipped with a flatscreen TV to catch up on your favorite shows

Get a glimpse of the forest views through the window

Guest Bedroom 3 is perfect for those traveling with kids

Furnished with a double/twin bunk bed

Get all of the kids together - This bunk bed sleeps 3

Full size closet in Guest Bedroom 3

Full shared bath accessible from the hallway

Single vanity and shower/tub combo with sliding doors

Bundle up and warm up by the fire pit

Take a seat and warm up around the fire or soak in the hot tub

Immerse yourself in the natural beauty of Mt Hood with an outdoor fire pit and private hot tub

Share your favorite campfire stories or reminisce with friends and family

Sit back and admire the natural beauty of Mt Hood

Complete with outdoor seating, a fire pit, and a grill

This private backyard space has lots of amenities for all to enjoy

Have a memorable vacation at this modern cabin in Mt Hood

Memories will live long after your enjoyable time at this Mt Hood cabin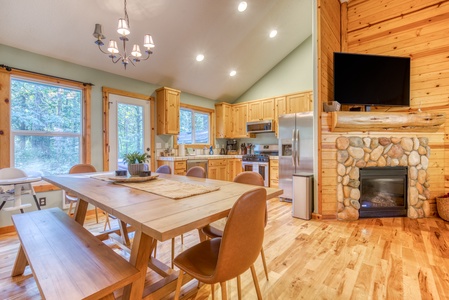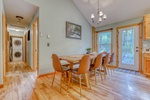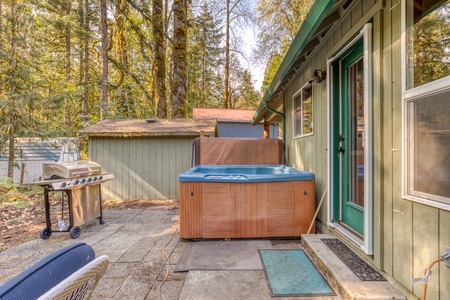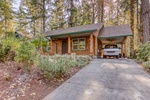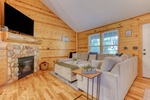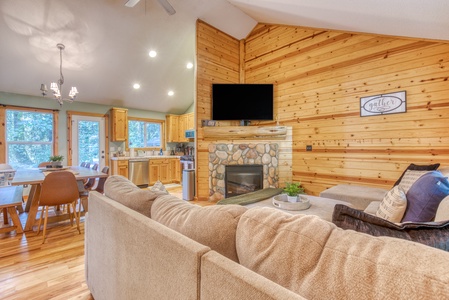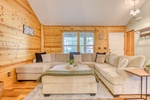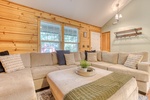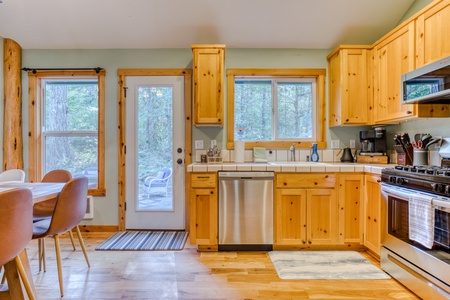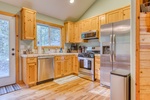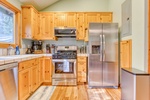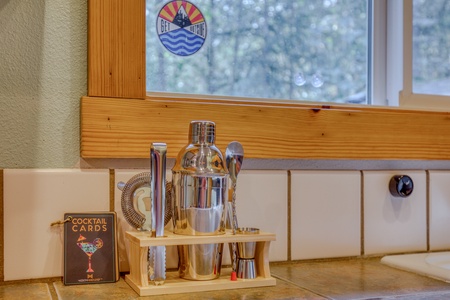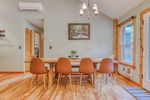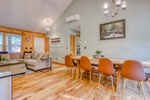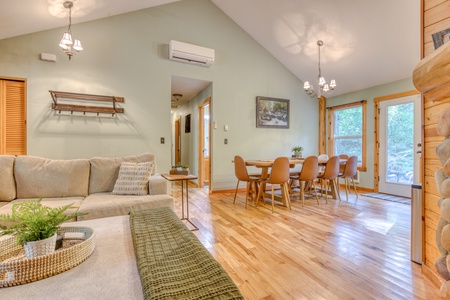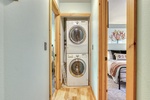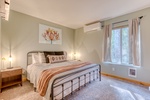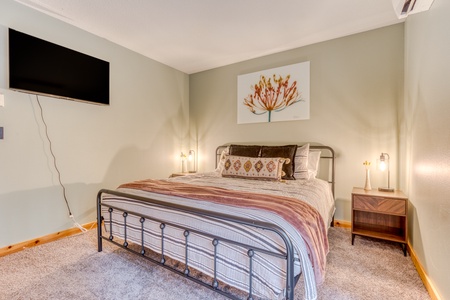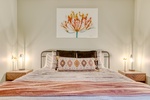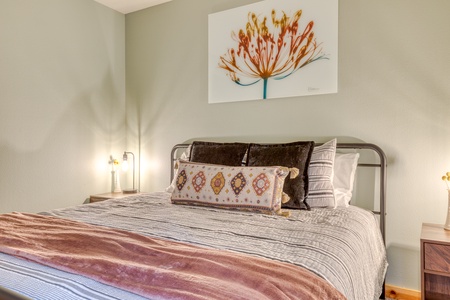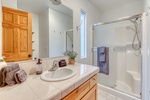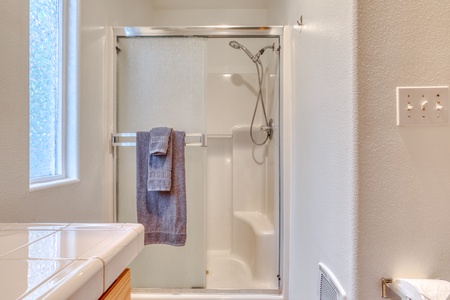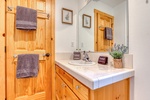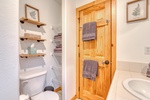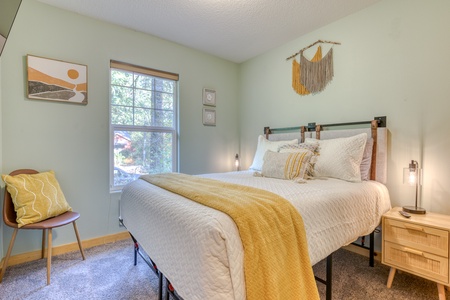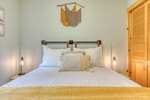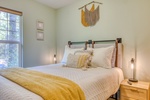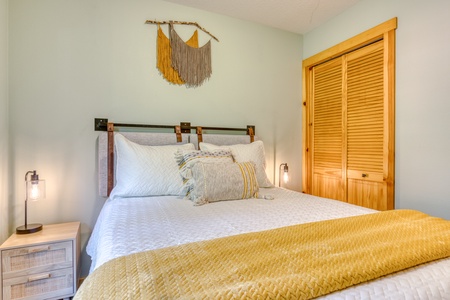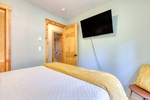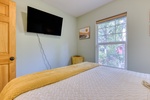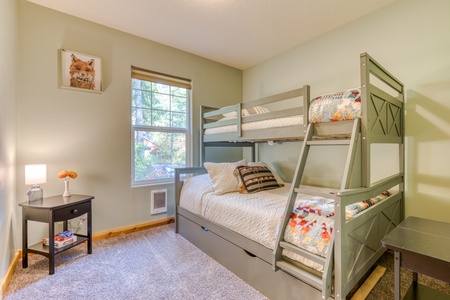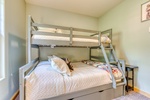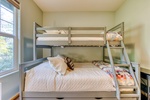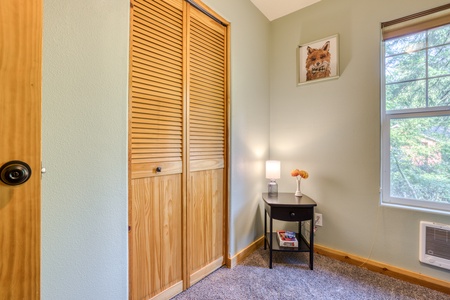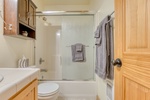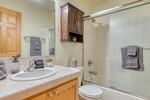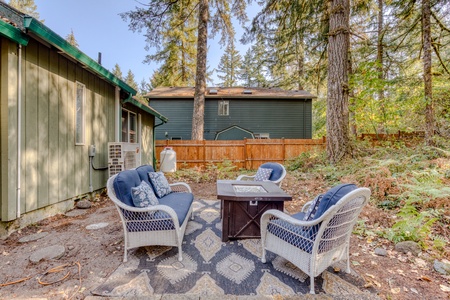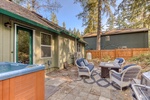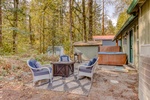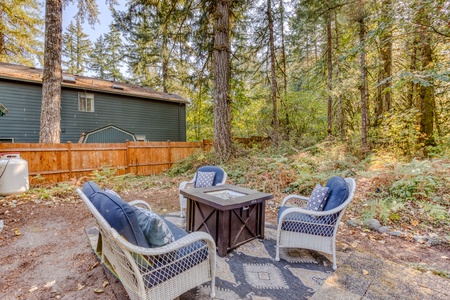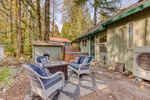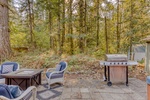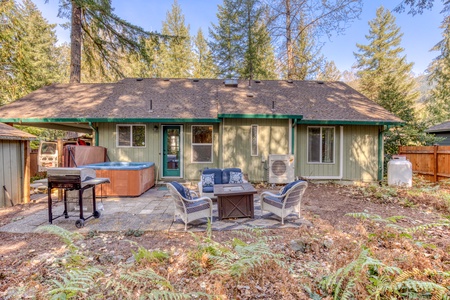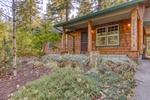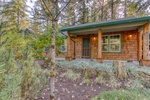 Rooms
rooms
Bedroom # 1

Primary Bedroom

1 King

Bedroom # 2

Guest Bedroom 2

1 Queen

Bedroom # 3

Guest Bedroom 3

1 Double, 1 Twin,
---
---
Reviews
Reviews
Mar 21, 2023

Beautiful, cozy, dog friendly. Easy to walk to river with a trail and beaches to explore. Hosts reached out and made things easy. Not sure where pool was, or how to access it…

Kelly S
---
Description
Immerse yourself in the enchanting beauty of the Mt. Hood wilderness at Riverside Retreat by Gather. The incredibly welcoming and quintessential bungalow-style cabin has 3 bedrooms and 2 bathrooms, with the capability to sleep 7 guests. Centrally located in the town of Brightwood (about a 45-minute drive to the base of Mt. Hood), this home is on a private cul-de-sac road surrounded by the lush forest of the Pacific Northwest.

Upon entering the cabin, you are greeted with lovely high-vaulted ceilings and beautifully polished wooden walls. The warm tones of this large open-concept living space are further accentuated by the homely gas fireplace and cobblestone mantle. Above the mantle sits a 70" Smart TV where the whole group can enjoy a fun movie night getting comfortable on the ultra-plush wrap-around sectional sofa, with deep cushions and tons of wiggle room to get cozy. Past the living room, a fully equipped kitchen hosts all new stainless steel appliances and all cooking tools necessary for serving up excellent group meals. Don't pass up the opportunity to whip up an amazing cocktail or smoothie with an included cocktail shaker and blender. Adjacent to the kitchen sits a large dining room table that can comfortably seat up to 10 people. Plenty of natural light flows in from the multiple windows lining the kitchen and dining room walls, with lovely views of the woodlands beyond. At the back of the 1st-floor hallway is an in-unit washer & dryer for guests' convenience.

The 3 bedrooms of Riverside Retreat are all located down the hallway in the second section of the house. The primary bedroom has a king-sized bed, a 55" flat-screen TV, and a walk-in closet. The attached ensuite comes with a single vanity and walk-in shower with views of the outside greenery peeking through a small window. Guest bedroom 2 has a queen-size bed, 43" Smart TV, views of the outside garden, and ample closet space. It shares a single vanity ensuite and shower/tub combo with guest bedroom 3, which is perfect for the kids with the ability to sleep 3 in a bunk setup consisting of a full and twin-sized bed.

The quaint backyard has comfortable lounging armchairs and a relaxing hot tub where you can take a soak while gazing out at the astounding forest and green canopy above. There is also a firepit centralized in the seating area for some classic campfire nights, in addition to a barbeque grill perfect for flaming up a feast after a long day of adventure. Plus, access to the river is just across the street and down the community access path for even more outdoor fun.

There are so many possibilities for outdoor recreational activities around Mt. Hood with kayaking, rafting, hiking, and biking in the summer, and skiing, snowboarding, and cosmic tubing in the winter. However you choose to spend your next alpine adventure, you can rest assured that this cozy and warm forest cabin will be the perfect location to host pleasant and long-lasting memories you and your group will cherish for years to come.

Pets are welcome with advance notice, agreement to the pet rules, and payment of a pet fee. Please note, a maximum of 2 dogs are allowed per reservation with prior approval. Reach out to management for specific details regarding pets.

There is a noise monitoring system and an exterior camera. The noise monitoring system does not record voice nor can we hear your conversations, it only monitors decibels. The camera monitors the exterior of the home only.
Room
Beds
---
Garden View, Split A/C, Ensuite Bath
---
Guest Bedroom 2
Queen (1)
image
---
Guest Bedroom 3
Double (1)Twin (1)
image
---
image
---
image
Kitchen and Dining
Dining Area
Kitchen Basics
Kitchen
Refrigerator
Coffee Maker
Microwave
Dishwasher
Dishes Utensils
Stove
Toaster
Oven
BBQ
Freezer
Kettle
Ice Machine
Blender
Toaster Oven
Disposal
Accommodations
House Cleaning Optional ($)
Other Services Chauffeur ($)
Other Services Concierge ($)
Other Services Private Chef ($)
Other Services Massage ($)
Amenities
Essentials
Shampoo
Dryer
Washer
Hair Dryer
Linens
Iron
Parking space
Private Entrance
Keypad
Extra Pillows And Blankets
Wifi/Internet
High Chair
Pack and Play
Fire pit
Snow shovel
Cleanliness
Self Check In / Check Out
Safety Features
Carbon Monoxide Detector
First Aid Kit
Fire Extinguisher
Smoke Detector
Deadbolt Lock
Outdoor Lighting
Suitability
Children Welcome
Pets Considered
Smoking Not Allowed
Free Parking
Ceiling fans
Fireplace
Suitable for Elderly
Air Conditioning
Single Level Home
Snow Removal Provided
Heating
Bath Tub
Hot Water
Entertainment
Television
Toys
Laptop Friendly
Smart TV
Outdoor Amenities
Garden
Private yard
Outdoor seating
Location/Property Types
Mountain
Village
Mountain View
Garden View
Nearby Activities
Spa and wellness
Zoo
Museums
Snowboarding/Skiing
Hiking
Shopping
Fishing
Horseback riding
Golfing
Watersports
Cycling
Tennis
Bike path
Mar 21, 2023
Beautiful, cozy, dog friendly. Easy to walk to river with a trail and beaches to explore. Hosts reached out and made things easy. Not sure where pool was, or how to access it…
Kelly S
November 2023
| S | M | T | W | T | F | S |
| --- | --- | --- | --- | --- | --- | --- |
| | | | 01 | 02 | 03 | 04 |
| 05 | 06 | 07 | 08 | 09 | 10 | 11 |
| 12 | 13 | 14 | 15 | 16 | 17 | 18 |
| 19 | 20 | 21 | 22 | 23 | 24 | 25 |
| 26 | 27 | 28 | 29 | 30 | | |
December 2023
S
M
T
W
T
F
S
01

$153

02

$221

03

$153

04

$165

05

$138

06

$227

07

$263

08

$249

09

$248

10

$350

11

$250

12

$224

13

$312

14

$362

15

$291

16

$294

17

$237

18

$343

19

$343

20

$343

21

$343

22
23
24
25
26
27
28
29
30
31

$379
January 2024
S
M
T
W
T
F
S
01

$228

02

$211

03

$194

04

$214

05

$324

06

$280

07

$272

08

$202

09

$166

10

$168

11

$263

12

$367

13

$347

14

$316

15

$254

16

$240

17

$237

18

$176

19

$314

20

$298

21

$241

22

$263

23

$209

24

$209

25

$169

26

$318

27

$329

28

$248

29

$255

30

$218

31

$224
February 2024
S
M
T
W
T
F
S
01

$299

02

$311

03

$312

04

$246

05

$170

06

$155

07

$159

08

$205

09

$310

10

$292

11

$222

12

$180

13

$172

14

$174

15

$388

16

$406

17

$409

18

$417

19

$353

20

$218

21

$199

22

$239

23

$357

24

$368

25

$234

26

$177

27

$173

28

$171

29

$215
March 2024
S
M
T
W
T
F
S
01

$293

02

$304

03

$177

04

$153

05

$145

06

$143

07

$179

08

$335

09

$346

10

$246

11

$207

12

$190

13

$194

14

$227

15

$315

16

$331

17

$240

18

$203

19

$186

20

$190

21

$201

22

$281

23

$298

24

$204

25

$179

26

$160

27

$171

28

$169

29

$253

30

$270

31

$184
April 2024
S
M
T
W
T
F
S
01

$169

02

$150

03

$155

04

$179

05

$271

06

$284

07

$195

08

$153

09

$146

10

$146

11

$176

12

$259

13

$268

14

$190

15

$150

16

$146

17

$146

18

$176

19

$250

20

$256

21

$183

22

$146

23

$146

24

$146

25

$179

26

$245

27

$259

28

$183

29

$146

30

$146
May 2024
S
M
T
W
T
F
S
01

$146

02

$180

03

$245

04

$262

05

$183

06

$146

07

$146

08

$146

09

$183

10

$249

11

$264

12

$189

13

$146

14

$146

15

$149

16

$185

17

$257

18

$266

19

$195

20

$151

21

$149

22

$156

23

$190

24

$391

25

$397

26

$350

27

$305

28

$176

29

$184

30

$217

31

$298
June 2024
S
M
T
W
T
F
S
01

$309

02

$250

03

$210

04

$212

05

$216

06

$240

07

$316

08

$330

09

$271

10

$245

11

$250

12

$254

13

$276

14

$353

15

$366

16

$302

17

$273

18

$285

19

$286

20

$304

21

$408

22

$430

23

$388

24

$330

25

$286

26

$292

27

$307

28

$384

29

$382

30

$312
July 2024
S
M
T
W
T
F
S
01

$328

02

$331

03

$337

04

$419

05

$459

06

$424

07

$359

08

$298

09

$300

10

$304

11

$334

12

$398

13

$503

14

$377

15

$299

16

$297

17

$300

18

$336

19

$397

20

$394

21

$339

22

$306

23

$304

24

$308

25

$344

26

$411

27

$406

28

$342

29

$306

30

$302

31

$306
August 2024
S
M
T
W
T
F
S
01

$486

02

$568

03

$458

04

$339

05

$302

06

$299

07

$301

08

$338

09

$408

10

$414

11

$340

12

$302

13

$292

14

$290

15

$324

16

$435

17

$465

18

$383

19

$323

20

$315

21

$328

22

$375

23

$381

24

$392

25

$316

26

$283

27

$267

28

$268

29

$283

30

$498

31

$504
September 2024
S
M
T
W
T
F
S
01

$424

02

$389

03

$245

04

$246

05

$258

06

$348

07

$353

08

$268

09

$296

10

$281

11

$274

12

$281

13

$377

14

$337

15

$242

16

$209

17

$199

18

$209

19

$229

20

$329

21

$321

22

$227

23

$197

24

$185

25

$197

26

$224

27

$325

28

$324

29

$228

30

$198
October 2024
S
M
T
W
T
F
S
01

$187

02

$196

03

$222

04

$323

05

$328

06

$231

07

$193

08

$183

09

$185

10

$209

11

$309

12

$338

13

$248

14

$206

15

$178

16

$179

17

$208

18

$313

19

$311

20

$228

21

$184

22

$178

23

$177

24

$243

25

$392

26

$296

27

$222

28

$177

29

$173

30

$168

31

$206
Available
Unavailable
Check-In Only
Check-Out Only
Please select dates
+ tax/fees