Bright and Cozy
Welches, Oregon 4 Bedrooms Vacation Rental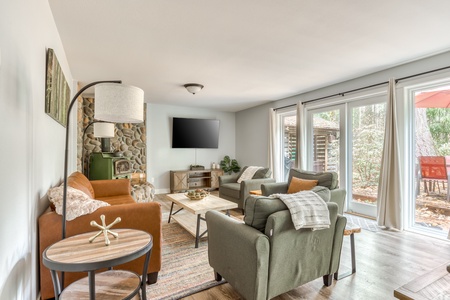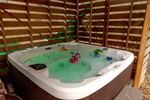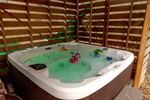 Show All Photos
Unit Photos
Stylish and comfortable living area with chic decor, natural light, and a welcoming atmosphere.

Step outside of the sliding glass doors of the living area to bask in the beauty of the back patio

Ready for a soak after a day of adventure! in the covered Hot Tub

Aerial view of the community pool at Mt Hood Oregon Resort which you'll have access to

Cozy up in this inviting living space, complete with a leather sofa and a wood-burning fireplace, for a perfect blend of comfort and rustic charm.

This quintessential Pacific Northwest home combines a vibrant space; organic design style with sleek, elegant furnishings for a comfortable home-away-from-home

An ideal placed for relaxation or social gatherings.

Cozy space for you and your furry friend, pets are welcome!

Relax in this airy and bright living room that flows seamlessly into the kitchen, perfect for socializing and enjoying the outdoor views.

Enjoy a book and amazing views

Chic kitchen area with white cabinetry and a coffee corner.

Sleek and modern kitchen equipped with stainless steel appliances and plenty of counter space—ideal for creating culinary delights.

Rustic charm blends with modern elegance in this spacious kitchen and dining area, complete with a statement lighting fixture.

Gather the family for home cooked dinner

Sleek and modern kitchen equipped with stainless steel appliances and plenty of counter space—ideal for creating culinary delights.

Bright and modern kitchen with sleek appliances and ample counter space.

Cook your favorite meal in the fully equipped kitchen

Warm up with a hot beverage

Gather around this large dining table for a meal or conversation, with open-plan living space that brings everyone together in comfort and style.

Primary bedroom with a plush king bed, a blend of modern decor and comfort.

Spacious and stylish primary bedroom with abundant natural light.

A peaceful retreat in the comfort of your home.

Primary bedroom with a plush king bed.

Airy bedroom with a cozy reading nook, bathed in natural light.

Ideal for relaxation and quiet moments.

Airy bedroom with a cozy reading nook.

Elegant bathroom with dual vanities

A touch of sophistication to your daily routine.

Contemporary guest bedroom with a vibrant accent wall.

Guest bedroom with a cozy king bed complimented with a reading nook.

Relaxed bedroom with a cozy reading corner and a quaint dinette by the window, perfect for morning coffee surrounded by greenery.

A cozy spot for dining or work, and direct access to the outdoors for an open, airy feel.

Who will be the game night champion?

Fun-filled game room with classic arcade games and foosball table—ready for entertainment and creating lasting memories.

Time for a championship tournament, who's the winner?

Full Laundry Room with washer and dryer.

Please remove your wet/muddy gear - door on right is entrance to laundry room

Outdoor seating ideal on sunny days

Welcome Home!

There is a smart lock so self check in is welcome

Vitamin D on the patio!

Private covered hot tub

Grilling in the woods can't be beat!

Quiet time for a toast to a great vacation!

The perfect end to the perfect day!

Private patio grilling area nestled among the trees, offering a secluded spot for barbecues and outdoor dining.

Cozy covered Hot Tub

Immersed in the woods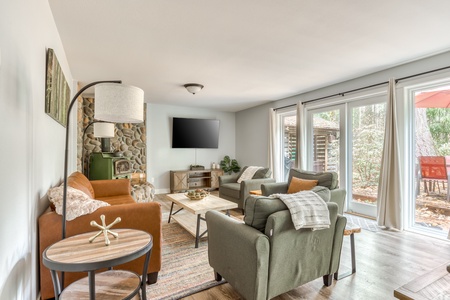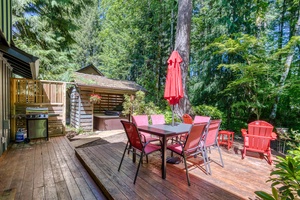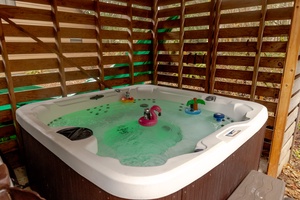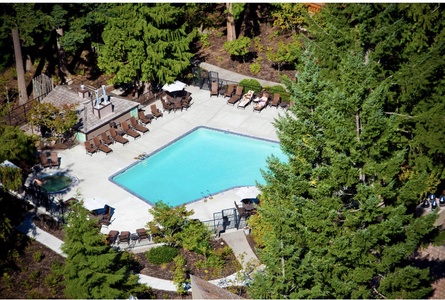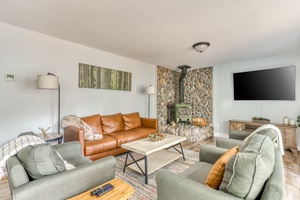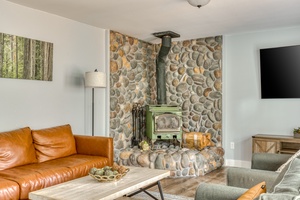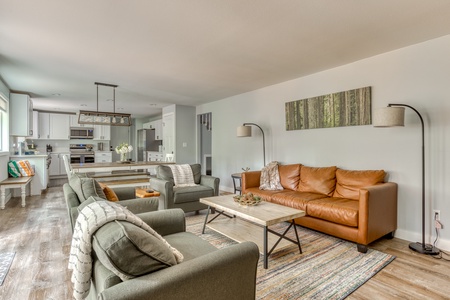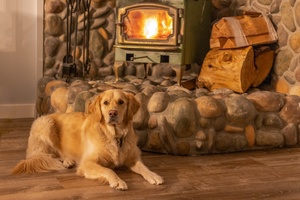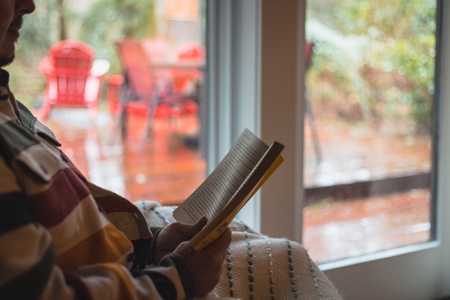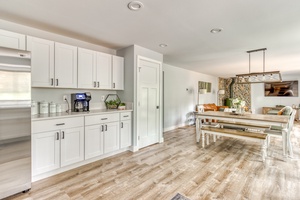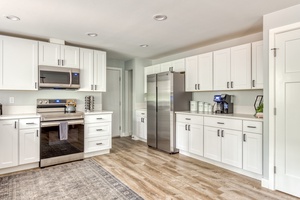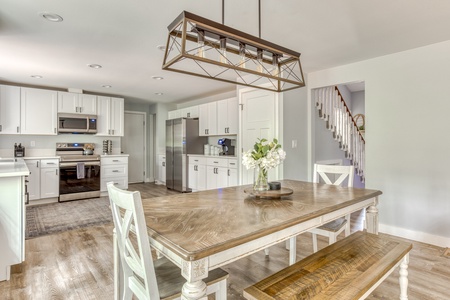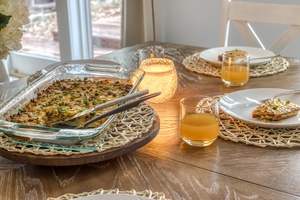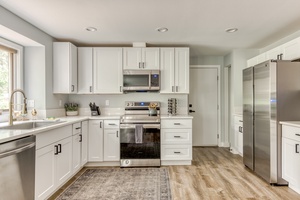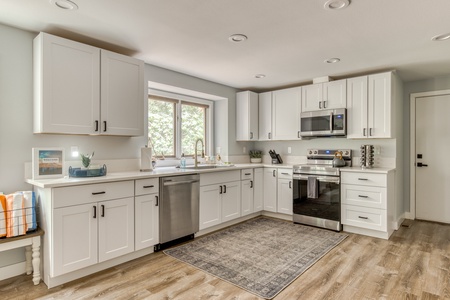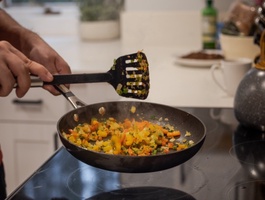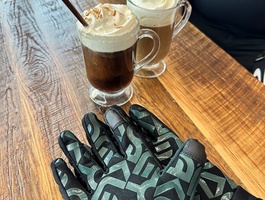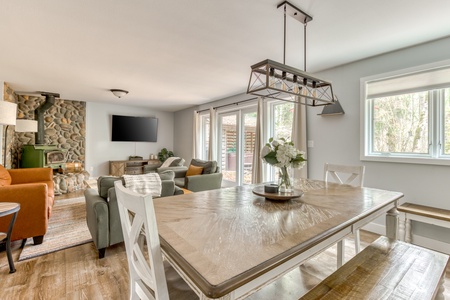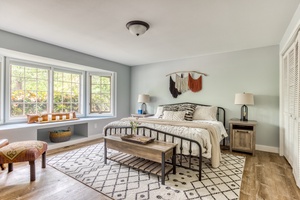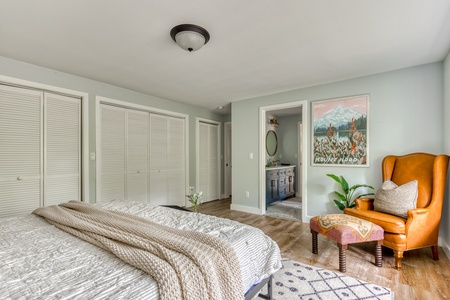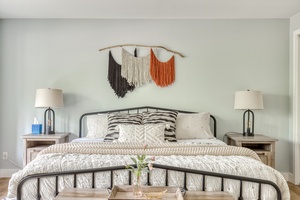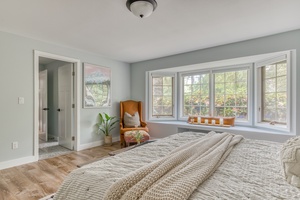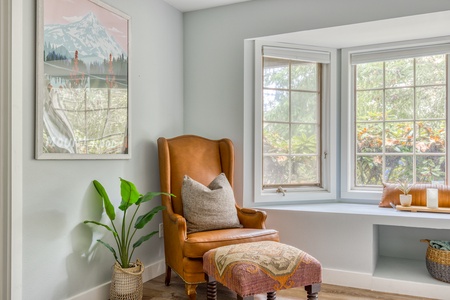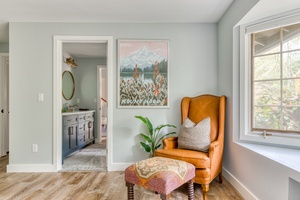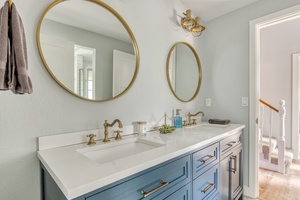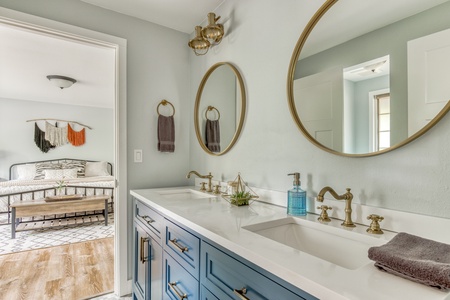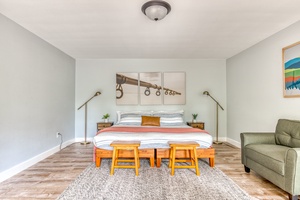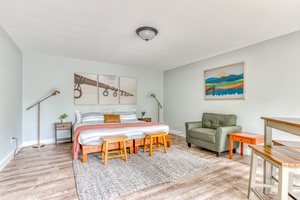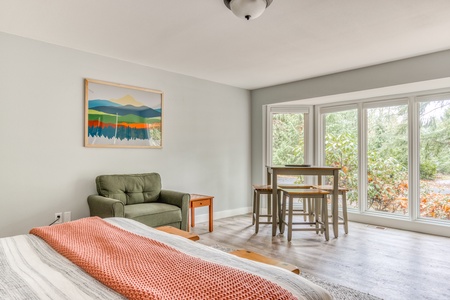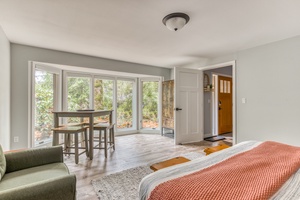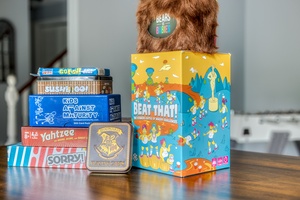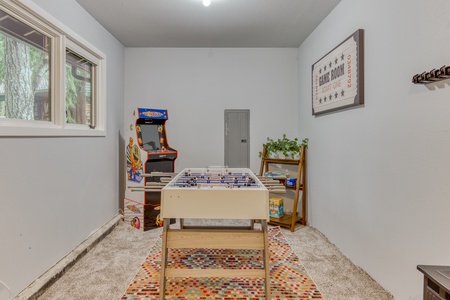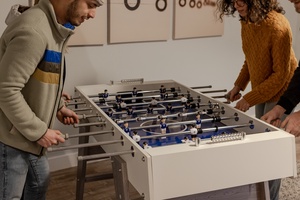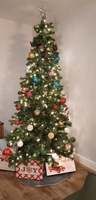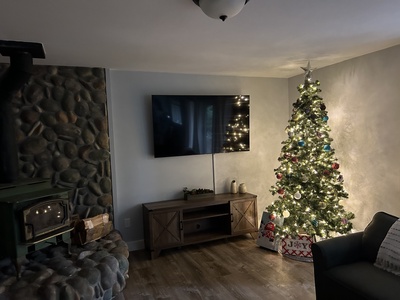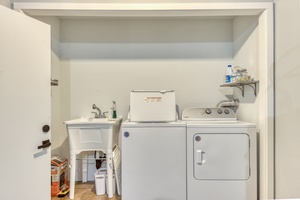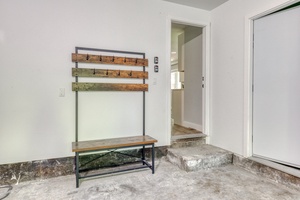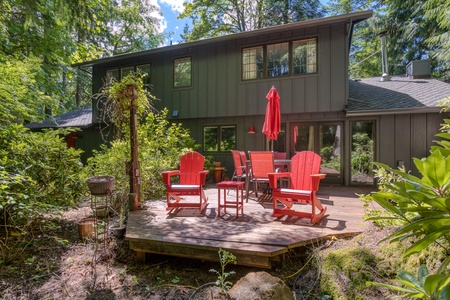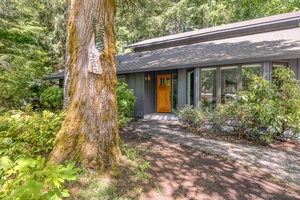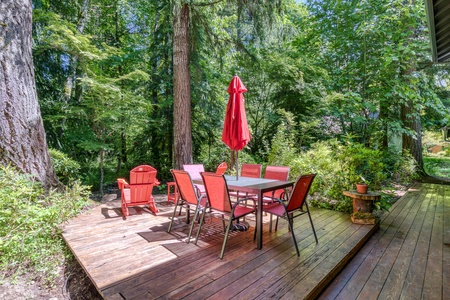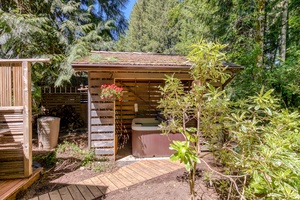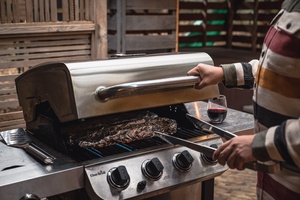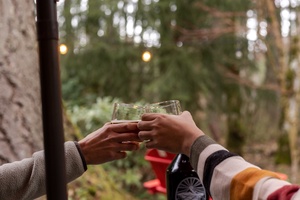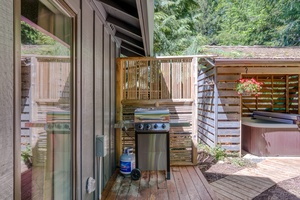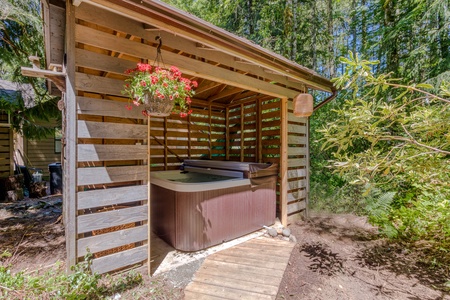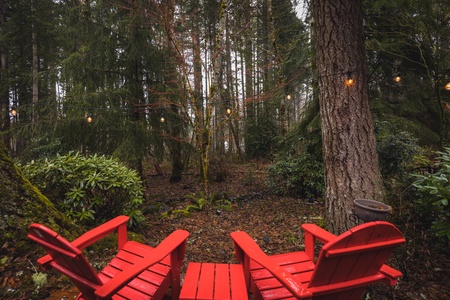 Rooms
rooms
Bedroom # 1

Primary Bedroom

1 King

Bedroom # 2

Guest Bedroom 2

1 King, 1 Crib,

Bedroom # 3

Guest Bedroom 3

1 Queen, 1 Bunk Bed, 2 Twin,

Bedroom #

Guest Bedroom 4

0 King
---
---
Reviews
Reviews
Feb 23, 2023

Our stay was great. Went there to getaway and go skiing at the two nearby resorts. It rained/snowed the whole time but the hot tub kept us warm.

Jessie T
---
Description
Welcome to Bright and Cozy by Gather! Chill in the charming ambiance of this 4-bedroom, 2-bathroom home in the peaceful woodland neighborhood at Mt. Hood Village. This quintessential Pacific Northwest home combines a vibrant and organic design style with sleek and elegant furnishings for a comfortable home-away-from-home as you traverse the great outdoors of the majestic Mt. Hood wilderness.

Enter the bright and spacious open-concept common area with a large polished wooden dining table that seats ten under a modern light fixture as the room's centerpiece. To the right of the table is the gourmet and well-stocked kitchen, equipped with all stainless steel appliances, ample counter space, and forest views for an enjoyable culinary experience shared with your guests. To the left of the dining table is the cozy living area furnished with a leather couch, armchairs, and a large mounted flatscreen smart television, as well as a wood-burning fireplace on a detailed stone hearth, setting the welcoming tone for warm firelit nights cuddling up with friends and family while admiring the excellent outer forest views.

Step outside of the sliding glass doors of the living area to bask in the beauty of the back patio, which holds a dining table set for 6, Adirondack lounge recliners, a children's playhouse, a horseshoe pit, and a barbecue grilling station for friendly cookout evenings amidst the hanging twinkle lights. Take a dip in the outdoor covered hot tub for a hot soak under the starlit Oregon night sky overhead. Surrounded by numerous native trees and plants, with plenty of yard space to wander, including a small creek, this private backyard is the perfect locale for serene moments of morning light or an array of afternoon festivities.

The primary bedroom on the 1st floor has a plush king bed, a sitting chair, two large closets, and a private ensuite with a large dual vanity and walk-in shower. Guest bedroom two upstairs comes carpeted and includes a king bed, sitting chair, and forested views. In contrast, carpeted Guest bedroom 3, "the bunk room," consists of a queen bed with a twin trundle, a twin-over-twin bunk bed with an additional twin trundle, and a porta-crib is also available upon request. Downstairs, there is now an additional bedroom with a king-size bed - this bed can be converted to two twins if requested in advance. There is also a teepee fort in this room for indoor camping adventures for the children. Guest bedrooms 2 and 3 share the full bath on the 2nd floor with a large vanity and shower/tub combo.

The home has a 2-car garage with a bike rack and a laundry room with a washer, dryer, iron & board, sink, and ample storage space for outdoor recreational gear. The home is within walking or biking distance of several shops, restaurants, bars, breweries, parks, and grocery stores in Mt. Hood Village. It is a short drive to the many marvelous outdoor exploration sites. From kayaking, white-water rafting, fishing, mountain biking, and hiking in the summer to skiing, snowboarding, tubing, and snowshoeing the world-class slopes at Timberline Lodge in the winter, there is no shortage of fun to be had in the great outdoors at Mt. Hood. As a guest at the Bright & Cozy home, guests will also have access to the community pool, tennis, and basketball court at the nearby Mt. Hood Oregon Resort, which is only 0.8 miles (a 17-minute walk) from the house.

Pets are welcome with advance notice, agreement to the pet rules, and payment of a pet fee. Reach out to management for specific details regarding pets. We have included a pet nook for your furry friend, a pet bed, and bowls.

You will need a car to get here, but you can easily walk or bike to local restaurants and stores. Mt Hood Express also runs up and down the mountain from Sandy to Timberline, so if you want to hit the slopes but want to avoid driving in the snow, check them out!

So that you know, this property has exterior-facing security cameras onsite. Cameras point exclusively to the driveway and cannot see the inside of the home and hot tub.
Room
Beds
---
Primary Bedroom (downstairs)
King (1)
Ensuite Bathroom
---
Guest Bedroom 2 (upstairs)
King (1) Crib (1)
bedroom
---
Guest Bedroom 3 (Bunk Room)
Queen (1) Bunk Bed (1) Twin (2)
Queen Bed with Twin Trundle, Twin-over-Twin Bunk Bed with Additional Twin Trundle
---
full bathroom
---
full bathroom
---
King Sized bed - this bed can be converted to two twins if requested in advance.
Kitchen and Dining
Dining Area
Kitchen Basics
Kitchen
Refrigerator
Coffee Maker
Microwave
Dishwasher
Dishes Utensils
Stove
Toaster
Oven
BBQ
Freezer
Kettle
Blender
Coffee Grinder
Wood burning stove
Disposal
Accommodations
House Cleaning Optional ($)
Other Services Chauffeur ($)
Other Services Concierge ($)
Other Services Private Chef ($)
Other Services Massage ($)
Amenities
Essentials
Shampoo
Dryer
Washer
Garage
Hair Dryer
Linens
Iron
Parking space
Private Entrance
Smartlock
Extra Pillows And Blankets
Wifi/Internet
Crib
High Chair
Pack and Play
Ski storage
Snow shovel
Cleanliness
Self Check In / Check Out
Safety Features
Carbon Monoxide Detector
First Aid Kit
Fire Extinguisher
Smoke Detector
Deadbolt Lock
Outdoor Lighting
Suitability
Children Welcome
Pets Considered
Smoking Not Allowed
Free Parking
Fireplace
Air Conditioning
Long Term Stays Allowed
Firewood Provided
Snow Removal Provided
Heating
Pet Friendly
Bath Tub
Hot Water
Entertainment
Television
Toys
Laptop Friendly
Game room
Smart TV
Pool/Spa
Community Pool
Hot Tub
Heated Pool
Community Hot Tub
Outdoor Amenities
Garden
Private yard
Lanai/Balcony
Outdoor seating
Location/Property Types
Mountain
Town
Golf Course View
Mountain View
Garden View
Popular Town
Resort Amenities
Nearby Activities
Spa and wellness
Museums
Snowboarding/Skiing
Hiking
Shopping
Fishing
Horseback riding
Golfing
Watersports
Mountain climbing
Cycling
Tennis
Bike path
Feb 23, 2023
Our stay was great. Went there to getaway and go skiing at the two nearby resorts. It rained/snowed the whole time but the hot tub kept us warm.
Jessie T
December 2023
S
M
T
W
T
F
S
01
02
03
04
05
06
07
08
09

$267

10

$267

11

$267

12

$267

13

$267

14

$379

15

$379

16

$379

17

$379

18
19
20
21
22
23
24
25
26
27
28
29
30
31
January 2024
S
M
T
W
T
F
S
01
02

$339

03

$339

04
05
06
07
08
09

$349

10

$349

11

$349

12

$349

13

$349

14

$349

15

$349

16

$349

17

$349

18

$349

19

$397

20

$397

21

$397

22

$339

23

$339

24

$339

25

$369

26

$429

27

$429

28

$379

29

$379

30

$379

31

$379
February 2024
S
M
T
W
T
F
S
01

$212

02

$297

03

$299

04

$198

05

$155

06

$155

07

$155

08

$161

09

$293

10

$296

11

$193

12

$155

13

$155

14

$155

15

$316

16

$446

17

$452

18

$343

19

$293

20

$174

21

$161

22

$197

23

$299

24

$311

25

$263

26

$207

27

$195

28

$193

29

$244
March 2024
S
M
T
W
T
F
S
01

$356

02

$374

03

$214

04

$184

05

$169

06

$169

07

$212

08

$405

09

$421

10

$299

11

$249

12

$229

13

$234

14

$270

15

$383

16

$401

17

$289

18

$244

19

$224

20

$227

21

$238

22

$341

23

$360

24

$245

25

$215

26

$195

27

$189

28

$200

29

$280

30

$296

31

$223
April 2024
S
M
T
W
T
F
S
01

$177

02

$157

03

$161

04

$184

05

$315

06

$327

07

$221

08

$175

09

$171

10

$171

11

$201

12

$301

13

$310

14

$216

15

$171

16

$171

17

$171

18

$201

19

$288

20

$296

21

$206

22

$171

23

$171

24

$171

25

$200

26

$283

27

$297

28

$206

29

$171

30

$171
May 2024
S
M
T
W
T
F
S
01

$171

02

$204

03

$279

04

$298

05

$207

06

$171

07

$171

08

$171

09

$202

10

$315

11

$301

12

$213

13

$171

14

$171

15

$171

16

$207

17

$292

18

$306

19

$222

20

$174

21

$174

22

$182

23

$218

24

$448

25

$461

26

$381

27

$333

28

$194

29

$202

30

$234

31

$325
June 2024
S
M
T
W
T
F
S
01

$343

02

$272

03

$227

04

$239

05

$245

06

$270

07

$362

08

$382

09

$308

10

$274

11

$278

12

$285

13

$312

14

$401

15

$421

16

$346

17

$346

18

$350

19

$344

20

$388

21

$519

22

$550

23

$484

24

$370

25

$327

26

$331

27

$355

28

$429

29

$434

30

$355
July 2024
S
M
T
W
T
F
S
01

$373

02

$375

03

$381

04

$453

05

$488

06

$482

07

$409

08

$343

09

$344

10

$346

11

$381

12

$445

13

$539

14

$414

15

$346

16

$340

17

$342

18

$385

19

$486

20

$450

21

$390

22

$355

23

$347

24

$350

25

$393

26

$466

27

$459

28

$389

29

$350

30

$342

31

$347
August 2024
S
M
T
W
T
F
S
01

$520

02

$608

03

$560

04

$420

05

$346

06

$342

07

$344

08

$386

09

$466

10

$472

11

$389

12

$346

13

$336

14

$331

15

$373

16

$496

17

$554

18

$436

19

$370

20

$370

21

$431

22

$489

23

$508

24

$451

25

$362

26

$325

27

$308

28

$306

29

$329

30

$565

31

$575
September 2024
S
M
T
W
T
F
S
01

$488

02

$445

03

$412

04

$278

05

$299

06

$396

07

$438

08

$306

09

$320

10

$254

11

$255

12

$277

13

$381

14

$388

15

$274

16

$239

17

$225

18

$231

19

$259

20

$370

21

$399

22

$258

23

$222

24

$209

25

$217

26

$255

27

$370

28

$371

29

$258

30

$221
October 2024
S
M
T
W
T
F
S
01

$209

02

$215

03

$254

04

$368

05

$374

06

$259

07

$214

08

$205

09

$202

10

$242

11

$353

12

$386

13

$277

14

$230

15

$202

16

$198

17

$237

18

$353

19

$357

20

$256

21

$208

22

$201

23

$198

24

$274

25

$424

26

$344

27

$255

28

$209

29

$199

30

$198

31

$239
November 2024
S
M
T
W
T
F
S
01

$350

02

$339

03

$253

04

$210

05

$194

06

$193

07

$246

08

$368

09

$416

10

$325

11

$284

12

$196

13

$210

14

$265

15

$373

16

$373

17

$265

18

$266

19

$246

20

$271

21

$279

22

$656

23

$657

24

$527

25

$481

26

$460

27

$503

28

$541

29

$650

30

$660
Available
Unavailable
Check-In Only
Check-Out Only
Please select dates
+ tax/fees