Nehalem Coastal Oasis
Nehalem, Oregon 2 Bedrooms Vacation Rental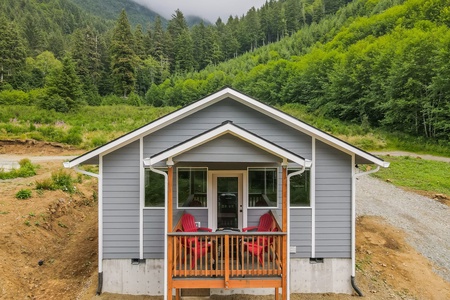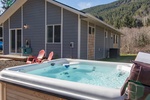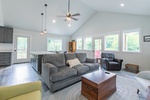 Show All Photos
Unit Photos
Welcome to the Nehalem Coastal Oasis, a newly built 3-bedroom, 3-bathroom home (including a main house and a garage apartment) nestled along the private and quiet backroads of the spectacular Oregon coast

Soak in the stunning Pacific views from the porch or unwind in the hot tub

The main house includes an open-concept living area equipped with various seating options, including a full-size pullout couch, a 55" flat-screen Smart TV, deck access, books, games

Looking for a tranquil getaway? Look no further than our beautiful vacation rental home in Nehalem, Oregon

Between the new interior design, modern furnishings, and the beauty of the surrounding forest scenery, this home lives up to its name as your oasis in the peaceful nature of the Pacific Northwest.

High-vaulted ceilings, and ample natural light, make it an ideal setting for spending some quality time together

Gather with family and friends!

Pick you favorite book and enjoy the moment

The Living room couch turns into a pull out bed to host extra guests

The fully equipped kitchen has all new stainless steel appliances, ample counter space, several culinary tools, a large island countertop with bar stool seating, and forest views

Beautiful Forest views!

Play chef in this fully equipped kitchen!

And when you are done cooking, seat at the dining table for four to enjoy the meal

Take advantage of the great view from the dining table

Immersed in nature is the right way to describe this Home

Right off the living room there is a corridor to the bedrooms

The primary and guest bedrooms each have a comfortable queen bed, flat-screen TV, and closet

The primary bedroom also comes with a private ensuite

Lots of natural light coming through the window

The Primary ensuite includes a tiled shower/tub combo and a sliding glass door with access to the back of the house

Newly remodeled!

Guest Bedroom comes with a queen bed and Sliding Glass door to the forest!

There are two additional air mattresses are in the bedroom closet to accommodate other guests if needed.

Guest bedroom with ensuite

Guest bathroom with a shower/tub combo comes fully stocked with towels, shampoo, conditioner, and body wash

Guest bath also includes a closet space

Guest bathroom deep Tub/Shower combo

No chance you'll get bored since the house is filled with Games and Books

This cozy home has everything you need for the perfect getaway!

The gazebo is a new addition to the house!

Entrance with self check-in code

Enjoy the peace.

Aerial view of the Main house and the neighboring Garage apartment.

New gazebo over patio so that even in case of rain you can enjoy some time outdoor

Patio/BBQ area on the front deck to grill some steak

Our vacation rental home in Nehalem, Oregon boasts a private hot tub for indulging in complete relaxation after a long day of exploring the stunning beaches and charming town

Aerial view of the two properties

While the home is newly built, the land has been in the family for decades, and they take great care to offer guests a warm and welcoming stay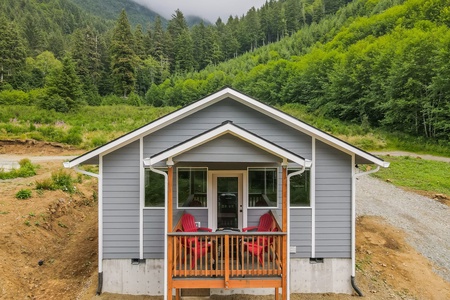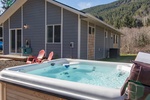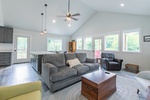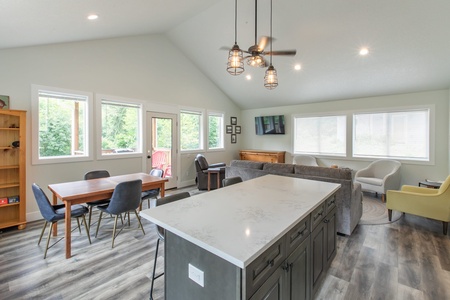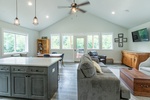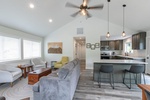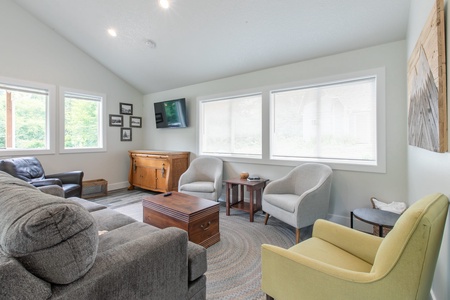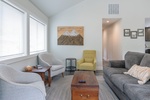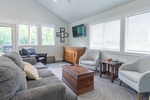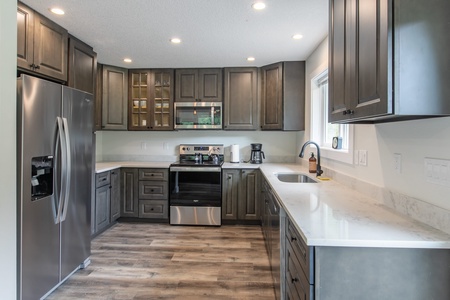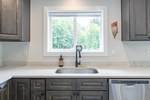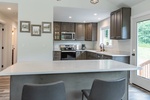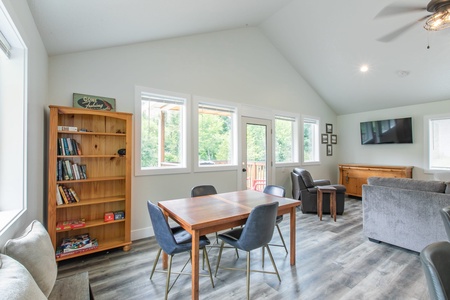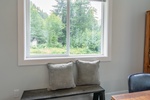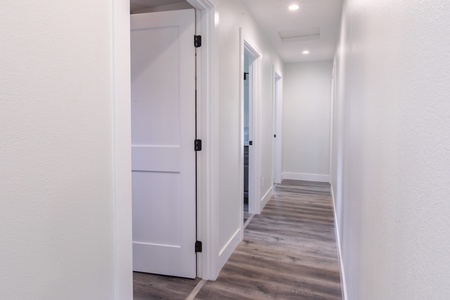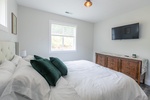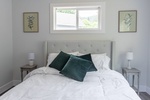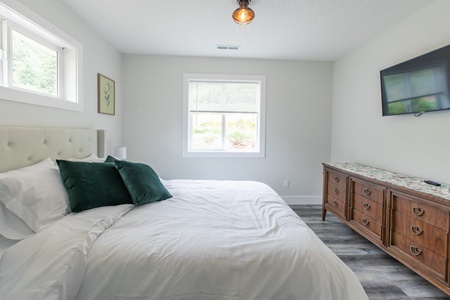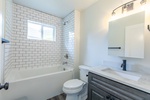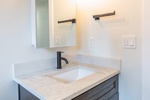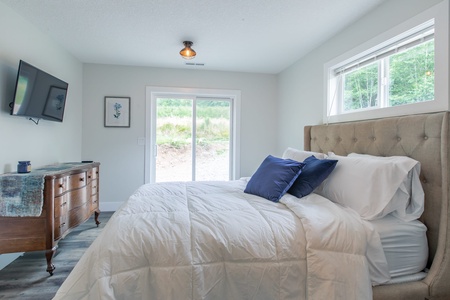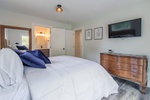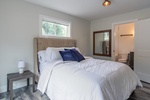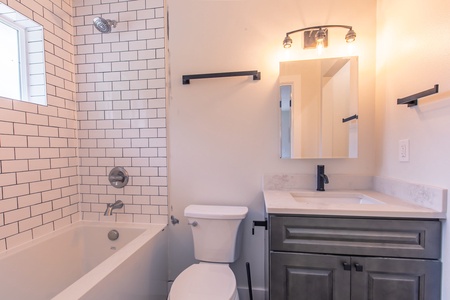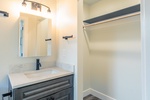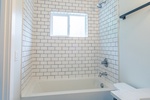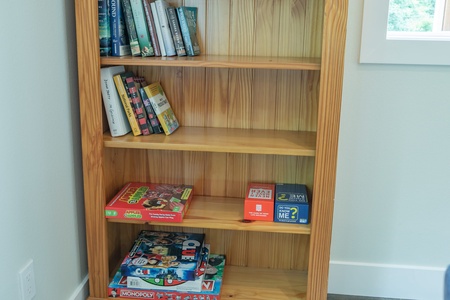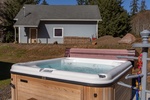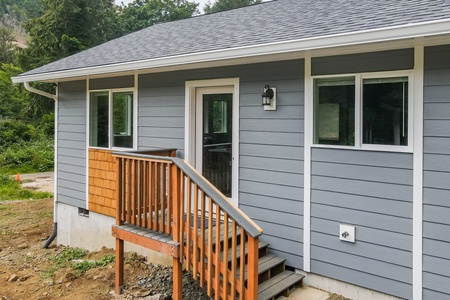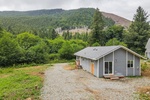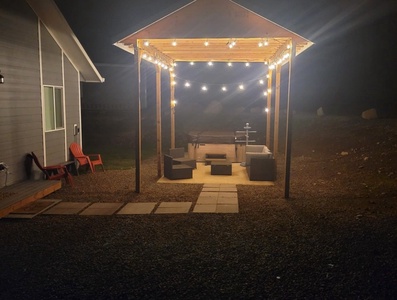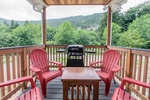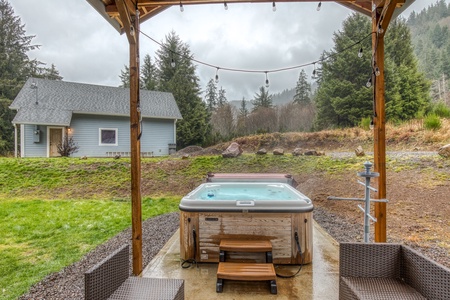 Rooms
rooms
Bedroom # 1

Primary Bedroom

1 Queen

Bedroom # 2

Guest Bedroom 2

1 Queen

Common

Living Room

1 Sofa Bed
---
---
Reviews
Reviews
Sep 27, 2022

This is a great rustic home and we appreciated that it was clean and kitchen well stocked

This is a great rustic home and we appreciated that it was clean and kitchen well stocked. Gazebo is a special feature that we also enjoyed. The only drawback from our perspective is that we needed to drive to the beaches all the time (15-20 mins drive) and we love being at the beach, so it got tiring. If we had more time, we might have explored the falls and swimming holes nearby. Oh no cell coverage but has good WiFi. But all in all if you love being in a rustic location with beautiful mountains around you, it is a great spot.

Beena W
---
Description
Welcome to the Nehalem Coastal Oasis by Gather— a newly built 2-bedroom, 2-bathroom home nestled along the private and quiet backroads of the spectacular Oregon coast. Between the new interior design, modern furnishings, and the beauty of the surrounding forest scenery, this home serves as your perfect oasis in the tranquil embrace of the Pacific Northwest.

Though the home is brand new, the land it's built on has been in the family for decades. They've taken utmost care to offer guests a warm and inviting stay. The main house welcomes you with an open-concept living area with cozy seating options, including a full-size pullout couch, a 55" flat-screen Smart TV, deck access, books, games, high-vaulted ceilings, and generous natural light. This setup forms the heart of the home, perfect for bonding moments.

The state-of-the-art kitchen boasts brand-new stainless steel appliances, extensive counter space, assorted culinary tools, and a spacious island countertop with bar stool seating—all set against a serene backdrop of forest views. Prepare sumptuous meals here and gather around the dining table, which comfortably seats six.

Both primary and guest bedrooms offer restful queen beds, flat-screen TVs, and ample closet space. The primary bedroom enjoys the luxury of a private ensuite, a tiled shower/tub combo, and a sliding door leading to the back of the home. The guest bathroom, equipped with a shower/tub combo, comes well-stocked with towels, shampoo, conditioner, and body wash. An additional air mattress in the bedroom closet can accommodate guests if required.

Venturing outside, the covered patio reveals comfy Adirondack lounge chairs and a barbecue grill station, perfect for alfresco dining amidst captivating views of wildlife. Around the back, a newly erected gazebo with ambient lighting and seating options beckons, as does a soothing hot tub—ideal for starlit relaxation. For the more adventurous souls, a fire pit awaits; however, please be mindful of the county's current burn ban status.

Beyond the house, 15 acres of pristine nature unfurl, with footpaths leading to a quaint creek—a perfect spot for a tranquil woodland stroll. Located within a 25-minute drive to nine different boat launches, this home is an angler's dream. The passionate fisherman owner is always keen to share insider tips on the best fishing spots. Moreover, with its proximity to the stunning Oregon beaches and the edge of the Tillamook National Forest, countless nature hikes lie within arm's reach.

Pets are welcome, subject to advance notice, agreement to pet rules, and a pet fee. Please liaise with management for pet-related specifics.

We extend a warm welcome to RV enthusiasts. One RV can park onsite with access to electricity/water. A septic connection is in the pipeline but is currently unavailable. RVs are welcomed for a nominal fee of $25/night. Including the RV, the total guest count can go up to 11. Tent setups for rustic camping are also permitted.

Important Notes:
We are enveloped by wildlife. Please avoid leaving food or trash exposed if you want unwanted visitors, including aggressive ravens.
Exterior security cameras are installed for safety. Please don't worry; they only monitor the driveway, ensuring the home's interior and hot tub privacy.
The neighboring garage unit houses a permanent tenant. However, guests of Nehalem Coastal Oasis are guaranteed complete privacy. Only house guests can use amenities like the BBQ, hot tub, and covered patio area. A privacy fence has been erected between the house and garage for added seclusion.
Room
Beds
---
Primary Bedroom (in main house)
Queen (1)
Bathroom ensuite, TV, and closet
---
Guest Bedroom 2 (in main house)
Queen (1)
TV and closet.
---
Tub/shower combo and we provide plenty of towels, shampoo, conditioner, and body wash.
---
Tub/shower combo and we provide plenty of towels, shampoo, conditioner, and body wash.
---
Living Room (in main house)
Sofa Bed (1)
Pull out sofa bed
Nearby Activities
Spa and wellness
Museums
Hiking
Shopping
Fishing
Horseback riding
Golfing
Watersports
Cycling
Bike path
Kitchen and Dining
Dining Area
Kitchen Basics
Kitchen
Refrigerator
Coffee Maker
Microwave
Dishwasher
Dishes Utensils
Stove
Toaster
Oven
BBQ
Freezer
Kettle
Accommodations
House Cleaning Optional ($)
Other Services Chauffeur ($)
Other Services Concierge ($)
Other Services Private Chef ($)
Other Services Massage ($)
Amenities
Essentials
Shampoo
Dryer
Washer
Garage
Hair Dryer
Linens
Iron
Private Entrance
Smartlock
Extra Pillows And Blankets
Wifi/Internet
Crib
High Chair
Pack and Play
Fire pit
Safety Features
Carbon Monoxide Detector
First Aid Kit
Fire Extinguisher
Smoke Detector
Outdoor Lighting
Suitability
Children Welcome
Pets Considered
Free Parking
Air Conditioning
Single Level Home
Long Term Stays Allowed
Suitable For Events
Heating
Bath Tub
Hot Water
Entertainment
Television
Toys
Satellite or Cable TV
Laptop Friendly
Outdoor Amenities
Garden
Lanai/Balcony
Outdoor seating
Car
Car Necessary
Car Recommended
Location/Property Types
Mountain
Near Ocean
Rural
Mountain View
Garden View
Private / Secluded
Sep 27, 2022
This is a great rustic home and we appreciated that it was clean and kitchen well stocked
This is a great rustic home and we appreciated that it was clean and kitchen well stocked. Gazebo is a special feature that we also enjoyed. The only drawback from our perspective is that we needed to drive to the beaches all the time (15-20 mins drive) and we love being at the beach, so it got tiring. If we had more time, we might have explored the falls and swimming holes nearby. Oh no cell coverage but has good WiFi. But all in all if you love being in a rustic location with beautiful mountains around you, it is a great spot.
Beena W
November 2023
| S | M | T | W | T | F | S |
| --- | --- | --- | --- | --- | --- | --- |
| | | | 01 | 02 | 03 | 04 |
| 05 | 06 | 07 | 08 | 09 | 10 | 11 |
| 12 | 13 | 14 | 15 | 16 | 17 | 18 |
| 19 | 20 | 21 | 22 | 23 | 24 | 25 |
| 26 | 27 | 28 | 29 | 30 | | |
December 2023
S
M
T
W
T
F
S
01

$126

02

$126

03

$126

04

$114

05

$114

06

$114

07

$126

08

$126

09

$126

10

$126

11

$114

12

$114

13

$114

14

$126

15

$126

16

$133

17

$126

18

$118

19

$114

20

$114

21

$126

22

$181

23

$218

24

$204

25

$186

26

$200

27

$204

28

$225

29

$241

30

$243

31

$238
January 2024
S
M
T
W
T
F
S
01

$208

02

$150

03

$119

04

$130

05

$158

06

$136

07

$158

08

$124

09

$129

10

$129

11

$129

12

$147

13

$160

14

$140

15

$115

16

$114

17

$114

18

$126

19

$126

20

$132

21

$126

22

$114

23

$114

24

$114

25

$126

26

$129

27

$139

28

$126

29

$114

30

$114

31

$114
February 2024
S
M
T
W
T
F
S
01

$126

02

$126

03

$126

04

$126

05

$114

06

$114

07

$114

08

$126

09

$149

10

$149

11

$126

12

$114

13

$114

14

$114

15

$149

16

$149

17

$149

18

$149

19

$149

20

$114

21

$114

22

$126

23

$175

24

$185

25

$126

26

$114

27

$114

28

$114

29

$126
March 2024
S
M
T
W
T
F
S
01

$155

02

$154

03

$126

04

$114

05

$114

06

$114

07

$126

08

$158

09

$166

10

$147

11

$114

12

$114

13

$114

14

$147

15

$187

16

$196

17

$157

18

$143

19

$135

20

$135

21

$147

22

$190

23

$200

24

$161

25

$146

26

$143

27

$150

28

$162

29

$218

30

$228

31

$179
April 2024
S
M
T
W
T
F
S
01

$164

02

$142

03

$130

04

$162

05

$288

06

$300

07

$221

08

$189

09

$138

10

$132

11

$162

12

$219

13

$227

14

$168

15

$142

16

$131

17

$134

18

$164

19

$265

20

$272

21

$197

22

$136

23

$125

24

$128

25

$186

26

$263

27

$271

28

$191

29

$132

30

$125
May 2024
S
M
T
W
T
F
S
01

$131

02

$162

03

$213

04

$219

05

$162

06

$141

07

$133

08

$143

09

$162

10

$223

11

$228

12

$174

13

$156

14

$149

15

$156

16

$165

17

$229

18

$233

19

$188

20

$171

21

$165

22

$167

23

$176

24

$297

25

$301

26

$289

27

$255

28

$178

29

$181

30

$189

31

$239
June 2024
S
M
T
W
T
F
S
01

$247

02

$212

03

$196

04

$196

05

$196

06

$201

07

$245

08

$256

09

$221

10

$206

11

$209

12

$209

13

$216

14

$260

15

$271

16

$244

17

$238

18

$253

19

$254

20

$266

21

$294

22

$304

23

$281

24

$281

25

$283

26

$282

27

$289

28

$317

29

$348

30

$328
July 2024
S
M
T
W
T
F
S
01

$330

02

$363

03

$436

04

$437

05

$422

06

$380

07

$352

08

$324

09

$324

10

$324

11

$328

12

$339

13

$342

14

$334

15

$334

16

$332

17

$330

18

$332

19

$343

20

$344

21

$357

22

$371

23

$381

24

$384

25

$384

26

$385

27

$353

28

$344

29

$342

30

$338

31

$339
August 2024
S
M
T
W
T
F
S
01

$345

02

$355

03

$353

04

$344

05

$339

06

$335

07

$337

08

$420

09

$394

10

$374

11

$340

12

$336

13

$330

14

$331

15

$342

16

$363

17

$357

18

$336

19

$330

20

$321

21

$317

22

$327

23

$459

24

$344

25

$309

26

$304

27

$292

28

$285

29

$294

30

$374

31

$373
September 2024
S
M
T
W
T
F
S
01

$330

02

$325

03

$267

04

$268

05

$277

06

$317

07

$321

08

$266

09

$262

10

$251

11

$253

12

$259

13

$308

14

$312

15

$254

16

$243

17

$229

18

$232

19

$244

20

$292

21

$294

22

$236

23

$217

24

$209

25

$215

26

$235

27

$282

28

$286

29

$229

30

$205
October 2024
S
M
T
W
T
F
S
01

$198

02

$199

03

$220

04

$262

05

$267

06

$209

07

$178

08

$173

09

$171

10

$196

11

$242

12

$256

13

$198

14

$164

15

$146

16

$146

17

$171

18

$224

19

$229

20

$169

21

$136

22

$131

23

$131

24

$169

25

$222

26

$216

27

$169

28

$131

29

$131

30

$131

31

$169
Available
Unavailable
Check-In Only
Check-Out Only
Please select dates
+ tax/fees