Springbrook Cabin
Brightwood, OR 2 Bedrooms Vacation Rental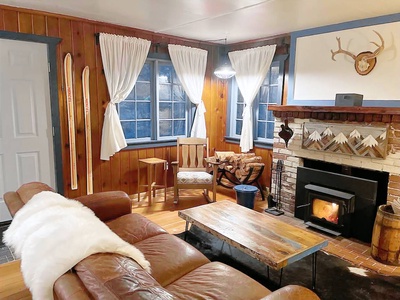 Show All Photos
Unit Photos
Living room

Outdoor Fireplace to warm up at night while chatting with friends

Backyard with outdoor fireplace and dining table

Living room

Step back in time as you enter the cabin into the open-concept common area.

Overhead shot of the area

Overhead shot of the property immersed in the beautiful Oregon nature

Welcome to Springbrook Cabin, a lovingly renovated 2-bedroom 1-bathroom mountain home nestled in the forests of Mt. Hood

The vibrant living area is adorned with a comfy leather sofa, a vintage chair, a large flatscreen Smart TV, a large antique desk, and a cozy new fireplace with starter firewood.

Cute reading nook

Plenty of books, puzzles, and board games are also available, as well as a record player with an extensive record collection to explore, making this room a very atmospheric place to gather with friends and family for fun and entertainment.

Another angle of the cozy living room

Detail of the fireplace

The wooden desk is here for you to seat and get inspired

Desk

More angle of the living room

The wooden walls and decor makes this cabin real special

Record Player with records

Wildflowers straight from the yard!

Reading nook

Books for your reading pleasure

Enjoy your delicious meals at the custom-made heavy wood dining table for four guests.

Dining area

Dining area

View of the kitchen from the living room/dining room

The retro kitchen is fully equipped with all the culinary tools needed to cook up some delicious food, including a fully stocked pantry and an eclectic old-school popcorn maker

Kitchen

Kitchen

Kitchen overlooks the forest so even doing dishes will be relaxing!

Kitchen angle with view of the yard

The coffee bar is stocked with locally roasted coffee and has a traditional pot and a stovetop "cowboy" coffee pot

Fully stocked with basic amenities

Kitchen

Fully stocked kitchen shelf

Vintage Cookbooks

Popcorn for guests to enjoy

Kitchen

Hallway leading to bedrooms and bathroom

Door leading to Primary bedroom

Beautiful primary bedroom with queen bed and view of the forest

Beautiful primary bedroom with queen bed and view of the forest

Beautiful primary bedroom with queen bed and view of the forest

Beautiful primary bedroom with queen bed and view of the forest

Newly remodeled bathroom with standup shower

Newly remodeled bathroom

Sliding barn door and view from inside bathroom

Bathroom

Standup Shower

Bathroom sink

Decorative touches everywhere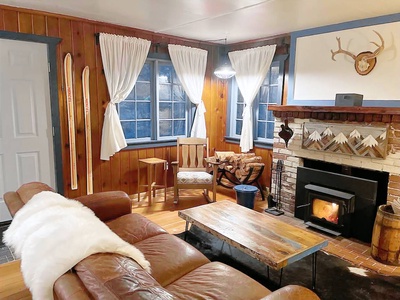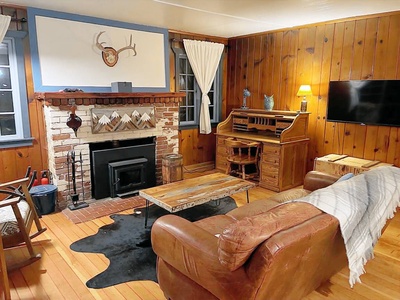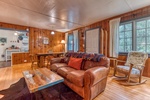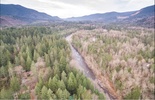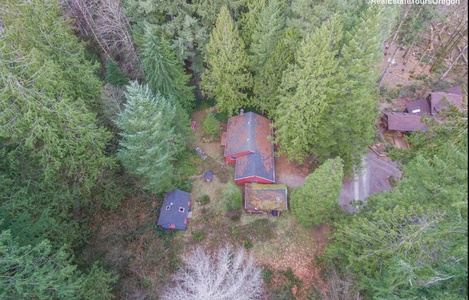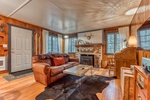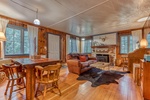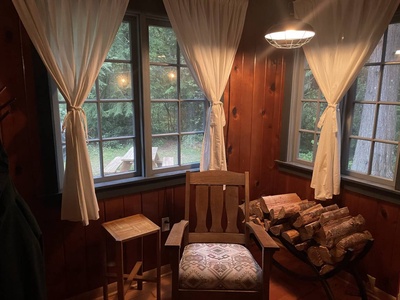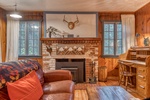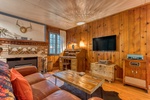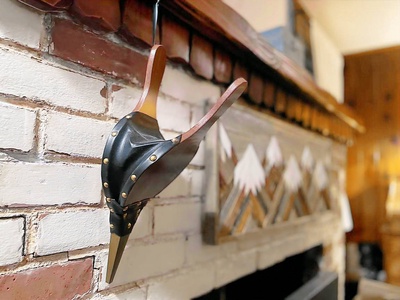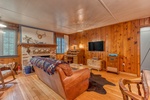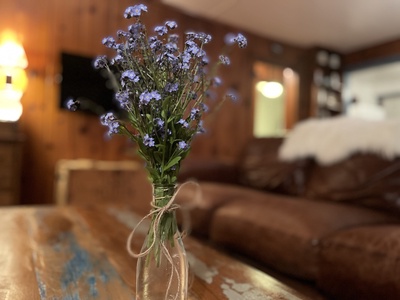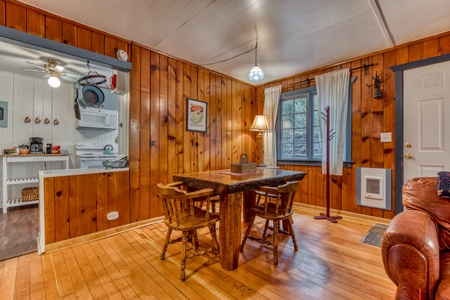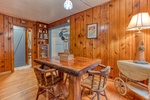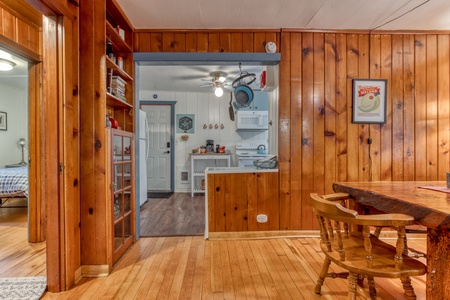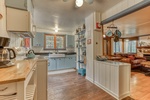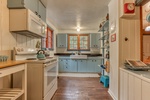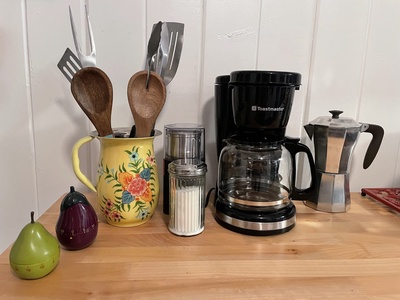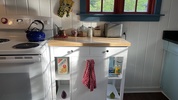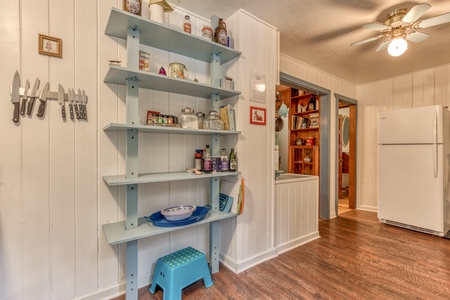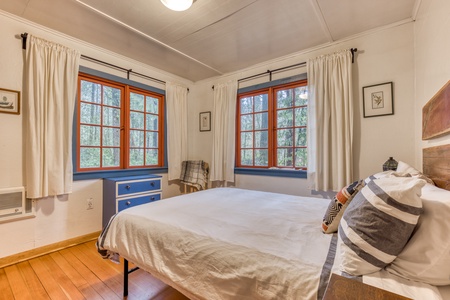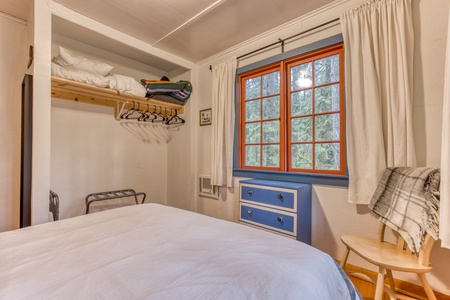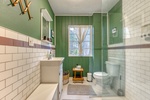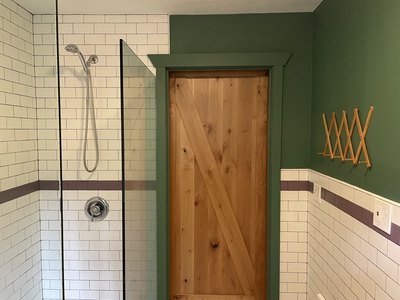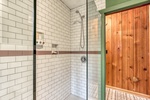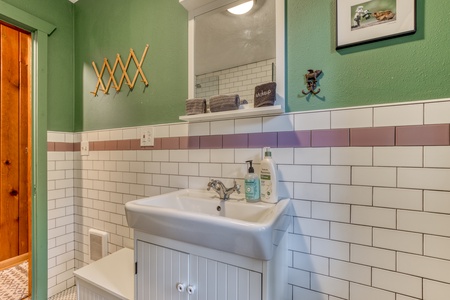 Rooms
rooms
Bedroom # 1

Primary Bedroom

1 Queen

Bedroom # 2

Guest Bedroom 2

1 Queen
---
---
Reviews
Reviews
Oct 05, 2022

A delight!

Emily W
---
Description
Welcome to Springbrook Cabin, a lovingly renovated 2-bedroom 1-bathroom mountain home nestled in the forests of Mt. Hood with a charming ode to yesteryear in its vintage design and sentimental knick-knacks, while maintaining modern amenities and comforts to indulge in after a full day of adventuring, making for an exceptional Oregon getaway.

Step back in time as you enter the cabin into the open-concept common area. The retro kitchen is fully equipped with all the culinary tools needed to cook up some delicious food, including a fully stocked pantry and an eclectic old-school popcorn maker. The coffee bar is stocked with locally roasted coffee and has a traditional pot and a stovetop "cowboy" coffee pot. Enjoy your delicious meals at the custom-made heavy wood dining table for four guests. The vibrant living area is adorned with a comfy leather sofa, a vintage chair, a large flatscreen Smart TV, a large antique desk, and a cozy new fireplace with starter firewood. Plenty of books, puzzles, and board games are also available, as well as a record player with an extensive record collection to explore, making this room a very atmospheric place to gather with friends and family for fun and entertainment.

Both bedrooms come furnished with a queen bed and a small closet, and they share a full bathroom in the middle of the hallway, with a large stand-up shower stocked with towels, shampoo, conditioner, and body wash. A queen air mattress and porta crib can be provided upon request, and an additional child may also sleep on the couch. The garage holds ample space for storing outdoor recreational equipment and an in-unit washer and dryer.

Step outside to the back deck to encounter the picnic table, barbecue grill, and the old stone fireplace adorned with log seats for a magical night of cookouts, campfires, ghost stories, and s'mores among the greenery of the forest with Edison bulbs that light up the picturesque backyard into a magical oasis. The cabin is surrounded by large trees, majestic wildflowers, ferns, and blackberry bushes, with only one visible neighbor far across the street. Wander down to the nearby babbling brook in the lower yard, where you can relax at the cafe table with your morning coffee for a calm moment in nature.

Springbrook cabin is centrally located between the pleasant town of Sandy and Timberline Lodge atop Mt. Hood and is also about an hour from downtown Portland and PDX airport. This stellar location gives you convenient access to several beautiful parks and year-round skiing up on the slopes of Timberline. Popular summer activities range from kayaking at Trillium Lake and white water rafting the Deschutes River to horseback riding, mountain biking, and tubing. Winter activities such as skiing and snowboarding are also abundant, as well as snowshoeing and Cosmic tubing. With snow prevalent during the winter, we keep our driveways as clear as possible. Chains for your car are also required for travel during the winter to navigate the mountain roads; however, they are not needed to travel to this cabin. Shuttles go up to the mountain ski areas, with the pickup location being just down the road from the property. Scheduled pickups and drop-offs must be researched in advance.

Please note the max occupancy for this property is six guests as long as there are no more than four adults.

Pets are welcome with advance notice upon agreement to the pet rules and payment of a pet fee. Please reach out to management for specific details regarding pets.

Please note this unit undergoes periodic pest control to keep mice outside where they belong. Keep in mind that we are invading their space out in the country, and they are simply looking for a warm place to live. We apologize for any concern this may cause you.

Please note that this property has exterior facing security cameras onsite. Cameras point exclusively to driveway and cannot see the inside the home and/or hot tub.

We hope that you enjoy your pleasant stay here at Springbrook Cabin and feel at home while taking advantage of all that Mt. Hood and its surrounding areas have to offer for a fun-filled vacation!
Room
Beds
---
Primary Bedroom
Queen (1)
Small closet, pack and play can be set up if needed.
---
Guest Bedroom 2
Queen (1)
Small closet, pack and play can be set up if needed.
---
The bathroom is brand new and features a large stand up shower. We supply you with plenty of towels, shampoo, conditioner and body wash.
Kitchen and Dining
Dining Area
Kitchen Basics
Kitchen
Refrigerator
Coffee Maker
Microwave
Dishes Utensils
Stove
Toaster
Oven
BBQ
Freezer
Kettle
Coffee Grinder
Accommodations
House Cleaning Optional ($)
Other Services Chauffeur ($)
Other Services Concierge ($)
Other Services Private Chef ($)
Other Services Massage ($)
Amenities
Essentials
Shampoo
Dryer
Washer
Hair Dryer
Linens
Iron
Parking space
Private Entrance
Keypad
Extra Pillows And Blankets
Wifi/Internet
Crib
Pack and Play
Ski storage
Fire pit
Cleanliness
Self Check In / Check Out
Safety Features
Carbon Monoxide Detector
First Aid Kit
Fire Extinguisher
Smoke Detector
Deadbolt Lock
Outdoor Lighting
Suitability
Children Welcome
Smoking Not Allowed
Free Parking
Fireplace
Suitable for Elderly
Single Level Home
Firewood Provided
Snow Removal Provided
Heating
Pet Friendly
Hot Water
Entertainment
Television
Laptop Friendly
Smart TV
Outdoor Amenities
Garden
Private yard
Lanai/Balcony
Location/Property Types
Mountain
Rural
Garden View
Private / Secluded
Nearby Activities
Spa and wellness
Museums
Snowboarding/Skiing
Hiking
Shopping
Fishing
Horseback riding
Golfing
Watersports
Mountain climbing
Cycling
Tennis
Bike path
Oct 05, 2022
A delight!
Emily W
November 2023
| S | M | T | W | T | F | S |
| --- | --- | --- | --- | --- | --- | --- |
| | | | 01 | 02 | 03 | 04 |
| 05 | 06 | 07 | 08 | 09 | 10 | 11 |
| 12 | 13 | 14 | 15 | 16 | 17 | 18 |
| 19 | 20 | 21 | 22 | 23 | 24 | 25 |
| 26 | 27 | 28 | 29 | 30 | | |
December 2023
S
M
T
W
T
F
S
01

$154

02

$155

03

$123

04

$100

05

$100

06

$106

07

$123

08

$176

09

$176

10

$238

11

$172

12

$105

13

$146

14

$170

15

$205

16

$207

17

$167

18

$349

19

$349

20

$349

21

$349

22

$339

23

$339

24

$339

25

$339

26

$339

27

$339

28

$339

29
30
31

$314
January 2024
S
M
T
W
T
F
S
01

$267

02

$149

03

$137

04

$150

05

$227

06

$198

07

$192

08

$142

09

$117

10

$118

11

$248

12

$344

13

$324

14

$296

15

$238

16

$114

17

$112

18

$138

19

$246

20

$232

21

$189

22

$123

23

$100

24

$100

25

$132

26

$249

27

$256

28

$175

29

$119

30

$103

31

$105
February 2024
S
M
T
W
T
F
S
01

$140

02

$258

03

$258

04

$173

05

$119

06

$109

07

$111

08

$144

09

$257

10

$242

11

$157

12

$127

13

$121

14

$123

15

$273

16

$381

17

$383

18

$293

19

$248

20

$153

21

$141

22

$169

23

$252

24

$259

25

$166

26

$124

27

$120

28

$120

29

$152
March 2024
S
M
T
W
T
F
S
01

$243

02

$252

03

$147

04

$126

05

$119

06

$118

07

$148

08

$277

09

$286

10

$203

11

$171

12

$152

13

$145

14
15
16
17
18
19
20
21
22
23
24
25
26
27
28
29
30
31
April 2024
| S | M | T | W | T | F | S |
| --- | --- | --- | --- | --- | --- | --- |
| | 01 | 02 | 03 | 04 | 05 | 06 |
| 07 | 08 | 09 | 10 | 11 | 12 | 13 |
| 14 | 15 | 16 | 17 | 18 | 19 | 20 |
| 21 | 22 | 23 | 24 | 25 | 26 | 27 |
| 28 | 29 | 30 | | | | |
May 2024
| S | M | T | W | T | F | S |
| --- | --- | --- | --- | --- | --- | --- |
| | | | 01 | 02 | 03 | 04 |
| 05 | 06 | 07 | 08 | 09 | 10 | 11 |
| 12 | 13 | 14 | 15 | 16 | 17 | 18 |
| 19 | 20 | 21 | 22 | 23 | 24 | 25 |
| 26 | 27 | 28 | 29 | 30 | 31 | |
June 2024
| S | M | T | W | T | F | S |
| --- | --- | --- | --- | --- | --- | --- |
| | | | | | | 01 |
| 02 | 03 | 04 | 05 | 06 | 07 | 08 |
| 09 | 10 | 11 | 12 | 13 | 14 | 15 |
| 16 | 17 | 18 | 19 | 20 | 21 | 22 |
| 23 | 24 | 25 | 26 | 27 | 28 | 29 |
| 30 | | | | | | |
July 2024
| S | M | T | W | T | F | S |
| --- | --- | --- | --- | --- | --- | --- |
| | 01 | 02 | 03 | 04 | 05 | 06 |
| 07 | 08 | 09 | 10 | 11 | 12 | 13 |
| 14 | 15 | 16 | 17 | 18 | 19 | 20 |
| 21 | 22 | 23 | 24 | 25 | 26 | 27 |
| 28 | 29 | 30 | 31 | | | |
August 2024
| S | M | T | W | T | F | S |
| --- | --- | --- | --- | --- | --- | --- |
| | | | | 01 | 02 | 03 |
| 04 | 05 | 06 | 07 | 08 | 09 | 10 |
| 11 | 12 | 13 | 14 | 15 | 16 | 17 |
| 18 | 19 | 20 | 21 | 22 | 23 | 24 |
| 25 | 26 | 27 | 28 | 29 | 30 | 31 |
September 2024
| S | M | T | W | T | F | S |
| --- | --- | --- | --- | --- | --- | --- |
| 01 | 02 | 03 | 04 | 05 | 06 | 07 |
| 08 | 09 | 10 | 11 | 12 | 13 | 14 |
| 15 | 16 | 17 | 18 | 19 | 20 | 21 |
| 22 | 23 | 24 | 25 | 26 | 27 | 28 |
| 29 | 30 | | | | | |
October 2024
| S | M | T | W | T | F | S |
| --- | --- | --- | --- | --- | --- | --- |
| | | 01 | 02 | 03 | 04 | 05 |
| 06 | 07 | 08 | 09 | 10 | 11 | 12 |
| 13 | 14 | 15 | 16 | 17 | 18 | 19 |
| 20 | 21 | 22 | 23 | 24 | 25 | 26 |
| 27 | 28 | 29 | 30 | 31 | | |
Available
Unavailable
Check-In Only
Check-Out Only
Please select dates
+ tax/fees