Great Blue Lodge
Government Camp, Oregon 6 Bedrooms Vacation Rental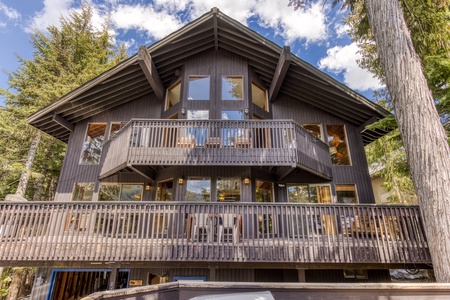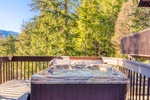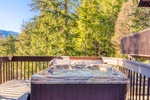 Show All Photos
Unit Photos
Surrounded by the lush vegetation of the Great Pacific Northwest.

Festive and cozy living area with plush seating and holiday decor, perfect for warm gatherings and winter cheer.

Guaranteed relax in the heart of the Forest while soaking in the Private Hot Tub

Let the Great Blue Lodge be your serene sanctuary for your next nature getaway.

Located just an hour and a half east of Portland in the pristine wilderness surrounding Mount Hood

Upon arrival, this grand structure impresses instantly with the large deck and relaxing hot tub, along with its 3rd-floor balcony

Welcome to Great Blue Lodge!

Upon entering the spacious main entrance on the first floor, a wide tiled corridor provides plenty of space to store outdoor gear after a day of exploring

Festive and cozy living area with plush seating and holiday decor, perfect for warm gatherings and winter cheer.

A 70" Smart TV is perfect for fantastic family movie nights amidst the views of the porch and pristine forest beyond.

Cozy up by the fire in your very own mountain cabin

This is the perfect place to escape from the hustle and bustle of everyday life

The lodge has a contemporary design with beautifully polished wood, high ceilings, and an abundance of windows while maintaining a classical and cozy vibe.

Ascending the first stairwell leads you to the house's main floor. Guests will enjoy the open floor plan of this house, as it provides a grand and spacious atmosphere

The lodge's central wood-burning stove provides the primary heat source for the entire home

Enchanting holiday corner with a beautifully adorned Christmas tree and candlelit ambiance, evoking the spirit of the season.

Gather around the wooden table

3

Adjacent to the kitchen, the spacious dining area holds a large wooden farmhouse table with benches under a lovely hanging woodland-style light fixture.

The fully equipped kitchen holds all brand new (May 2023) stainless steel appliance and a walk-in pantry

Newly remodeled kitchen (may 2023)

A large butcher block kitchen island and marble countertops provide ample space for chefs to work their culinary magic

Coffee Station, fully stocked with all you need to enjoy a cup on the deck or grab a to go cup on your way out!

Primary Bedroom with private balcony, located on the second floor.

Both rooms on this level have sliding glass doors leading out to a deck

Primary Bedroom

Primary Bedroom has an attached ensuite featuring a Sauna

Primary Bedroom's ensuite

Ensuite bathroom with stand up shower and Sauna

Primary Bedroom's Ensuite

There is even a sauna where you can sweat off all the stress

Primary Bedroom's newly tiled stand up shower.

Double Queen bedroom has an attached bathroom

The second bedroom on the main floor features two queen beds.

Double Queen bedroom's attached bathroom

Shower Tub Combo located in Double Queen Bedroom

Third Floor

Upstairs on the 3rd floor of the lodge is a poker table and various games that are sure to entertain at family game night

On the other side of the house is a tucked-away secondary living area, making this the perfect place to unwind with a book or some good company

Perfect Mountain views

Deck located off of the Third Floor

Third floor king bedroom #1

Ensuite attached to King Bedroom #1

Guest bedroom with king bed #2

Guest bedroom with king bed #2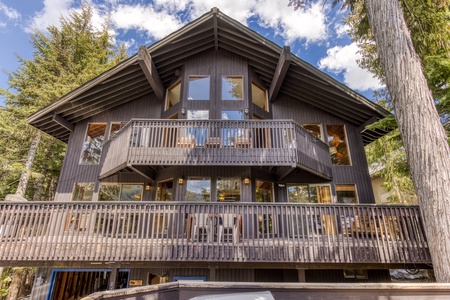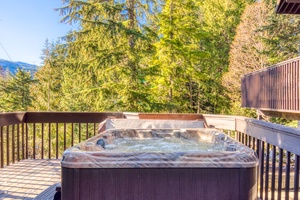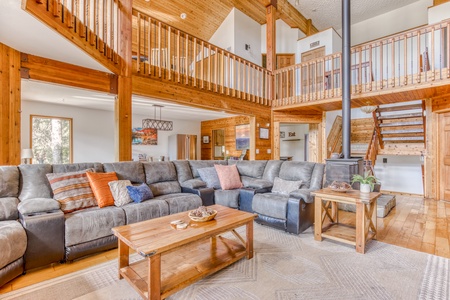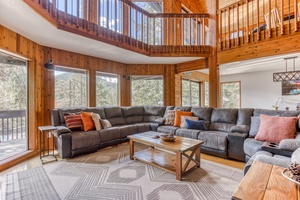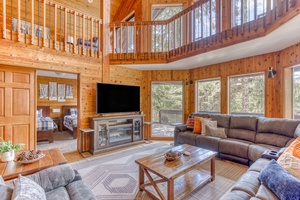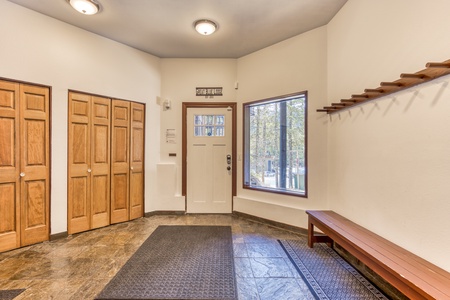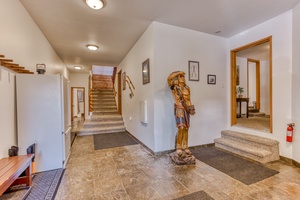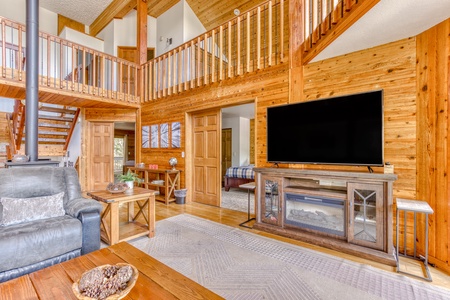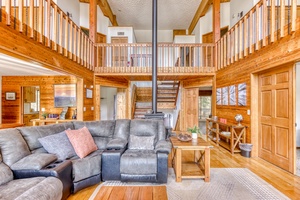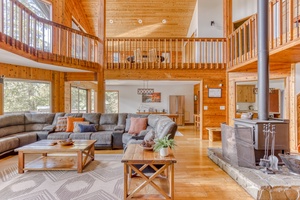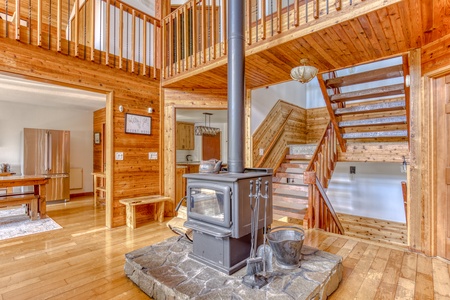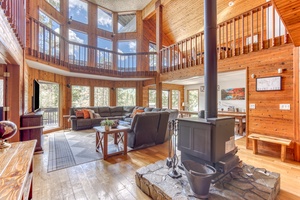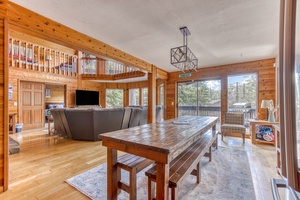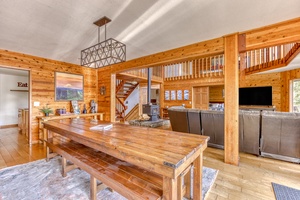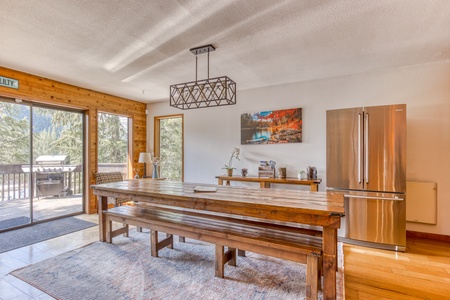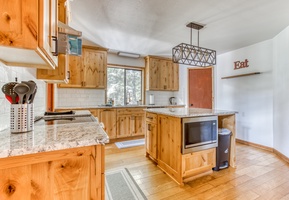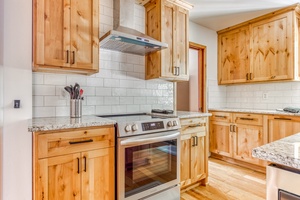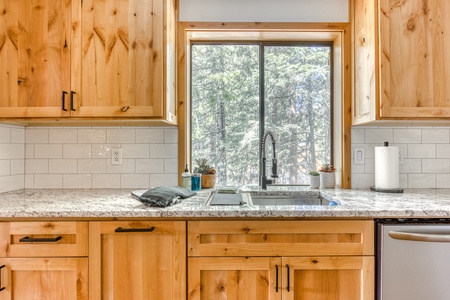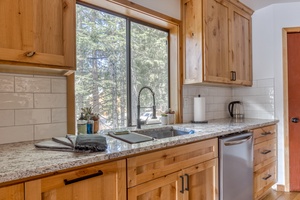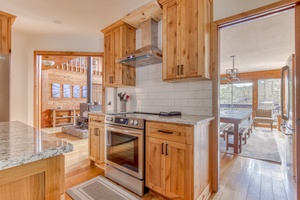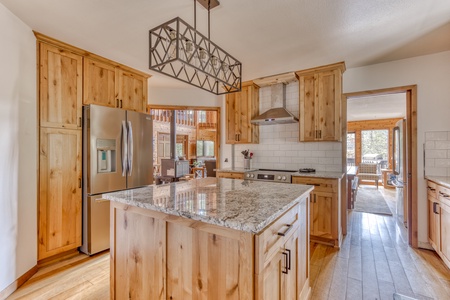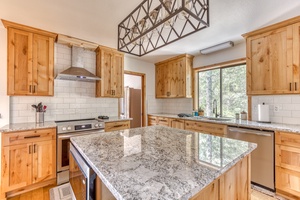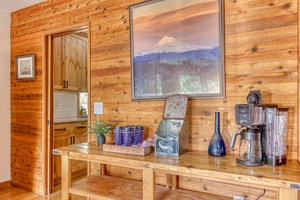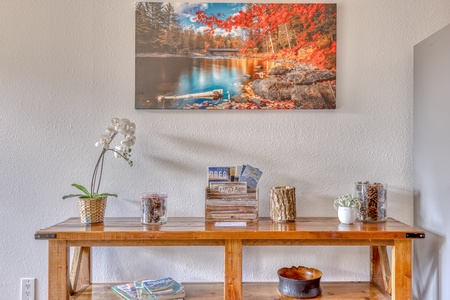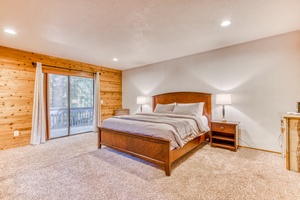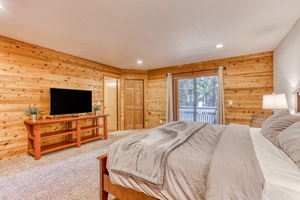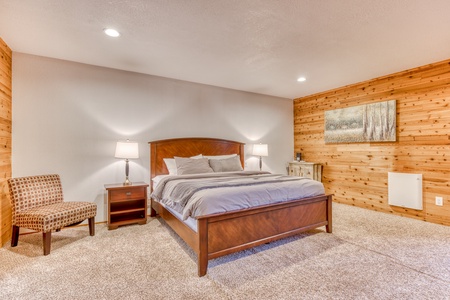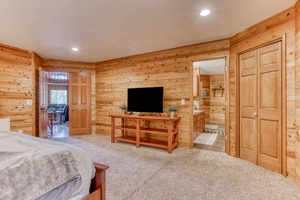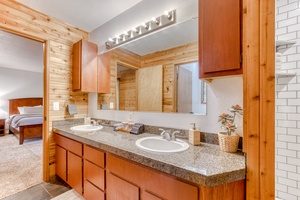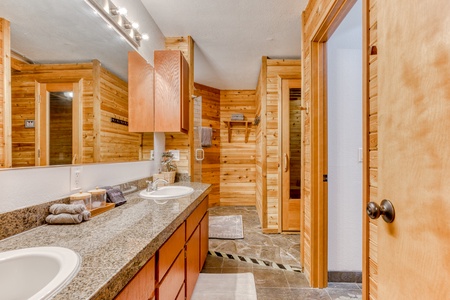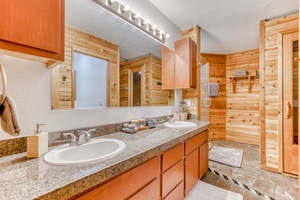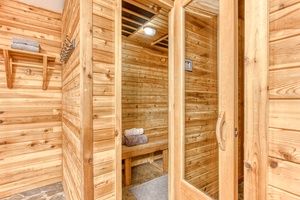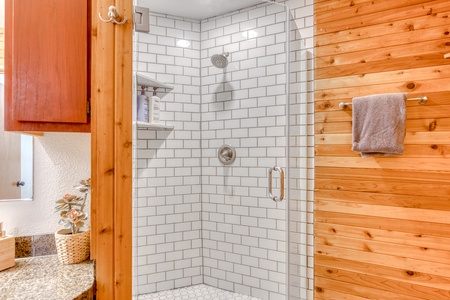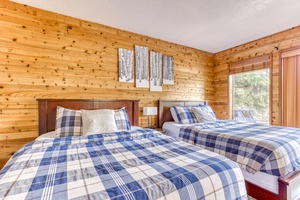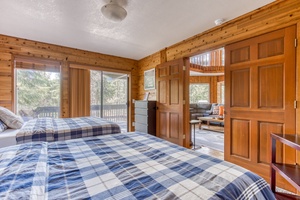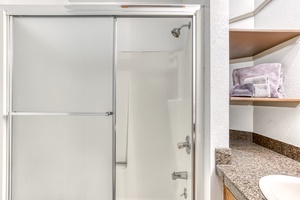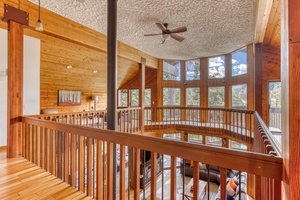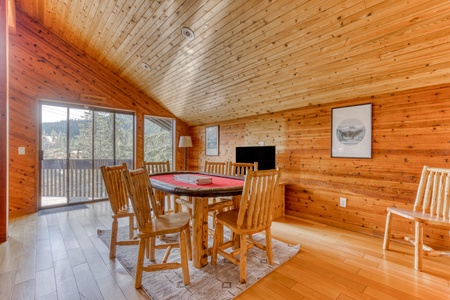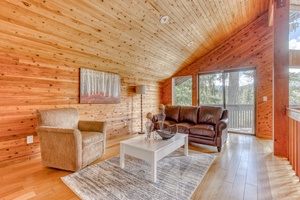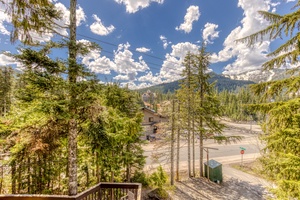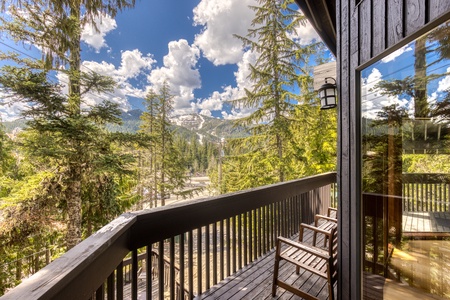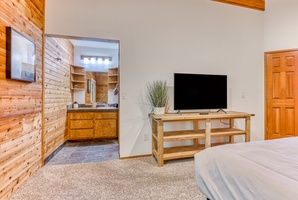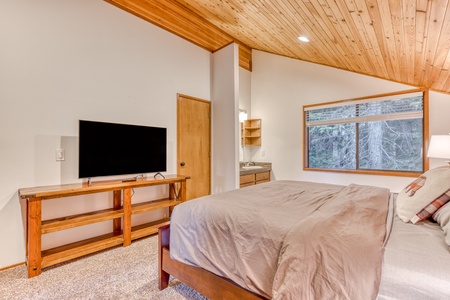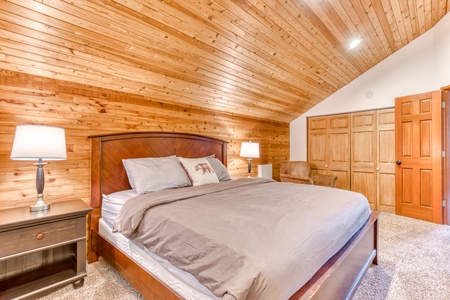 Rooms
rooms
Bedroom # 1

Primary Bedroom 1

1 Queen, 1 Futon,

Bedroom # 2

Guest Bedroom 2

1 Twin, 2 Bunk Bed, 2 Queen,

Bedroom # 3

Guest Bedroom 3

2 Queen

Bedroom # 4

Guest Bedroom 4

1 King

Bedroom # 5

Guest Bedroom 5

1 King

Bedroom # 6

Guest Bedroom 6

1 King
---
Amenities
Walk to Shops / Restaurants
---
Reviews
Reviews
Feb 26, 2023

We enjoyed our stay in the Great Blue Lodge. It was very easy to get to, including getting in the driveway, and was close enough to walk to a decent brewery. The number of rooms was perfect for our group and each person was pleased to have their own bathroom. The hot tub was excellent, as was the sauna. The kitchen was very dated and not well stocked, but the care team was on top of providing things we needed and for that we were very appreciative. Apparently they are doing a kitchen remodel soon, which would make it much easier and more enjoyable to cook and serve food. Overall we were happy with the layout, the space and the service.

Sunny H
---
Description
Welcome to Great Blue Lodge by Gather! This property does live up to its namesake! Upon arrival, this grand structure impresses instantly with its large deck and relaxing hot tub, along with its 3rd-floor balcony surrounded by the lush vegetation of the Great Pacific Northwest. Located just an hour and a half east of Portland and a mere 1/2 mile from Mt Hood Ski Bowl, in the heart of Government Camp, in the pristine wilderness surrounding Mount Hood, let the Great Blue Lodge be your serene sanctuary for your next nature getaway.

Upon entering the spacious main entrance on the first floor, a wide tiled corridor provides plenty of space to store outdoor gear after exploring.

The first floor contains two bedrooms. The first includes a queen-sized bed and a full bed and has an attached ensuite with a shower and soaking tub. The second bedroom is a perfect kids' room containing two twin-over-full bunk beds: a full-sized floor mattress, a twin-size floor mattress, and a twin bed. A second bathroom is in the hallway next to the laundry room with two washers and two dryers for guests' convenience.

Ascending the first stairwell leads you to the house's main floor. Guests will enjoy the open floor plan of this house, as it provides a grand and spacious atmosphere. The lodge has a contemporary design with beautifully polished wood, high ceilings, and an abundance of windows while maintaining a classical and cozy vibe. The lodge's central wood-burning stove provides the primary heat source for the entire home. To bring the house to a comfortable temperature, you can start a fire with wood found in the garage when you arrive.

The fully equipped and newly remodeled kitchen holds brand-new stainless steel appliances, including a large refrigerator, beverage fridge, a walk-in pantry, and a flattop range stovetop/oven. A large kitchen island and marble countertops provide ample space for chefs to work their culinary magic. Adjacent to the kitchen, the spacious dining area holds a large wooden farmhouse table with benches. The dining room opens up to the home's main living room. Often called the Great Room due to its grand appearance and central location, a new sectional sofa features several electric reclining chairs and enough seating for 12. A 55" Smart TV is perfect for fantastic family movie nights amidst the views of the porch and pristine forest beyond.

The main floor holds the primary bedroom with a king-sized bed, a newly tiled stand-up shower with double vanity, and a soothing sauna room for ultimate relaxation. The second bedroom contains two queen-sized beds with an attached private ensuite. Both rooms on this level have sliding glass doors leading out to the decks.

Upstairs on the 3rd floor of the lodge is the spacious game room, including a poker table and various games that are sure to entertain at family game night. On the other side of the house is a tucked-away secondary seating area, making this the perfect place to unwind with a book or some good company. The entire 3rd floor is enclosed by a wrap-around balcony, perfect for soaking up the morning sun or the starlit night sky. Two additional bedrooms, each with a king-sized bed, are also found on this floor, each with its private ensuite, single vanity, and gorgeous wooden high ceilings with windows overlooking the forest canopy beyond.

The incredible location of the Great Blue Lodge is a short distance from several noteworthy outdoor recreational activities. Cast a fishing rod at Trillium Lake, or explore the many hike and mountain bike trails. In the winter, the landscape changes into a powdered paradise for skiing and snowboarding with world-class skiing at the Timberline Lodge. The historical town of Government Camp can be a great place to grab a drink at its multiple brew pubs and local restaurants.

Snow chains or four-wheel drives with snow tires are necessary for transportation from November to March. If you attempt to drive up the mountain with neither and need to call for help, there is a fine by local authorities. Conditions can be hazardous driving on the mountain without the proper equipment for your vehicle. Transportation provided by Mt Hood Express is available from Government Camp up to Timberline and Meadows, but pick-up times/locations change frequently. Do research beforehand to coordinate transportation around the area.

Please note that this property does allow pets with prior approval. Please reach out for rules and fees before bringing a pet. Unauthorized pets will incur an additional $250 fee to be charged to the credit card on file.
Room
Beds
---
Primary Bedroom 1
Queen (1) Futon (1)
1 Queen bed with a full futon and an attached bathroom
---
Guest Bedroom 2
Twin (1) Bunk Bed (2) Queen (2)
2 twin over full bunk beds, 1 twin and 1 floor mattress and two queen air mattresses
---
Guest Bedroom 3
Queen (2)
2 Queen Beds with attached bathroom
---
1 King bed with bathroom and sauna
---
1 King Bed with an attached bathroom
---
1 King Bed with an attached bathroom
---
Primary Bedroom 1 Ensuite
full bathroom
---
full bathroom
---
with sauna
---
full bathroom
---
Full Bathroom near the entrance floor
---
full bathroom
Kitchen and Dining
Dining Area
Kitchen Basics
Kitchen
Refrigerator
Coffee Maker
Microwave
Dishwasher
Dishes Utensils
Stove
Toaster
Oven
BBQ
Freezer
Kettle
Blender
Wood burning stove
Disposal
Accommodations
House Cleaning Optional ($)
Other Services Chauffeur ($)
Other Services Concierge ($)
Other Services Private Chef ($)
Other Services Massage ($)
Amenities
Essentials
Shampoo
Dryer
Washer
Hair Dryer
Linens
Iron
Parking space
Private Entrance
Smartlock
Keypad
Extra Pillows And Blankets
Wifi/Internet
Crib
Pack and Play
Boot dryer
Snow shovel
Cleanliness
Self Check In / Check Out
Safety Features
Carbon Monoxide Detector
First Aid Kit
Fire Extinguisher
Smoke Detector
Deadbolt Lock
Outdoor Lighting
Suitability
Children Welcome
Pets Considered
Pets Not Allowed
Smoking Not Allowed
Minimum Age Limit
Free Parking
Fireplace
Long Term Stays Allowed
Firewood Provided
Snow Removal Provided
Heating
Bath Tub
Hot Water
Entertainment
Television
Toys
DVD
Laptop Friendly
Game room
Smart TV
Location/Property Types
Mountain
Village
Mountain View
Walk to Shops / Restaurants
Ski-in/ ski-out
Downtown
Nearby Activities
Spa and wellness
Museums
Snowboarding/Skiing
Hiking
Shopping
Fishing
Horseback riding
Golfing
Watersports
Mountain climbing
Cycling
Bike path
Feb 26, 2023
We enjoyed our stay in the Great Blue Lodge. It was very easy to get to, including getting in the driveway, and was close enough to walk to a decent brewery. The number of rooms was perfect for our group and each person was pleased to have their own bathroom. The hot tub was excellent, as was the sauna. The kitchen was very dated and not well stocked, but the care team was on top of providing things we needed and for that we were very appreciative. Apparently they are doing a kitchen remodel soon, which would make it much easier and more enjoyable to cook and serve food. Overall we were happy with the layout, the space and the service.
Sunny H
December 2023
S
M
T
W
T
F
S
01
02
03
04
05
06
07
08
09
10
11

$589

12

$589

13

$589

14
15
16
17
18
19
20
21
22
23
24
25
26
27
28
29
30
31
January 2024
S
M
T
W
T
F
S
01

$889

02

$889

03

$889

04

$889

05
06
07
08
09
10
11
12
13
14
15

$993

16

$993

17

$993

18

$993

19

$993

20
21
22
23
24
25
26
27
28
29
30
31
February 2024
S
M
T
W
T
F
S
01
02
03
04
05
06
07
08
09
10
11
12
13
14
15
16
17
18
19
20
21
22
23
24
25
26
27
28

$873

29

$873
March 2024
S
M
T
W
T
F
S
01
02
03
04
05

$873

06

$873

07
08
09
10
11

$873

12

$873

13
14
15
16
17
18

$873

19

$873

20
21
22
23
24
25
26
27
28
29
30
31
April 2024
S
M
T
W
T
F
S
01

$453

02

$427

03

$451

04

$514

05

$880

06

$915

07

$618

08

$492

09

$469

10

$466

11

$561

12

$839

13

$866

14

$603

15

$474

16

$440

17

$442

18

$564

19

$807

20

$831

21

$576

22

$451

23

$440

24

$440

25

$561

26

$789

27

$831

28

$576

29

$440

30

$440
May 2024
S
M
T
W
T
F
S
01
02
03
04
05
06

$440

07

$440

08

$440

09

$514

10

$800

11

$766

12

$545

13

$440

14

$440

15

$440

16

$527

17

$741

18

$779

19

$567

20

$443

21

$441

22

$462

23

$554

24

$1,136

25

$1,172

26

$967

27

$847

28

$494

29

$515

30

$595

31

$824
June 2024
S
M
T
W
T
F
S
01

$871

02

$689

03

$574

04

$606

05

$623

06

$688

07

$920

08

$973

09

$785

10

$697

11

$706

12

$726

13

$791

14

$1,020

15

$1,070

16

$879

17

$880

18

$887

19

$874

20

$989

21

$1,320

22

$1,398

23

$1,231

24

$943

25

$829

26

$843

27

$903

28

$1,091

29

$1,102

30

$904
July 2024
S
M
T
W
T
F
S
01

$948

02

$952

03

$965

04

$1,152

05

$1,241

06

$1,225

07

$1,040

08

$871

09

$875

10

$880

11

$967

12

$1,132

13

$1,373

14

$1,025

15

$834

16
17
18
19
20
21
22
23

$836

24

$874

25

$999

26

$1,186

27

$1,170

28

$989

29

$889

30

$871

31

$881
August 2024
S
M
T
W
T
F
S
01

$1,319

02

$1,546

03

$1,421

04

$1,066

05

$881

06

$869

07

$874

08

$981

09

$1,187

10

$1,197

11

$989

12

$879

13

$853

14

$844

15

$948

16

$1,262

17

$1,410

18

$1,106

19

$943

20

$941

21

$1,097

22

$1,242

23

$1,291

24

$1,145

25

$920

26

$826

27

$784

28

$776

29

$840

30

$1,438

31

$1,464
September 2024
S
M
T
W
T
F
S
01

$1,240

02

$1,132

03

$1,048

04

$708

05

$759

06

$1,004

07

$1,112

08

$776

09

$812

10

$646

11

$647

12

$706

13

$968

14

$987

15

$697

16

$608

17

$572

18

$588

19

$660

20

$944

21

$1,014

22

$653

23

$565

24

$532

25

$554

26

$651

27

$930

28

$923

29
30
October 2024
S
M
T
W
T
F
S
01
02
03
04
05
06

$634

07

$538

08

$522

09

$515

10

$614

11

$898

12

$982

13

$705

14

$583

15

$513

16

$503

17

$603

18

$899

19

$906

20

$653

21

$527

22

$511

23

$505

24

$696

25

$1,080

26

$873

27

$650

28

$530

29

$505

30

$503

31

$607
November 2024
S
M
T
W
T
F
S
01

$889

02

$863

03

$645

04

$534

05

$493

06

$493

07

$626

08

$935

09

$1,056

10

$826

11

$721

12

$499

13

$536

14

$673

15

$945

16

$950

17

$673

18

$676

19

$626

20

$692

21

$711

22

$1,666

23

$1,673

24

$1,339

25

$1,221

26

$1,172

27

$1,281

28

$1,375

29

$1,654

30

$1,678
Available
Unavailable
Check-In Only
Check-Out Only
Please select dates
+ tax/fees