Sunny Blue Beach House
Bellingham, Washington 3 Bedrooms Vacation Rental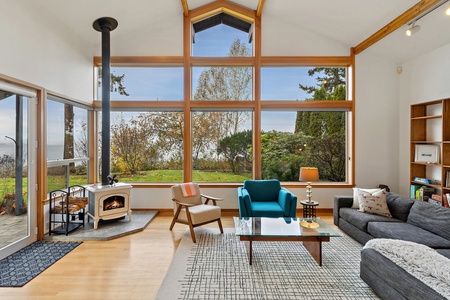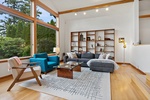 Show All Photos
Unit Photos
Enjoy the warmth of the wood-burning fireplace and the expansive view in our home, a perfect blend of comfort and contemporary design.

Relax in our stylish living space, where floor-to-ceiling windows invite natural light, and tasteful furnishings offer a haven of modern elegance.

A cozy waterfront cabin retreat steps away from the ocean, offering a peaceful escape into nature.

Enjoy your own view deck for quiet, scenic moments.

Gather around our rustic dining table, seating eight, for hearty meals and shared stories.

Our outdoor space is furnished amply for comfort and leisure, ready for your moments in the sun.

Enjoy your morning coffee at the patio for a nice morning retreat.

A cozy cabin retreat surrounded by the rich hues of autumn, offering a peaceful escape into nature

Tall and wide windows fill our living area with natural light, offering views that bring the outside in.

Shared warm moments by our wood-burning fireplace.

Modern meets comfort in this bright living space, ideal for relaxation or catching up on your favorite book.

Relax in our stylish living space, where floor-to-ceiling windows invite natural light, and tasteful furnishings offer a haven of modern elegance.

Gather around our rustic dining table, seating eight, right off the living area.

Tall and wide windows fill our living area with natural light, offering views that bring the outside in.

The rustic charm of the dining area

Gather around our rustic dining table, with seating for eight.

Our kitchen features a dual dishwashing sink and wide countertop space, perfect for your culinary preparations.

Coupled with top-tier appliances for your culinary adventures.

Coffee corner for coffee lovers!

Streamlined kitchen design with open shelving, pairing functionality with a splash of color for a fresh, inviting vibe.

Our kitchen features a dual dishwashing sink and wide countertop space, perfect for your culinary preparations.

Gather around this spacious dining table set beneath soaring ceilings and surrounded by natural light, perfect for shared meals and stories.

Spacious primary suite with a plush king bed

Wake up to serene water views in the primary suite, a blend of comfort and tranquility meet to start your day peacefully.

Step out onto our view deck to take in the expansive sights that surround you.

Ensuite with a nice soaking tub/shower combo.

Bright and roomy primary suite for your private sanctuary

A blend of privacy and tranquil comfort.

Ensuite with a nice soaking tub/shower combo.

Single sink with ample vanity space ensuite

Single sink ensuite with a nice soaking tub/shower combo.

A dedicated home office setup

Working while away on vacay!

Guest suite with a cozy king bed and a nice and comfy window seat

Plush king bed clothed with luxury linens

Guest suite with a cozy king bed and a nice and comfy window seat

Bunk bedroom, perfect for the little ones.

Bunk trundle bed for extra sleeping

With a nice window seat, perfect for morning views or nightly star gazing.

The communal bathroom comes with a shower/tub combo and ample single sink vanity space.

Communal bath tub/shower combo

Common bathroom single sink vanity

Walk-in closet to keep your things nice and tidy

Ample closet space

A roomy laundry area with a washer and a dryer

Comes with a single sink washing area and plenty of storage spaces

large 2-car garage with a hobby room and carport, a Peloton bike, kayaks, and a ping pong table for added entertainment and enjoyment.

Welcome home!

large 2-car garage with a hobby room and carport, a Peloton bike, kayaks, and a ping pong table for added entertainment and enjoyment.

Lush green yard perfect for the little ones to explore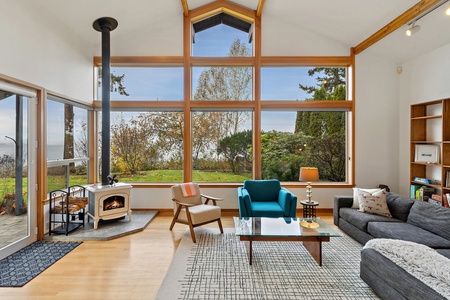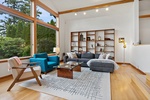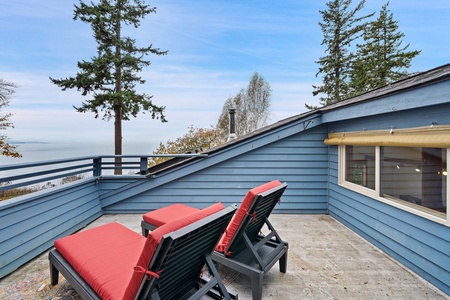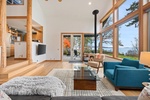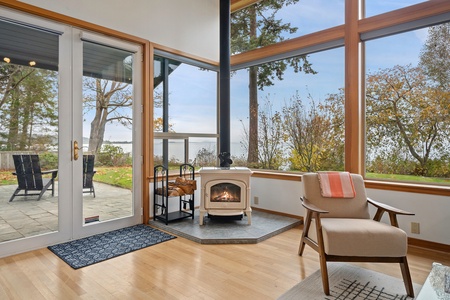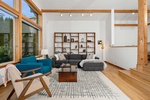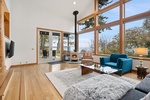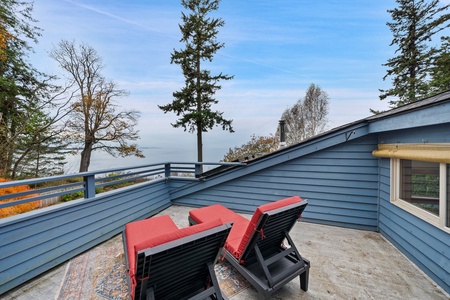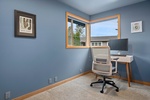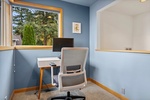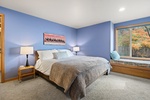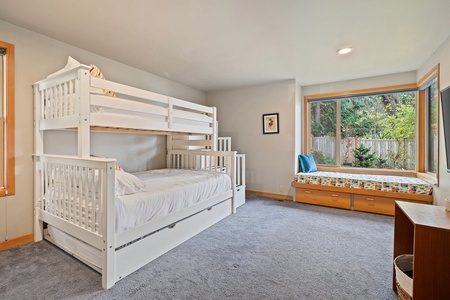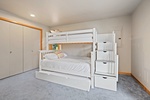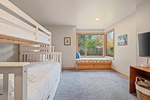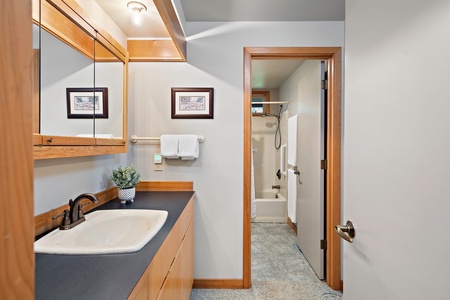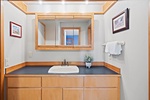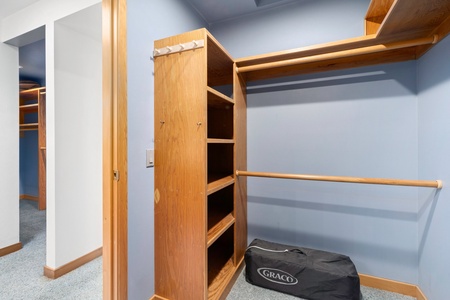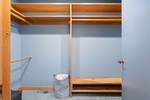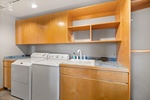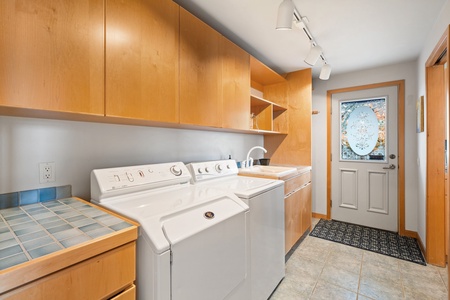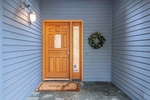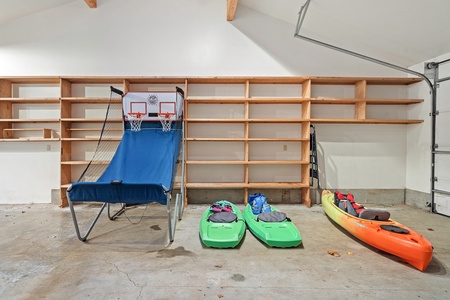 Rooms
rooms
Bedroom # 1

Primary Bedroom

1 King

Bedroom # 2

Guest Bedroom 2

1 King

Bedroom # 3

Guest Bedroom 3

1 Bunk Bed, 1 Twin, 1 Double,
---
---
Description
Welcome to Sunny Blue Beach House by Gather, a waterfront haven in Bellingham, WA, perfect for up to 7 guests seeking a serene coastal experience with breathtaking views on Lummi Bay. This property is ideally located just 15 minutes from Bellingham BLI airport, 30 minutes from the Canadian border, 1.5 hours from Mt Baker Ski Area, 20 minutes to downtown Bellingham, and 1 hour 40 minutes from Seattle.

Step into the Sunny Blue Beach House, a custom-built oasis where the ocean greets you at every turn. Set on a 101-foot waterfront lot, this 3-bedroom, 2-bathroom home is a masterpiece of design and natural beauty, offering stunning sunset vistas and an ideal retreat for tranquility.

Upon arrival, you'll be captivated by the home's stunning architecture, featuring vaulted ceilings and wood floors that create a spacious and inviting atmosphere. Large windows throughout bathe each room in natural light, showcasing the spectacular ocean and island vistas.

The living room, a focal point of relaxation, boasts floor-to-ceiling windows framing the mesmerizing seascape. Adjacent is the well-appointed kitchen, featuring modern amenities, an adjacent pantry, and a built-in office space.

The main floor houses two comfortable bedrooms, separated by a full bathroom for privacy and ease. The second floor hosts the primary bedroom suite, a luxurious retreat with a walk-in closet, a full bath, and an office area, all designed to maximize comfort and the captivating ocean views.

Outdoors, beautifully landscaped grounds filled with perennials create an enchanting backdrop. Additional amenities include a large 2-car garage with a hobby room and carport, a Peloton bike, kayaks, and a ping pong table for added entertainment and enjoyment.

Situated in a prime Bellingham location, Sunny Blue Beach House offers the perfect setting for relaxation, exploration, and creating lasting memories. Whether lounging indoors, enjoying the ocean views, or discovering the surrounding area, this home provides a perfect balance of comfort, style, and natural beauty.

Experience the unique charm of the Pacific Northwest at Sunny Blue Beach House by Gather. This waterfront property isn't just a vacation rental; it's a gateway to a serene and picturesque escape, where every moment is a celebration of nature's grandeur and the simple joys of life. Book your stay now and immerse yourself in the tranquil beauty of Bellingham's coastal paradise.
Room
Beds
---
Ensuite Bathroom Garden View Partial Ocean View Space for Crib / Pack and Play
---
Garden View Partial Ocean View Space for Crib / Pack and Play
---
Guest Bedroom 3
Bunk Bed (1)Twin (1)Double (1)
Twin-Over-Double Bunk w/ Double Trundle Garden View Space for Crib / Pack and Play
---
image
---
image
Kitchen and Dining
Dining Area
Kitchen Basics
Kitchen
Refrigerator
Coffee Maker
Microwave
Dishwasher
Dishes Utensils
Stove
Toaster
Oven
BBQ
Kettle
Blender
Crockpot
Coffee Grinder
Accommodations
House Cleaning Optional ($)
Other Services Chauffeur ($)
Other Services Concierge ($)
Other Services Private Chef ($)
Other Services Massage ($)
Amenities
Essentials
Shampoo
Dryer
Washer
Garage
Hair Dryer
Linens
Iron
Parking space
Private Entrance
Smartlock
Extra Pillows And Blankets
Wifi/Internet
High Chair
Pack and Play
Fire pit
Suitability
Hot Water
Children Welcome
Pets Not Allowed
Smoking Not Allowed
Free Parking
Fireplace
Suitable for Elderly
Long Term Stays Allowed
Heating
Bath Tub
Cleanliness
24Hr Check-In
Self Check In / Check Out
Safety Features
Carbon Monoxide Detector
First Aid Kit
Fire Extinguisher
Smoke Detector
Deadbolt Lock
Outdoor Lighting
Entertainment
Television
Toys
Laptop Friendly
Game room
Smart TV
Ping Pong Table
Outdoor Amenities
Garden
Private yard
Outdoor seating
Location/Property Types
Near Ocean
Beach Front
Ocean View
Garden View
Walk to beach
Waterfront
November 2023
| S | M | T | W | T | F | S |
| --- | --- | --- | --- | --- | --- | --- |
| | | | 01 | 02 | 03 | 04 |
| 05 | 06 | 07 | 08 | 09 | 10 | 11 |
| 12 | 13 | 14 | 15 | 16 | 17 | 18 |
| 19 | 20 | 21 | 22 | 23 | 24 | 25 |
| 26 | 27 | 28 | 29 | 30 | | |
December 2023
S
M
T
W
T
F
S
01

$289

02

$289

03

$289

04

$289

05

$289

06

$289

07

$289

08

$289

09

$289

10

$289

11

$289

12

$289

13

$289

14
15
16
17
18
19

$289

20

$289

21

$289

22

$349

23

$349

24

$349

25

$349

26

$339

27

$339

28

$339

29

$339

30
31
January 2024
S
M
T
W
T
F
S
01
02

$276

03

$276

04

$276

05

$366

06

$378

07

$291

08

$276

09

$276

10

$276

11

$329

12

$365

13

$388

14

$395

15

$308

16

$276

17

$276

18

$276

19

$348

20

$371

21

$278

22

$276

23

$276

24

$276

25

$276

26

$358

27

$354

28

$276

29

$276

30

$276

31

$276
February 2024
S
M
T
W
T
F
S
01

$276

02
03
04

$276

05

$276

06

$276

07

$276

08

$276

09

$322

10

$328

11

$276

12

$276

13

$276

14

$276

15

$363

16

$460

17

$466

18

$373

19

$337

20

$276

21

$276

22

$276

23

$356

24

$355

25

$276

26

$276

27

$276

28

$309

29

$309
March 2024
S
M
T
W
T
F
S
01

$371

02

$373

03

$309

04

$309

05

$309

06

$309

07

$309

08

$371

09

$379

10

$309

11

$309

12

$309

13

$309

14

$309

15

$391

16

$400

17

$314

18

$309

19

$309

20

$309

21

$309

22

$412

23

$417

24

$326

25

$309

26

$309

27

$309

28

$332

29

$438

30

$447

31

$363
April 2024
S
M
T
W
T
F
S
01

$327

02

$315

03

$312

04

$343

05

$446

06

$431

07

$319

08
09
10
11
12

$402

13

$424

14

$333

15

$309

16

$309

17

$309

18

$330

19

$431

20

$439

21

$332

22

$309

23

$309

24

$309

25

$333

26

$439

27

$451

28

$338

29

$309

30

$309
May 2024
S
M
T
W
T
F
S
01

$309

02

$319

03

$432

04

$449

05

$329

06

$309

07

$309

08

$309

09

$312

10

$426

11

$467

12

$340

13

$331

14

$331

15

$331

16

$352

17

$460

18

$470

19

$354

20

$331

21

$331

22

$331

23

$331

24
25
26
27

$398

28

$331

29

$331

30

$358

31

$464
June 2024
S
M
T
W
T
F
S
01

$466

02

$364

03

$331

04

$331

05

$331

06

$388

07

$499

08

$511

09

$420

10

$360

11

$353

12

$374

13

$532

14

$700

15

$707

16

$514

17

$394

18

$392

19

$424

20

$463

21

$539

22

$551

23

$487

24

$394

25

$389

26

$391

27

$454

28

$535

29

$552

30

$461
July 2024
S
M
T
W
T
F
S
01

$474

02

$522

03

$571

04

$670

05

$710

06

$666

07

$539

08

$428

09

$431

10

$434

11

$504

12

$556

13

$569

14

$491

15

$448

16

$451

17

$460

18

$524

19

$576

20

$582

21

$511

22

$469

23

$458

24

$472

25

$563

26

$625

27

$626

28

$580

29

$469

30

$439

31

$446
August 2024
| S | M | T | W | T | F | S |
| --- | --- | --- | --- | --- | --- | --- |
| | | | | 01 | 02 | 03 |
| 04 | 05 | 06 | 07 | 08 | 09 | 10 |
| 11 | 12 | 13 | 14 | 15 | 16 | 17 |
| 18 | 19 | 20 | 21 | 22 | 23 | 24 |
| 25 | 26 | 27 | 28 | 29 | 30 | 31 |
September 2024
S
M
T
W
T
F
S
01
02

$419

03

$337

04

$335

05

$389

06

$497

07

$485

08

$371

09

$331

10

$331

11

$331

12

$367

13

$492

14

$524

15

$390

16

$331

17

$331

18

$331

19

$374

20

$526

21

$539

22

$370

23

$331

24

$331

25

$331

26

$360

27

$482

28

$497

29

$342

30

$331
October 2024
S
M
T
W
T
F
S
01

$331

02

$331

03

$331

04

$449

05

$469

06

$331

07

$331

08

$331

09

$331

10

$331

11

$438

12

$474

13

$337

14

$331

15

$331

16

$331

17

$343

18

$457

19

$572

20

$331

21

$331

22

$331

23

$331

24

$331

25

$365

26

$377

27

$331

28

$331

29

$331

30

$331

31

$331
Available
Unavailable
Check-In Only
Check-Out Only
Please select dates
+ tax/fees