Sudden Valley Forest House
Bellingham, WA 3 Bedrooms Vacation Rental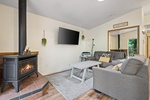 Show All Photos
Unit Photos
Living area leading to the private deck

Snuggle up in warmth, where the fireplace meets comfort.

Welcome to your secluded sanctuary, nestled in the heart of nature.

Panoramic perch: your vista point to nature's grandeur.

Cozy living area with plush sofas and a flat-screen TV

Hallway to the bedroom and dining area on the right.

Savor every bite alongside nature's masterpiece.

Dining table for four with views and access to the deck!

Savor every bite alongside nature's masterpiece.

Spacious culinary haven, ready for your gourmet touch.

Coffee corner for coffee connoisseurs!

Fully-stocked kitchen for prepping meals

Single sink with a view!

Ample kitchen appliances to savor your culinary delights

Retreat into luxury, where dreams meet plush comfort.

Sleep in style, with reflections of elegance in the expansive mirror/closet.

Inviting secondary bedroom, where every guest finds warmth and rest.

Rest easy with thoughtfully designed storage, featuring an organizing rack.

Third charm: a room of comfort paired with tidy organization.

Sink into serenity with our plush single retreat.

A dedicated home office to keep you productive

Bathroom with a single sink. Unwind and soak in tranquility in our inviting bathtub.

Furry friend's corner!

Laundry area in the kitchen with a washer/dryer

360° serenity: embrace nature from our wrap-around deck.

Surrounded by nature's giants - shade of towering trees

360° serenity: embrace nature from our wrap-around deck.

Panoramic perch: your vista point to nature's grandeur.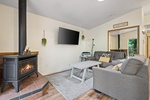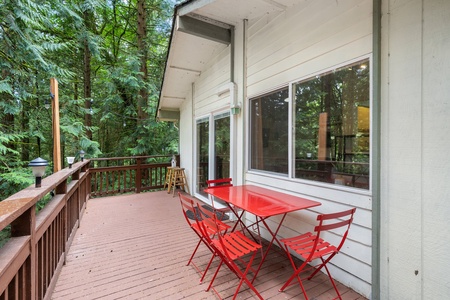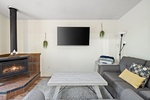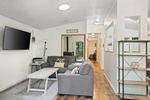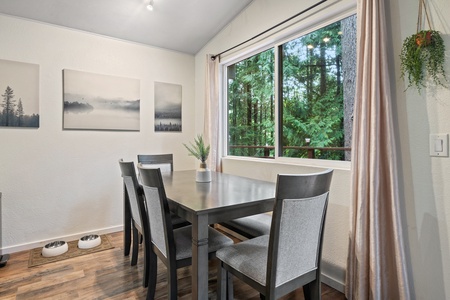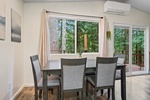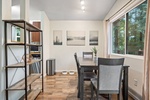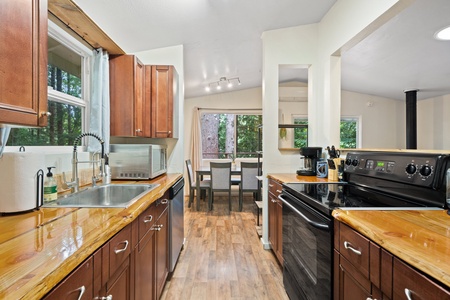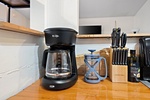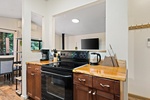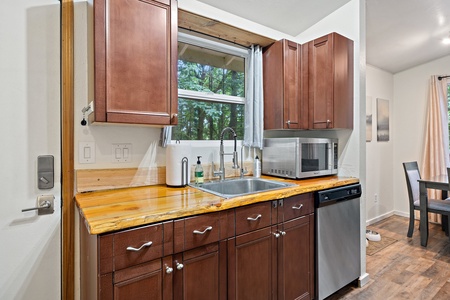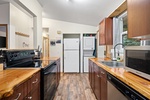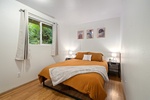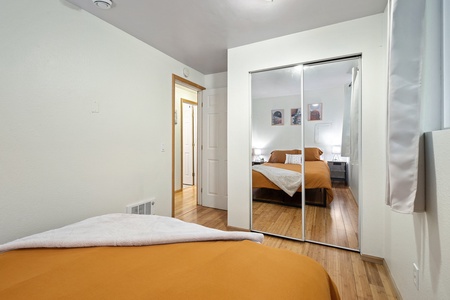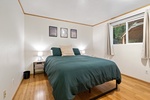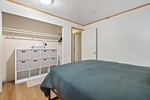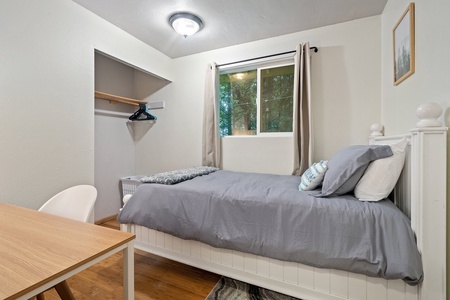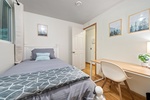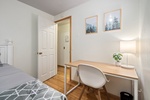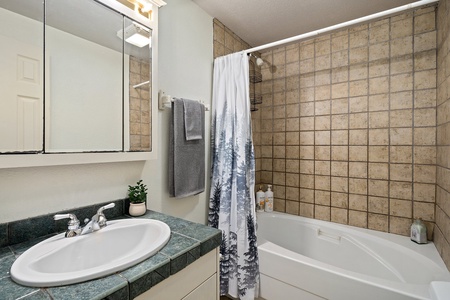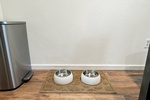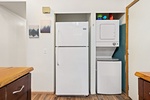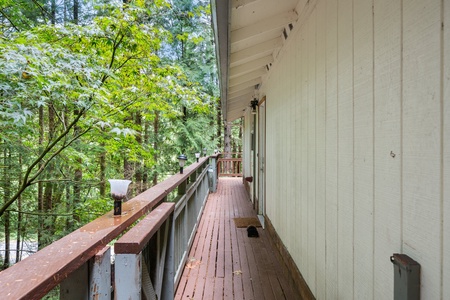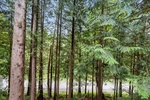 Rooms
rooms
Bedroom # 1

Primary

1 Queen

Bedroom # 2

Guest BR 1

1 Queen

Bedroom # 3

Guest BR 2

1 Twin
---
---
Description
Welcome to Sudden Valley Forest House by Gather. Nestled in Bellingham's heart, this 3-bedroom upstairs duplex offers solace amidst nature's embrace, an ideal retreat for both leisure and work. Explore. Relax. Connect.

The property, draped in the gentle arms of beautiful trees, sets the scene for a refreshing escape. The few steps leading up to this elevated sanctuary only build anticipation. Each step heightens the sense of leaving the world behind, and entering a haven built exclusively for you. Please note, there are 10 steps from the parking deck to the home.

Inside, a sense of warmth and coziness instantly welcomes you. The open-concept space speaks of design thoughtfully curated for comfort. Reminding all its guests of its inclusive charm, Sudden Valley Forest House is pet-friendly. Whether you're planning a weekend getaway or considering an extended retreat in Whatcom County, this space molds itself to your needs.

The living area, bathed in natural light streaming through generous windows, paints serene images of the surrounding green. These views seamlessly blend with the indoors, making relaxation inevitable. For those who can't escape work or studies, the third bedroom offers more than just a space to sleep. With swift Wi-Fi and a sturdy desk, it effortlessly transforms into a productive workspace, ensuring work-from-home is a breeze.

Continuing your exploration, the fully-equipped kitchen stands ready, offering all the essentials for those homemade meals or quick snacks. And if the day's adventures call for a fresh set of clothes, the convenient washer and dryer are at your service.

Nighttime at Sudden Valley Forest House is a promise of restful slumber. Three cozy bedrooms, each a cocoon of comfort, await. Plush bedding, soft linens, and the silent lullabies of nature ensure rejuvenation.

But the allure of Sudden Valley Forest House isn't restricted to its interiors. The call of adventure is loud and clear. A mere 15-minute drive leads avid hikers and bikers to Galbraith Mountain Trailhead. If water beckons, shimmering Lake Whatcom is just 5 minutes away, a haven for relaxation and water activities. Snow lovers can head to the famed Mt. Baker Ski Area, a 1.5-hour journey, while the Canadian border, a gateway to international adventures, is only 40 minutes away.

Sudden Valley Forest House by Gather is more than a place to rest. It's an invitation. An invitation to explore Bellingham, to connect with nature, and to rediscover oneself. Steps might lead you into this property, but memories will be the guide that leads you back. Choose Sudden Valley Forest House. Choose an unforgettable experience!

Things to Note:
-This listing is for one side of a duplex with a friendly long-term tenant occupying the completely separate downstairs unit. This should have little to no implications on your stay, but please take note.
-There are only 2 parking spaces available with your rental and there is no additional parking available nearby to accommodate additional vehicles.
Room
Beds
---
Room for a crib, Balcony/Deck, Private, Surrounded by Trees
---
Room for a crib, Balcony/Deck, Private, Surrounded by Trees
---
Private, Surrounded by Trees
---
image
Kitchen and Dining
Dining Area
Kitchen Basics
Kitchen
Refrigerator
Coffee Maker
Microwave
Dishwasher
Dishes Utensils
Stove
Oven
Kettle
Blender
Crockpot
Disposal
Coffee Filter
Accommodations
House Cleaning Optional ($)
Other Services Chauffeur ($)
Other Services Concierge ($)
Other Services Private Chef ($)
Other Services Massage ($)
Amenities
Essentials
Shampoo
Dryer
Washer
Parking space
Wifi/Internet
Cleanliness
Self Check In / Check Out
Safety Features
Carbon Monoxide Detector
Fire Extinguisher
Smoke Detector
Deadbolt Lock
Outdoor Lighting
Suitability
Children Welcome
Smoking Not Allowed
Free Parking
Ceiling fans
Single Level Home
Long Term Stays Allowed
Pet Friendly
Bath Tub
Hot Water
Nearby Activities
Snowboarding/Skiing
Hiking
Shopping
Golfing
Cycling
November 2023
| S | M | T | W | T | F | S |
| --- | --- | --- | --- | --- | --- | --- |
| | | | 01 | 02 | 03 | 04 |
| 05 | 06 | 07 | 08 | 09 | 10 | 11 |
| 12 | 13 | 14 | 15 | 16 | 17 | 18 |
| 19 | 20 | 21 | 22 | 23 | 24 | 25 |
| 26 | 27 | 28 | 29 | 30 | | |
December 2023
S
M
T
W
T
F
S
01
02
03
04

$100

05

$100

06

$100

07

$100

08

$100

09

$100

10

$100

11

$100

12

$100

13

$100

14

$100

15

$114

16

$122

17

$100

18

$100

19

$100

20

$100

21

$115

22

$149

23

$149

24

$149

25

$149

26

$149

27

$149

28

$149

29

$149

30

$149

31

$149
January 2024
S
M
T
W
T
F
S
01

$149

02

$110

03

$100

04

$104

05

$140

06

$140

07

$116

08

$100

09

$100

10

$100

11

$132

12

$140

13

$140

14

$140

15

$124

16

$100

17

$100

18

$100

19

$110

20

$110

21

$110

22

$100

23

$100

24

$100

25

$100

26

$110

27

$110

28

$100

29

$100

30

$100

31

$100
February 2024
S
M
T
W
T
F
S
01

$100

02

$110

03

$110

04

$106

05

$100

06

$100

07

$100

08

$110

09

$110

10

$110

11

$110

12

$107

13

$104

14

$102

15

$110

16

$110

17

$110

18

$110

19

$110

20

$110

21

$110

22

$110

23

$110

24

$110

25

$110

26

$108

27

$101

28

$101

29

$110
March 2024
S
M
T
W
T
F
S
01

$110

02

$110

03

$110

04

$106

05

$101

06

$100

07

$110

08

$110

09

$110

10

$110

11

$110

12

$110

13

$110

14

$110

15

$110

16

$110

17

$110

18

$110

19

$110

20

$110

21

$110

22

$110

23

$110

24

$110

25

$110

26

$110

27

$110

28

$110

29

$110

30

$110

31

$110
April 2024
S
M
T
W
T
F
S
01

$110

02

$110

03

$110

04

$110

05

$110

06

$110

07

$110

08

$110

09

$110

10

$110

11

$110

12

$110

13

$110

14

$110

15

$110

16

$110

17

$110

18

$110

19

$110

20

$110

21

$110

22

$110

23

$110

24

$110

25

$110

26

$110

27

$110

28

$110

29

$110

30

$110
May 2024
S
M
T
W
T
F
S
01

$110

02

$110

03

$110

04

$110

05

$110

06

$110

07

$110

08

$110

09

$110

10

$110

11

$110

12

$110

13

$110

14

$110

15

$110

16

$110

17

$110

18

$110

19

$110

20

$110

21

$110

22

$110

23

$110

24

$110

25

$110

26

$110

27

$110

28

$110

29

$110

30

$110

31

$110
June 2024
S
M
T
W
T
F
S
01
02
03
04
05
06
07
08
09
10
11
12
13
14
15
16
17
18
19
20
21
22
23
24
25
26
27
28
29

$110

30

$110
July 2024
S
M
T
W
T
F
S
01

$110

02

$110

03

$110

04

$110

05

$110

06

$110

07

$110

08

$110

09

$110

10

$110

11

$110

12

$110

13

$110

14

$110

15

$110

16

$110

17

$110

18

$110

19

$110

20

$110

21

$110

22

$110

23

$110

24

$110

25

$110

26

$110

27

$110

28

$110

29

$110

30

$110

31

$110
August 2024
S
M
T
W
T
F
S
01

$110

02

$110

03

$110

04

$110

05

$110

06

$110

07

$110

08

$110

09

$110

10

$110

11

$110

12

$110

13

$110

14

$110

15

$110

16

$110

17

$110

18

$110

19

$110

20

$110

21

$110

22

$110

23

$110

24

$110

25

$110

26

$110

27

$110

28

$110

29

$110

30

$110

31

$110
September 2024
S
M
T
W
T
F
S
01

$110

02

$110

03

$110

04

$110

05

$110

06

$110

07

$110

08

$110

09

$110

10

$110

11

$110

12

$110

13

$110

14

$110

15

$110

16

$110

17

$110

18

$110

19

$110

20

$110

21

$110

22

$110

23

$110

24

$110

25

$110

26

$110

27

$110

28

$110

29

$110

30

$110
October 2024
S
M
T
W
T
F
S
01

$110

02

$110

03

$110

04

$110

05

$110

06

$110

07

$110

08

$110

09

$110

10

$110

11

$110

12

$110

13

$110

14

$110

15

$110

16

$110

17

$110

18

$110

19

$110

20

$110

21

$110

22

$110

23

$110

24

$110

25

$110

26

$110

27

$110

28

$110

29

$110

30

$110

31

$110
Available
Unavailable
Check-In Only
Check-Out Only
Please select dates
+ tax/fees