Emerald Acres
Bellingham, Washington 4 Bedrooms Vacation Rental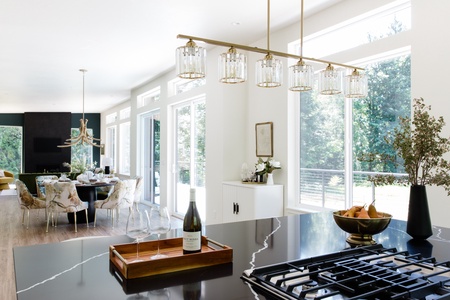 Show All Photos
Unit Photos
Open concept design from kitchen to dining to living areas.

Step into Emerald Acres, your ideal sanctuary for shared laughter, stories, and memories with friends and family.

Light and dramatic design details welcome you to the main home.

Cozy areas to visit in front of the dramatic fireplace.

Designer touches throughout the welcoming home.

Gather around the living areas with your friends and family.

Cozy areas to visit in front of the dramatic fireplace. Games, evening drinks and amazing conversations in your future!

Luxury kitchen and magical backsplash frames your wooded view in this lovely home.

Well dressed dining area for your breakfast meal or family dinners.

Light and bright design elements draw in the forest feeling.

Expansive windows provide natural lighting and views of the private 5 acres.

Meal preparation is a dream in designer kitchen.

Counter space for cooking or serving, and seating for your family.

Light and bright design elements draw in the forest feeling.

Coffee corner for coffee lovers!

Primary guest room with a queen bed, luxurious bedding and storage.

Primary room with access to the deck.

Dedicated home office for productivity and comfort for your work-from-home needs.

Full bathroom with a tub and shower

Luxury vanity with dual sink so everyone has a space.

Guest bedroom with whimsical design and comfort.

Magical guest bedroom with four poster bed.

Soothing light ambiance of the guest bedroom, a soft glow that crafts an atmosphere of calm and rest.

Whimsical design with comfort in every corner of the room.

Ensuite bathroom with dual sink and bath tub for a more refreshing comfort

Savor moments at your mini bar, bathed in natural lighting - a space where leisure meets the radiant glow of the day.

Storage in every guest room, stay a while!

Guest bedroom with two twin beds.

Comfortable full bed perfect for the little ones.

Windows for a morning transparent canvas framing the ever-changing artistry of the world outside.

Play corner for the little feets!

Full laundry with plenty of workspace makes clean up easy.

Tesla charger, catering to environmentally conscious guests who travel in electric vehicles

Wii for entertainment

Private and peaceful five acres for your home away from home.

A unique dwelling offering twice the comfort, charm, and space for your stay.

Enjoy the quiet view from the main home deck.

Rustic luxury tiny (second) home on the property, for privacy.

Cozy spaces throughout the tiny home.

Lofted ceiling and bright windows make for a large feeling space.

The perfect spot for a chat or quiet book time.

Luxury appointments in lighting and design.

Loft stairs for an elevated retreat

Rustic wood tones throughout the home.

Luxury meets Tiny with the perfect kitchen for two.

Climb the stairs to our loft, a journey leading to a cozy retreat with a bird's-eye view of our home's charm.

The sleeping loft has natural light and space to rest.

Peeking sunlight at the sleeping loft.

A private retreat perfect for two!

Mini kitchen bar for two seats.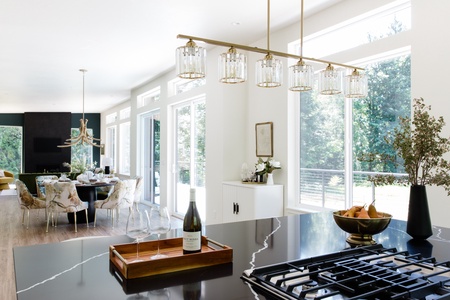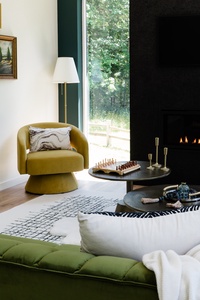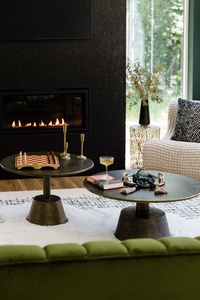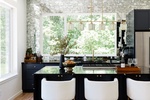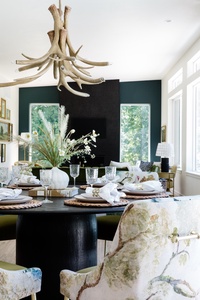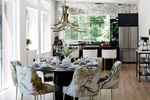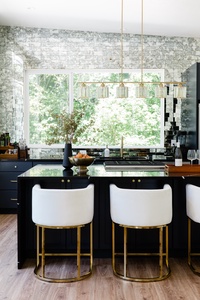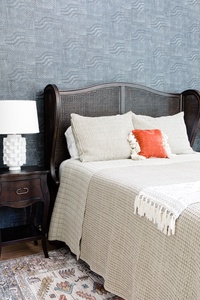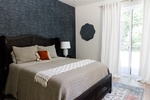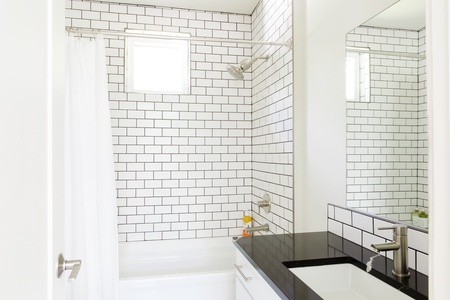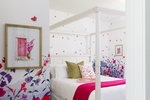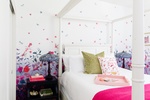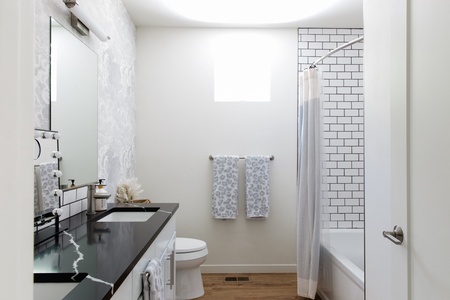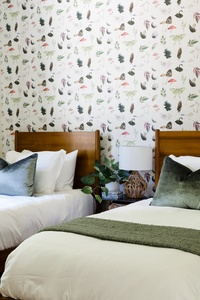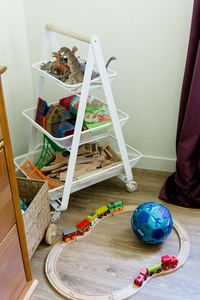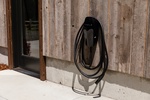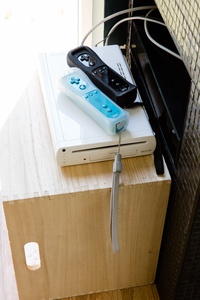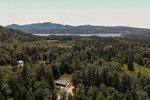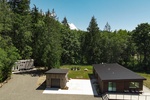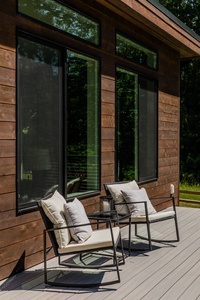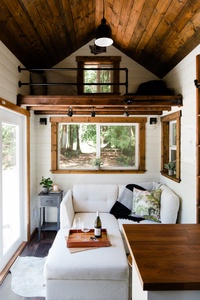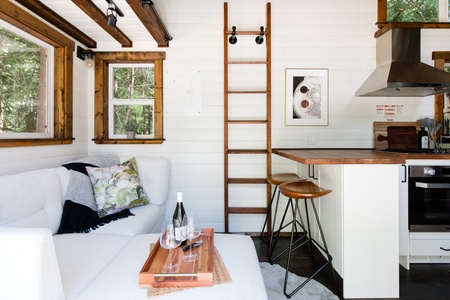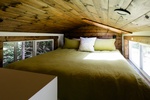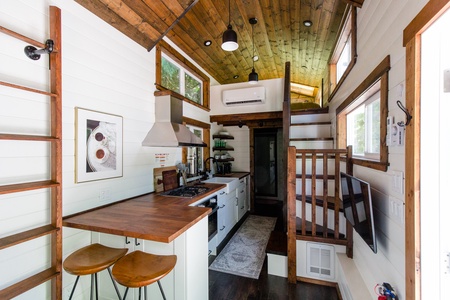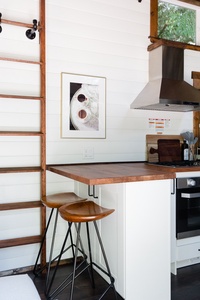 Rooms
rooms
Bedroom # 1

Primary Bedroom

1 Queen

Bedroom # 2

Guest Bedroom 2

1 Queen

Bedroom # 3

Guest Bedroom 3

2 Twin

Bedroom # 4

Guest Bedroom 4

1 King
---
---
Description
Welcome to "Emerald Acres" by Gather, in beautiful Bellingham, Washington! Nestled on a private 5-acre property, this stunning new construction retreat offers a luxurious experience with high-end finishes and incredible attention to detail throughout. Whether you're seeking a tranquil escape or an adventure-filled getaway, this property has it all.

The main house comfortably accommodates up to 6 guests, providing ample space for friends and family to relax and unwind. Every corner of this exquisite home exudes elegance and sophistication, from the stylish furnishings to modern amenities. You'll find yourself surrounded by comfort and serenity, ensuring a truly rejuvenating stay.

For a unique experience, the high-end tiny home on the property offers additional accommodation for 2 guests, featuring a king-sized bed and all the comforts you need for a peaceful night's sleep. The tiny home embodies the same level of luxury and attention to detail as the main house, allowing you to enjoy a cozy and intimate retreat.

As a bonus, "Emerald Acres" is equipped with a Tesla charger, catering to environmentally conscious guests who travel in electric vehicles. Stay connected during your stay with the included Starlink internet service, ensuring seamless communication and entertainment options. Please note that this home also includes exterior security cameras.

Nature enthusiasts will delight in the property's surroundings, with an abundance of hiking trails and nearby lake access just waiting to be explored. Immerse yourself in the tranquil beauty of the forested outdoor space, complete with a picnic table and a hammock, providing the perfect spot to relax and soak in the peaceful atmosphere.

Despite its secluded setting, "Emerald Acres" is conveniently located just 10 minutes from downtown Bellingham, offering easy access to the city's vibrant attractions, dining, and entertainment options. Whether you're in the mood for exploring local boutiques, enjoying a meal at a trendy restaurant, or experiencing the lively arts and culture scene, Bellingham has something for everyone.

Escape the ordinary and treat yourself to a luxury getaway at "Emerald Acres" in Bellingham. With its private 5-acre setting, high-end features, and proximity to nature and city amenities, this exceptional retreat promises an unforgettable experience. Book your stay today and indulge in the ultimate blend of comfort and serenity.
Room
Beds
---
Primary Bedroom (Main House)
Queen (1)
Ensuite Bathroom, Central AC
---
Guest Bedroom 2 (Main House)
Queen (1)
Central AC
---
Guest Bedroom 3 (Main House)
Twin (2)
2 Twin XL Beds, Central AC
---
Guest Bedroom 4 (Tiny House)
King (1)
Split AC
---
Primary Bedroom Ensuite (Main House)
Attached Full Bath for Primary Bedroom
---
Guest Bathroom (Main House)
Shared Full Bathroom in Main House
---
Guest Bathroom (Tiny House)
Shared Full Bathroom in Tiny House
Kitchen and Dining
Dining Area
Kitchen Basics
Kitchen
Refrigerator
Coffee Maker
Microwave
Dishwasher
Dishes Utensils
Stove
Toaster
Oven
BBQ
Freezer
Kettle
Espresso Machine
Blender
Toaster Oven
Coffee Grinder
Mixer
Disposal
Coffee Filter
Accommodations
House Cleaning Optional ($)
Other Services Chauffeur ($)
Other Services Concierge ($)
Other Services Private Chef ($)
Other Services Massage ($)
Amenities
Essentials
Shampoo
Dryer
Washer
Hair Dryer
Linens
Smartlock
Keypad
Wifi/Internet
High Chair
Pack and Play
Fire pit
EV Charger
Cleanliness
24Hr Check-In
Self Check In / Check Out
Safety Features
Carbon Monoxide Detector
First Aid Kit
Fire Extinguisher
Smoke Detector
Suitability
Children Welcome
Pets Not Allowed
Smoking Not Allowed
Free Parking
Air Conditioning
Single Level Home
Firewood Provided
Heating
Bath Tub
Hot Water
Location/Property Types
Mountain View
Private / Secluded
Nearby Activities
Spa and wellness
Hiking
Shopping
Golfing
Watersports
Cycling
November 2023
| S | M | T | W | T | F | S |
| --- | --- | --- | --- | --- | --- | --- |
| | | | 01 | 02 | 03 | 04 |
| 05 | 06 | 07 | 08 | 09 | 10 | 11 |
| 12 | 13 | 14 | 15 | 16 | 17 | 18 |
| 19 | 20 | 21 | 22 | 23 | 24 | 25 |
| 26 | 27 | 28 | 29 | 30 | | |
December 2023
S
M
T
W
T
F
S
01

$350

02

$350

03

$350

04
05
06
07

$350

08

$350

09

$350

10

$350

11

$350

12

$350

13

$350

14

$350

15

$350

16

$350

17

$350

18

$350

19

$350

20

$350

21

$350

22

$540

23

$559

24

$371

25
26
27
28
29
30
31
January 2024
S
M
T
W
T
F
S
01

$446

02

$350

03

$350

04

$350

05

$385

06

$397

07

$350

08

$350

09

$350

10

$350

11
12
13
14
15
16

$350

17

$350

18

$350

19

$364

20

$390

21

$350

22

$350

23

$350

24

$350

25

$350

26

$378

27

$373

28

$350

29

$350

30

$350

31

$350
February 2024
S
M
T
W
T
F
S
01

$350

02

$356

03

$375

04

$350

05

$350

06

$350

07

$350

08

$350

09

$424

10

$431

11

$350

12

$350

13

$350

14

$350

15

$479

16

$479

17

$479

18

$479

19

$442

20

$350

21

$350

22

$350

23

$467

24

$465

25

$350

26

$350

27

$350

28

$350

29

$350
March 2024
S
M
T
W
T
F
S
01

$434

02

$438

03

$350

04

$350

05

$350

06

$350

07

$350

08

$435

09

$445

10

$350

11

$350

12

$350

13

$350

14

$350

15

$460

16

$470

17

$369

18

$350

19

$350

20

$350

21

$355

22

$484

23

$489

24

$499

25

$499

26

$499

27

$385

28

$428

29

$565

30

$579

31

$470
April 2024
S
M
T
W
T
F
S
01

$422

02

$406

03

$405

04

$442

05

$574

06

$576

07

$447

08

$385

09

$385

10

$385

11

$427

12

$557

13

$561

14

$430

15

$385

16

$385

17

$385

18

$427

19

$558

20

$569

21

$429

22

$385

23

$385

24

$385

25

$429

26

$569

27

$584

28

$437

29

$385

30

$385
May 2024
S
M
T
W
T
F
S
01

$385

02

$413

03

$558

04

$580

05

$426

06

$385

07

$385

08

$385

09

$404

10

$551

11

$564

12

$410

13

$385

14

$385

15

$385

16

$426

17

$554

18

$568

19

$428

20

$385

21

$385

22

$385

23

$428

24

$711

25

$710

26

$600

27

$537

28

$403

29

$403

30

$451

31

$587
June 2024
S
M
T
W
T
F
S
01

$588

02

$458

03

$403

04

$403

05

$403

06

$490

07

$629

08

$646

09

$530

10

$454

11

$446

12

$452

13

$618

14
15
16
17

$463

18

$486

19

$534

20

$585

21

$680

22

$696

23

$616

24

$497

25

$490

26

$493

27

$573

28

$675

29

$698

30

$582
July 2024
S
M
T
W
T
F
S
01

$598

02

$659

03

$721

04

$844

05

$896

06

$840

07

$680

08

$541

09

$543

10

$547

11

$636

12

$700

13

$718

14

$620

15

$565

16

$569

17

$581

18

$661

19

$728

20

$734

21

$645

22

$592

23

$580

24

$596

25

$710

26

$790

27

$790

28

$729

29

$591

30

$568

31

$587
August 2024
S
M
T
W
T
F
S
01

$644

02

$721

03

$722

04

$624

05

$552

06
07
08
09

$711

10

$726

11

$645

12

$589

13

$581

14

$643

15

$735

16

$845

17

$882

18

$680

19

$564

20

$551

21

$558

22

$605

23

$714

24

$707

25

$584

26

$514

27

$497

28

$498

29

$560

30

$794

31

$780
September 2024
S
M
T
W
T
F
S
01

$642

02

$555

03

$430

04

$422

05

$492

06

$628

07

$612

08

$467

09

$403

10

$403

11

$403

12

$465

13

$621

14

$661

15

$491

16

$403

17

$403

18

$403

19

$473

20

$664

21

$680

22

$466

23

$403

24

$403

25

$403

26

$454

27

$610

28

$627

29

$431

30

$403
October 2024
S
M
T
W
T
F
S
01

$403

02

$403

03

$405

04

$566

05

$591

06

$409

07

$403

08

$403

09

$403

10

$409

11

$553

12

$598

13

$427

14

$403

15

$403

16

$403

17

$432

18

$576

19

$723

20

$405

21

$403

22

$403

23

$403

24

$403

25

$461

26

$476

27

$403

28

$403

29

$403

30

$403

31

$403
Available
Unavailable
Check-In Only
Check-Out Only
Please select dates
+ tax/fees