Vacation in Verrado
Buckeye, Arizona 3 Bedrooms Vacation Rental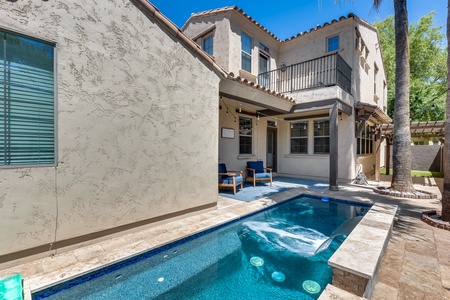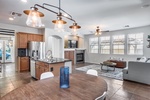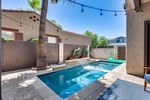 Show All Photos
Unit Photos
Welcome to Vacation in Verrado!

A modern, impeccably furnished 3-bedroom, 2.5-bath home comfortably accommodating up to 6 guests, nestled just a short stroll away from Main Street

Private pool for an intimate relaxation.

A complete vacation experience with children's playground for the little ones.

Outdoor patio for a nice dining experience with loved ones.

Welcome to Vacation in Verrado!

A furnished 3-bedroom, 2.5-bath humble two-storey abode comfortably accommodating up to 6 guests, nestled just a short stroll away from Main Street

Behold, the front facade of your home away from home

Step into the welcoming front door of your home.

Enter through the front door or the sliders, more options for everyone!

Warm welcome to the entryway of the home.

The stunning chandelier gives relevance to the warm lighting coming through glass walls and sliders.

Plenty of storage to store your personal belongings.

The entryway have access upstairs and to the main area.

Cozy and inviting living area a plush sofa and ottoman.

A fireplace and a TV combo for a binge night.

Open floor plan is a captivating way to a memorable bonding of family and friends.

With access to the kitchen and dining spaces right beside the living room, all connections shared are momentous!

Wide kitchen island for meal prepping and entertainment.

Fully-stocked kitchen

Sink/dishwasher on the kitchen island

Roomy and tiled kitchen area for a chef's comfortability

Dining table seats up to four

Dining chandelier sets a nice and modern touch of the space

Plenty of storage cabinets behind the dining space

Half bathroom on the main floor

Direct access to the outdoor private pool from the main area.

Dive into the pool or make meaningful conversations at the lanai

Dive into summer fun with a refreshing splash in the pool!

Welcome to the second level of the home!

As you ascend to the second level, a console table/convertible to a home office area sets first.

Welcome to the primary bedroom!

Spacious primary bedroom with a walk-in closet and an access to the balcony

Walk-in closet to organize your outfits!

Ensuite bathroom for the primary room, dual sink with a tub

Bath tub of the primary room

Vacation in Verrado's second room

Vacation in Verrado's second room with a fandelier

Second full bathroom of the home

Vacation in Verrado's third room

Vacation in Verrado's third room with access to the balcony

Welcome to the media room!

Cozy seats as you binge-watch your favorite shows at the media room

A roomy laundry space with washer/dryer and plenty of storage!

Hallway to the laundry area

Front road overlooking from the upstairs balcony

Balcony upstairs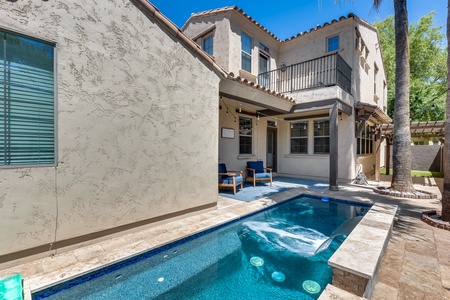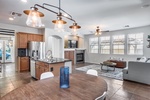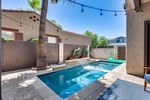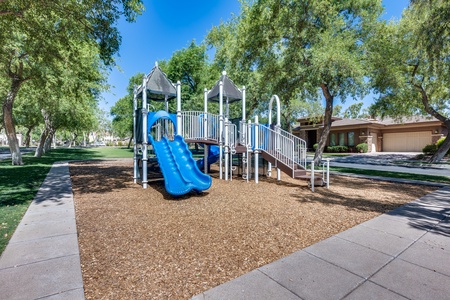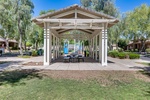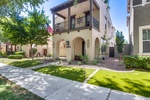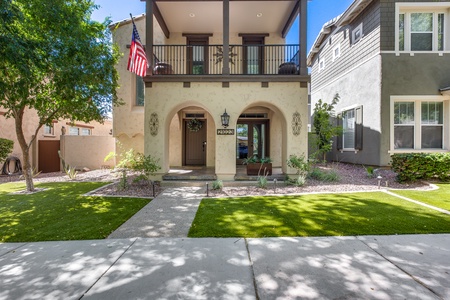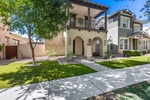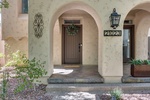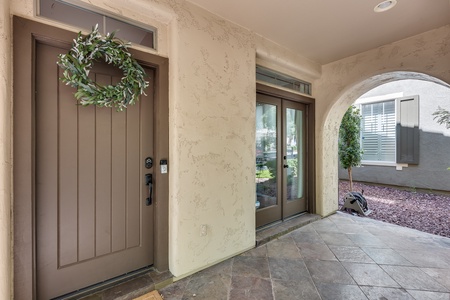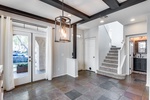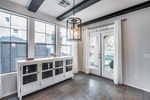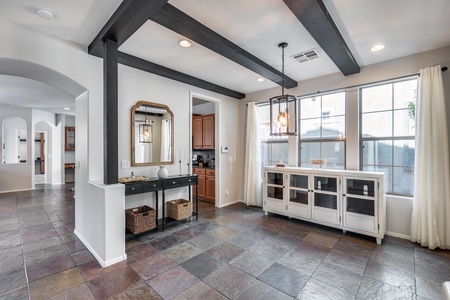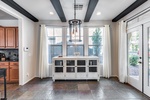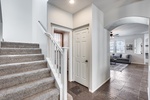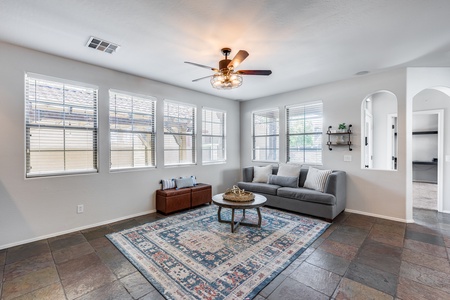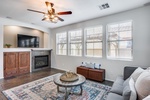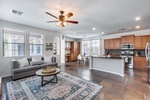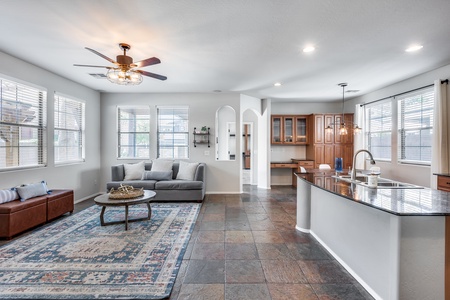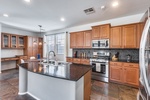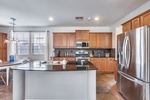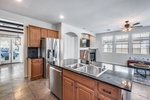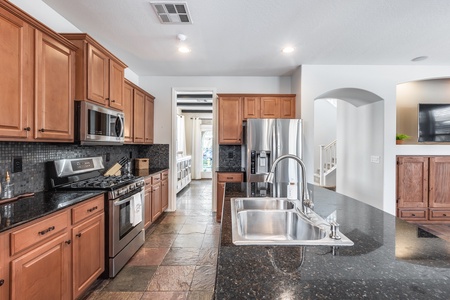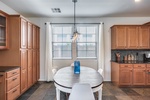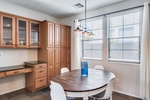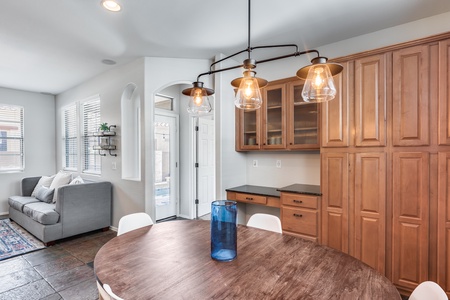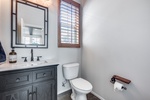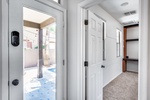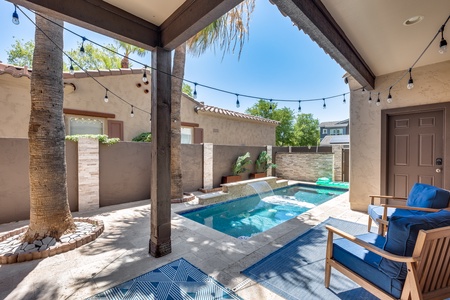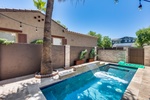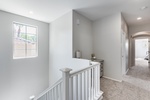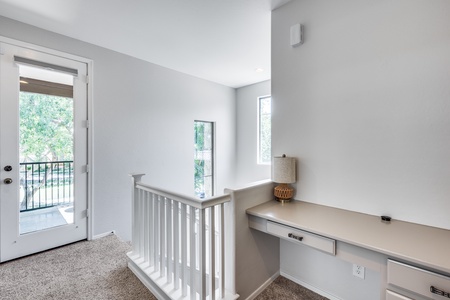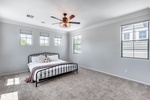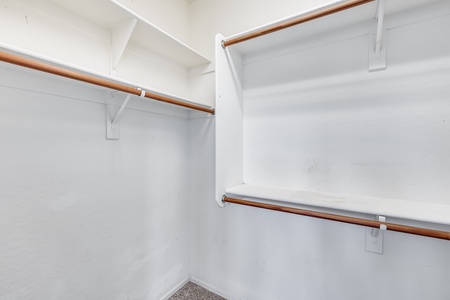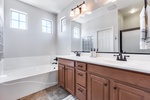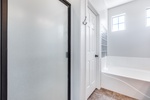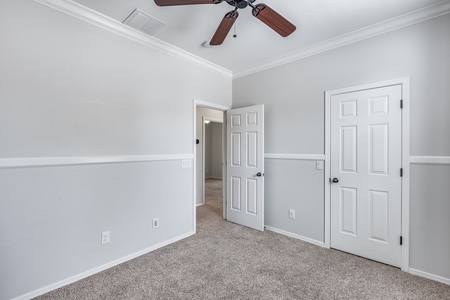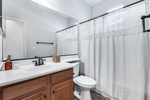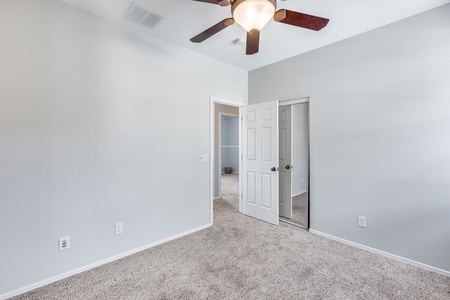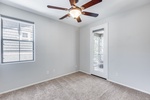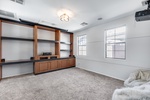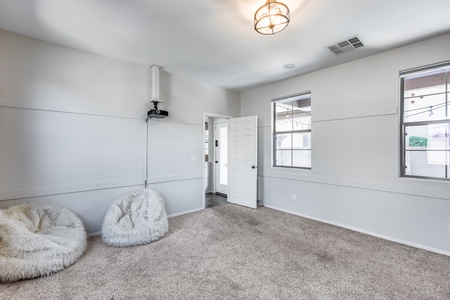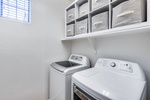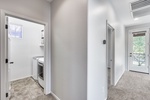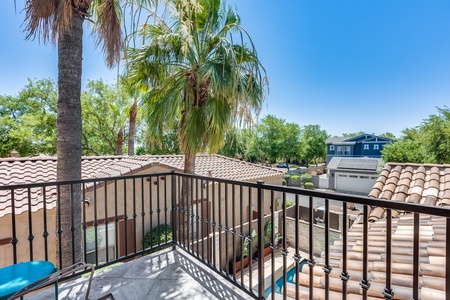 Rooms
rooms
Bedroom # 1

Primary Bedroom

1 King

Bedroom # 2

Guest Bedroom 2

1 Queen

Bedroom # 3

Guest Bedroom 3

1 Queen
---
---
Description
Welcome to Vacation in Verrado, your idyllic getaway in Buckeye, Arizona - a modern, impeccably furnished 3-bedroom, 2.5-bath home comfortably accommodating up to 6 guests.

Nestled just a short stroll away from Main Street's charming shops and delectable restaurants, this property promises an unbeatable mix of comfort, convenience, and luxury. Here, you're not only centrally situated to explore the best of Buckeye, but you also have the perfect retreat to recharge and rejuvenate.

As you step inside, the home's spacious open floor plan invites you in. Custom beams, elegant French doors, upgraded cabinets, and a cozy gas fireplace fuse to create an environment of understated elegance and homely comfort. Adding to the allure are the walkout balconies with serene park views, creating an ideal spot for your morning coffee or sunset cocktails.

The fully-equipped kitchen allows you to prepare your favorite meals with ease, with all the appliances and tools you may need. Enjoy these culinary delights at the stylish dining area or opt for al fresco dining on the shaded patio for a more relaxed experience.

Outdoor enthusiasts will adore the private heated pool and spa, surrounded by meticulous landscaping, pavers, and artificial turf. Whether you're a fan of invigorating morning laps or prefer lounging by the water under Arizona's brilliant sun, this oasis caters to all.

When the day winds down, retreat to one of the three well-appointed bedrooms, designed with your utmost comfort in mind. Crisp linens, plush bedding, and quiet ambiance ensure a restful night's sleep, preparing you for another day of Arizona adventure.

In essence, Vacation in Verrado embodies the quintessential vacation experience, providing the comforts of home with the luxuries of a holiday. Whether you're in town for a short getaway or a longer retreat, this inviting home serves as the perfect base for your Arizona adventure.
Room
Beds
---
Ensuite Bathroom, Ceiling Fan, Central AC
---
Guest Bedroom 2
Queen (1)
Central AC, Ceiling Fan
---
Guest Bedroom 3
Queen (1)
Ceiling Fan, Central AC
---
image
---
image
---
image
Nearby Activities
Spa and wellness
Museums
Hiking
Shopping
Bike path
Golfing
Mountain climbing
Cycling
Kitchen and Dining
Dining Area
Kitchen Basics
Kitchen
Refrigerator
Coffee Maker
Microwave
Dishwasher
Dishes Utensils
Stove
Toaster
Oven
Freezer
Ice Machine
Blender
Toaster Oven
Crockpot
Rice Cooker
Mixer
Juicer
Disposal
Accommodations
House Cleaning Optional ($)
Other Services Chauffeur ($)
Other Services Concierge ($)
Other Services Private Chef ($)
Other Services Massage ($)
Amenities
Essentials
Shampoo
Dryer
Washer
Garage
Hair Dryer
Linens
Iron
Parking space
Private Entrance
Smartlock
Extra Pillows And Blankets
Wifi/Internet
Emergency
Emergency Medical Contact
Cleanliness
Self Check In / Check Out
Safety Features
Carbon Monoxide Detector
First Aid Kit
Fire Extinguisher
Smoke Detector
Deadbolt Lock
Outdoor Lighting
Suitability
Children Welcome
Pets Not Allowed
Smoking Not Allowed
Free Parking
Ceiling fans
Air Conditioning
Hot Water
Entertainment
Television
Laptop Friendly
Smart TV
Car
Car Necessary
Car Recommended
November 2023
| S | M | T | W | T | F | S |
| --- | --- | --- | --- | --- | --- | --- |
| | | | 01 | 02 | 03 | 04 |
| 05 | 06 | 07 | 08 | 09 | 10 | 11 |
| 12 | 13 | 14 | 15 | 16 | 17 | 18 |
| 19 | 20 | 21 | 22 | 23 | 24 | 25 |
| 26 | 27 | 28 | 29 | 30 | | |
December 2023
| S | M | T | W | T | F | S |
| --- | --- | --- | --- | --- | --- | --- |
| | | | | | 01 | 02 |
| 03 | 04 | 05 | 06 | 07 | 08 | 09 |
| 10 | 11 | 12 | 13 | 14 | 15 | 16 |
| 17 | 18 | 19 | 20 | 21 | 22 | 23 |
| 24 | 25 | 26 | 27 | 28 | 29 | 30 |
| 31 | | | | | | |
January 2024
| S | M | T | W | T | F | S |
| --- | --- | --- | --- | --- | --- | --- |
| | 01 | 02 | 03 | 04 | 05 | 06 |
| 07 | 08 | 09 | 10 | 11 | 12 | 13 |
| 14 | 15 | 16 | 17 | 18 | 19 | 20 |
| 21 | 22 | 23 | 24 | 25 | 26 | 27 |
| 28 | 29 | 30 | 31 | | | |
February 2024
| S | M | T | W | T | F | S |
| --- | --- | --- | --- | --- | --- | --- |
| | | | | 01 | 02 | 03 |
| 04 | 05 | 06 | 07 | 08 | 09 | 10 |
| 11 | 12 | 13 | 14 | 15 | 16 | 17 |
| 18 | 19 | 20 | 21 | 22 | 23 | 24 |
| 25 | 26 | 27 | 28 | 29 | | |
March 2024
| S | M | T | W | T | F | S |
| --- | --- | --- | --- | --- | --- | --- |
| | | | | | 01 | 02 |
| 03 | 04 | 05 | 06 | 07 | 08 | 09 |
| 10 | 11 | 12 | 13 | 14 | 15 | 16 |
| 17 | 18 | 19 | 20 | 21 | 22 | 23 |
| 24 | 25 | 26 | 27 | 28 | 29 | 30 |
| 31 | | | | | | |
April 2024
| S | M | T | W | T | F | S |
| --- | --- | --- | --- | --- | --- | --- |
| | 01 | 02 | 03 | 04 | 05 | 06 |
| 07 | 08 | 09 | 10 | 11 | 12 | 13 |
| 14 | 15 | 16 | 17 | 18 | 19 | 20 |
| 21 | 22 | 23 | 24 | 25 | 26 | 27 |
| 28 | 29 | 30 | | | | |
May 2024
| S | M | T | W | T | F | S |
| --- | --- | --- | --- | --- | --- | --- |
| | | | 01 | 02 | 03 | 04 |
| 05 | 06 | 07 | 08 | 09 | 10 | 11 |
| 12 | 13 | 14 | 15 | 16 | 17 | 18 |
| 19 | 20 | 21 | 22 | 23 | 24 | 25 |
| 26 | 27 | 28 | 29 | 30 | 31 | |
June 2024
| S | M | T | W | T | F | S |
| --- | --- | --- | --- | --- | --- | --- |
| | | | | | | 01 |
| 02 | 03 | 04 | 05 | 06 | 07 | 08 |
| 09 | 10 | 11 | 12 | 13 | 14 | 15 |
| 16 | 17 | 18 | 19 | 20 | 21 | 22 |
| 23 | 24 | 25 | 26 | 27 | 28 | 29 |
| 30 | | | | | | |
July 2024
S
M
T
W
T
F
S
01

$167

02

$167

03

$167

04

$167

05

$175

06

$179

07

$167

08

$167

09

$167

10

$167

11

$167

12

$167

13

$167

14

$167

15

$167

16

$167

17

$167

18

$167

19

$167

20

$167

21

$167

22

$167

23

$167

24

$167

25

$167

26

$167

27

$167

28

$167

29

$167

30

$167

31

$167
August 2024
S
M
T
W
T
F
S
01

$167

02

$167

03

$167

04

$167

05

$167

06

$167

07

$167

08

$167

09

$167

10

$167

11

$167

12

$167

13

$167

14

$167

15

$167

16

$167

17

$167

18

$167

19

$167

20

$167

21

$167

22

$167

23

$167

24

$167

25

$167

26

$167

27

$167

28

$167

29

$167

30

$200

31

$198
September 2024
S
M
T
W
T
F
S
01

$182

02

$169

03

$167

04

$167

05

$167

06

$167

07

$167

08

$167

09

$167

10

$167

11

$167

12

$167

13

$179

14

$185

15

$167

16

$167

17

$167

18

$167

19

$167

20

$187

21

$187

22

$167

23

$167

24

$167

25

$167

26

$167

27

$187

28

$185

29

$167

30

$167
October 2024
S
M
T
W
T
F
S
01

$167

02

$167

03

$167

04

$199

05

$191

06

$167

07

$167

08

$167

09

$167

10

$172

11

$210

12

$204

13

$167

14

$167

15

$167

16

$167

17

$191

18

$221

19

$206

20

$167

21

$167

22

$167

23

$167

24

$206

25

$226

26

$215

27

$169

28

$167

29

$167

30

$167

31

$218
Available
Unavailable
Check-In Only
Check-Out Only
Please select dates
+ tax/fees