Blackstone Court
Bellingham, WA 3 Bedrooms Vacation Rental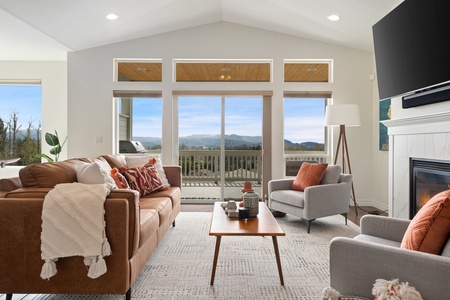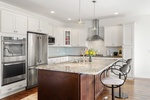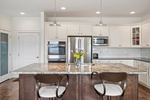 Show All Photos
Unit Photos
Nestled in comfort, the cozy living area

The kitchen's centerpiece, an island table bar, where culinary delights and lively conversations effortlessly intertwine

A haven of culinary possibilities, the sophisticated kitchen boasts a meticulously stocked array of state-of-the-art appliances

The kitchen bathed in warm lighting creates an inviting ambiance, inspiring culinary creativity

The kitchen embraces a spacious layout, offering ample room for culinary exploration and delightful Gatherings

The countertop cooker takes center stage amidst a plethora of storage cabinets, combining practicality and functionality in the kitchen.

A haven of culinary possibilities, the sophisticated kitchen boasts a meticulously stocked array of state-of-the-art appliances

Indulging in a refined dining affair, framed by panoramic windows

Savoring a sumptuous feast while being captivated by the scenic view in the dining area

A perfect union of culinary creativity and shared meals, where the dining area merges effortlessly with the kitchen's inviting island bar

Savoring a sumptuous feast while being captivated by the scenic view in every angle

Ascend the inviting stairway, unveiling the gateway to the main floor

Timeless elegance exudes from the stairway grills, a graceful blend of nostalgia and craftsmanship

Step into a warm embrace as the living area beckons, basking in the gentle glow of natural light through towering window panes

Engaging conversations and cozy moments unfold by the fireplace in the inviting living area

An inviting open floor plan, seamlessly connecting spaces for a harmonious living experience

A harmonious blend of elegance, luxury, and serene living culminate in this humble abode

Immerse yourself in an ambiance of cozy warmth in this comfy living area couch

A seamless fusion of open living and dining spaces, with glimpses of the balcony's allure through expansive window panes

Engaging conversations and cozy moments unfold by the fireplace in the inviting living area

Nestled in comfort, the cozy living area seamlessly extends to the balcony, inviting the outdoors in for a serene retreat.

Journey through the inviting main floor hallway, leading the way to the master bedroom's entrance, adjacent to the staircase

Step into an exquisite embrace as the master bedroom welcomes you with tall window panes, offering captivating views and invigorating natural lighting.

Discover a cozy sanctuary in the master bedroom, with sliders that open up to the balcony, inviting gentle breezes and scenic beauty

Indulge in luxurious comfort within the serenity of this room

Ensuite bathroom serenity meets breathtaking balcony vistas as you open the door

Indulge in the ultimate stay with a spacious and luxurious bathroom, perfect for complete relaxation

A classic bath tub oasis accompanied by the vibrant presence of a fiddle leaf fig tree

Bathroom shower with glass enclosure

Step into a timeless elegance within this exquisite bathroom

A walk-in closet, an organized haven to effortlessly store and showcase your cherished wardrobe

Discover a homely embrace in the guest bedroom on the first floor, a welcoming sanctuary for cherished visitors

Unwind in a snug guest bedroom adorned with fine, luxurious linens, offering a haven of comfort and relaxation

A stylish guest bedroom wardrobe, showcasing functional elegance and organizational bliss

Rest and rejuvenate in the cozy twin bedded room on the first floor, a delightful retreat for tranquil nights

Exquisite bathroom furnishing with a shower and glass enclosure

An elegant common bathroom on the first floor, a refined space that exudes timeless charm and functionality

Make your way to the first floor family den

A dynamic family haven, where gaming and togetherness thrive

Welcome to the cherished family den, where radiant warmth envelops as you step inside, embraced by grand window frames

Embracing warmth and togetherness by the fireplace and flat screen TV, a haven for family relaxation

Amping up the family fun factor in the cozy game-filled haven at the Foosball table

Immerse yourself in an ambiance of cozy warmth in this comfy family den couch

A productive sanctuary awaits in the home office, where work and creativity seamlessly intertwine

Stay in the game with a fast Wi-Fi connection at your home away from home office

A well-equipped laundry area, where cleanliness and convenience meet with ease

Seamless transitions from the family den to the inviting veranda, fostering shared moments of joy

Delight in the art of balcony grilling while soaking in the picturesque views that surround.

Experience a wonderful retreat on the balcony, a serene haven that offers respite and tranquility.

Step onto the wide balcony, where expansive space invites relaxation and immersive outdoor enjoyment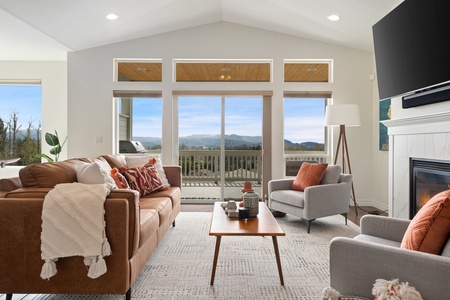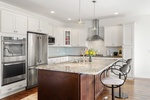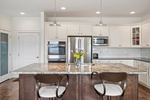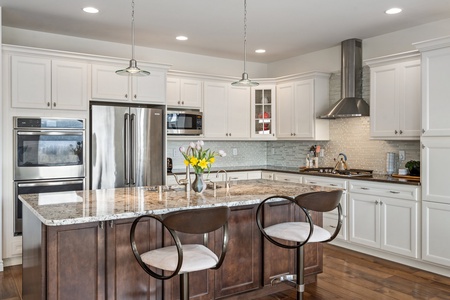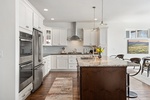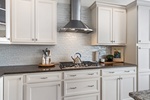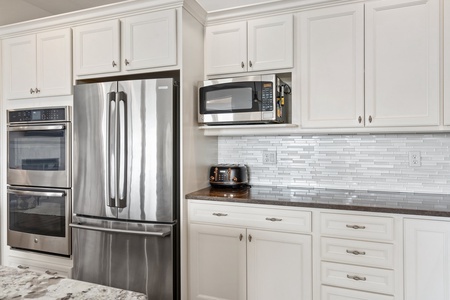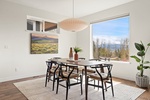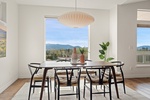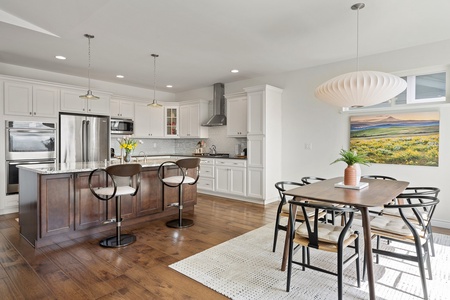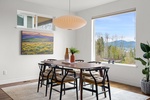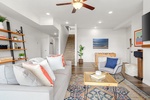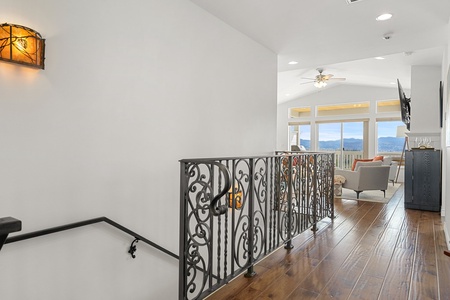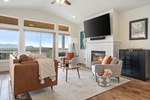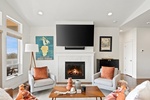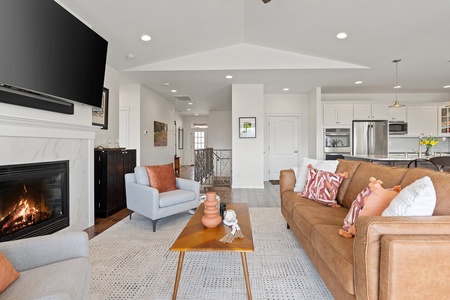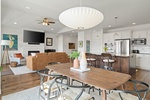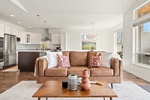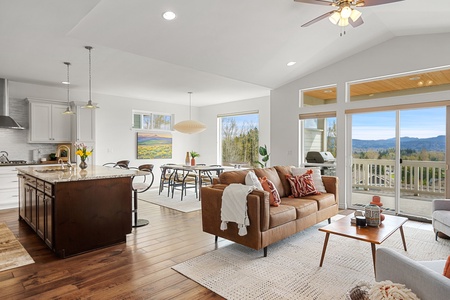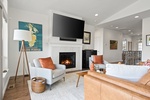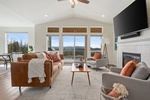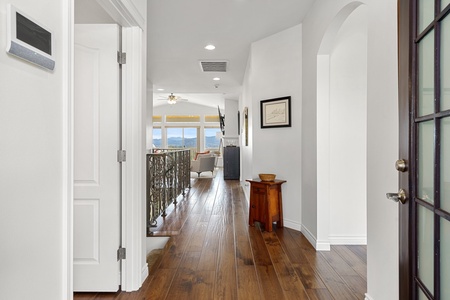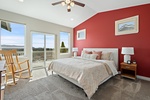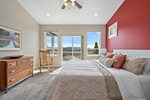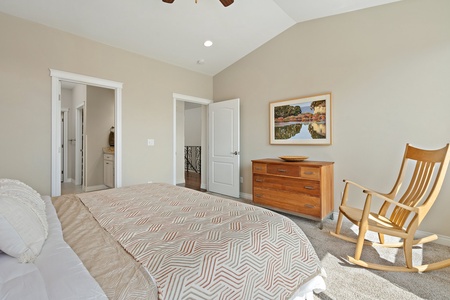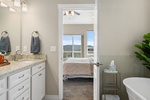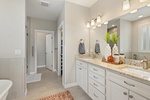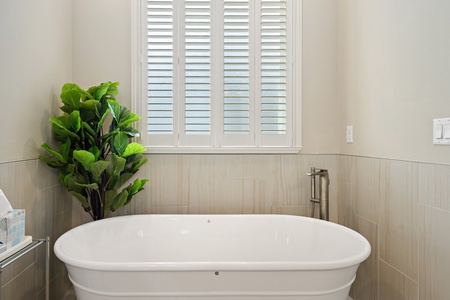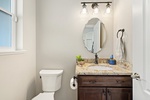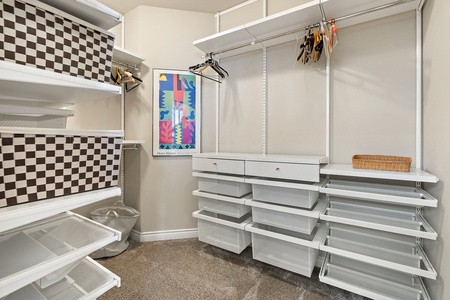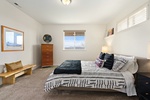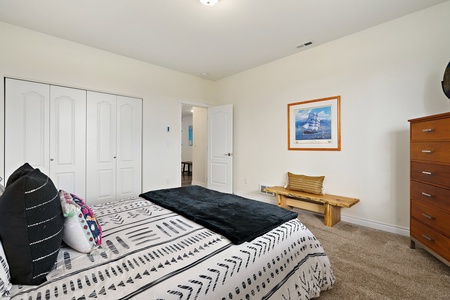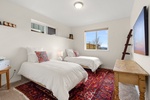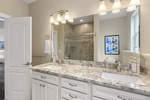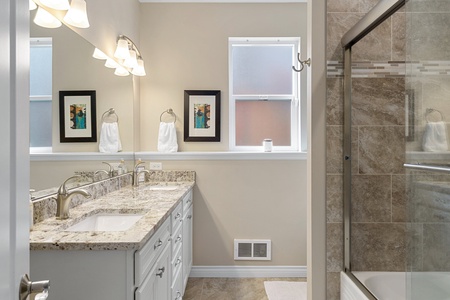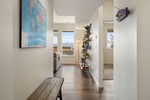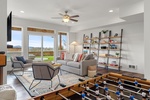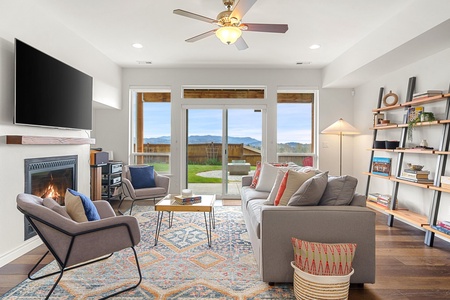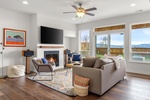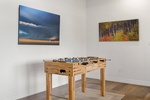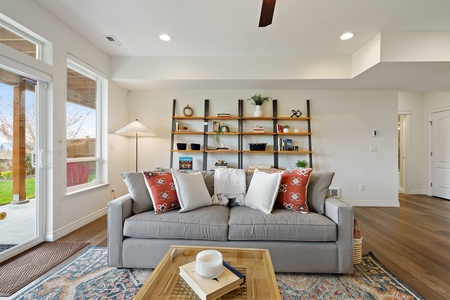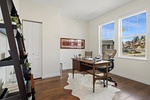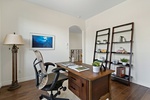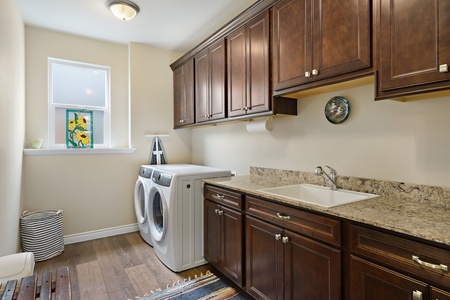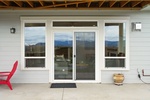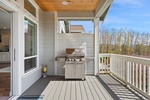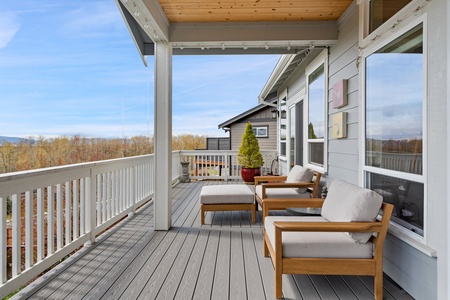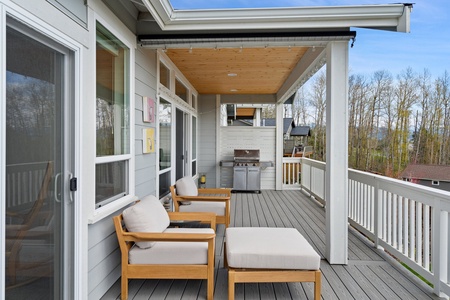 Rooms
rooms
Bedroom # 1

Primary

1 King

Bedroom # 2

Guest Bedroom 1

1 Queen

Bedroom # 3

Guest Bedroom 2

2 Twin

Common

Office
---
---
Description
Welcome to Blackstone Court by Gather, a lavish and refined 3-bedroom, 2.5-bath executive home nestled in the vibrant town of Bellingham, Washington. With the capacity to comfortably host up to 6 guests, this stunning property offers a seamless blend of luxury, comfort, and connectivity.

Boasting breathtaking, sweeping views of the bay, islands, and mountains, Blackstone Court sits majestically in a central location, making it the perfect base to explore the best of Whatcom County. Whether you are seeking outdoor adventure, a peaceful retreat, or a work-from-home alternative, this exquisite property is ideally suited to fulfill your needs.

As you step into the home, you will be immediately captivated by the open floor plan brimming with natural light from the numerous windows, each framing the mesmerizing vistas outside. This inviting atmosphere is complemented by tasteful decor and high-end furnishings that promise rest and relaxation during your stay.

For guests who need to stay connected, the property comes equipped with lightning-fast Wi-Fi and a dedicated home office space. This, combined with the calming ambience of the surroundings, makes Blackstone Court an impeccable setting for productivity and creativity.

The heart of this house is undoubtedly the Chef's kitchen. Fully equipped with stainless steel appliances, a large island, and ample storage space, this kitchen invites you to prepare sumptuous meals to be enjoyed in the spacious dining area.

The main floor features a generous primary bedroom offering a tranquil sanctuary where you can retreat to at the end of the day. Here, you will find a luxurious ensuite bathroom that invites you to unwind and rejuvenate in its sophisticated comfort.

On the lower level of the home, there is a cozy family room with a warm fireplace, creating a perfect setting for relaxing evenings. This floor also hosts two additional bedrooms and a bathroom, ensuring ample space and privacy for everyone in your party.

Stepping outside, the fully fenced yard beckons you to enjoy the fresh Washington air. Gather around the stone fire pit and share stories under the stars, creating memories that will last a lifetime.

Whether you are planning an extended stay or a short getaway, Blackstone Court provides all the comforts of a home away from home. With high-quality linens, comfortable bedding, and the property's thoughtful design, you are assured of an exceptional and memorable stay.

Immerse yourself in the elegant charm of Blackstone Court, where every detail is designed for your comfort and enjoyment. Experience the captivating beauty of Bellingham and the luxury of this unique home as you create unforgettable memories in this Pacific Northwest paradise.
Room
Beds
---
Central AC, Bay View, Mountain View, Ceiling Fan, Balcony/Deck, Ensuite, Best room for a crib.
---
Guest Bedroom 1
Queen (1)
Central AC, Garden View
---
Central AC, Garden View
---
image
---
image
---
image
Kitchen and Dining
Dining Area
Kitchen Basics
Kitchen
Refrigerator
Coffee Maker
Dishwasher
Dishes Utensils
Stove
Toaster
BBQ
Accommodations
House Cleaning Optional ($)
Other Services Chauffeur ($)
Other Services Concierge ($)
Other Services Private Chef ($)
Other Services Massage ($)
Amenities
Essentials
Shampoo
Dryer
Washer
Hair Dryer
Linens
Iron
Extra Pillows And Blankets
Fire pit
Safety Features
Carbon Monoxide Detector
First Aid Kit
Fire Extinguisher
Suitability
Children Welcome
Pets Considered
Street Parking
Free Parking
Fireplace
Air Conditioning
Heating
Hot Water
Entertainment
Television
Laptop Friendly
November 2023
| S | M | T | W | T | F | S |
| --- | --- | --- | --- | --- | --- | --- |
| | | | 01 | 02 | 03 | 04 |
| 05 | 06 | 07 | 08 | 09 | 10 | 11 |
| 12 | 13 | 14 | 15 | 16 | 17 | 18 |
| 19 | 20 | 21 | 22 | 23 | 24 | 25 |
| 26 | 27 | 28 | 29 | 30 | | |
December 2023
S
M
T
W
T
F
S
01

$200

02

$200

03

$200

04

$200

05

$200

06

$200

07

$200

08

$200

09

$200

10

$200

11

$200

12

$200

13

$200

14

$200

15

$200

16

$200

17

$200

18

$200

19

$200

20

$200

21

$200

22

$200

23

$200

24

$200

25

$200

26

$200

27

$200

28

$200

29

$200

30

$200

31

$200
January 2024
S
M
T
W
T
F
S
01

$200

02

$200

03

$200

04

$200

05

$200

06

$200

07

$200

08

$200

09

$200

10

$200

11

$200

12

$200

13

$200

14

$200

15

$200

16

$200

17

$200

18

$200

19

$200

20

$200

21

$200

22

$200

23

$200

24

$200

25

$200

26

$200

27

$200

28

$200

29

$200

30

$200

31

$200
February 2024
S
M
T
W
T
F
S
01

$200

02

$200

03

$200

04

$200

05

$200

06

$200

07

$200

08

$200

09

$200

10

$200

11

$200

12

$200

13

$200

14

$200

15

$200

16

$200

17

$200

18

$200

19

$200

20

$200

21

$200

22

$200

23

$200

24

$200

25

$200

26

$200

27

$200

28

$200

29

$200
March 2024
S
M
T
W
T
F
S
01

$200

02

$200

03

$200

04

$200

05

$200

06

$200

07

$200

08

$200

09

$200

10

$200

11

$200

12

$200

13

$200

14

$200

15

$200

16

$200

17

$200

18

$200

19

$200

20

$200

21

$200

22

$200

23

$200

24

$200

25

$200

26

$200

27

$200

28

$200

29

$200

30

$200

31

$200
April 2024
S
M
T
W
T
F
S
01

$200

02

$200

03

$200

04

$200

05

$200

06

$200

07

$200

08

$200

09

$200

10

$200

11

$200

12

$200

13

$200

14

$200

15

$200

16

$200

17

$200

18

$200

19

$200

20

$200

21

$200

22

$200

23

$200

24

$200

25

$200

26

$200

27

$200

28

$200

29

$200

30

$200
May 2024
S
M
T
W
T
F
S
01

$200

02

$200

03

$200

04

$200

05

$200

06

$200

07

$200

08

$200

09

$200

10

$200

11

$200

12

$200

13

$200

14

$200

15

$200

16

$200

17

$200

18

$200

19

$200

20

$200

21

$200

22

$200

23

$200

24

$200

25

$200

26

$200

27

$200

28
29
30
31
June 2024
| S | M | T | W | T | F | S |
| --- | --- | --- | --- | --- | --- | --- |
| | | | | | | 01 |
| 02 | 03 | 04 | 05 | 06 | 07 | 08 |
| 09 | 10 | 11 | 12 | 13 | 14 | 15 |
| 16 | 17 | 18 | 19 | 20 | 21 | 22 |
| 23 | 24 | 25 | 26 | 27 | 28 | 29 |
| 30 | | | | | | |
July 2024
| S | M | T | W | T | F | S |
| --- | --- | --- | --- | --- | --- | --- |
| | 01 | 02 | 03 | 04 | 05 | 06 |
| 07 | 08 | 09 | 10 | 11 | 12 | 13 |
| 14 | 15 | 16 | 17 | 18 | 19 | 20 |
| 21 | 22 | 23 | 24 | 25 | 26 | 27 |
| 28 | 29 | 30 | 31 | | | |
August 2024
| S | M | T | W | T | F | S |
| --- | --- | --- | --- | --- | --- | --- |
| | | | | 01 | 02 | 03 |
| 04 | 05 | 06 | 07 | 08 | 09 | 10 |
| 11 | 12 | 13 | 14 | 15 | 16 | 17 |
| 18 | 19 | 20 | 21 | 22 | 23 | 24 |
| 25 | 26 | 27 | 28 | 29 | 30 | 31 |
September 2024
| S | M | T | W | T | F | S |
| --- | --- | --- | --- | --- | --- | --- |
| 01 | 02 | 03 | 04 | 05 | 06 | 07 |
| 08 | 09 | 10 | 11 | 12 | 13 | 14 |
| 15 | 16 | 17 | 18 | 19 | 20 | 21 |
| 22 | 23 | 24 | 25 | 26 | 27 | 28 |
| 29 | 30 | | | | | |
October 2024
| S | M | T | W | T | F | S |
| --- | --- | --- | --- | --- | --- | --- |
| | | 01 | 02 | 03 | 04 | 05 |
| 06 | 07 | 08 | 09 | 10 | 11 | 12 |
| 13 | 14 | 15 | 16 | 17 | 18 | 19 |
| 20 | 21 | 22 | 23 | 24 | 25 | 26 |
| 27 | 28 | 29 | 30 | 31 | | |
Available
Unavailable
Check-In Only
Check-Out Only
Please select dates
+ tax/fees