Pacific Getaway
Bellingham, WA 2 Bedrooms Vacation Rental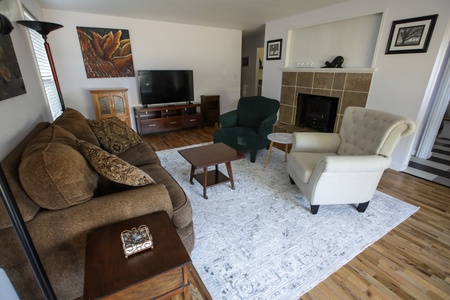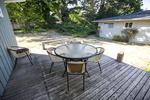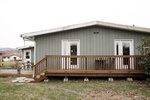 Show All Photos
Unit Photos
Stylish living space awaits you at the Pacific Getaway!

Enjoy the great outdoors in style and be charmed with the natural surroundings.

Charming wooden balconies extend from each bedroom, the perfect spot to relax in style

Productivity at its finest! Providing a dedicated home office and Wi-Fi to stay focused and get work done efficiently throughout your stay

Savor your morning coffee on the balcony with a view

Experience serene natural scenery right outside your home away from home

Luxurious occasional seats: Elevate your relaxation with refined comfort.

Cozy vibes in this well-lit living area

Welcome to the heart of the home: the kitchen and dining area

Classic dining area conveniently located next to the kitchen

Sleek gas range and spacious two-door fridge complete this classic kitchen

Aesthetically beautiful tile flooring adds to the charm of this spacious dining and kitchen area

Stylish and practical storage solution: a clean sink paired with timeless cabinetry

Maximize your storage space with our extra cabinets

Cozy up in style with our luxurious master bed

Relaxation at its finest - a cozy master bed with balcony access

Extra closet/storage cabinet connects master bedroom to the guest room

Step into the inviting ambiance of our well-lit and timeless guest bedroom with access to balcony

Guest bedroom with a lush double bed.

Never miss important meetings in this dedicated workspace

Guest bedroom with a lush double bed.

Productivity at its finest in this spacious second home office

Step into relaxation with our inviting bathroom ambiance captured in this photo

Fully-equipped bathroom complete with a luxurious bathtub and invigorating shower

Revitalize in a pristine bathroom with a refreshing touch-up

Laundry day during your stay made easy with this convenient washer and dryer duo

Extra laundry area storage cabinet

Enjoy the convenience of an attached garage during your stay

Classic front door with a vintage lamp

Wooden balcony stairs

Perfect setup for an intimate family Gathering - a cozy outdoor table and chairs right next to the balcony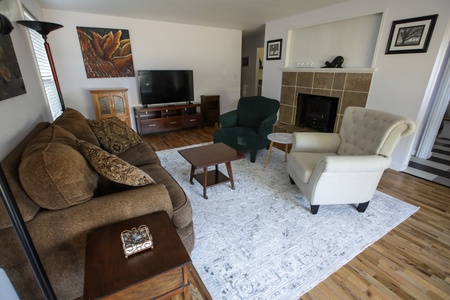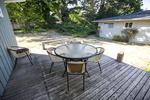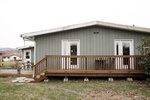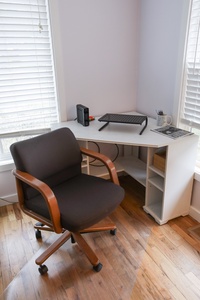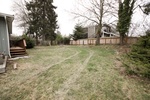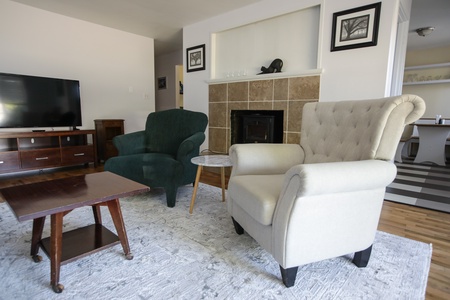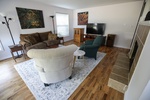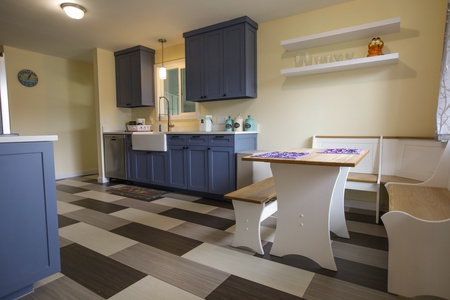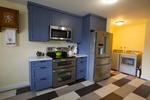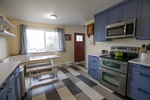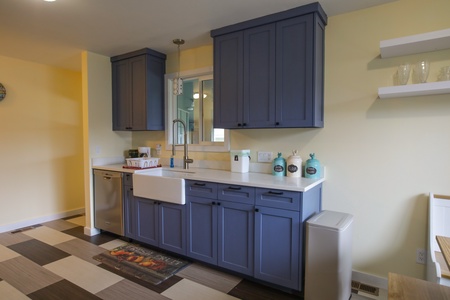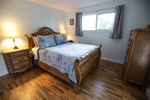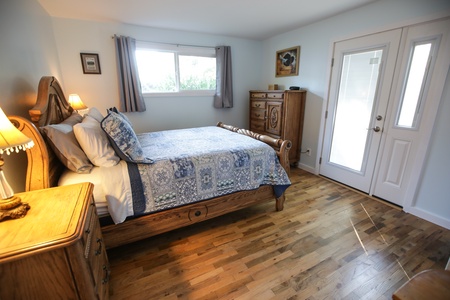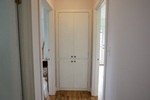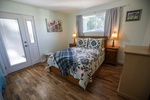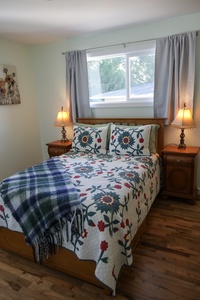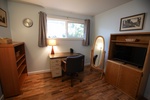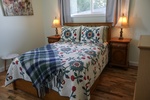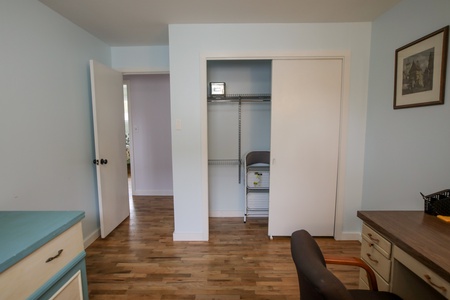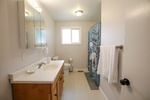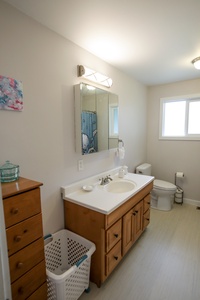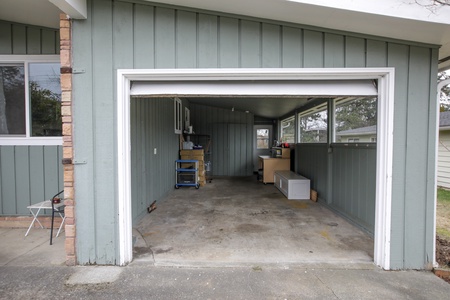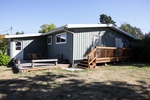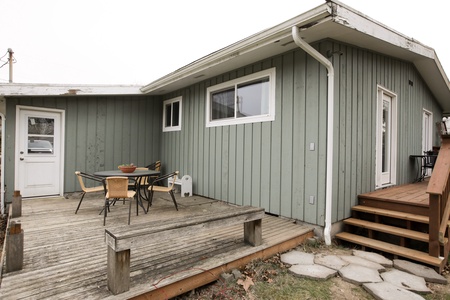 Rooms
rooms
Bedroom # 1

Primary

1 Queen

Bedroom # 2

Guest Bedroom

1 Queen
---
---
Reviews
Reviews
Apr 01, 2023

From the very beginning from changing our dates to a few hiccups Jessica was on top of any questions or issues and resolved immediately. Her responses were immediate. She was very easy to talk to and always nice and helpful. The property was exactly as she stated. I would recommend the home and Jessica is a wonderful Super host to work with. Thank you, Terri

Terri
---
Description
Welcome to Pacific Getaway by Gather, your home-away-from-home in charming Bellingham, Washington. This cozy and comfortable two-bedroom, one-bathroom house is conveniently located near Galbraith Mountain yet retains the urban connection with its proximity to downtown. A perfect retreat for four guests, Pacific Getaway harmoniously combines modern living with Bellingham's vibrant city life and natural beauty.

Upon entering, you'll find two dedicated laptop-friendly workspaces ideal for remote work or staying connected with family and friends. The house is equipped with Wi-Fi and a convenient self-check-in system, allowing you to arrive at your leisure and instantly make yourself at home.

The interiors are designed to cater to your every need. The convenient washer and dryer ensure your travel wardrobe stays fresh, while the well-appointed kitchen is ready for your culinary adventures. In the living room, unwind and relax after a day of exploring Bellingham's trails or shopping downtown.

Location is key at Pacific Getaway. The home is within walking distance of popular shops, parks, and local bus routes, placing the best of Bellingham right at your doorstep. Accessibility extends beyond the city limits with I-5 just minutes away, offering a quick and easy route to nearby attractions and beyond.

Whether you're visiting for business, pleasure, or a blend of both, Pacific Getaway offers a comfortable and convenient base to explore the best of Bellingham and its surrounding beauty. Discover the unique charm of the Pacific Northwest with a stay at this inviting home.
Room
Beds
---
Room for crib, Balcony/Deck
---
Room for a crib.
---
image
Kitchen and Dining
Dining Area
Kitchen Basics
Kitchen
Refrigerator
Coffee Maker
Microwave
Dishwasher
Dishes Utensils
Stove
Oven
Accommodations
House Cleaning Optional ($)
Other Services Chauffeur ($)
Other Services Concierge ($)
Other Services Private Chef ($)
Other Services Massage ($)
Amenities
Essentials
Shampoo
Dryer
Washer
Garage
Linens
Wifi/Internet
Safety Features
Carbon Monoxide Detector
First Aid Kit
Fire Extinguisher
Smoke Detector
Suitability
Children Welcome
Pets Considered
Street Parking
Free Parking
Fireplace
Long Term Stays Allowed
Heating
Hot Water
Entertainment
Television
Satellite or Cable TV
Laptop Friendly
Smart TV
Nearby Activities
Spa and wellness
Museums
Hiking
Shopping
Horseback riding
Golfing
Watersports
Tennis
Apr 01, 2023
From the very beginning from changing our dates to a few hiccups Jessica was on top of any questions or issues and resolved immediately. Her responses were immediate. She was very easy to talk to and always nice and helpful. The property was exactly as she stated. I would recommend the home and Jessica is a wonderful Super host to work with. Thank you, Terri
Terri
November 2023
| S | M | T | W | T | F | S |
| --- | --- | --- | --- | --- | --- | --- |
| | | | 01 | 02 | 03 | 04 |
| 05 | 06 | 07 | 08 | 09 | 10 | 11 |
| 12 | 13 | 14 | 15 | 16 | 17 | 18 |
| 19 | 20 | 21 | 22 | 23 | 24 | 25 |
| 26 | 27 | 28 | 29 | 30 | | |
December 2023
S
M
T
W
T
F
S
01
02
03
04
05
06
07
08
09
10
11
12
13
14
15

$114

16

$114

17
18
19
20
21
22
23
24
25
26
27
28
29
30
31
January 2024
S
M
T
W
T
F
S
01
02
03
04
05
06
07
08
09
10
11
12
13
14

$114

15

$114

16

$114

17

$114

18

$114

19

$114

20

$114

21

$114

22

$114

23

$114

24

$114

25

$114

26

$114

27

$114

28

$114

29

$114

30

$114

31

$114
February 2024
S
M
T
W
T
F
S
01

$114

02

$114

03

$114

04

$114

05

$114

06

$114

07

$114

08

$114

09

$114

10

$114

11

$114

12

$114

13

$114

14

$114

15

$114

16

$114

17

$114

18

$114

19

$114

20

$114

21

$114

22

$114

23

$114

24

$114

25

$114

26

$114

27

$114

28

$114

29

$114
March 2024
S
M
T
W
T
F
S
01

$114

02

$114

03

$114

04

$114

05

$114

06

$114

07

$114

08

$114

09

$114

10

$114

11

$114

12

$114

13

$114

14

$114

15

$114

16

$114

17

$114

18

$114

19

$114

20

$114

21

$114

22

$114

23

$114

24

$114

25

$114

26

$114

27

$114

28

$114

29

$114

30

$114

31

$114
April 2024
S
M
T
W
T
F
S
01

$114

02

$114

03

$114

04

$114

05

$114

06

$114

07

$114

08

$114

09

$114

10

$114

11

$114

12

$114

13

$114

14

$114

15

$114

16

$114

17

$114

18

$114

19

$114

20

$114

21

$114

22

$114

23

$114

24

$114

25

$114

26

$114

27

$114

28

$114

29

$114

30

$114
May 2024
S
M
T
W
T
F
S
01

$114

02

$114

03

$114

04

$114

05

$114

06

$114

07

$114

08

$114

09

$114

10

$114

11

$114

12

$114

13

$114

14

$114

15

$114

16

$114

17

$114

18

$114

19

$114

20

$114

21

$114

22

$114

23

$114

24

$114

25

$114

26

$114

27

$114

28

$114

29

$114

30

$114

31

$114
June 2024
S
M
T
W
T
F
S
01

$134

02

$134

03

$134

04

$134

05

$134

06

$134

07

$134

08

$134

09

$134

10

$134

11

$134

12

$134

13

$134

14

$134

15

$134

16

$134

17

$134

18

$134

19

$134

20

$134

21

$134

22

$134

23

$134

24

$134

25

$134

26

$134

27

$134

28

$134

29

$134

30

$134
July 2024
S
M
T
W
T
F
S
01

$134

02

$134

03

$134

04

$134

05

$134

06

$134

07

$134

08

$134

09

$134

10

$134

11

$134

12

$134

13

$134

14

$134

15

$134

16

$134

17

$134

18

$134

19

$134

20

$134

21

$134

22

$134

23

$134

24

$134

25

$134

26

$134

27

$134

28

$134

29

$134

30

$134

31

$134
August 2024
S
M
T
W
T
F
S
01

$134

02

$134

03

$134

04

$134

05

$134

06

$134

07

$134

08

$134

09

$134

10

$134

11

$134

12

$134

13

$134

14

$134

15

$134

16

$134

17

$134

18

$134

19

$134

20

$134

21

$134

22

$134

23

$134

24

$134

25

$134

26

$134

27

$134

28

$134

29

$134

30

$134

31

$134
September 2024
S
M
T
W
T
F
S
01

$134

02

$134

03

$134

04

$134

05

$134

06

$134

07

$134

08

$134

09

$134

10

$134

11

$134

12

$134

13

$134

14

$134

15

$134

16

$134

17

$134

18

$134

19

$134

20

$134

21

$134

22

$134

23

$134

24

$134

25

$134

26

$134

27

$134

28

$134

29

$134

30

$134
October 2024
S
M
T
W
T
F
S
01

$114

02

$114

03

$114

04

$114

05

$114

06

$114

07

$114

08

$114

09

$114

10

$114

11

$114

12

$114

13

$114

14

$114

15

$114

16

$114

17

$114

18

$114

19

$114

20

$114

21

$114

22

$114

23

$114

24

$114

25

$114

26

$114

27

$114

28

$114

29

$114

30

$114

31

$114
Available
Unavailable
Check-In Only
Check-Out Only
Please select dates
+ tax/fees