Gainey Ranch Retreat
Scottsdale, Arizona 2 Bedrooms Vacation Rental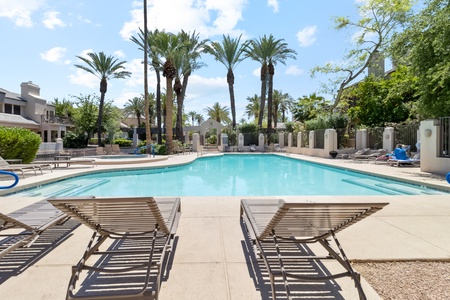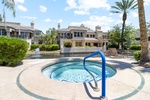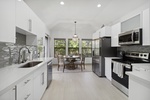 Show All Photos
Unit Photos
Welcome to your dream vacation home in Scottsdale, AZ, where luxury and convenience intertwine to create a memorable experience you won't soon forget

Unwind and rejuvenate in the serenity of the pool, then take a dip in the hot tub under the starry night.

This stunning vacation home boasts a beautiful, furnished, single-level light, and bright open floor-plan that will make you feel right at home.

As you walk into the expansive living area with a cozy fireplace, you will notice the large windows that provide abundant natural light, bringing in all the warmth and sunshine of Arizona

Explore the vibrant neighborhood or take a short drive to enjoy many incredible activities that Scottsdale has to offer.

Welcome Home!

Step into the living area and feel the warm embrace of soft lighting, creating a cozy and inviting ambiance that instantly makes you feel at home

Settle in for a cinematic experience, with a smart TV and abundant seating ensuring everyone gets the best seat in the house for movie nights.

Warm lighting as you ascend to the second floor

Step outside onto the private expanded patio and relax while enjoying the serene ambiance and breathtaking views.

Patio right off the living room

Chill and relax at the patio, a perfect spot for a quite night conversations under the stars.

Enjoy a meal with loved ones at the dining table

Dining table seats up to six guests

Begin your day with a sunlit breakfast at the cozy nook, setting the tone for a serene morning.

This beautiful vacation home also features a fully stocked kitchen, equipped with everything you need to whip up delicious meals while away from home

The primary suite is a true oasis with an adjustable king bed, walk-in closet, and smart TV that makes winding down after a long day easy

Luxurious linens adorns the master bed

The redesigned primary bath features double sinks and a fabulous walk-in shower, making your morning routine a breeze

Soaking tub and walk - in shower. You choose!

The guest bedroom, featuring an adjustable queen bed with double closets, is perfect for family or friends

Warmer vibes as you take time to relax on the guest bed adorned with fines linens

The updated guest bath with a tub/shower ensures that everyone stays refreshed and pampered throughout their stay

The resort-style pool is perfect for relaxing under the sun

Sipping on a refreshing drink and reading your favorite book would be nice poolside

Back of the Home

The two-car garage offers ample storage, giving guests plenty of space for all their belongings

The entryway

Ascend to the upper-level for main living spaces, while restful slumbers await on the lower level with all the bedrooms.

Exterior of the house fronting garage

This beautiful vacation rental home is a true retreat that combines luxury with convenience and location

Immerse yourself in a vibrant neighborhood adorned with an abundance of blooming flowers and lush greenery

Beautiful palm trees adorn the driveway

Beautiful stream of water running in the neighborhood

Beautiful palm trees within the neighborhood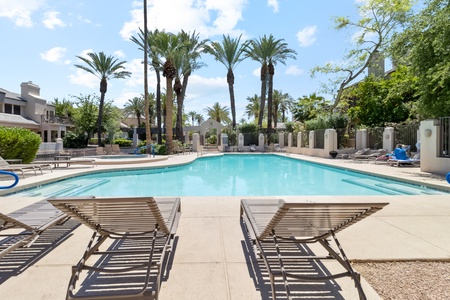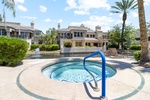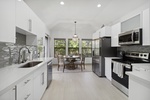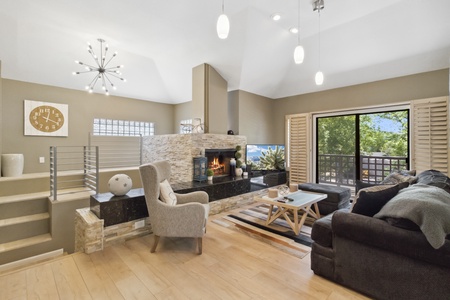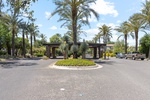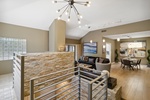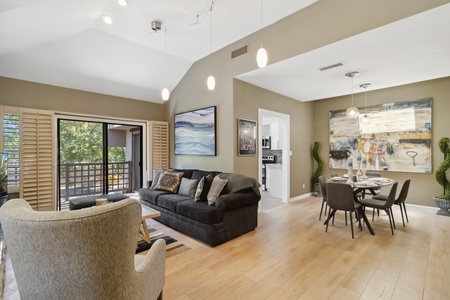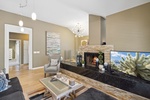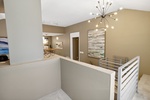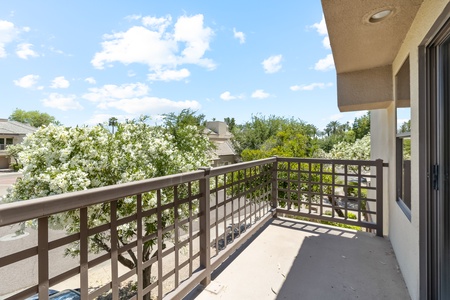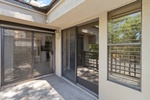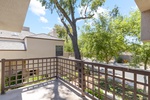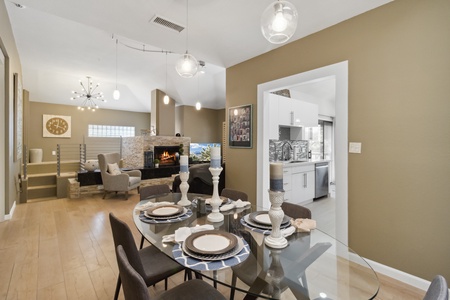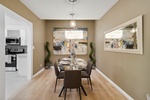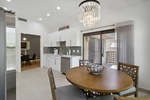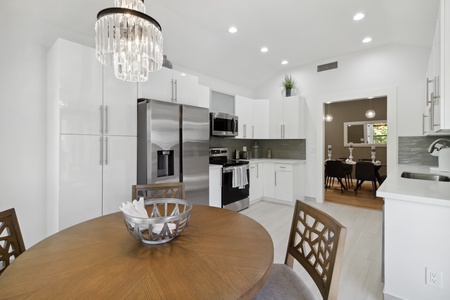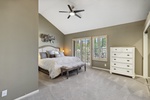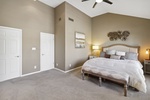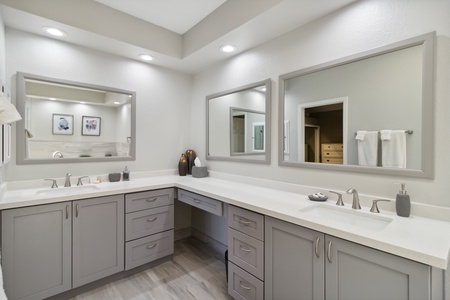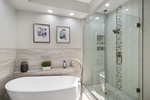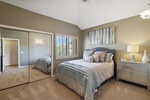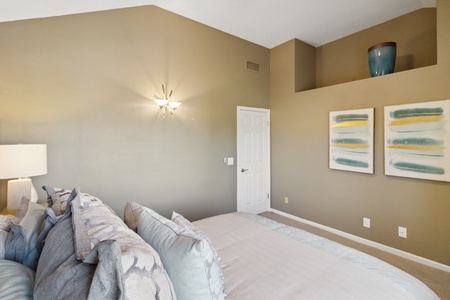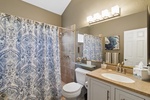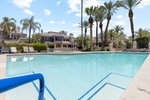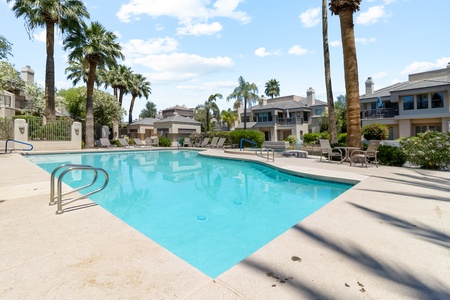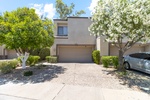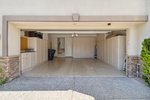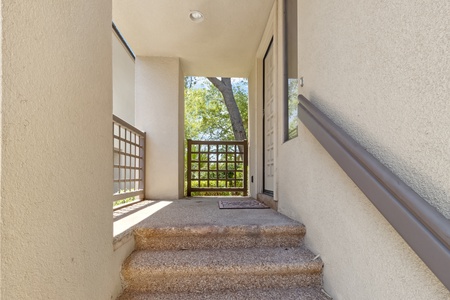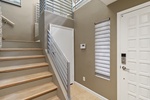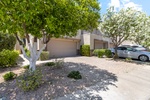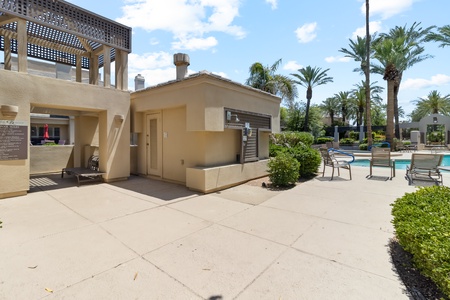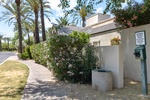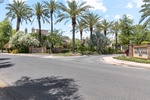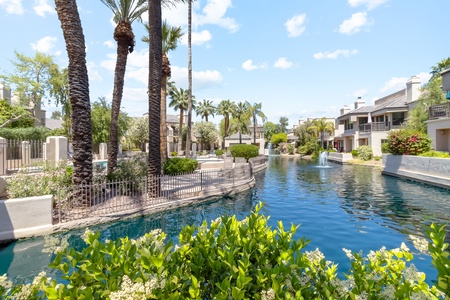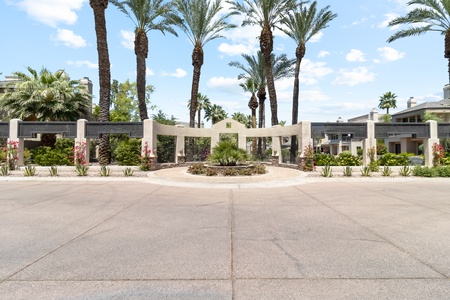 Rooms
rooms
Bedroom # 1

Primary Bedroom

1 King

Bedroom # 2

Guest Bedroom 2

1 Queen
---
Amenities
Walk to Shops / Restaurants
---
Description
Welcome to Gainey Ranch Retreat by Gather, your dream vacation home in Scottsdale, AZ, where luxury and convenience intertwine to create a memorable experience you won't soon forget. This stunning vacation home boasts a beautiful, furnished, single-level light, and bright open floorplan that will make you feel right at home.

As you walk into the expansive living area with a cozy fireplace, you will notice the large windows that provide abundant natural light, bringing in all the warmth and sunshine of Arizona. The smart TV and ample seating make this the perfect space for movie nights or game days. Step outside onto the private expanded patio and relax while enjoying the serene ambiance.

This beautiful vacation home also features a fully stocked kitchen, equipped with everything you need to whip up delicious meals while away from home. Enjoy dining in the open-concept dining area or take in the beautiful Arizona scenery on the private patio.

The primary suite is a true oasis with a king bed, walk-in closet, and TV that makes winding down after a long day easy. The updated primary bath features double sinks and a fabulous walk-in shower, making your morning routine a breeze. The guest bedroom, featuring an adjustable queen bed with double closets, is perfect for family or friends. The updated guest bath with a tub/shower ensures that everyone stays refreshed and pampered throughout their stay.

The Community Pool and Hot Tub are just a short walk away, and guests have access to all the Gainey Ranch amenities including the 24-hour guard gate, the clubhouse, fitness center, tennis courts, and pickleball. The resort-style pool is perfect for relaxing under the sun while sipping on a refreshing drink and reading your favorite book.

The two-car garage offers ample storage, giving guests plenty of space for all their belongings. Explore the vibrant neighborhood or take a short drive to enjoy shopping, restaurants, golf, and many other incredible activities that Scottsdale has to offer.

Gainey Ranch is a true retreat that combines luxury with convenience and location. Come experience all that Scottsdale has to offer and make unforgettable memories in this stunning Arizona paradise.
Room
Beds
---
Ensuite Bathroom, Balcony / Deck, Ceiling Fan, Central A/C
---
Guest Bedroom 2
Queen (1)
Balcony / Deck, Ceiling Fan, Central A/C
---
image
---
image
Nearby Activities
Spa and wellness
Museums
Hiking
Shopping
Bike path
Cycling
Kitchen and Dining
Dining Area
Kitchen Basics
Kitchen
Refrigerator
Coffee Maker
Microwave
Dishwasher
Dishes Utensils
Stove
Toaster
Oven
Freezer
Kettle
Blender
Coffee Grinder
Disposal
Accommodations
House Cleaning Optional ($)
Other Services Chauffeur ($)
Other Services Concierge ($)
Other Services Private Chef ($)
Other Services Massage ($)
Amenities
Essentials
Shampoo
Dryer
Washer
Garage
Hair Dryer
Linens
Iron
Private Entrance
Extra Pillows And Blankets
Wifi/Internet
Emergency
Emergency Exit Route
Emergency Medical Contact
Emergency Police Contact
Emergency Fire Contact
Cleanliness
24Hr Check-In
Self Check In / Check Out
Safety Features
Carbon Monoxide Detector
First Aid Kit
Fire Extinguisher
Smoke Detector
Deadbolt Lock
Outdoor Lighting
Suitability
Pets Not Allowed
Smoking Not Allowed
Free Parking
Ceiling fans
Fireplace
Air Conditioning
Single Level Home
Long Term Stays Allowed
Heating
Hot Water
Entertainment
Television
Satellite or Cable TV
Smart TV
Pool/Spa
Community Pool
Community Hot Tub
Location/Property Types
Resort
Town
Popular Town
Private Gated Community
Resort Amenities
Private / Secluded
Walk to Shops / Restaurants
Property Manager
Joel Parker
30 Day Properties
Kali Goodenough
November 2023
| S | M | T | W | T | F | S |
| --- | --- | --- | --- | --- | --- | --- |
| | | | 01 | 02 | 03 | 04 |
| 05 | 06 | 07 | 08 | 09 | 10 | 11 |
| 12 | 13 | 14 | 15 | 16 | 17 | 18 |
| 19 | 20 | 21 | 22 | 23 | 24 | 25 |
| 26 | 27 | 28 | 29 | 30 | | |
December 2023
S
M
T
W
T
F
S
01

$200

02

$200

03

$200

04

$200

05

$200

06

$200

07

$200

08

$200

09

$200

10

$200

11

$200

12

$200

13
14
15
16
17
18
19

$200

20

$200

21

$200

22

$200

23

$200

24

$200

25

$200

26

$200

27

$200

28

$200

29

$200

30

$200

31

$200
January 2024
S
M
T
W
T
F
S
01

$200

02

$200

03

$200

04

$200

05

$200

06

$200

07

$200

08

$200

09

$200

10

$200

11

$200

12

$200

13

$200

14

$200

15

$200

16

$200

17

$200

18

$200

19

$200

20

$200

21

$200

22

$200

23

$200

24

$200

25

$200

26

$200

27

$200

28
29
30
31
February 2024
| S | M | T | W | T | F | S |
| --- | --- | --- | --- | --- | --- | --- |
| | | | | 01 | 02 | 03 |
| 04 | 05 | 06 | 07 | 08 | 09 | 10 |
| 11 | 12 | 13 | 14 | 15 | 16 | 17 |
| 18 | 19 | 20 | 21 | 22 | 23 | 24 |
| 25 | 26 | 27 | 28 | 29 | | |
March 2024
| S | M | T | W | T | F | S |
| --- | --- | --- | --- | --- | --- | --- |
| | | | | | 01 | 02 |
| 03 | 04 | 05 | 06 | 07 | 08 | 09 |
| 10 | 11 | 12 | 13 | 14 | 15 | 16 |
| 17 | 18 | 19 | 20 | 21 | 22 | 23 |
| 24 | 25 | 26 | 27 | 28 | 29 | 30 |
| 31 | | | | | | |
April 2024
S
M
T
W
T
F
S
01
02
03
04
05
06
07
08
09
10
11
12
13
14
15
16
17
18
19
20
21
22
23
24
25
26
27
28
29
30

$132
May 2024
S
M
T
W
T
F
S
01

$132

02

$132

03

$132

04

$132

05

$132

06

$132

07

$132

08

$132

09

$132

10

$132

11

$132

12

$132

13

$132

14

$132

15

$132

16

$132

17

$132

18

$132

19

$132

20

$132

21

$132

22

$132

23

$132

24

$132

25

$132

26

$132

27

$132

28

$132

29

$132

30

$132

31

$132
June 2024
S
M
T
W
T
F
S
01

$100

02

$100

03

$100

04

$100

05

$100

06

$100

07

$100

08

$100

09

$100

10

$100

11

$100

12

$100

13

$100

14

$100

15

$100

16

$100

17

$100

18

$100

19

$100

20

$100

21

$100

22

$100

23

$100

24

$100

25

$100

26

$100

27

$100

28

$100

29

$100

30

$100
July 2024
S
M
T
W
T
F
S
01

$100

02

$100

03

$100

04

$100

05

$100

06

$100

07

$100

08

$100

09

$100

10

$100

11

$100

12

$100

13

$100

14

$100

15

$100

16

$100

17

$100

18

$100

19

$100

20

$100

21

$100

22

$100

23

$100

24

$100

25

$100

26

$100

27

$100

28

$100

29

$100

30

$100

31

$100
August 2024
S
M
T
W
T
F
S
01

$100

02

$100

03

$100

04

$100

05

$100

06

$100

07

$100

08

$100

09

$100

10

$100

11

$100

12

$100

13

$100

14

$100

15

$100

16

$100

17

$100

18

$100

19

$100

20

$100

21

$100

22

$100

23

$100

24

$100

25

$100

26

$100

27

$100

28

$100

29

$100

30

$100

31

$100
September 2024
S
M
T
W
T
F
S
01

$132

02

$132

03

$132

04

$132

05

$132

06

$132

07

$132

08

$132

09

$132

10

$132

11

$132

12

$132

13

$132

14

$132

15

$132

16

$132

17

$132

18

$132

19

$132

20

$132

21

$132

22

$132

23

$132

24

$132

25

$132

26

$132

27

$132

28

$132

29

$132

30

$132
October 2024
S
M
T
W
T
F
S
01

$132

02

$132

03

$132

04

$132

05

$132

06

$132

07

$132

08

$132

09

$132

10

$132

11

$132

12

$132

13

$132

14

$132

15

$132

16

$132

17

$132

18

$132

19

$132

20

$132

21

$132

22

$132

23

$132

24

$132

25

$132

26

$132

27

$132

28

$132

29

$132

30

$132

31

$132
Available
Unavailable
Check-In Only
Check-Out Only
Please select dates
+ tax/fees