Seashore Studio
San Diego, CA 1 Bedroom Vacation Rental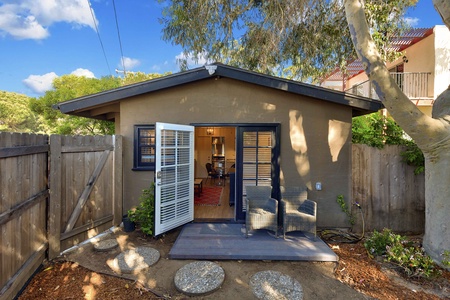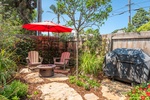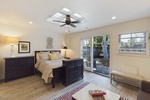 Show All Photos
Unit Photos
Welcome to Seashore Studio, your perfect coastal retreat in the heart of Del Mar, California

Enjoy the peace and tranquility of this quiet residential neighborhood, with your own private yard, entrance, and luscious landscaping.

This beautiful and private studio is located just across the street from the lagoons of Torrey Pines State Beach, surrounded by trees and gentle ocean breezes.

There is a queen size bed and a sleeper sofa that also opens into a queen size bed if needed

Though the studio is 400 sq ft, it is fully equipped with all the standard amenities you might need during your stay

The studio comes fully stocked with all the necessary toiletries, towels, dishes, cookware, and utensils

The kitchen area delights with a full gas range, oven, dishwasher, coffee maker, and space appropriate fridge and freezer

Entertainment and relaxation in the living area is complemented with a flat panel Smart TV, high-speed Wi-Fi, and, of course, a full private bath.

Full bath

Closet to store your belongings

Just a few minutes walk away from Del Mar's gorgeous beaches, popular surf spots, upscale boutiques, and award-winning restaurants in downtown Del Mar, Seashore Studio is perfectly situated for exploring all that the area has to offer

From your private oasis, you are just a few minutes walk away from Del Mar's gorgeous beaches, popular surf spots, and the upscale boutiques and award winning restaurants in downtown Del Mar

Enjoy some sun during the day or the stars at night in this fairy tale backyard

Perfect for small families or couples

Shaded area outside the studio

Seashore Studio nearby beach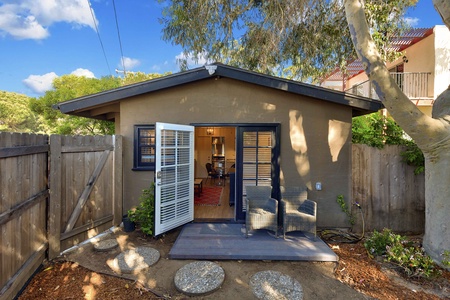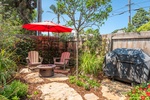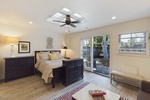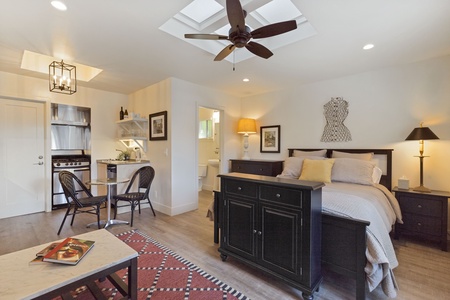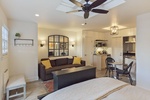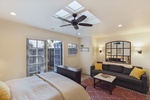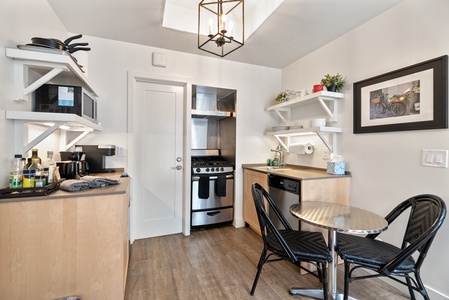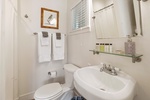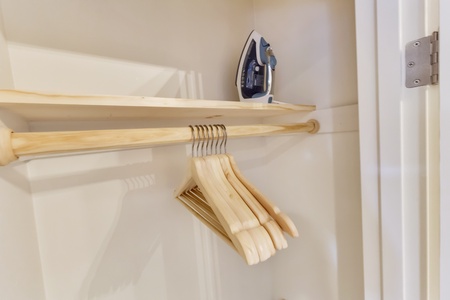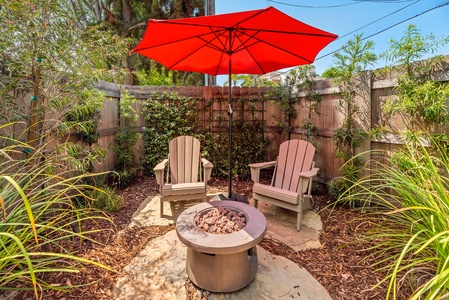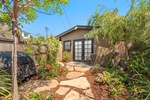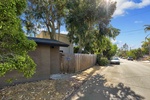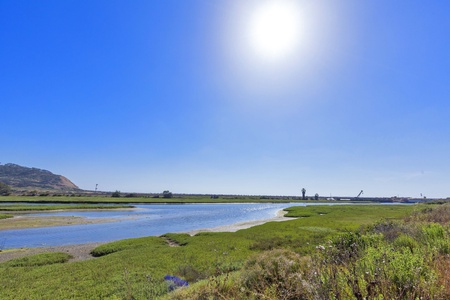 Rooms
rooms
Bedroom # 1

Primary Bedroom

1 Queen
---
Amenities
Walk to Shops / Restaurants
---
Reviews
Reviews
Nov 29, 2023

I was in SD for business. The studio was perfect for my needs and the hosts were responsive and helpful.

Tania Obranovic
---
Description
Welcome to Seashore Studio, your perfect coastal retreat in the heart of Del Mar, California. This beautiful and private studio is located just across the street from the lagoons of Torrey Pines State Beach, surrounded by trees and gentle ocean breezes. Enjoy the peace and tranquility of this quiet residential neighborhood, with your own private yard, entrance, and luscious landscaping.

Though the studio is 400 sq ft, it is fully equipped with all the standard amenities you might need during your stay, including fine linens and bedding by Comphy, a full gas range, oven, dishwasher, coffee maker, and a space-appropriate fridge and freezer. Please note the studio shares part of a wall with the main house and does not have a washer/dryer. Complimentary change of linens are provided upon request.

Entertainment and relaxation in the living area is complemented with a flat panel Smart TV, high-speed Wi-Fi, and, of course, a full private bath. The studio comes fully stocked with all the necessary toiletries, towels, dishes, cookware, and utensils.

Just a few minutes walk away from Del Mar's gorgeous beaches, popular surf spots, upscale boutiques, and award-winning restaurants in downtown Del Mar, Seashore Studio is perfectly situated for exploring all that the area has to offer. World-famous Torrey Pines Golf Course and the Del Mar Race Track are also nearby, with San Diego and its many attractions just a short drive away. Don't miss out on this one-of-a-kind Del Mar experience. Book your stay at Seashore Studio today!

This property is intended for use by responsible adults and their families. There is a zero tolerance policy for parties, excessive noise and events. This home is equipped with noise monitoring systems and the noise ordinance will be strictly enforced.
No outside noise after 10pm, otherwise the police will be called and the violation will result in immediate eviction and $1,000.00 fine.
Room
Beds
---
Primary Bedroom
Queen (1)
AC, Ceiling fan, opens to yard
---
image
Kitchen and Dining
Dining Area
Kitchen Basics
Kitchen
Refrigerator
Coffee Maker
Microwave
Dishwasher
Dishes Utensils
Stove
Toaster
Oven
BBQ
Freezer
Accommodations
House Cleaning Optional ($)
Other Services Chauffeur ($)
Other Services Concierge ($)
Other Services Private Chef ($)
Other Services Massage ($)
Amenities
Essentials
Shampoo
Hair Dryer
Linens
Iron
Private Entrance
Smartlock
Keypad
Wifi/Internet
Fire pit
Suitability
Children Welcome
Pets Considered
Smoking Not Allowed
Minimum Age Limit
Street Parking
Free Parking
Air Conditioning
Single Level Home
Heating
Hot Water
Entertainment
Television
Satellite or Cable TV
Laptop Friendly
Outdoor Amenities
Garden
Private yard
Lanai/Balcony
Outdoor seating
Location/Property Types
Near Ocean
Town
Village
Garden View
Walk to beach
Walk to Shops / Restaurants
Nearby Activities
Spa and wellness
Theme parks
Zoo
Museums
Hiking
Shopping
Fishing
Horseback riding
Golfing
Watersports
Cycling
Tennis
Scuba diving or Snorkeling
Bike path
Nov 29, 2023
I was in SD for business. The studio was perfect for my needs and the hosts were responsive and helpful.
Tania Obranovic
November 2023
| S | M | T | W | T | F | S |
| --- | --- | --- | --- | --- | --- | --- |
| | | | 01 | 02 | 03 | 04 |
| 05 | 06 | 07 | 08 | 09 | 10 | 11 |
| 12 | 13 | 14 | 15 | 16 | 17 | 18 |
| 19 | 20 | 21 | 22 | 23 | 24 | 25 |
| 26 | 27 | 28 | 29 | 30 | | |
December 2023
S
M
T
W
T
F
S
01
02
03
04
05
06
07
08
09
10
11
12
13
14
15
16
17
18
19

$149

20

$149

21

$149

22

$149

23
24
25
26
27
28
29
30
31
January 2024
S
M
T
W
T
F
S
01
02
03

$169

04

$169

05

$169

06

$169

07

$169

08

$169

09

$169

10
11
12
13
14

$169

15

$169

16

$169

17

$169

18

$169

19

$169

20

$169

21

$169

22
23
24
25
26
27
28
29

$133

30

$139

31

$145
February 2024
S
M
T
W
T
F
S
01

$152

02

$168

03

$178

04

$158

05

$159

06

$157

07

$160

08

$175

09

$194

10

$204

11

$179

12

$182

13

$175

14

$169

15

$244

16

$268

17

$279

18

$250

19

$254

20

$180

21

$176

22

$188

23

$208

24

$216

25

$184

26

$186

27

$174

28

$169

29

$182
March 2024
S
M
T
W
T
F
S
01

$200

02

$211

03

$181

04

$183

05

$175

06

$174

07

$190

08

$204

09

$220

10

$196

11

$202

12

$205

13

$213

14

$144

15

$154

16

$159

17

$139

18

$137

19

$136

20

$138

21

$147

22

$154

23

$154

24

$153

25

$151

26

$149

27

$146

28

$172

29

$178

30

$176

31

$153
April 2024
S
M
T
W
T
F
S
01

$231

02

$213

03

$217

04

$241

05

$254

06

$253

07

$216

08

$202

09

$201

10

$204

11

$221

12

$238

13

$237

14

$197

15

$185

16

$186

17

$195

18

$210

19

$240

20

$238

21

$301

22

$293

23

$290

24

$300

25

$314

26

$347

27

$238

28

$195

29

$184

30

$179
May 2024
S
M
T
W
T
F
S
01

$188

02

$206

03

$242

04

$243

05

$199

06

$185

07

$178

08

$185

09

$208

10

$245

11

$253

12

$205

13

$186

14

$176

15

$183

16

$211

17

$246

18

$263

19

$217

20

$202

21

$195

22

$200

23

$229

24

$299

25

$322

26

$288

27

$263

28

$213

29

$221

30

$243

31

$271
June 2024
S
M
T
W
T
F
S
01

$285

02

$243

03

$237

04

$235

05

$247

06

$269

07

$301

08

$306

09

$265

10

$256

11

$254

12

$265

13

$285

14

$319

15

$320

16

$277

17

$273

18

$281

19

$293

20

$311

21

$336

22

$337

23

$296

24

$296

25

$289

26

$298

27

$346

28

$338

29

$330

30

$288
July 2024
S
M
T
W
T
F
S
01

$316

02

$301

03

$313

04

$322

05

$346

06

$339

07

$305

08

$268

09

$262

10

$288

11

$312

12

$335

13

$332

14

$298

15

$284

16

$294

17

$321

18

$343

19

$413

20

$363

21

$324

22

$302

23

$299

24

$386

25

$422

26

$445

27

$422

28

$291

29

$268

30

$268

31

$279
August 2024
S
M
T
W
T
F
S
01

$291

02

$319

03

$322

04

$273

05

$258

06

$258

07

$269

08

$281

09

$306

10

$312

11

$258

12

$246

13

$242

14

$252

15

$262

16

$290

17

$282

18

$225

19

$209

20

$200

21

$213

22

$231

23

$274

24

$258

25

$205

26

$184

27

$176

28

$191

29

$209

30

$353

31

$334
September 2024
S
M
T
W
T
F
S
01

$277

02

$240

03

$152

04

$166

05

$185

06

$244

07

$243

08

$182

09

$144

10

$144

11

$301

12

$179

13

$315

14

$346

15

$199

16

$146

17

$144

18

$163

19

$185

20

$232

21

$246

22

$181

23
24
25
26
27
28
29
30

$148
October 2024
S
M
T
W
T
F
S
01

$145

02

$167

03

$190

04

$224

05

$237

06

$189

07

$159

08

$153

09

$304

10

$245

11

$277

12

$247

13

$197

14

$167

15

$158

16

$174

17

$197

18

$222

19

$233

20

$177

21

$151

22

$154

23

$164

24

$187

25

$215

26

$220

27

$159

28

$178

29

$192

30

$250

31

$284
Available
Unavailable
Check-In Only
Check-Out Only
Please select dates
+ tax/fees