Scottsdale Poinsettia
Scottsdale, AZ 3 Bedrooms Vacation Rental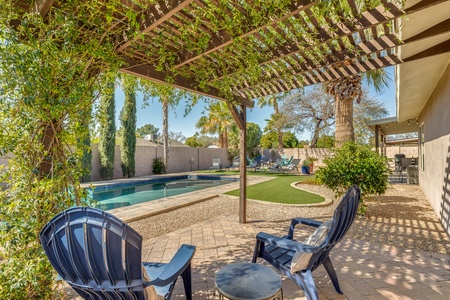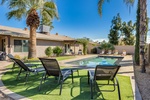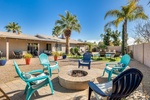 Show All Photos
Unit Photos
This beautiful home is the perfect getaway for those looking for a centrally located property, just a quick drive away from Scottsdale's best attractions

Step outside and enjoy the peacefulness of the backyard, complete with a beautiful pool, fire pit, and seating for all.

Gather around the firepit

With designer touches and modern style, this is a luxury getaway for your next visit to Scottsdale.

Living room has a big wall mounted tv

Couches for everyone

The living room hosts a beautiful wooden table football

You'll never get bored with all the games this house has to offer!

Goog time with friends is guaranteed

Open space makes it a great space!

Open concept dining and kitchen is a great space to spend time with friends

The table seats up to 8 guests

The table seats up to 8 guests

Kitchen/dining space

Kitchen

Kitchen

One of the bathrooms is adjacent to the kitchen

Kitchen isle with bar stools

Kitchen

Kitchen is modern

Fireplace in living room

Kitchen

The bedroom layout of Scottsdale Poinsettia includes a Primary Bedroom with a comfortable King bed

Tv in Primary bedroom

Ensuite Primary bathroom

Walk in shower

All white and classy

Guest bedroom has two double beds

Guest bath

Guest bath shower

Bedroom 3 with a Full over Full Bunk Bed

Laundry room with washer and dryer

The backyard is the perfect spot for relaxing and soaking up the Arizona sunshine, or gathering with family and friends for an evening of fun and laughter. It's an amazing oasis.

Outdoor dining

Bbq

Private pool

Private pool and sun beds

Fully fenced yard

Fully fenced yard

Backyard

Pool and palm trees

Scottsdale Poinsettia is conveniently located close to North Scottsdale's shopping and golf courses and just a quick drive south to the restaurants and bars of Old Town Scottsdale.

Shaded patio

Backyard

Car garage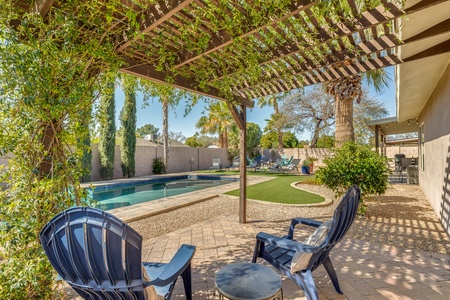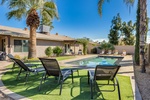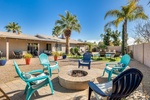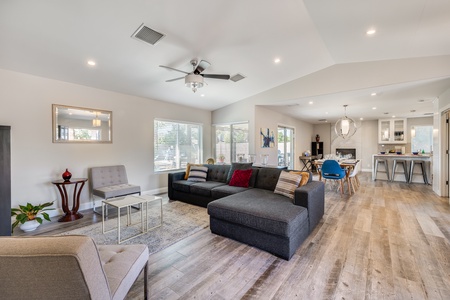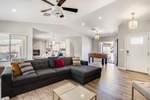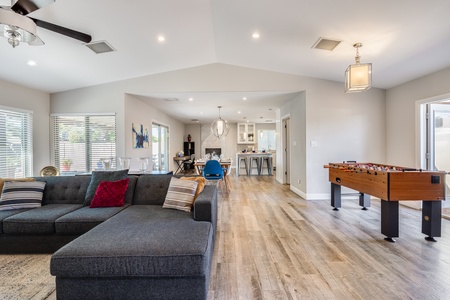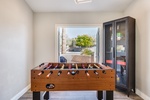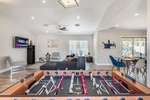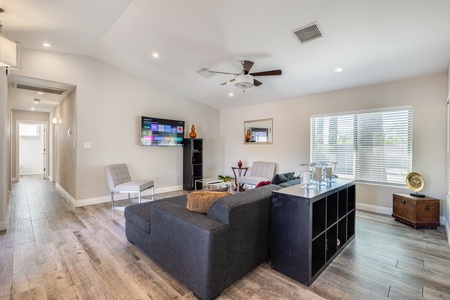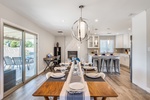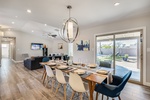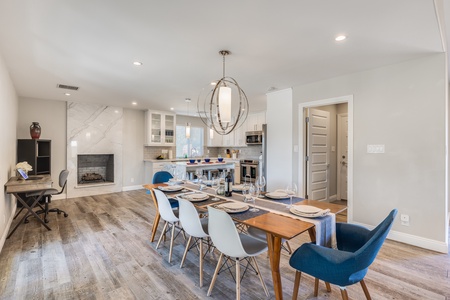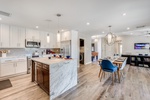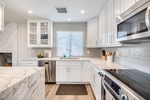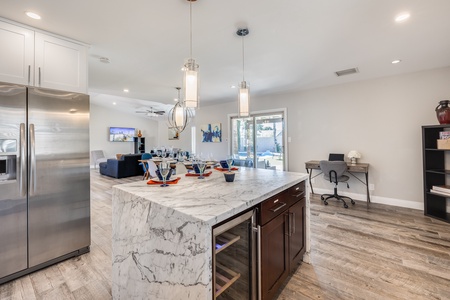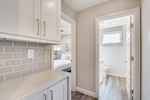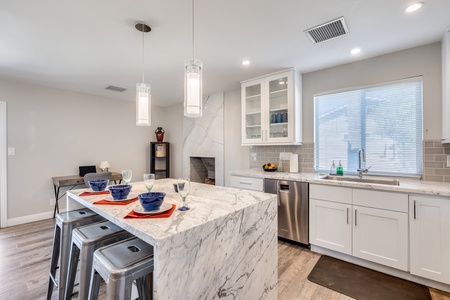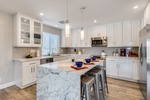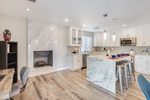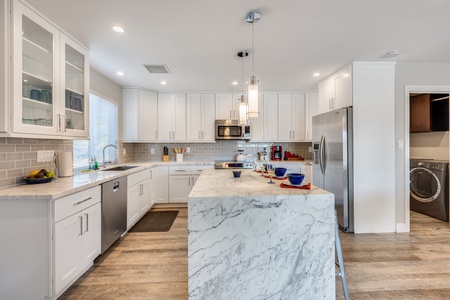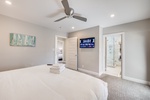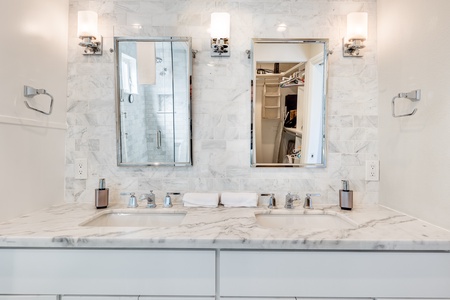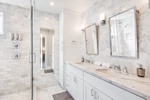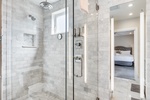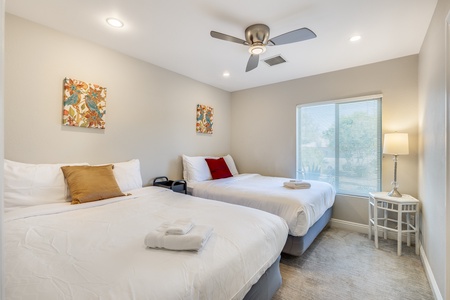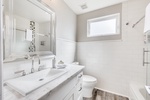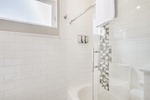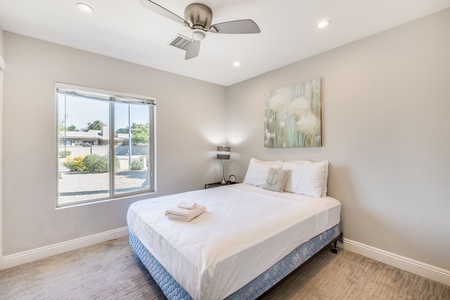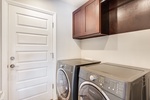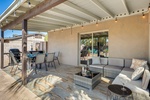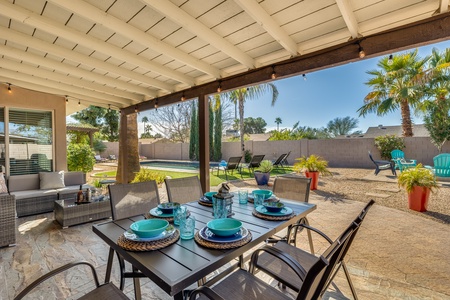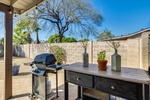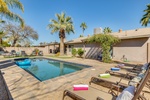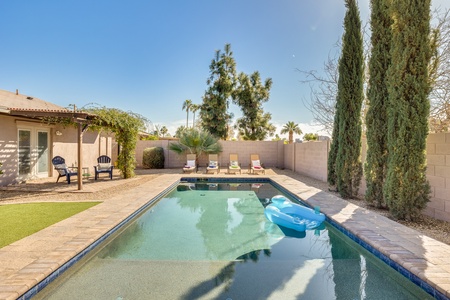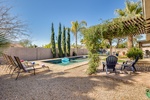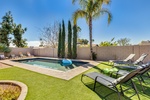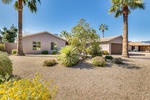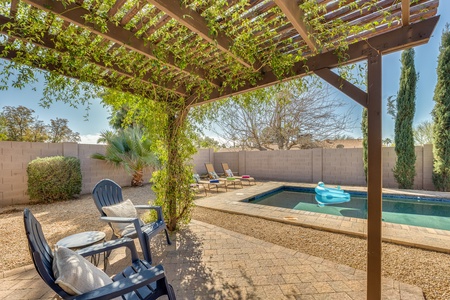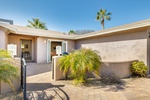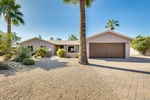 Rooms
rooms
Bedroom # 1

Primary Bedroom

1 King

Bedroom # 2

Guest Bedroom 2

2 Queen

Bedroom # 3

Guest Bedroom 3

1 Queen

Common

Additional Sleeping
---
---
Reviews
Reviews
Apr 18, 2023

Good stay. Would recommend for the price
---
Description
Welcome to Scottsdale Poinsettia, a stunning 3-bedroom, 2-bathroom vacation rental located in the heart of Scottsdale, Arizona. This luxury home can comfortably accommodate up to 10 guests, making it the perfect choice for families or groups of friends looking for a spacious and stylish place to stay.

As you enter Scottsdale Poinsettia, you will immediately notice the beautiful flooring and modern design of the home. The updated kitchen is fully equipped with stainless steel appliances and all the utensils and cookware you need to prepare delicious meals during your stay. The dining area is perfect for hosting family meals or enjoying a relaxing breakfast before starting your day. The living room boasts a comfortable seating area and a cozy fireplace, perfect for relaxing in the evening or on chilly nights.

One of the highlights of this vacation rental is the backyard oasis, complete with a private pool, fire pit, and plenty of seating for everyone. The pool is perfect for swimming laps or just lounging in the sun, while the fire pit is the ideal spot for roasting marshmallows and enjoying a quiet evening under the stars.

Scottsdale Poinsettia also features a foosball table, providing hours of entertainment for guests of all ages. Whether you're looking for a competitive game with family or friends or just want to unwind after a busy day exploring Scottsdale, this vacation rental has everything you need for a memorable and relaxing stay.

The bedroom layout at Scottsdale Poinsettia includes a spacious Master Bedroom with a comfortable King bed, a second bedroom with two Queen beds, and a third bedroom with a Queen bed. The common area offers a queen air mattress and pack n play, perfect for accommodating additional guests. Each bedroom is beautifully decorated and features comfortable linens and plenty of storage space for your belongings.

Scottsdale Poinsettia is located just a short drive away from some of Scottsdale's best attractions, including North Scottsdale's shopping and golf courses, as well as the restaurants and bars of Old Town Scottsdale. Whether you're looking for a day out exploring the city or simply want to relax and enjoy the comforts of your vacation rental, Scottsdale Poinsettia has everything you need for a memorable and enjoyable stay.

Attention all dog owners! If you're planning a stay at our short-term rental, we're happy to accommodate up to two of your furry companions. We know how important it is to have your pups by your side on your travels, so we're happy to offer this option for our guests. Please keep in mind that there is a fee of $25 per dog per night for the duration of your stay.

Please note that this property is a licensed short-term vacation rental under Permit ID 2023564, and as such, the City of Scottsdale requires Gather to conduct sex offender background checks. After confirmation, you will receive an email from our third-party verification partner, SafelyStay, Inc. Please complete the verification within 24 hours or your reservation will be canceled.

Book your stay at Scottsdale Poinsettia today and experience the best of Scottsdale in style and comfort!
Room
Beds
---
Ensuite Bathroom
---
Guest Bedroom 2
Queen (2)
image
---
Guest Bedroom 3
Queen (1)
image
---
image
---
image
---
Air Mattress available to sleep 2 additional guests. Please note, extra guest charges may apply.
Nearby Activities
Spa and wellness
Museums
Hiking
Shopping
Bike path
Cycling
Kitchen and Dining
Dining Area
Kitchen Basics
Kitchen
Refrigerator
Coffee Maker
Microwave
Dishwasher
Dishes Utensils
Stove
Toaster
Oven
BBQ
Freezer
Kettle
Ice Machine
Blender
Wine Fridge
Toaster Oven
Coffee Grinder
Mixer
Kitchenette
Disposal
Accommodations
House Cleaning Optional ($)
Other Services Chauffeur ($)
Other Services Concierge ($)
Other Services Private Chef ($)
Other Services Massage ($)
Amenities
Essentials
Shampoo
Dryer
Washer
Garage
Hair Dryer
Linens
Iron
Parking space
Private Entrance
Smartlock
Keypad
Lock Box
Extra Pillows And Blankets
Ethernet Connection
Wifi/Internet
High Chair
Pack and Play
Fire pit
Emergency
Emergency Exit Route
Emergency Fire Contact
Cleanliness
24Hr Check-In
Self Check In / Check Out
Safety Features
Carbon Monoxide Detector
First Aid Kit
Fire Extinguisher
Smoke Detector
Deadbolt Lock
Outdoor Lighting
Suitability
Children Welcome
Pets Considered
Smoking Not Allowed
Accessibility Ask
Minimum Age Limit
Street Parking
Free Parking
Ceiling fans
Fireplace
Suitable for Elderly
Air Conditioning
Single Level Home
Long Term Stays Allowed
Heating
Pet Friendly
Bath Tub
Hot Water
Entertainment
Television
Laptop Friendly
Game room
Smart TV
Outdoor Amenities
Garden
Private yard
Outdoor seating
Car
Car Necessary
Car Not Necessary
Car Recommended
Location/Property Types
Garden View
Popular Town
Private / Secluded
Property Manager
Monique Blue
Kali Goodenough
Apr 18, 2023
Good stay. Would recommend for the price
November 2023
| S | M | T | W | T | F | S |
| --- | --- | --- | --- | --- | --- | --- |
| | | | 01 | 02 | 03 | 04 |
| 05 | 06 | 07 | 08 | 09 | 10 | 11 |
| 12 | 13 | 14 | 15 | 16 | 17 | 18 |
| 19 | 20 | 21 | 22 | 23 | 24 | 25 |
| 26 | 27 | 28 | 29 | 30 | | |
December 2023
S
M
T
W
T
F
S
01
02
03
04
05
06

$184

07

$184

08

$184

09

$184

10
11
12
13
14
15
16
17
18
19
20
21
22
23
24
25
26
27
28

$297

29

$297

30

$297

31

$297
January 2024
S
M
T
W
T
F
S
01

$297

02

$180

03

$216

04

$253

05

$241

06

$212

07

$249

08

$249

09

$249

10

$249

11

$249

12

$263

13

$266

14

$259

15

$259

16

$259

17

$259

18

$259

19

$278

20

$278

21

$284

22

$284

23

$284

24

$284

25

$284

26

$324

27

$320

28

$295

29

$295

30

$295

31

$295
February 2024
S
M
T
W
T
F
S
01

$297

02

$297

03

$297

04

$297

05

$297

06

$297

07

$297

08
09
10
11

$359

12

$359

13

$359

14

$359

15

$359

16

$359

17

$359

18

$359

19
20
21
22
23
24
25
26

$339

27

$339

28

$339

29

$339
March 2024
S
M
T
W
T
F
S
01
02
03
04

$349

05

$349

06

$349

07
08
09
10

$349

11

$349

12

$349

13
14
15
16
17
18
19
20
21
22
23

$419

24

$419

25

$419

26

$419

27

$419

28

$419

29

$419

30

$339

31

$339
April 2024
S
M
T
W
T
F
S
01

$339

02

$303

03

$309

04

$345

05

$406

06

$398

07

$343

08

$297

09

$297

10

$297

11
12
13
14
15
16

$249

17

$249

18

$339

19

$406

20

$389

21

$353

22

$198

23

$198

24

$218

25

$398

26

$447

27

$424

28

$232

29

$198

30

$198
May 2024
S
M
T
W
T
F
S
01

$198

02

$274

03

$483

04

$466

05

$322

06

$199

07

$198

08

$221

09

$366

10

$450

11

$440

12

$301

13

$198

14

$198

15

$198

16

$207

17
18
19
20
21
22
23
24
25

$310

26

$218

27

$207

28

$207

29

$207

30

$207

31

$279
June 2024
S
M
T
W
T
F
S
01

$252

02

$207

03

$207

04

$207

05

$207

06

$351

07

$438

08

$246

09

$207

10

$207

11

$207

12

$207

13

$207

14

$279

15

$294

16

$207

17

$207

18

$207

19

$207

20

$246

21

$290

22

$299

23

$209

24

$207

25

$207

26

$207

27

$252

28

$279

29

$273

30

$207
July 2024
S
M
T
W
T
F
S
01

$207

02

$207

03

$235

04

$319

05

$337

06

$314

07

$250

08

$207

09

$207

10

$207

11

$244

12

$262

13

$254

14

$207

15

$207

16

$207

17

$207

18

$245

19

$292

20

$288

21

$207

22

$207

23

$207

24

$207

25

$259

26

$322

27

$320

28

$219

29

$207

30

$207

31

$207
August 2024
S
M
T
W
T
F
S
01

$260

02

$322

03

$317

04

$217

05

$207

06

$207

07

$207

08

$259

09

$313

10

$311

11

$222

12

$207

13

$207

14

$207

15

$261

16

$315

17

$307

18

$220

19

$207

20

$207

21

$207

22

$263

23

$331

24

$324

25

$231

26

$207

27

$207

28

$207

29

$289

30

$451

31

$423
September 2024
S
M
T
W
T
F
S
01

$319

02

$262

03

$207

04

$207

05

$288

06

$371

07

$337

08

$216

09

$207

10

$207

11

$207

12

$308

13

$394

14

$363

15

$225

16

$207

17

$207

18

$207

19

$315

20

$391

21

$368

22

$212

23

$207

24

$207

25

$207

26

$301

27

$378

28

$363

29

$207

30

$207
October 2024
S
M
T
W
T
F
S
01

$207

02

$207

03

$309

04

$389

05

$375

06

$217

07

$207

08

$207

09

$207

10

$339

11

$414

12

$409

13

$252

14

$207

15

$207

16

$207

17

$381

18

$442

19

$426

20

$270

21

$207

22

$207

23

$207

24

$417

25

$468

26

$454

27

$292

28

$207

29

$207

30

$207

31

$443
Available
Unavailable
Check-In Only
Check-Out Only
Please select dates
+ tax/fees