8th Street Phx
Phoenix, Arizona 3 Bedrooms Vacation Rental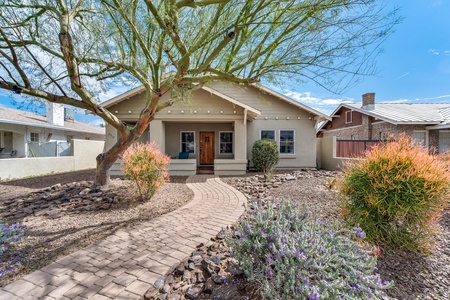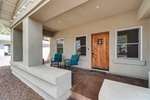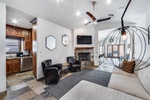 Show All Photos
Unit Photos
Welcome home to this beautiful Phoenix craftsman-style home!

Enjoy one of the outdoor areas that this lovely home offers

Stunning slate and hardwood flooring sets the stage for a memorable stay

Outdoor oven and comfy couches to hang out outside

Entrance to the Home

Spacious Entry way

Plenty of seats to enjoy the fireplace and a movie

Angle of the Living room

Fireplace will make the stay even cozier

Spacious open space living room and kitchen

Additional seats at the big kitchen isle

Kitchen is modern and bright

View of the living room from the kitchen

Fully equipped chef's kitchen features a wine refrigerator and butler's pantry for extra storage

Kitchen

Kitchen

Kitchen

Kitchen

11ft vaulted ceilings in the living areas make for an ideal entertaining space for family and friends

Oven and microwave

Wine fridge

Lots of counter space

Dining table for 6

Beautiful dining table to gather with friends

Shot of the dining/kitchen area

Primary bedroom with king bed

Tv in bedroom

Walk in closet in Primary bedroom

Primary ensuite bathroom with double sink

Big walk in shower

Shower and tub combo

Tile shower

Jacuzzi tub with a view

Guest bedroom entrance

King bed in Guest bedroom

Desk and chair if you need to get some work done in Guest bedroom

Guest bedroom

Guest bedroom

Closet in guest bedroom

Guest bathroom shared with second and third bedroom

Kids room with bunk beds and toys

Full washer and dryer in unit

Step out to the patio and grill out on the built-in BBQ, or enjoy a full outdoor kitchen while admiring the beautiful Arizona scenery

Lovely patio to enjoy your coffee

Our home comfortably accommodates up to 10 guests with three bedrooms and two bathrooms

Our home comfortably accommodates up to 10 guests with three bedrooms and two bathrooms

Garage turns into a playing space

Outdoor dining table and chairs

Big garage with ping pong table

Poker and Ping pong tables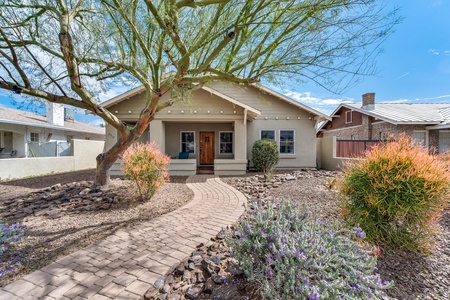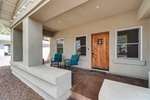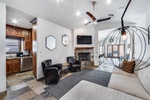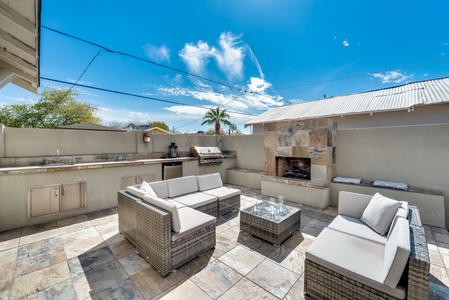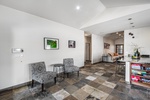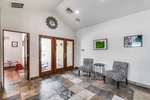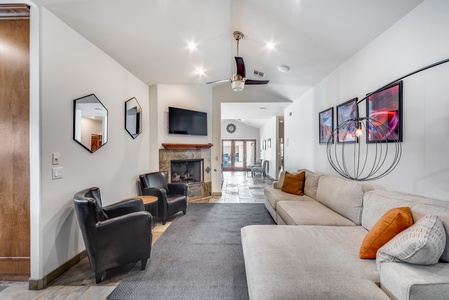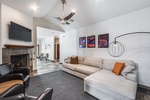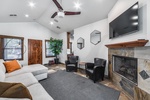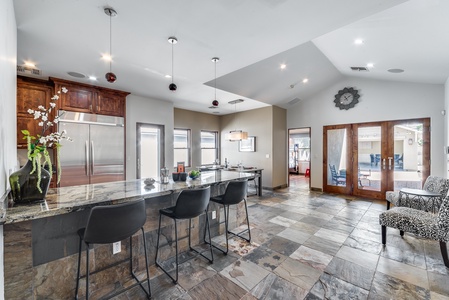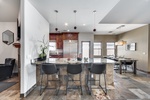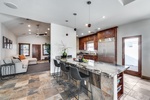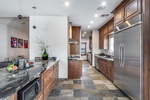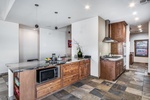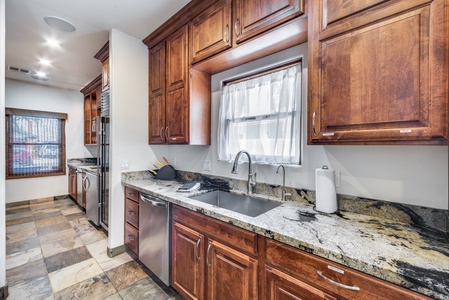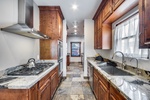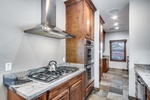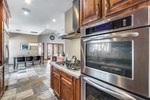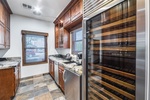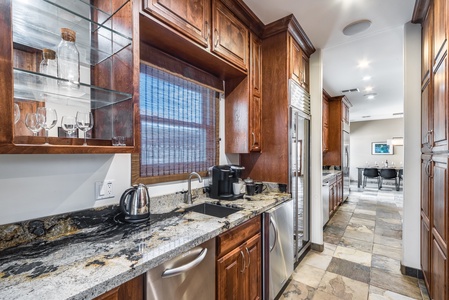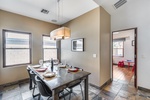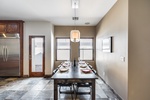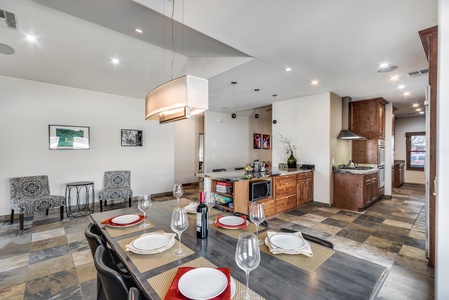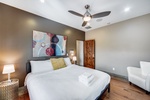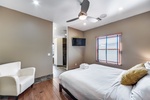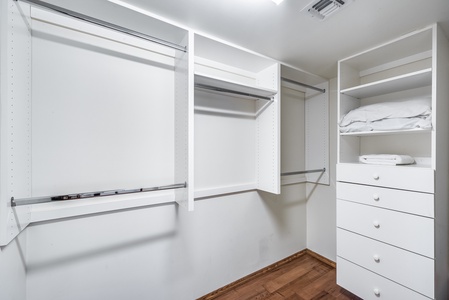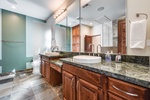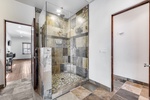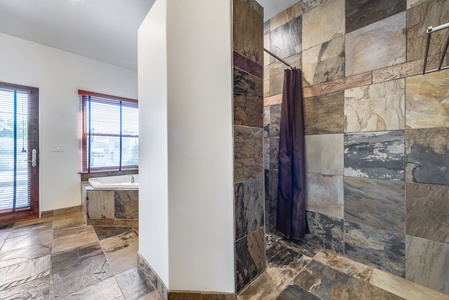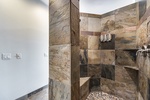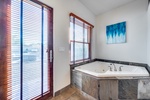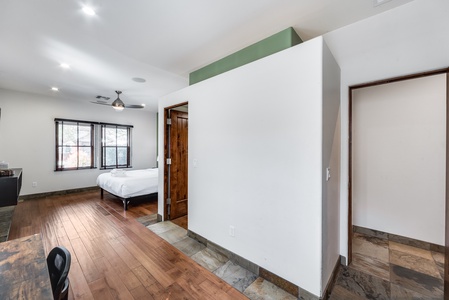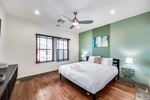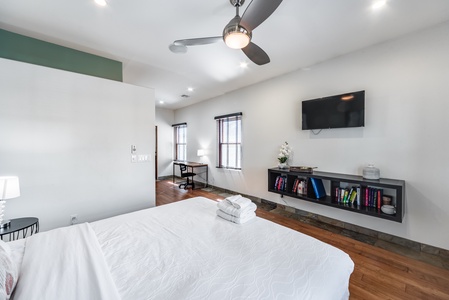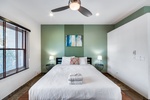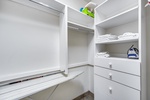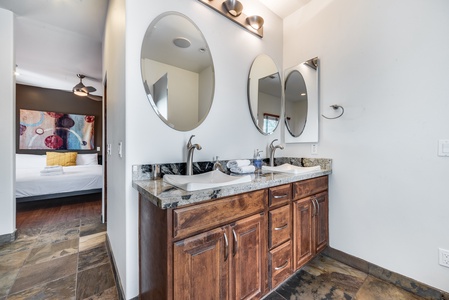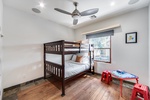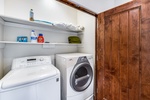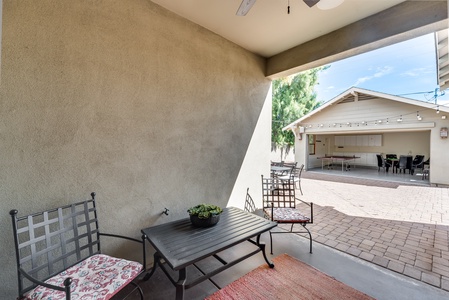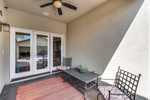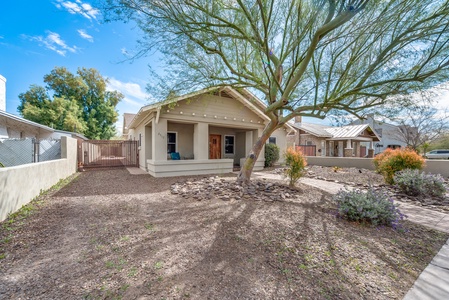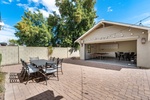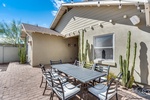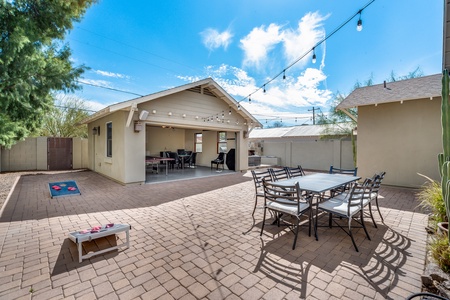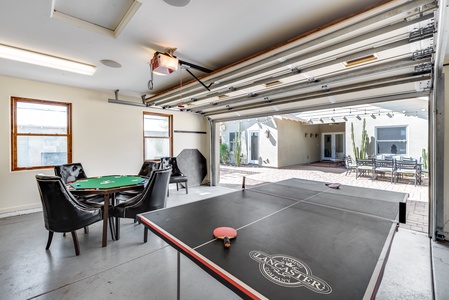 Rooms
rooms
Bedroom # 1

Primary Bedroom

1 King

Bedroom # 2

Guest Bedroom 2

1 Bunk Bed

Bedroom # 3

Guest Bedroom 3

1 Queen

Common

Additional Sleeping
---
Amenities
Walk to Shops / Restaurants
---
Reviews
Reviews
May 06, 2023

Great place for a family or a couple's night out.
---
Description
Welcome home to this beautiful Phoenix craftsman-style home, where stunning slate and hardwood flooring sets the stage for a memorable stay. This lovely and spacious open-concept floor plan invites you in, making a bold statement that will impress you. Our prime location in the Coronado Historic District puts you just steps away from the flourishing restaurant area on 7th St and the Grid Bike Share Hub, while being only minutes from the Banner University Medical Center and ASU Downtown.

Our fully equipped chef's kitchen features a wine refrigerator and butler's pantry for extra storage, while 11ft vaulted ceilings in the living areas make for an ideal entertaining space for family and friends. Step out to the patio and grill out on the built-in BBQ, or enjoy a full outdoor kitchen while admiring the beautiful Arizona scenery. For more entertainment, head to the converted game room in the garage, complete with a poker table and ping pong table, perfect for endless hours of fun.

Our dedicated concierge team is available to help you plan tours, tee times, grocery services, and much more, to ensure an unforgettable experience during your stay. This fully furnished and stocked home offers a starter amount of essentials, including a variety of amenities such as a toaster, coffee maker, microwave, blender, cooking essentials, silverware, plates, bowls, glassware, washer, dryer, shampoo, conditioner, body wash, hair dryer, bed linens, pillows, blankets, and bath towels.

Our home comfortably accommodates up to 10 guests with three bedrooms and two bathrooms. The primary bedroom boasts a king bed with a TV and ensuite bathroom, while the second bedroom offers a full over full bunk bed, and the third bedroom offers a king bed with a TV. The second and third bedrooms have access to a shared full bath. Both bathrooms are fully equipped with toiletries, a toilet, a tub, or a shower. Pets are allowed, some exceptions apply.
Room
Beds
---
Ensuite Bathroom
---
Guest Bedroom 2
Bunk Bed (1)
Double-over-Double Bunk Bed
---
Guest Bedroom 3
Queen (1)
image
---
image
---
image
---
Air Mattress available to sleep 2 additional guests. Please note, extra guest charges may apply.
Nearby Activities
Spa and wellness
Museums
Hiking
Shopping
Bike path
Cycling
Kitchen and Dining
Dining Area
Kitchen Basics
Kitchen
Refrigerator
Coffee Maker
Microwave
Dishwasher
Dishes Utensils
Stove
Toaster
Oven
BBQ
Freezer
Kettle
Espresso Machine
Ice Machine
Mini Fridge (Hotel Size)
Blender
Wine Fridge
Toaster Oven
Coffee Grinder
Mixer
Disposal
Accommodations
House Cleaning Optional ($)
Other Services Chauffeur ($)
Other Services Concierge ($)
Other Services Private Chef ($)
Other Services Massage ($)
Amenities
Essentials
Shampoo
Dryer
Washer
Garage
Telephone
Hair Dryer
Linens
Iron
Parking space
Private Entrance
Smartlock
Keypad
Lock Box
Extra Pillows And Blankets
Wifi/Internet
High Chair
Pack and Play
Fire pit
Jet Tub
Emergency
Emergency Exit Route
Emergency Medical Contact
Emergency Police Contact
Emergency Fire Contact
Cleanliness
24Hr Check-In
Self Check In / Check Out
Safety Features
Carbon Monoxide Detector
First Aid Kit
Fire Extinguisher
Smoke Detector
Deadbolt Lock
Outdoor Lighting
Suitability
Children Welcome
Pets Considered
Smoking Not Allowed
Street Parking
Free Parking
Ceiling fans
Fireplace
Suitable for Elderly
Air Conditioning
Single Level Home
Long Term Stays Allowed
Heating
Pet Friendly
Bath Tub
Hot Water
Entertainment
Television
DVD
Laptop Friendly
Game room
Smart TV
I-Pod Station / Bluetooth Speaker
Ping Pong Table
Outdoor Amenities
Garden
Private yard
Lanai/Balcony
Car
Car Necessary
Car Not Necessary
Car Recommended
Location/Property Types
Town
Garden View
Popular Town
Walk to Shops / Restaurants
Downtown
Property Manager
Monique Blue
Kali Goodenough
May 06, 2023
Great place for a family or a couple's night out.
November 2023
| S | M | T | W | T | F | S |
| --- | --- | --- | --- | --- | --- | --- |
| | | | 01 | 02 | 03 | 04 |
| 05 | 06 | 07 | 08 | 09 | 10 | 11 |
| 12 | 13 | 14 | 15 | 16 | 17 | 18 |
| 19 | 20 | 21 | 22 | 23 | 24 | 25 |
| 26 | 27 | 28 | 29 | 30 | | |
December 2023
S
M
T
W
T
F
S
01
02
03
04
05
06
07
08
09
10
11
12
13
14
15
16
17
18
19
20
21
22
23
24
25
26
27
28
29

$219

30

$219

31

$219
January 2024
S
M
T
W
T
F
S
01

$198

02

$184

03

$184

04

$197

05

$197

06

$197

07

$184

08

$184

09

$184

10

$184

11

$184

12

$184

13
14
15
16
17
18
19
20

$197

21

$197

22

$197

23

$197

24

$197

25

$197

26

$249

27

$249

28

$249

29

$249

30

$249

31

$249
February 2024
S
M
T
W
T
F
S
01

$238

02

$257

03

$272

04

$233

05

$230

06

$236

07

$1,200

08

$1,200

09

$1,200

10

$1,200

11

$1,200

12

$273

13

$247

14

$255

15

$225

16

$262

17

$267

18

$218

19

$277

20

$248

21

$258

22

$259

23

$249

24

$258

25

$212

26

$248

27

$240

28

$252

29

$304
March 2024
S
M
T
W
T
F
S
01

$323

02

$331

03

$266

04

$228

05

$216

06

$234

07

$271

08

$321

09

$332

10

$286

11

$252

12

$232

13

$236

14

$265

15

$311

16

$318

17

$257

18

$237

19

$211

20

$257

21

$277

22

$328

23

$325

24

$250

25

$230

26

$194

27

$221

28

$277

29

$327

30

$329

31

$283
April 2024
S
M
T
W
T
F
S
01

$223

02

$172

03

$202

04

$253

05

$310

06

$318

07

$240

08

$194

09

$132

10

$164

11

$194

12

$249

13

$252

14

$190

15

$138

16

$119

17

$163

18

$193

19

$252

20

$256

21

$173

22

$122

23

$109

24

$154

25

$173

26

$230

27

$233

28

$153

29

$112

30

$103
May 2024
S
M
T
W
T
F
S
01

$143

02

$158

03

$253

04

$257

05

$177

06

$144

07

$138

08

$172

09

$190

10

$241

11

$244

12

$175

13

$121

14

$122

15

$123

16

$150

17

$191

18

$186

19

$131

20

$131

21

$101

22

$119

23

$151

24

$238

25

$227

26

$183

27

$166

28

$114

29

$122

30

$161

31

$190
June 2024
S
M
T
W
T
F
S
01

$182

02

$137

03

$108

04

$106

05

$162

06

$259

07

$296

08

$179

09

$163

10

$145

11

$147

12

$158

13

$153

14

$186

15

$208

16

$160

17

$139

18

$154

19

$164

20

$183

21

$198

22

$217

23

$173

24

$150

25

$168

26

$161

27

$178

28

$193

29

$205

30

$164
July 2024
S
M
T
W
T
F
S
01

$174

02

$178

03

$190

04

$204

05

$219

06

$220

07

$182

08

$135

09

$139

10

$151

11

$166

12

$183

13

$183

14

$147

15

$137

16

$138

17

$151

18

$166

19

$192

20

$194

21

$158

22

$148

23

$144

24

$156

25

$175

26

$207

27

$210

28

$173

29

$156

30

$147

31

$156
August 2024
S
M
T
W
T
F
S
01

$176

02

$208

03

$209

04

$169

05

$152

06

$143

07

$147

08

$173

09

$202

10

$207

11

$170

12

$154

13

$148

14

$150

15

$174

16

$201

17

$202

18

$170

19

$155

20

$148

21

$146

22

$167

23

$189

24

$190

25

$161

26

$148

27

$144

28

$145

29

$161

30

$223

31

$223
September 2024
S
M
T
W
T
F
S
01

$192

02

$173

03

$130

04

$131

05

$148

06

$173

07

$178

08

$137

09

$125

10

$122

11

$133

12

$152

13

$193

14

$208

15

$145

16

$132

17

$139

18

$140

19

$160

20

$210

21

$224

22

$139

23

$125

24

$107

25

$131

26

$155

27

$215

28

$227

29

$137

30

$115
October 2024
S
M
T
W
T
F
S
01

$104

02

$130

03

$161

04

$224

05

$231

06

$139

07

$197

08

$192

09

$223

10

$175

11

$233

12

$239

13

$159

14

$117

15

$112

16

$140

17

$187

18

$238

19

$225

20

$160

21

$174

22

$178

23

$200

24

$198

25

$244

26

$221

27

$169

28

$210

29

$207

30

$229

31

$340
Available
Unavailable
Check-In Only
Check-Out Only
Please select dates
+ tax/fees