Condo at the Bell Air
Glendale, Arizona 3 Bedrooms Vacation Rental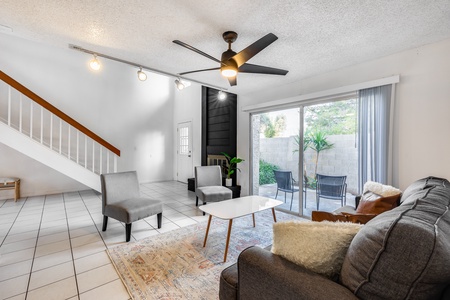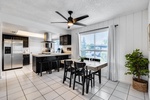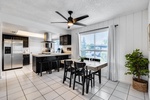 Show All Photos
Unit Photos
Relax in the living room or head out to the private patio

There's plenty of seating in the main living area plus a fireplace

The kitchen flows seamlessly into the dining area

Gather around the fire pit and enjoy conversations and beverages with your group

Challenge someone to a competitive game of foosball

The main living area also has direct access to the private, outdoor patio

Take a seat with your group and plan your day through Glendale

Spend time with your group in the downstairs common spaces or head upstairs to the additional entertainment space and guest bedrooms

Prepare your favorite meals while catching up with loved ones

Equipped with all the essentials needed to make a delicious meal

Fully equipped kitchen with stainless steel appliances

The kitchen overlooks the dining area

The coffee bar is just off the main living area and peeks through to the dining room

There's also breakfast bar seating for 3 at the kitchen counter

Keep the chef company or enjoy a quick meal before a day out on the town

Formal dining area with seating for 4

The living area and dining / kitchen spaces are connected through the peek-a-boo coffee bar

Walk through the front door into the main common spaces of the home

Downstairs, you'll find the living room, kitchen, dining room, and primary bedroom

Upstairs, you'll find 2 additional guest bedrooms and an entertainment space

Head upstairs for some fun

Primary Bedroom with king bed, ceiling fan, and ensuite bathroom

The Primary Bedroom is on the lower level and also has direct access to the private patio

Primary Bedroom Ensuite with dual sinks and shower

Guest Bedroom 2 with queen bed and ceiling fan

Enough space to sleep 2 guests and a standard closet to store your belongings

Shared full bath accessible from Guest Bedrooms 2 and 3

Guest Bedroom 3 with queen bed and ceiling fan

Enough space to sleep 2 guests and a standard closet to store your belongings

This space can also be used as an additional sleeping space

Have a movie night or catch up on your favorite shows

There's also a foosball table for some friendly competition

Enjoy your morning coffee with friends on the private patio

Take in some fresh air or enjoy some light reading on your private patio

The private patio offers the perfect space to catch up with friends and family

Head just across the street for some fun playing golf

There are plenty of common spaces around to gather with family and friends

Huddle around the fire pits, play some golf, or just walk around and explore all Glendale has to offer

Welcome to Condo at the Bell Air

Private, ground level entrance

You'll be sure to find everything here that you need to have an incredible stay!

Lovely space near the home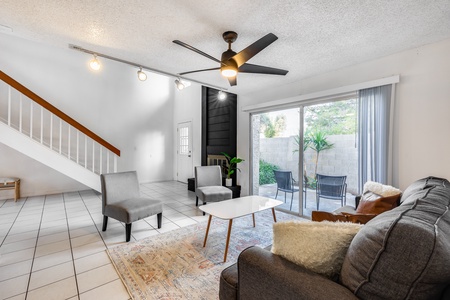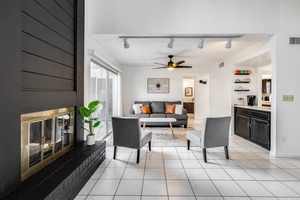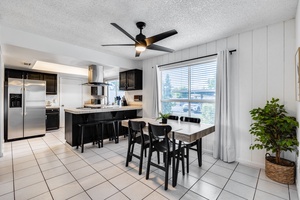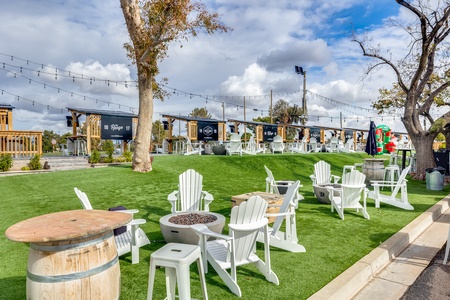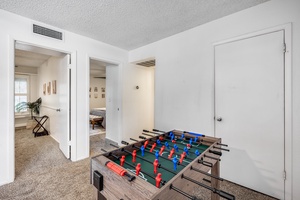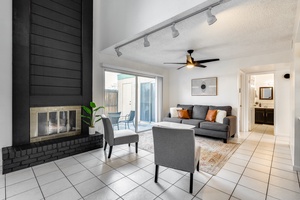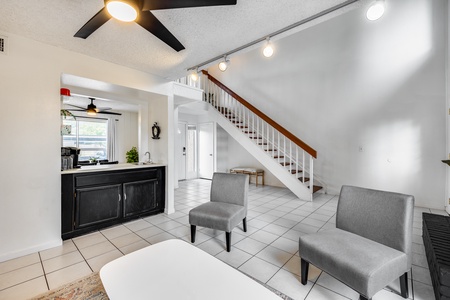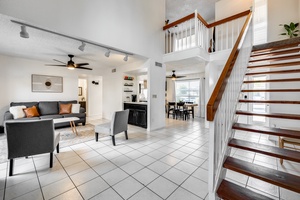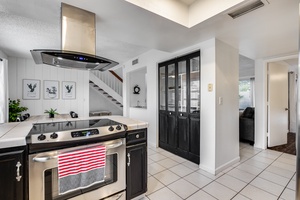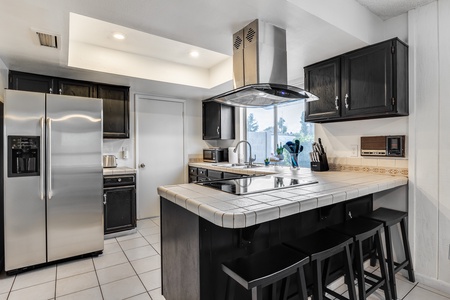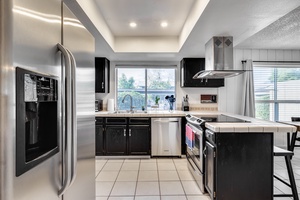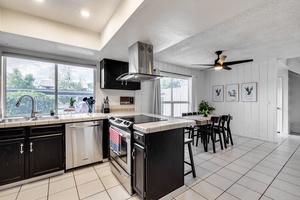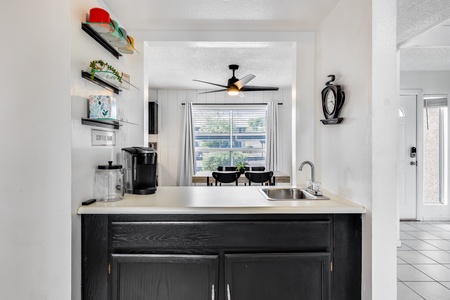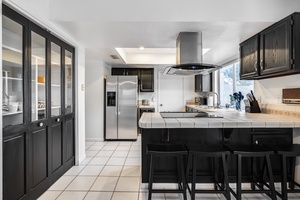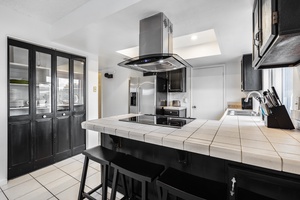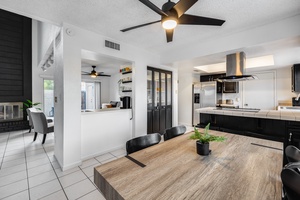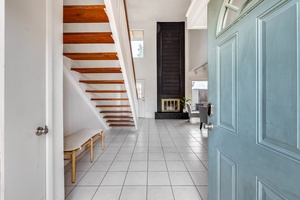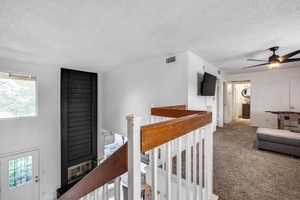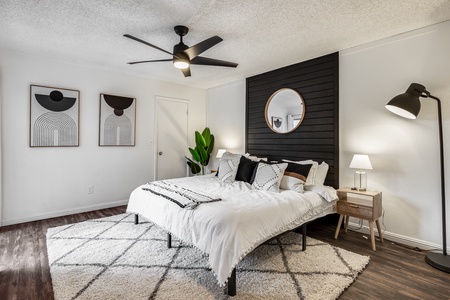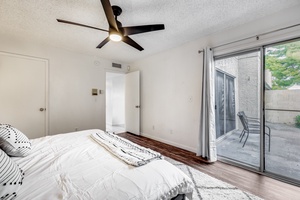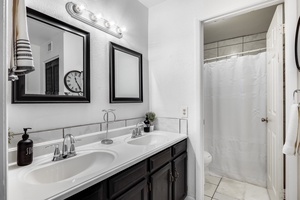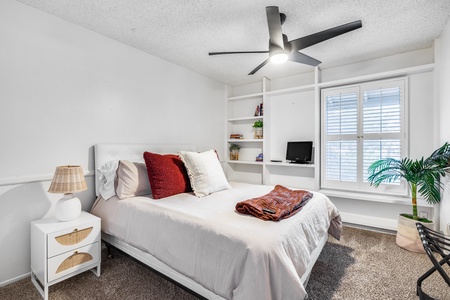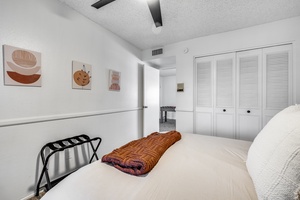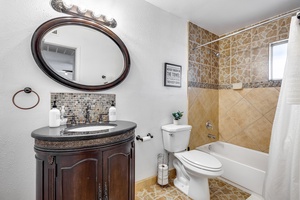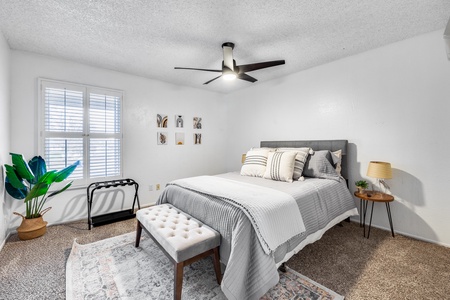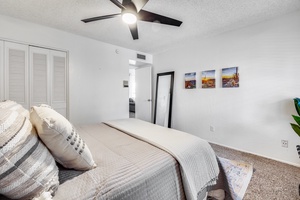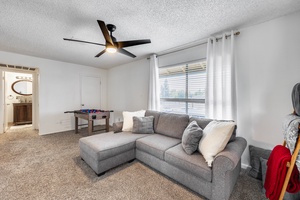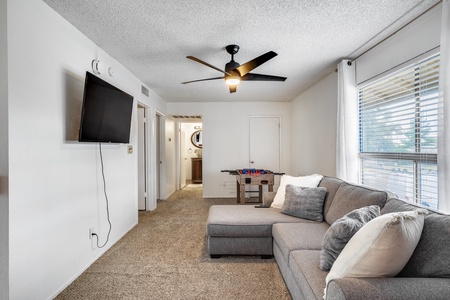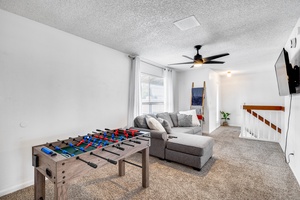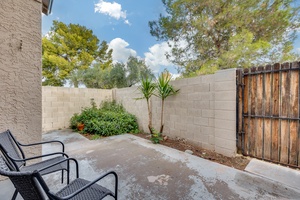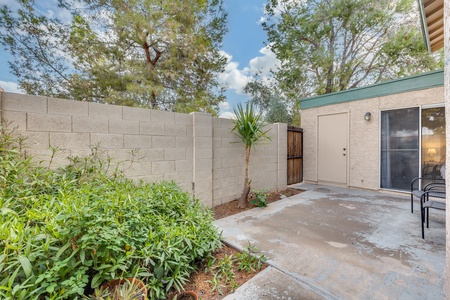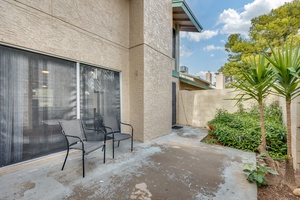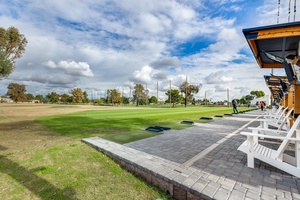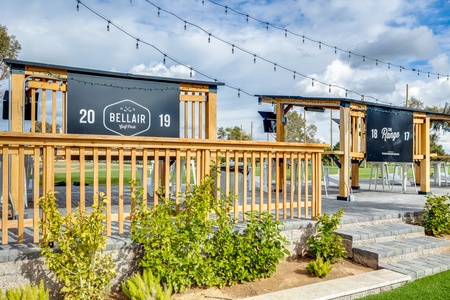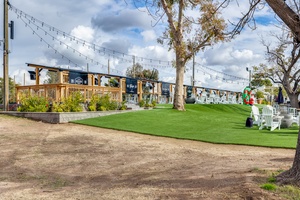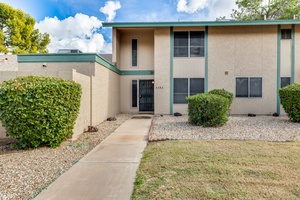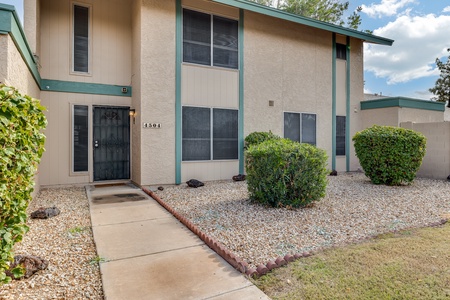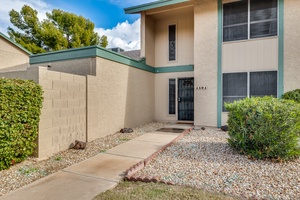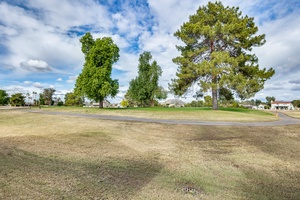 Rooms
rooms
Bedroom # 1

Primary Bedroom

1 King

Bedroom # 2

Guest Bedroom 2

1 Queen

Bedroom # 3

Guest Bedroom 3

1 Queen

Common

Common Room
---
---
Reviews
Reviews
Mar 21, 2023

Much preferred over any hotel. Just the bare minimum in the place. Holes in the wall, different sized wood steps that creak. Only recreational place upstairs. it was fine, but would have wanted a recreational place and TV downstairs. Towels were great and felt new. Everything was fine and working. Small white table was going to break any time. Nice dining room table. There was a speaker next to the couch, but had no idea of how it was connected. Still don't know where a couple of light switches went. Bedrooms were large and comfortable. Bathrooms were fine, though dated. It was in a great little community with a little golf practice green which was fun (watched NCAA's over there) and inexpensive. The golf course looked a little chewed up but still fun. There was a food truck there that was inexpensive and great for and with kids. It wasn't perfect, but definitely better than the expensive and constraints of any hotel. Very responsive host.

Michael D
---
Description
If you're looking for the perfect place to host your friends and family, look no further than this cozy three-bedroom condo off Bell Road! Greet each day at the range just across the street with a golf warmup. Enjoy lunch or dinner from one of several delicious food carts in between outdoor activities. When night falls, Gather around the fire pit for an evening of warm beverages and great company under starry skies.

This two-story condo is the perfect escape for days when you want to stay in and enjoy family and friends time. Step out onto a private patio with plenty of space for entertaining or sipping coffee while reading a book. The upstairs bonus area has a sectional, flatscreen tv, and even a foosball table for friendly tournaments!

Dinner is a breeze for your group - the kitchen comes fully stocked so that making something delicious won't be an issue. The dining area allows for the whole group to enjoy and is open to all areas making for easy conversation. Finally, relax in sheer comfort as everyone gathers in the living area with plenty of seating to wind down the day.

The main floor of the home features a primary bedroom with direct access to your outdoor living space, along with a ceiling fan and en suite bathroom. Upstairs off of the loft area, you'll find two additional bedrooms, both outfitted with queen beds, ceiling fans for extra comfort, and storage closets to tuck away all your belongings. An inviting full bathroom is located just outside each room - perfect for shared use by those residing in these spaces.


This place is the perfect fit when searching for the perfect vacation rental that offers a wealth of extra amenities. Stay connected with Wi-Fi throughout to stay in touch with family and friends while doing laundry onsite or parking off the street when desired. The Bell Rd local attractions will make your visit enjoyable as its museums, shopping centers, and parks provide ample opportunities for bike riding or rollerblading activities at every turn! Last but not least are the many international restaurants & cafes; sample cuisine from around the globe during your breezy stroll through town.
Room
Beds
---
Ensuite Bathroom, Central AC, Ceiling Fan
---
Guest Bedroom 2
Queen (1)
Central AC, Ceiling Fan
---
Guest Bedroom 3
Queen (1)
Central AC, Ceiling Fan
---
full bathroom
---
full bathroom
---
There is a couch upstairs with a TV and a foosball table. This couch COULD be an additional sleeping area.
Nearby Activities
Spa and wellness
Museums
Hiking
Shopping
Bike path
Golfing
Cycling
Kitchen and Dining
Dining Area
Kitchen Basics
Kitchen
Refrigerator
Coffee Maker
Microwave
Dishwasher
Dishes Utensils
Stove
Toaster
Oven
Freezer
Kettle
Ice Machine
Blender
Crockpot
Disposal
Accommodations
House Cleaning Optional ($)
Other Services Chauffeur ($)
Other Services Concierge ($)
Other Services Private Chef ($)
Other Services Massage ($)
Amenities
Essentials
Shampoo
Dryer
Washer
Hair Dryer
Linens
Iron
Parking space
Private Entrance
Smartlock
Keypad
Extra Pillows And Blankets
Wifi/Internet
Crib
Fire pit
Cleanliness
Self Check In / Check Out
Safety Features
Carbon Monoxide Detector
First Aid Kit
Fire Extinguisher
Smoke Detector
Deadbolt Lock
Outdoor Lighting
Suitability
Children Welcome
Pets Not Allowed
Smoking Not Allowed
Free Parking
Ceiling fans
Fireplace
Air Conditioning
Long Term Stays Allowed
Heating
Bath Tub
Hot Water
Entertainment
Television
Toys
Laptop Friendly
Game room
Smart TV
Location/Property Types
Town
Golf Course Front
Golf Course View
Garden View
Mar 21, 2023
Much preferred over any hotel. Just the bare minimum in the place. Holes in the wall, different sized wood steps that creak. Only recreational place upstairs. it was fine, but would have wanted a recreational place and TV downstairs. Towels were great and felt new. Everything was fine and working. Small white table was going to break any time. Nice dining room table. There was a speaker next to the couch, but had no idea of how it was connected. Still don't know where a couple of light switches went. Bedrooms were large and comfortable. Bathrooms were fine, though dated. It was in a great little community with a little golf practice green which was fun (watched NCAA's over there) and inexpensive. The golf course looked a little chewed up but still fun. There was a food truck there that was inexpensive and great for and with kids. It wasn't perfect, but definitely better than the expensive and constraints of any hotel. Very responsive host.
Michael D
December 2023
S
M
T
W
T
F
S
01
02
03
04
05
06
07
08
09
10
11
12
13
14
15
16
17
18
19
20
21
22
23
24
25
26
27
28
29
30
31

$211
January 2024
S
M
T
W
T
F
S
01

$181

02

$136

03

$136

04

$140

05

$175

06

$181

07

$143

08

$136

09

$136

10

$136

11

$143

12

$176

13

$189

14

$164

15

$139

16

$136

17

$136

18

$150

19

$179

20

$185

21

$163

22

$148

23

$137

24

$145

25

$173

26

$206

27

$210

28

$190

29

$179

30

$172

31

$177
February 2024
S
M
T
W
T
F
S
01

$189

02

$221

03

$233

04

$215

05

$214

06

$209

07

$269

08

$585

09

$629

10

$641

11

$605

12

$319

13

$213

14

$211

15

$265

16

$294

17

$303

18

$266

19

$245

20

$223

21

$215

22

$263

23

$285

24

$297

25

$259

26

$243

27

$224

28

$225

29

$260
March 2024
S
M
T
W
T
F
S
01

$265

02

$273

03

$230

04

$188

05

$182

06

$188

07

$217

08

$246

09

$254

10

$222

11

$197

12

$189

13

$190

14

$208

15

$233

16

$237

17

$200

18

$183

19

$176

20

$187

21

$200

22

$234

23

$231

24

$184

25

$167

26

$155

27

$167

28

$181

29

$208

30

$209

31

$165
April 2024
S
M
T
W
T
F
S
01

$189

02

$162

03

$180

04

$221

05

$275

06

$285

07

$220

08

$180

09

$136

10

$140

11

$164

12

$190

13

$193

14

$142

15

$136

16

$136

17

$136

18

$140

19

$175

20

$182

21

$136

22

$136

23

$136

24

$136

25

$136

26

$154

27

$158

28

$136

29

$136

30

$136
May 2024
S
M
T
W
T
F
S
01

$136

02

$136

03

$207

04

$211

05

$170

06

$146

07

$136

08

$139

09

$165

10

$188

11

$193

12

$157

13

$136

14

$136

15

$136

16

$136

17

$136

18

$136

19

$136

20

$136

21

$136

22

$136

23

$136

24

$156

25

$147

26

$136

27

$136

28

$136

29

$136

30

$136

31

$136
June 2024
S
M
T
W
T
F
S
01

$136

02

$136

03

$136

04

$136

05

$136

06

$165

07

$186

08

$136

09

$136

10

$136

11

$136

12

$136

13

$136

14

$136

15

$136

16

$136

17

$136

18

$136

19

$136

20

$136

21

$136

22

$136

23

$136

24

$136

25

$136

26

$136

27

$136

28

$136

29

$136

30

$136
July 2024
S
M
T
W
T
F
S
01

$136

02

$136

03

$136

04

$136

05

$136

06

$138

07

$136

08

$136

09

$136

10

$136

11

$136

12

$136

13

$136

14

$136

15

$136

16

$136

17

$136

18

$136

19

$136

20

$136

21

$136

22

$136

23

$136

24

$136

25

$136

26

$136

27

$136

28

$136

29

$136

30

$136

31

$136
August 2024
S
M
T
W
T
F
S
01

$136

02

$136

03

$136

04

$136

05

$136

06

$136

07

$136

08

$136

09

$136

10

$136

11

$136

12

$136

13

$136

14

$136

15

$136

16

$136

17

$136

18

$136

19

$136

20

$136

21

$136

22

$136

23

$136

24

$136

25

$136

26

$136

27

$136

28

$136

29

$136

30

$155

31

$153
September 2024
S
M
T
W
T
F
S
01

$141

02

$136

03

$136

04

$136

05

$136

06

$136

07

$136

08

$136

09

$136

10

$136

11

$136

12

$136

13

$138

14

$143

15

$136

16

$136

17

$136

18

$136

19

$136

20

$145

21

$144

22

$136

23

$136

24

$136

25

$136

26

$136

27

$145

28

$142

29

$136

30

$136
October 2024
S
M
T
W
T
F
S
01

$136

02

$136

03

$136

04

$153

05

$148

06

$136

07

$136

08

$136

09

$136

10

$136

11

$162

12

$158

13

$136

14

$136

15

$136

16

$136

17

$146

18

$171

19

$160

20

$136

21

$136

22

$136

23

$136

24

$157

25

$176

26

$166

27

$136

28

$136

29

$136

30

$136

31

$165
November 2024
S
M
T
W
T
F
S
01

$180

02

$176

03

$136

04

$136

05

$136

06

$136

07

$187

08

$200

09

$224

10

$183

11

$148

12

$136

13

$136

14

$153

15

$174

16

$171

17

$136

18

$136

19

$136

20

$136

21

$148

22

$256

23

$255

24

$221

25

$192

26

$191

27

$196

28

$215

29

$237

30

$236
Available
Unavailable
Check-In Only
Check-Out Only
Please select dates
+ tax/fees