Lanikai Cottage
Kailua, HI 3 Bedrooms Vacation Rental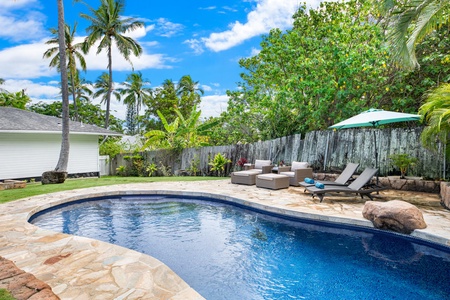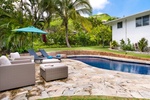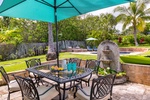 Show All Photos
Unit Photos
Relax and play at Lanikai Cottage!

Brand new in-ground pool, with large back yard.

Outdoor entertaining area with extra-large yard!

Main house dining area.

Main house living room opens to the front and back yard and in-ground pool!

Main house living room opens to the back yard and in-ground pool!

Main house kitchen.

Primary, with king bed.

Primary with king bed and new split air conditioning system.

Main house bedroom two, with twin beds (convertible to a king upon request) and new split air conditioning system.

Shared bath in main house.

Guest cottage lanai, with view of the large yard, main house, and even a bit of the ocean! Cottage now has split air conditioning!

Guest cottage with king bed, pull-out memory foam sofa bed, and new split air conditioning!

Guest cottage with king bed, pull-out sofa, full bath, lanai, wet bar, and new split air conditioning!

Guest cottage full bath.

Guest cottage sitting area, with new split air conditioning!

Guest cottage wet bar.

Brand new in-ground pool!

Take a refreshing dip.

Outdoor entertaining area with extra-large yard!

The Pokole access to Lanikai Beach is only 0.1 miles (a two-minute walk) from the house!

Lovely Lanikai view.

Nearby Kailua Beach.

Lanikai Beach, just a short walk from the house.

See all Oahu has to offer.

Backyard

Backyard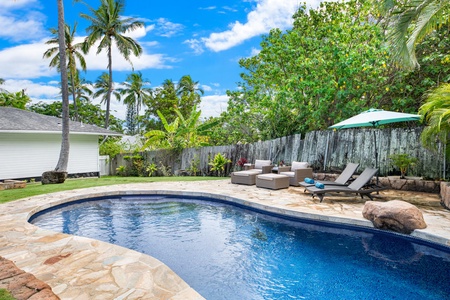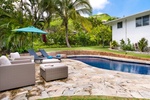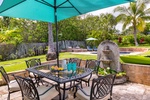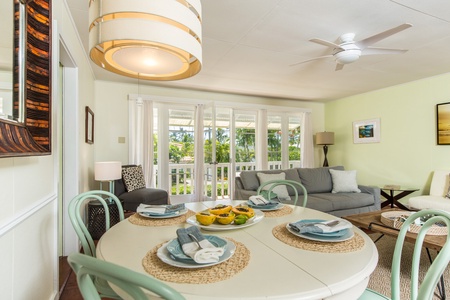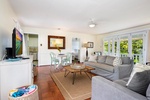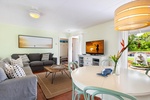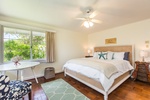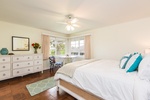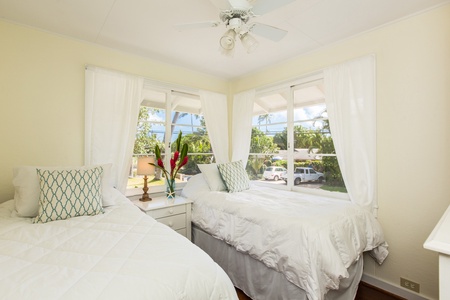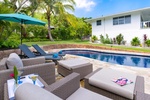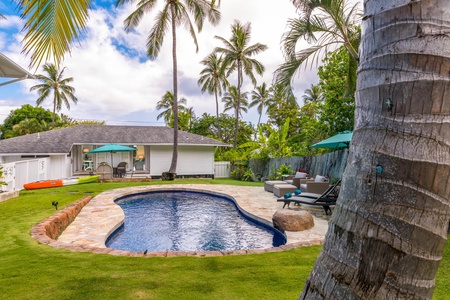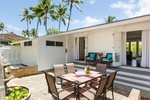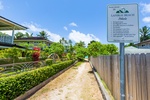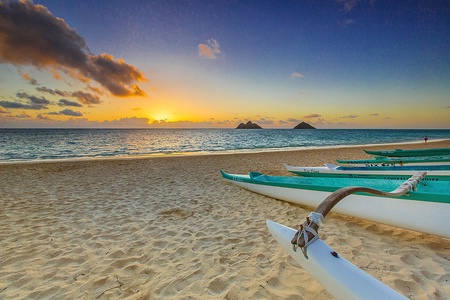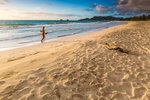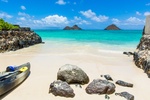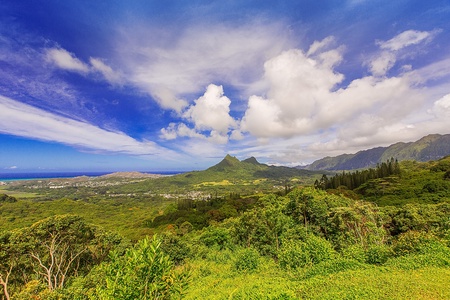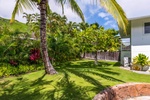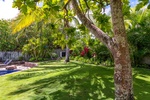 Rooms
rooms
Bedroom # 1

Primary Bedroom

1 King

Bedroom # 2

Guest Bedroom 2

2 Twin

Bedroom # 3

Guest Studio

1 King, 1 Sofa Bed,
---
---
Description
Charming Lanikai Cottage features two dwellings on the same property, providing a total of three bedrooms and two bathrooms. Although separate, the dwellings share a private fenced-in yard with a new pool. Furnished in a beach-chic style, both offer the option of relaxing in air conditioning or simply letting refreshing island breezes blow through.

The main house at Lanikai Cottage includes two bedrooms and one bathroom, a well-equipped kitchen, a dining area, and a living space that opens to the back yard. The guest house contains an additional bedroom and bathroom, as well as a partial kitchen, living room, and lovely lanai with a peek-a-boo ocean view. Guests will appreciate having all the comforts of home, including flat-screen televisions, Wi-Fi, and a washer and dryer.

Lanikai Cottage's large outdoor space includes lounge chairs for sunbathing by the pool, additional covered seating, a barbecue grill, and an outdoor dining area. Use the Pokele beach access to take a two-minute walk and you'll find your toes in the sand. Or, fill your days with fun activities using the bikes, boogie boards, and snorkel gear provided.

Ideally situated at the quiet end of Lanikai, Lanikai Cottage is only a short drive from the heart of Kailua Town, where you'll find dining, shops, and conveniences such as a Whole Foods. With a perfect launching point just a block away, you'll also have the option of venturing out to the renowned Mokulua islets using the two-person kayaks and stand-up paddle board provided. Relaxation and adventure await at this heavenly east Oahu hideaway!
Provided: one standup paddle board, two boogie boards, assorted pool toys, two two-person kayaks, bikes, and snorkel gear to use for your pleasure! *amenities subject to change

ADDITIONAL INFORMATION AND DISCLOSURES:
1. Rates and fees are subject to change. Minimum stay requirements may apply. Inquire for possible discounts.
2. Online bookings are subject to manager or owner approval.
3. Standard occupancy for this rental is 6 guests with a max occupancy of 8 guests with prior approval (max 6 adults & 2 children). There will be an extra fee for additional guests over the standard occupancy.
4. This vacation home has been registered as a Transient Accommodation with the State of Hawaii - HAWAII TAX ID TA-111-603-0976-01
5. Air conditioning notes: split air conditioning in the main house bedrooms and guest studio.
6. Max Included Electric Charge: $150

The property will be made exclusively available to the renter for a full period of 30-days and no one else may occupy the property during that period. Rates based on a 30 day rental period. Please Inquire.
TMK: 430040320000
Room
Beds
---
Split AC, Ceiling Fan, Shared Bath
---
Split AC, Ceiling Fan
---
Guest Studio
King (1)Sofa Bed (1)
Partial ocean views! Split AC, Ceiling Fan, Pull Out Sofa, Balcony, Kitchenette, Living room with TV and En suite bathroom. This room can sleep 2 adults and 2 children or 3 adults.
---
Main house bath, shower
---
Tub/shower combo
Nearby Activities
Hiking
Fishing
Golfing
Watersports
Cycling
Scuba diving or Snorkeling
Spa and wellness
Museums
Shopping
Horseback riding
Tennis
Kitchen and Dining
Dining Area
Kitchen Basics
Kitchen
Refrigerator
Coffee Maker
Microwave
Dishwasher
Dishes Utensils
Stove
Toaster
Oven
BBQ
Freezer
Kettle
Blender
Accommodations
House Cleaning Optional ($)
Other Services Chauffeur ($)
Other Services Concierge ($)
Other Services Private Chef ($)
Other Services Massage ($)
Amenities
Essentials
Shampoo
Dryer
Washer
Garage
Telephone
Hair Dryer
Linens
Iron
Parking space
Safe
Lock Box
Extra Pillows And Blankets
Wifi/Internet
Cleanliness
Self Check In / Check Out
Safety Features
First Aid Kit
Fire Extinguisher
Smoke Detector
Outdoor Lighting
Suitability
Children Welcome
Pets Not Allowed
Smoking Not Allowed
Free Parking
Ceiling fans
Air Conditioning
Bath Tub
Hot Water
Entertainment
Television
DVD
Satellite or Cable TV
Smart TV
I-Pod Station / Bluetooth Speaker
Outdoor Amenities
Cooler - Ice Chest
Garden
Private yard
Beach Equipment Rentals Available ($)
Lanai/Balcony
Location/Property Types
Near Ocean
Ocean View (Partial)
Garden View
Popular Town
Walk to beach
Property Manager
Megan Arita
30 Day Properties
November 2023
| S | M | T | W | T | F | S |
| --- | --- | --- | --- | --- | --- | --- |
| | | | 01 | 02 | 03 | 04 |
| 05 | 06 | 07 | 08 | 09 | 10 | 11 |
| 12 | 13 | 14 | 15 | 16 | 17 | 18 |
| 19 | 20 | 21 | 22 | 23 | 24 | 25 |
| 26 | 27 | 28 | 29 | 30 | | |
December 2023
S
M
T
W
T
F
S
01

$667

02

$667

03

$667

04

$667

05

$667

06

$667

07

$667

08

$667

09

$667

10

$667

11

$667

12

$667

13

$667

14

$667

15

$667

16

$667

17

$667

18

$667

19

$667

20

$667

21

$667

22

$667

23

$667

24

$667

25

$667

26

$667

27

$667

28

$667

29

$667

30

$667

31

$667
January 2024
S
M
T
W
T
F
S
01

$667

02

$667

03

$667

04

$667

05

$667

06

$667

07

$667

08

$667

09

$667

10

$667

11

$667

12

$667

13

$667

14

$667

15

$667

16

$667

17

$667

18

$667

19

$667

20

$667

21

$667

22

$667

23

$667

24

$667

25

$667

26

$667

27

$667

28

$667

29

$667

30

$667

31

$667
February 2024
S
M
T
W
T
F
S
01

$500

02

$500

03

$500

04

$500

05

$500

06

$500

07

$500

08

$500

09

$500

10

$500

11

$500

12

$500

13

$500

14

$500

15

$500

16

$500

17

$500

18

$500

19

$500

20

$500

21

$500

22

$500

23

$500

24

$500

25

$500

26

$500

27

$500

28

$500

29

$500
March 2024
S
M
T
W
T
F
S
01

$500

02

$500

03

$500

04

$500

05

$500

06

$500

07

$500

08

$500

09

$500

10

$500

11

$500

12

$500

13

$500

14

$500

15

$500

16

$500

17

$500

18

$500

19

$500

20

$500

21

$500

22

$500

23

$500

24

$500

25

$500

26

$500

27

$500

28

$500

29

$500

30

$500

31

$500
April 2024
S
M
T
W
T
F
S
01

$500

02

$500

03

$500

04

$500

05

$500

06

$500

07

$500

08

$500

09

$500

10

$500

11

$500

12

$500

13

$500

14

$500

15

$500

16

$500

17

$500

18

$500

19

$500

20

$500

21

$500

22

$500

23

$500

24

$500

25

$500

26

$500

27

$500

28

$500

29

$500

30

$500
May 2024
S
M
T
W
T
F
S
01

$500

02

$500

03

$500

04

$500

05

$500

06

$500

07

$500

08

$500

09

$500

10

$500

11

$500

12

$500

13

$500

14

$500

15

$500

16

$500

17

$500

18

$500

19

$500

20

$500

21

$500

22

$500

23

$500

24

$500

25

$500

26

$500

27

$500

28

$500

29

$500

30

$500

31

$500
June 2024
S
M
T
W
T
F
S
01

$500

02

$500

03

$500

04

$500

05

$500

06

$500

07

$500

08

$500

09

$500

10

$500

11

$500

12

$500

13

$500

14

$500

15

$500

16

$500

17

$500

18

$500

19

$500

20

$500

21

$500

22

$500

23

$500

24

$500

25

$500

26

$500

27

$500

28

$500

29

$500

30

$500
July 2024
S
M
T
W
T
F
S
01

$500

02

$500

03

$500

04

$500

05

$500

06

$500

07

$500

08

$500

09

$500

10

$500

11

$500

12

$500

13

$500

14

$500

15

$500

16

$500

17

$500

18

$500

19

$500

20

$500

21

$500

22

$500

23

$500

24

$500

25

$500

26

$500

27

$500

28

$500

29

$500

30

$500

31

$500
August 2024
S
M
T
W
T
F
S
01

$500

02

$500

03

$500

04

$500

05

$500

06

$500

07

$500

08

$500

09

$500

10

$500

11

$500

12

$500

13

$500

14

$500

15

$500

16

$500

17

$500

18

$500

19

$500

20

$500

21

$500

22

$500

23

$500

24

$500

25

$500

26

$500

27

$500

28

$500

29

$500

30

$500

31

$500
September 2024
S
M
T
W
T
F
S
01

$500

02

$500

03

$500

04

$500

05

$500

06

$500

07

$500

08

$500

09

$500

10

$500

11

$500

12

$500

13

$500

14

$500

15

$500

16

$500

17

$500

18

$500

19

$500

20

$500

21

$500

22

$500

23

$500

24

$500

25

$500

26

$500

27

$500

28

$500

29

$500

30

$500
October 2024
S
M
T
W
T
F
S
01

$500

02

$500

03

$500

04

$500

05

$500

06

$500

07

$500

08

$500

09

$500

10

$500

11

$500

12

$500

13

$500

14

$500

15

$500

16

$500

17

$500

18

$500

19

$500

20

$500

21

$500

22

$500

23

$500

24

$500

25

$500

26

$500

27

$500

28

$500

29

$500

30

$500

31

$500
Available
Unavailable
Check-In Only
Check-Out Only
Please select dates
+ tax/fees