Evergreen Escape
Bellingham, Washington 3 Bedrooms Vacation Rental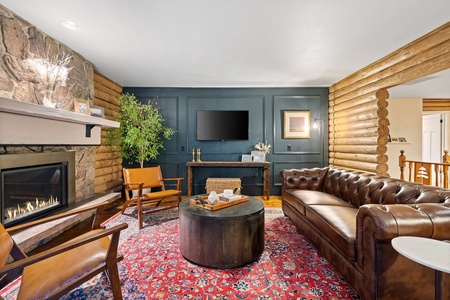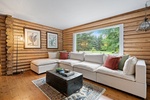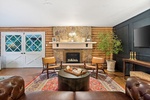 Show All Photos
Unit Photos
Home where warmth meets cherished Gatherings.

Gather in the living area with a view!

Dramatic living area fireplace to keep you warm and energized.

Home where warmth meets cherished Gatherings.

Savor some luxurious moments while admiring stunning sights with your loved ones.

Unparalleled blend of rustic elegance and modern comforts nestled amidst the serene Bellingham countryside

Gather 'round the firepit for an unforgettable evening of warmth and camaraderie.

Welcome to your home in the midst of nature!

Sunlit sanctuary for outdoor relaxation.

Plush sectional sofas as you enter the living area for relaxation.

Plenty of seats for everybody!

Expansive living space for ultimate relaxation and gatherings.

More sofas and occasional seats at the living area!

Head on to the heart of the home: the fully-stocked kitchen.

Wide countertops to savor your culinary delights

Spacious kitchen area with ample appliances is a chef's delight.

Kitchen fireplace is a plus!

Adjacent to the kitchen is the dining area for six.

Experience the allure of rustic-luxe throughout the home.

Kitchen area from the dining's perspective.

Luxury primary suite with plush king bed and soft linens.

Comes with a dedicated home office to stay productive while on a getaway

A dedicated home office to our work from home buddies!

Ensuite bathroom with a tub and a chic vanity space

A walk-in shower in a glass enclosure

Bath tub

Walk-in closet

Taking you to the other nightly spaces

Guest suite with a luxurious king bed and a lounge area

Rest in comfort on the plush king bed, draped in exquisite linens.

With an L-shaped sofa and plenty of throw pillows.

A restful slumber in the private sanctuary.

Ensuite bathroom with a walk-in shower

Third suite with a queen bed and a kiddie space

Couldn't be more perfect with a kid's corner

Relax on the couch as the kids play.

Kiddie space for the little ones, a perfect suite for starting family members.

Ensuite bathroom

Stairs leading to the lower-level bedrooms

The family room speaks of timeless bond and shared moments

With a flatscreen TV and card games, every moment is treasured.

Stay active on vacation with our fully-equipped fitness room.

Laundry area with a washer/dryer

Stay active on vacation with our fully-equipped fitness room.

Welcome home!

The deck, perfect for twilight views or nightly music sessions.

Dramatic entryway.

Sunlit sanctuary for outdoor relaxation.

Rustic charm in every part of the home.

Home immersed in lush greenery.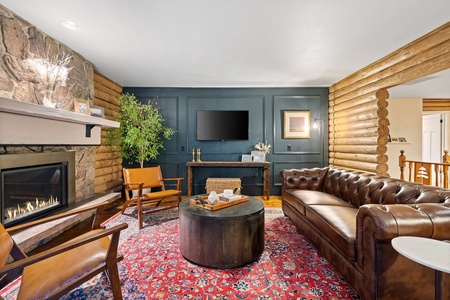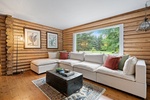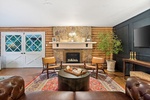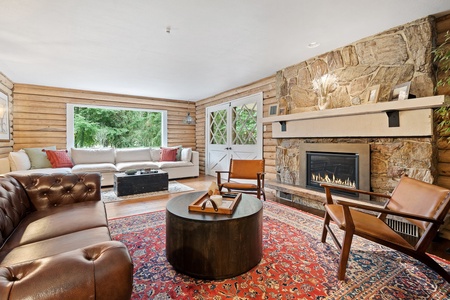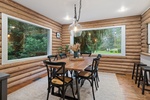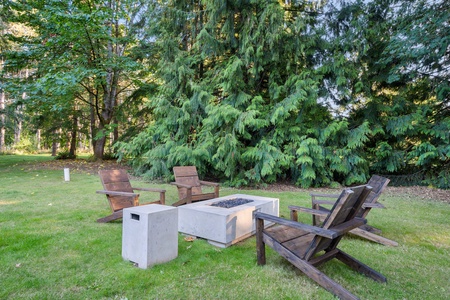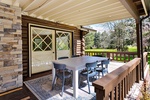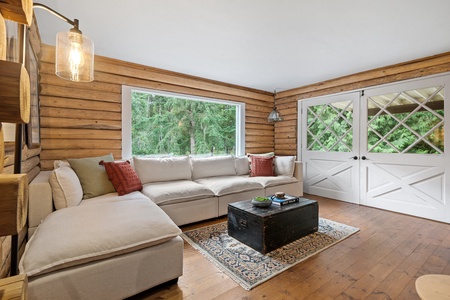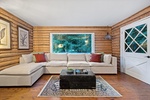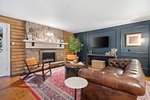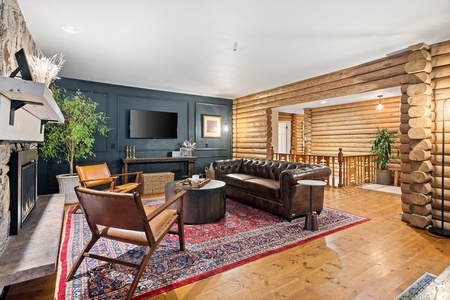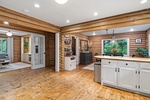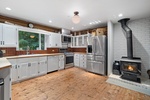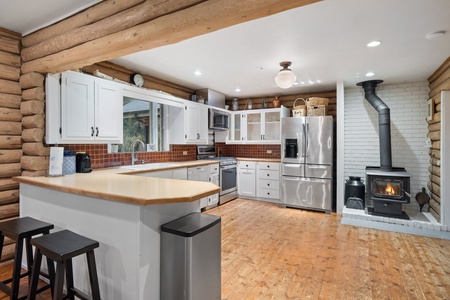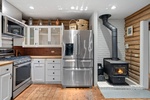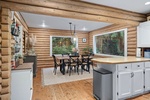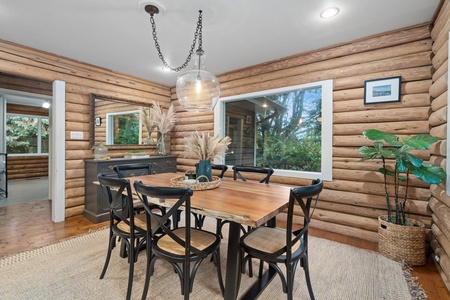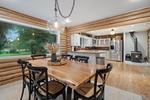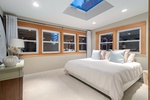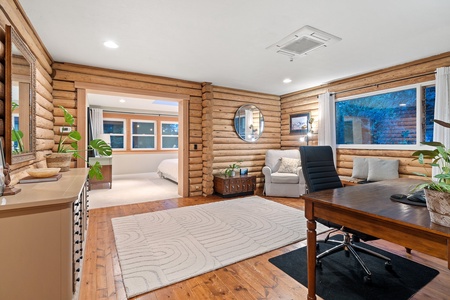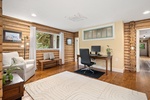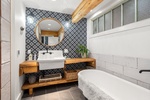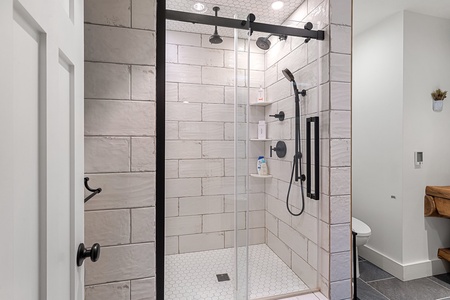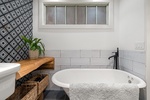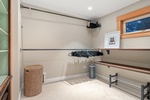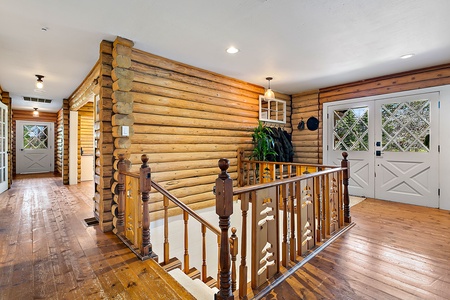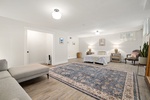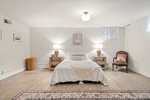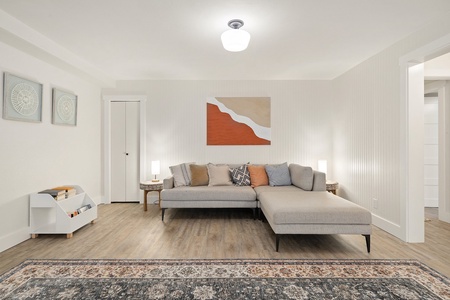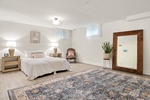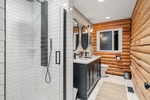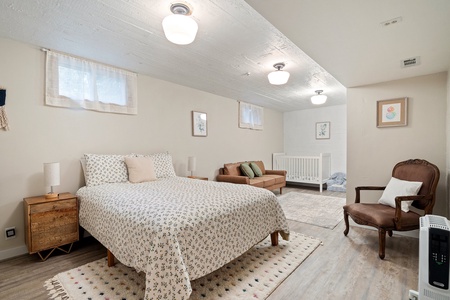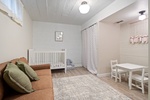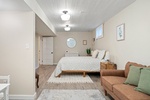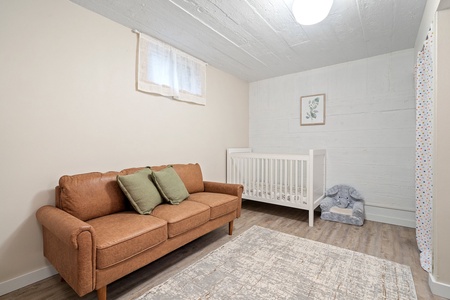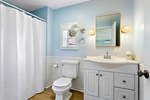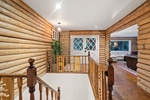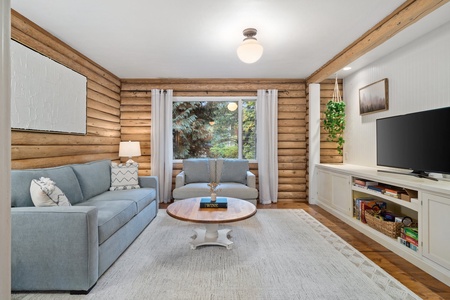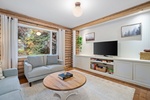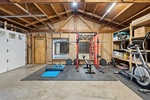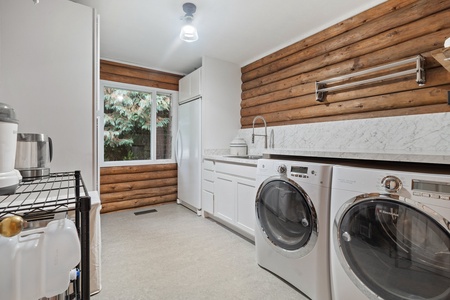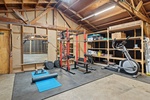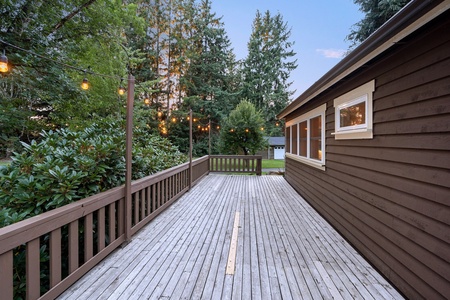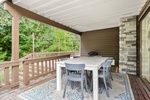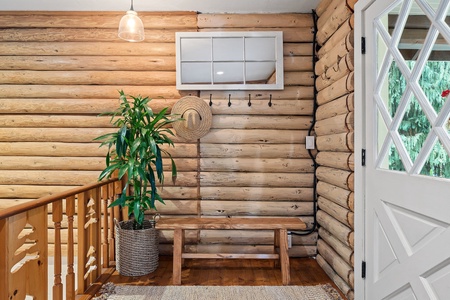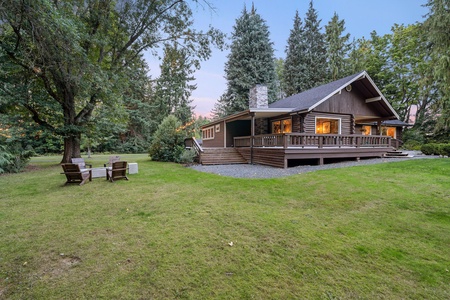 Rooms
rooms
Bedroom # 1

Primary Suite

1 King

Bedroom # 2

Guest Bedroom 2

1 Queen

Bedroom # 3

Guest Bedroom 3

1 Queen, 1 Crib,

Common

Convertible Room

1 Sofa Bed
---
---
Description
Evergreen Escape by Gather beckons you to an unparalleled blend of rustic elegance and modern comforts nestled amidst the serene Bellingham countryside. Delight in an estate where nature's artistry and luxury converge, promising unforgettable moments.

As you approach the private country estate of Evergreen Escape, a sense of calm tranquility embraces you. Located just a convenient 15-minute drive from the bustling town of Bellingham, WA, this property sprawls over an expansive 7+ acres of flat and dry land – a rare gem in itself. A picturesque scene unfolds, from the beautifully crafted main home to the impressive 4-car garage/shop, pole building, and the captivating Napa Valley-inspired barn. Whether you envision a dreamy countryside wedding or are enthralled by equestrian pursuits, this barn presents the perfect canvas.

Stepping into the main home, your senses are treated to an architectural symphony. At the heart of its design lies an impeccable floor plan catering to every phase of life. The primary bedroom and essential living spaces conveniently rest on the main floor, ensuring accessibility and ease. As you wander through the home, the antique French doors hint at timeless stories, while local custom millwork infuses the space with a unique charm. Modernity makes its presence felt in the contemporary bathrooms, juxtaposing the vintage aesthetics with today's luxuries.

No detail has been overlooked to ensure your utmost comfort. Stay cool during those warmer Bellingham days with central AC or cozy up to the gas fireplace during those chilly evenings. The authentic wood-burning fireplace offers an ambient setting, perfect for storytelling sessions or tranquil reflections. For those who seek warmth beneath their feet, the in-floor heating ensures every step is cushioned in comfort.

Stepping outside, the wraparound deck calls for your attention. Overlooking a park-like setting, it's here that the magic of the Pacific Northwest's seasons truly comes to life. Whether you're witnessing the vibrant hues of autumn, the delicate blossoms of spring, or the gentle cascade of snowflakes in winter, the deck is your front-row seat to nature's ever-changing theater.

With a capacity to accommodate up to 8 guests, Evergreen Escape by Gather encapsulates the essence of a perfect retreat. Whether you're seeking a family getaway, a rendezvous with friends, or simply a sanctuary to reconnect with nature, this estate ensures every moment is wrapped in luxury and splendor.

Elevate your RV adventure! Book our luxury home and enjoy dedicated RV hookups. It's the perfect blend of homely comfort and on-the-road freedom. Book now and blend the best of both worlds!

In conclusion, Evergreen Escape isn't just a place to stay; it's an experience. An experience of soaking in the best of Bellingham's countryside, where nature's beauty and human craftsmanship unite, delivering an unmatched stay that beckons travelers from near and far. Book now, and let your Evergreen Escape begin!
Room
Beds
---
Ensuite Bathroom w/ Shower and Bath Tub Walk-in Closet Office / Sitting Area Garden View Separate AC Unit (services this room only)
---
Guest Bedroom 2
Queen (1)
Closet Sectional Sofa
---
Guest Bedroom 3
Queen (1)Crib (1)
Closet Sectional Sofa Crib (stored in the closet if needed)
---
Convertible Room
Sofa Bed (1)
Full-Size Sofa Bed French Door Enclosure Cabinets TV
---
image
---
image
Kitchen and Dining
Dining Area
Kitchen Basics
Kitchen
Refrigerator
Coffee Maker
Microwave
Dishwasher
Dishes Utensils
Stove
Toaster
Oven
BBQ
Freezer
Kettle
Espresso Machine
Ice Machine
Blender
Crockpot
Wood burning stove
Disposal
Accommodations
House Cleaning Optional ($)
Other Services Chauffeur ($)
Other Services Concierge ($)
Other Services Private Chef ($)
Other Services Massage ($)
Amenities
Essentials
Shampoo
Dryer
Washer
Garage
Linens
Private Entrance
Extra Pillows And Blankets
Wifi/Internet
Crib
High Chair
Ski storage
Cleanliness
Self Check In / Check Out
Safety Features
Carbon Monoxide Detector
First Aid Kit
Fire Extinguisher
Smoke Detector
Deadbolt Lock
Outdoor Lighting
Suitability
Children Welcome
Pets Not Allowed
Smoking Not Allowed
Free Parking
Fireplace
Suitable for Elderly
Air Conditioning
Long Term Stays Allowed
Suitable For Events
Heating
Bath Tub
Hot Water
Entertainment
Television
Toys
Laptop Friendly
Smart TV
Outdoor Amenities
Garden
Private yard
Lanai/Balcony
Outdoor seating
Location/Property Types
Mountain
Rural
Garden View
Private / Secluded
Nearby Activities
Snowboarding/Skiing
Hiking
Mountain climbing
Cycling
November 2023
| S | M | T | W | T | F | S |
| --- | --- | --- | --- | --- | --- | --- |
| | | | 01 | 02 | 03 | 04 |
| 05 | 06 | 07 | 08 | 09 | 10 | 11 |
| 12 | 13 | 14 | 15 | 16 | 17 | 18 |
| 19 | 20 | 21 | 22 | 23 | 24 | 25 |
| 26 | 27 | 28 | 29 | 30 | | |
December 2023
S
M
T
W
T
F
S
01

$289

02

$319

03

$319

04

$319

05

$319

06

$319

07

$319

08

$319

09

$319

10

$319

11

$319

12

$319

13

$319

14

$319

15

$319

16

$319

17

$319

18

$319

19

$319

20

$359

21
22
23
24
25
26
27
28
29
30
31
January 2024
S
M
T
W
T
F
S
01

$349

02

$349

03

$349

04

$349

05

$349

06

$349

07

$349

08

$349

09

$349

10

$349

11

$349

12

$349

13

$349

14

$349

15

$349

16

$349

17

$349

18

$349

19

$349

20

$349

21

$349

22

$349

23

$349

24

$349

25

$349

26

$349

27

$349

28

$349

29

$349

30

$349

31

$349
February 2024
S
M
T
W
T
F
S
01

$250

02

$350

03

$373

04

$275

05

$252

06

$250

07

$250

08

$299

09

$400

10

$400

11

$313

12

$277

13

$268

14

$263

15

$295

16

$374

17

$380

18

$367

19

$313

20

$250

21

$250

22

$250

23

$329

24

$329

25

$250

26

$250

27

$250

28

$250

29

$250
March 2024
S
M
T
W
T
F
S
01

$270

02

$272

03

$250

04

$250

05

$250

06

$250

07

$250

08

$271

09

$276

10

$250

11

$250

12

$250

13

$250

14

$250

15

$260

16

$265

17

$250

18

$250

19

$250

20

$250

21

$250

22

$274

23

$276

24

$250

25

$250

26

$250

27

$275

28

$275

29

$320

30

$326

31

$275
April 2024
S
M
T
W
T
F
S
01

$275

02

$275

03

$275

04

$275

05

$325

06

$325

07

$275

08

$275

09

$275

10

$275

11

$275

12

$315

13

$317

14

$275

15

$275

16

$275

17

$275

18

$275

19

$315

20

$321

21

$275

22

$275

23

$275

24

$275

25

$275

26

$321

27

$330

28

$275

29

$275

30

$275
May 2024
S
M
T
W
T
F
S
01

$275

02

$275

03

$315

04

$328

05

$275

06

$275

07

$275

08

$275

09

$275

10

$311

11

$319

12

$275

13

$275

14

$275

15

$275

16

$275

17

$314

18

$320

19

$275

20

$275

21

$275

22

$275

23

$275

24

$400

25

$399

26

$338

27

$304

28

$288

29

$288

30

$288

31

$331
June 2024
S
M
T
W
T
F
S
01

$331

02

$288

03

$288

04

$288

05

$288

06

$288

07

$355

08

$365

09

$299

10

$288

11

$288

12

$288

13

$380

14

$400

15

$400

16

$366

17

$288

18

$288

19

$300

20

$330

21

$384

22

$392

23

$348

24

$288

25

$288

26

$288

27

$324

28

$381

29

$393

30

$329
July 2024
S
M
T
W
T
F
S
01

$338

02

$373

03

$400

04

$400

05

$400

06

$400

07

$385

08

$305

09

$307

10

$309

11

$359

12

$396

13

$400

14

$350

15

$319

16

$321

17

$328

18

$373

19

$400

20

$400

21

$365

22

$335

23

$327

24

$336

25

$400

26

$400

27

$400

28

$400

29

$335

30

$321

31

$331
August 2024
S
M
T
W
T
F
S
01

$362

02

$400

03

$400

04

$358

05

$331

06

$322

07

$339

08

$368

09

$400

10

$400

11

$365

12

$332

13

$328

14

$363

15

$400

16

$400

17

$400

18

$383

19

$319

20

$311

21

$315

22

$342

23

$400

24

$399

25

$330

26

$291

27

$288

28

$288

29

$316

30

$400

31

$400
September 2024
S
M
T
W
T
F
S
01

$362

02

$314

03

$288

04

$288

05

$288

06

$354

07

$345

08

$288

09

$288

10

$288

11

$288

12

$288

13

$351

14

$373

15

$288

16

$288

17

$288

18

$288

19

$288

20

$375

21

$384

22

$288

23

$288

24

$288

25

$288

26

$288

27

$344

28

$354

29

$288

30

$288
October 2024
S
M
T
W
T
F
S
01

$288

02

$288

03

$288

04

$320

05

$335

06

$288

07

$288

08

$288

09

$288

10

$288

11

$312

12

$338

13

$288

14

$288

15

$288

16

$288

17

$288

18

$324

19

$400

20

$288

21

$288

22

$288

23

$288

24

$288

25

$288

26

$288

27

$288

28

$288

29

$288

30

$288

31

$288
Available
Unavailable
Check-In Only
Check-Out Only
Please select dates
+ tax/fees