Redondo Beach Bliss
Redondo Beach, California 3 Bedrooms Vacation Rental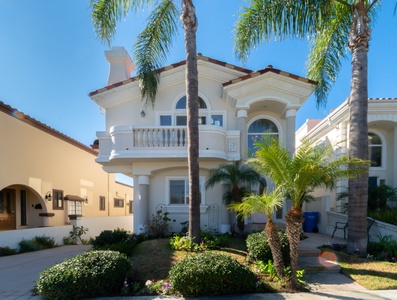 Show All Photos
Unit Photos
Behold the epitome of luxury, a magnificent house that seamlessly blends opulence and refined living

Soak up the sun and bask in relaxation on the private rooftop patio, your hidden oasis

Nestled just a few blocks away from the scenic Redondo Beach, lies this humble abode

Upstairs open patio, a sun-kissed sanctuary that invites you to unwind and savor the outdoors

Experience the epitome of luxury with the captivating front facade

Escape to the veranda, a haven of relaxation and panoramic views

A captivating view of the first-floor bedrooms and the staircase leading to the primary floor

Seamless integration of dining and living spaces in this open floor design at the second floor

Welcome to a cozy and pristine living area, where comfort and cleanliness combine

Immerse yourself in scenic vistas as the open living area

Living area with access to veranda

Enjoy the perfect seamless harmony of the dining area, situated right beside the living space

Gather in the open warm embrace of togetherness of your home

Sophisticated dining furniture and elegant chandelier gracefully adjoins the kitchen space

The pristine kitchen area, an environment of culinary inspiration

Pristine culinary space with a fully-stocked kitchen and breathtaking window views

Unleash your inner strength in the fitness area, a dedicated space for your physical well-being

Seamlessly connected to the kitchen, the fitness space beckons with access to the patio

Discover the charming breakfast nook, a cozy corner adjacent to the kitchen and with access to the patio

Engaging conversations fill the air as friends and family Gather on the patio

Spiral stairs that leads to paradise

Panoramic views await at the private roof top patio

Descend to the first floor and discover the bed chambers

White wall paint adorns the space, imparting a sense of purity and timeless elegance

Warm welcome to the roomy master bedroom

Every corner of the room is as elegant as it can be

Indulge in the luxury of a master bed adorned with soft, exquisite bed linens

Ultimate comfort in the master bedroom, enhanced by a Fan D'Lier

Unwind and embrace cozy luxury with a fireplace nestled at the master bed

Step into a walk-in closet of the master bed, that combines functionality and style

Ensuite full bathroom, complete with a soothing bathtub for moments of tranquility and self-care

Shower room with glass enclosure right next to the bath tub

Modern elegance of a shower room adorned with glass window blocks

Welcome guests to an elegant retreat in the guest room

Discover a cozy sanctuary in the second guest bedroom

Experience the epitome of style and functionality in the common full bathroom at the first floor

Common full bathroom with a glass shower_bath tub enclosure

Sophisticated & elegant common powder room, a space that adds a touch of refinement to your home

Effortlessly tackle your laundry needs in the convenient and well-equipped laundry area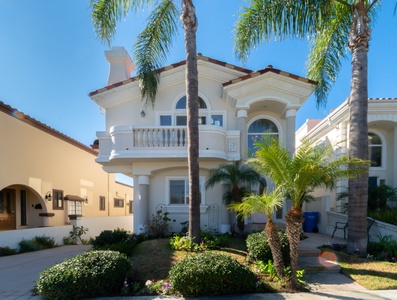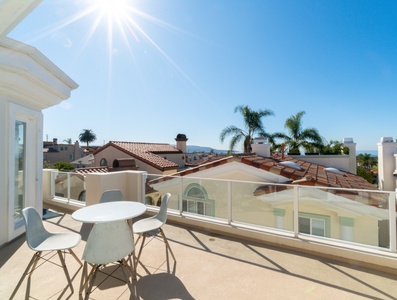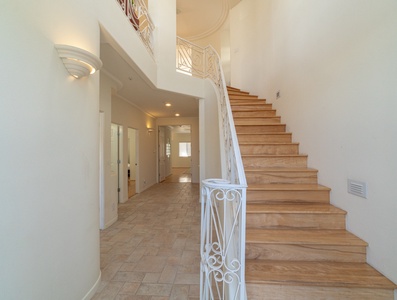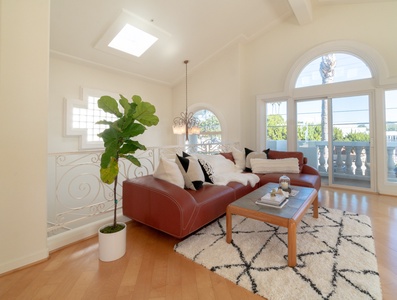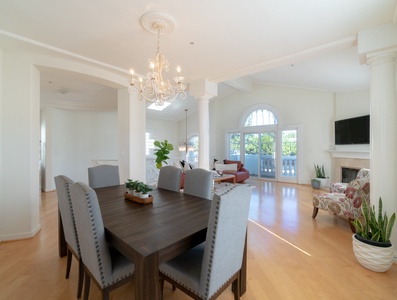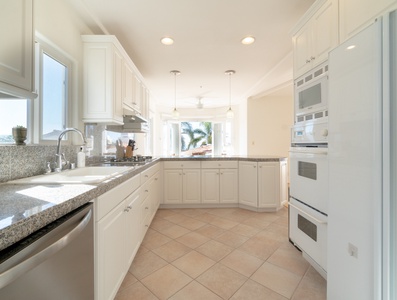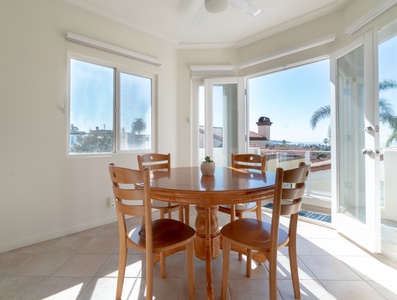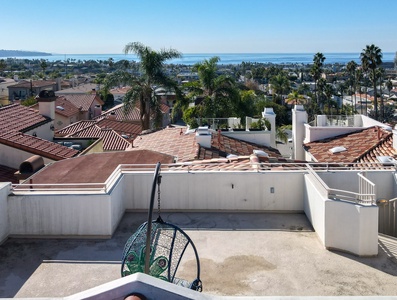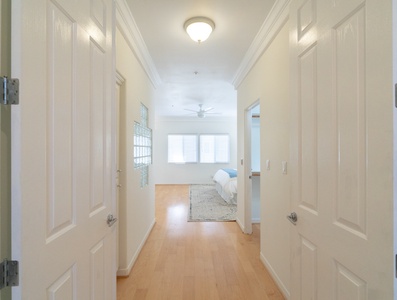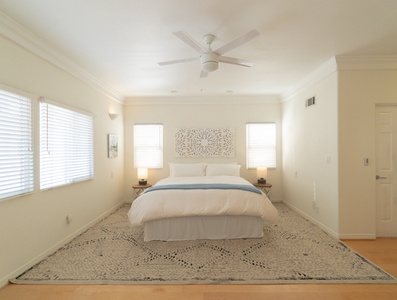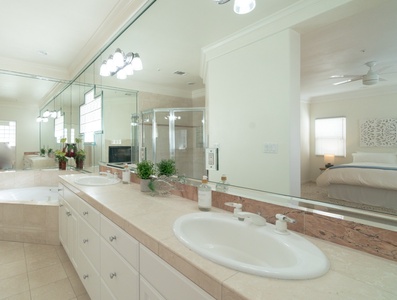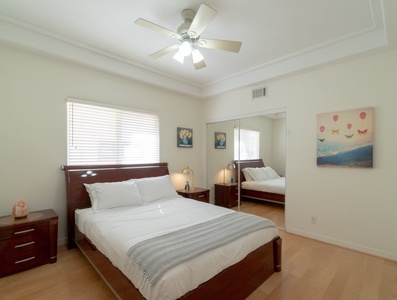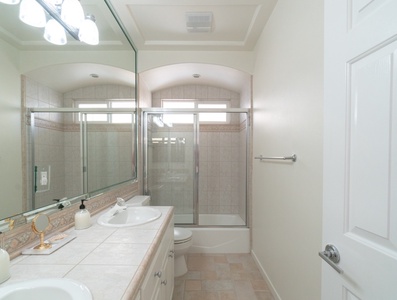 Rooms
rooms
Bedroom # 1

Primary Bedroom

1 King

Bedroom # 2

Guest Bedroom 2

1 Queen

Bedroom # 3

Guest Bedroom 3

1 Queen
---
---
Description
Welcome to Redondo Beach Bliss, a beautiful 3-bedroom, 2-bathroom house nestled in the vibrant neighborhood of Redondo Beach, California. Prepare to be enchanted as you step into this inviting vacation rental, where an abundance of natural light fills the open-concept living area, creating a warm and welcoming ambiance. The furnishings effortlessly blend old and new elements, resulting in a comfortable and eclectic atmosphere that will make you feel right at home.

Enjoy peak-a-boo ocean views from the kitchen and breakfast nook with french doors opening to the charming balcony.  Then head up to the rooftop patio to discover breathtaking panoramic vistas of the sparkling ocean. Immerse yourself in the beauty of the surroundings as you unwind on the rooftop. Although the furniture on the patio is limited, you can still indulge in al fresco dining and savor delicious meals on the charming balcony located off the kitchen.

The kitchen is functional and well-equipped to meet your culinary needs. With tile countertops providing plenty of meal prep space, and white cabinets offering ample storage, you'll find everything you need to prepare delicious meals during your stay. The kitchen is equipped with a double oven, ensuring convenience and versatility in your cooking endeavors. After preparing a delightful meal, gather around the large 8 person dining table to savor your culinary creations. Alternatively, you can take advantage of the al fresco dining on the patio just off the kitchen. It's the perfect spot to soak up the coastal atmosphere and create unforgettable memories.

Throughout the house, you'll find spacious rooms with plenty of storage and closet space, allowing you to unpack and settle in effortlessly. Hardwood floors grace the living area and bedrooms, adding a touch of elegance to the space. The rooms are flooded with natural lighting, creating a warm and welcoming environment.

The primary bedroom at North Lucia boasts an ensuite bathroom designed for relaxation and convenience. You'll find a large vanity with ample storage, dual sinks, a luxurious soaker tub, and an enclosed glass shower. It's a private oasis where you can pamper yourself and unwind after a day of exploring. The two guest bedrooms share a well-appointed bathroom, complete with a large vanity featuring two sinks and a shower/tub combination. It offers plenty of space for everyone to freshen up and get ready for the day ahead. Additionally, there is an additional powder room available for guests' convenience.

The home is located in a family-friendly neighborhood that offers easy access to a host of amenities and attractions. Explore nearby beaches, indulge in water activities, or take leisurely strolls along the coastline. You can also immerse yourself in the vibrant Redondo Beach culture by visiting local shops and restaurants.

Please note that Redondo Beach requires a minimum 30-day stay, making North Lucia an ideal choice for extended vacations or work assignments. If you're interested in booking a shorter stay, feel free to inquire, as price modifications may be available.

Escape to Redondo Beach Bliss and create unforgettable memories with your loved ones. Whether you're enjoying the peek-a-boo ocean views from inside the house, taking in the panoramic ocean vistas from the rooftop patio, or simply relaxing in the comfort of this beautiful vacation rental, you're sure to have a delightful stay in this coastal paradise. Book your stay today and start planning your dream getaway.
Room
Beds
---
Ensuite Bathroom, Central AC, Ceiling Fan
---
Guest Bedroom 2
Queen (1)
Central AC
---
Guest Bedroom 3
Queen (1)
Central AC
---
image
---
image
---
image
Kitchen and Dining
Dining Area
Kitchen Basics
Kitchen
Coffee Maker
Stove
Mixer
Accommodations
House Cleaning Optional ($)
Other Services Chauffeur ($)
Other Services Concierge ($)
Other Services Private Chef ($)
Other Services Massage ($)
Amenities
Essentials
Shampoo
Dryer
Hair Dryer
Keypad
Wifi/Internet
Cleanliness
24Hr Check-In
Self Check In / Check Out
Safety Features
Carbon Monoxide Detector
Smoke Detector
Suitability
Children Welcome
Pets Not Allowed
Smoking Not Allowed
Street Parking
Ceiling fans
Air Conditioning
Hot Water
Entertainment
Television
Laptop Friendly
Location/Property Types
Near Ocean
Town
Beach View
Ocean View
Popular Town
Outdoor Amenities
Beach Equipment Rentals Available ($)
Nearby Activities
Spa and wellness
Theme parks
Zoo
Museums
Hiking
Shopping
Fishing
Horseback riding
Golfing
Watersports
Cycling
Tennis
Scuba diving or Snorkeling
Bike path
November 2023
| S | M | T | W | T | F | S |
| --- | --- | --- | --- | --- | --- | --- |
| | | | 01 | 02 | 03 | 04 |
| 05 | 06 | 07 | 08 | 09 | 10 | 11 |
| 12 | 13 | 14 | 15 | 16 | 17 | 18 |
| 19 | 20 | 21 | 22 | 23 | 24 | 25 |
| 26 | 27 | 28 | 29 | 30 | | |
December 2023
| S | M | T | W | T | F | S |
| --- | --- | --- | --- | --- | --- | --- |
| | | | | | 01 | 02 |
| 03 | 04 | 05 | 06 | 07 | 08 | 09 |
| 10 | 11 | 12 | 13 | 14 | 15 | 16 |
| 17 | 18 | 19 | 20 | 21 | 22 | 23 |
| 24 | 25 | 26 | 27 | 28 | 29 | 30 |
| 31 | | | | | | |
January 2024
S
M
T
W
T
F
S
01
02
03
04
05

$200

06

$200

07

$200

08

$200

09

$200

10

$200

11

$200

12

$200

13

$200

14

$200

15

$200

16

$200

17

$200

18

$200

19

$200

20

$200

21

$200

22

$200

23

$200

24

$200

25

$200

26

$200

27

$200

28

$200

29

$200

30

$200

31

$200
February 2024
S
M
T
W
T
F
S
01

$334

02

$334

03

$334

04

$334

05

$334

06

$334

07

$334

08

$334

09

$334

10

$341

11

$334

12

$334

13

$334

14

$334

15

$381

16

$410

17

$417

18

$388

19

$362

20

$334

21

$334

22

$345

23

$355

24

$360

25

$334

26

$334

27

$334

28

$334

29

$334
March 2024
S
M
T
W
T
F
S
01

$346

02

$351

03

$334

04

$334

05

$334

06

$334

07

$334

08

$353

09

$372

10

$334

11

$334

12

$334

13

$334

14

$365

15

$385

16

$398

17

$352

18

$334

19

$334

20

$334

21

$368

22

$393

23

$400

24

$392

25

$389

26

$377

27

$386

28

$421

29

$431

30

$470

31

$497
April 2024
S
M
T
W
T
F
S
01

$365

02

$334

03

$334

04

$355

05

$370

06

$373

07

$335

08

$334

09

$334

10

$334

11

$346

12

$368

13

$378

14

$334

15

$334

16

$334

17

$334

18

$337

19

$365

20

$403

21

$334

22

$334

23

$334

24

$334

25

$339

26

$374

27

$390

28

$334

29

$334

30

$334
May 2024
S
M
T
W
T
F
S
01

$334

02

$374

03

$469

04

$481

05

$405

06

$334

07

$334

08

$334

09

$358

10

$414

11

$418

12

$338

13

$334

14

$334

15

$334

16

$369

17

$433

18

$436

19

$363

20

$334

21

$334

22

$334

23

$368

24

$497

25

$502

26

$437

27

$437

28

$374

29

$374

30

$404

31

$459
June 2024
S
M
T
W
T
F
S
01

$467

02

$402

03

$374

04

$374

05

$374

06

$411

07

$467

08

$483

09

$431

10

$410

11

$408

12

$561

13

$608

14

$644

15

$656

16

$638

17

$616

18

$613

19

$619

20

$532

21

$532

22

$547

23

$487

24

$475

25

$476

26

$487

27

$530

28

$538

29

$545

30

$490
July 2024
S
M
T
W
T
F
S
01

$544

02

$553

03

$577

04

$628

05

$644

06

$656

07

$607

08

$580

09

$604

10

$640

11

$680

12

$738

13

$728

14

$582

15

$559

16

$563

17

$583

18

$623

19

$658

20

$650

21

$596

22

$558

23

$546

24

$572

25

$618

26

$658

27

$648

28

$581

29

$527

30

$505

31

$527
August 2024
S
M
T
W
T
F
S
01

$568

02

$606

03

$685

04

$530

05

$480

06

$473

07

$529

08

$594

09

$625

10

$594

11

$528

12

$472

13

$468

14

$496

15

$539

16

$587

17

$577

18

$503

19

$430

20

$421

21

$431

22

$466

23

$518

24

$493

25

$413

26

$401

27

$401

28

$401

29

$401

30

$455

31

$449
September 2024
S
M
T
W
T
F
S
01

$401

02

$401

03

$401

04

$401

05

$401

06

$401

07

$414

08

$401

09

$401

10

$401

11

$401

12

$401

13

$401

14

$421

15

$401

16

$401

17

$401

18

$401

19

$401

20

$419

21

$426

22

$401

23

$401

24

$401

25

$401

26

$401

27

$401

28

$401

29

$401

30

$401
October 2024
S
M
T
W
T
F
S
01

$401

02

$401

03

$401

04

$401

05

$404

06

$401

07

$401

08

$401

09

$401

10

$401

11

$442

12

$474

13

$401

14

$401

15

$401

16

$401

17

$401

18

$440

19

$450

20

$401

21

$401

22

$401

23

$401

24

$401

25

$410

26

$415

27

$401

28

$401

29

$401

30

$401

31

$401
Available
Unavailable
Check-In Only
Check-Out Only
Please select dates
+ tax/fees