Timber Lakes Escape
Heber City, Utah 3 Bedrooms Vacation Rental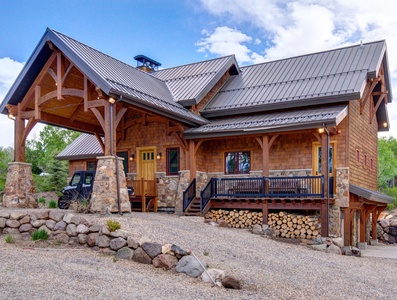 Show All Photos
Unit Photos
Discover the captivating charm of our cozy cabin, nestled amidst the tranquil beauty of a nearby lake and majestic mountains, inviting you to embark on an unforgettable retreat

Attached gazebo for ultimate outdoor relaxation

Secluded cabin nestled in private property

Upstairs family den and billiard table - the perfect combination for quality family time!

Grilling season just got better with our outdoor gas grill!

Nature's embrace from the comfort of your outdoor cabin seat

Experience mountain living at its finest in this gated community frequented by wildlife, offering a picturesque backdrop for your dream home

Enjoy the cozy ambiance of this attached gazebo

Enjoy captivating views from the gazebo!

Unveiling a sanctuary of beauty: Behold the enchanting allure of our Cabin

Captivating view of the cabin's front facade

Step right in and make yourself at home at the cabin's inviting Oakwood front door

Welcome to the living area, bathed in beautiful natural light

Modern living room upgrade: sleek flat screen TV takes center stage

Basking in the rustic charm: The cabin adorned with exquisite oakwood beams

Embracing elegance: The open floorplan living area drenched in captivating natural light

Seamless connection: The dining area gracefully nestled beside the inviting living space

The dining table intimately linked to the enchanting oakwood beam

A gateway to outdoor bliss: The dining area offers easy access to the patio and gazebo, inviting you to dine amidst nature's embrace

Mix, mingle, and indulge: The kitchen boasts with a stylish bar countertop

Bar countertop, perfect for socializing and savoring culinary delights

Equipped with a gas range, oven with a sleek hood, a convenient dishwasher, and a spacious double-door fridge, the kitchen is fully stocked to fulfill all your gastronomic desires

A canvas of elegance: The kitchen floor adorned with spacious and exquisite tiles, elevating the space with its timeless charm

A cozy haven awaits: The living area boasts a comforting fireplace and offers convenient access to the master bedroom, creating a seamless retreat for relaxation and tranquility

Cozy bed clothed with luxuriously soft linens

Ensuite elegant and timelessly adorned bathroom

Ensuite bathroom in its exquisite tile walls with a glass enclosure

Tranquil relaxation in the master bed with scenic views outside window walls

Never miss your favorite movie: show in the master bedroom's flatscreen TV

Experience true hospitality in our inviting guest room, where every detail is thoughtfully curated for your utmost comfort

Embracing rustic charm_ The staircase to the second floor

Gather and revel in style_ An expansive den designed to host unforgettable moments for every occasion, exclusively at our captivating cabin

Fireside comfort at its finest_ Sink into serenity on the plush couch, embraced by the warm glow of the fireplace

Our delightful family room features charming bunk beds for children and a cozy crib, ensuring a cherished and comfortable stay for the whole family

Unleash your competitive spirit at our den, complete with a captivating billiard table, providing endless entertainment and friendly competitions

Gather the whole family around our welcoming family table, where laughter and conversations create lasting memories

Unleash your competitive spirit at our den, complete with a captivating billiard table, providing endless entertainment and friendly competitions

Roomy second floor bath room

Elegant bathroom with a bath tub and shower

The den sets the stage for timeless Gatherings and cherished moments

Den's access to the attic

Discover tranquility in our attic, featuring a sumptuously soft and inviting couch, the perfect sanctuary to relax and unwind

Our attic boasts a stunning chandelier adorned with a fan, merging exquisite style with refreshing comfort for a truly enchanting retreat

Experience the convenience of our roomy laundry area, where chores become a breeze

Attached basement garage

Perfect outdoor scenery in every part of the house

Stunning aerial shot of the nearby mountain range from the cabin's perspective

Captivating aerial view of mountain cabin, perfect for a serene living experience

Front left facade of the Cabin

Timber Lakes cabin in a private property near the main road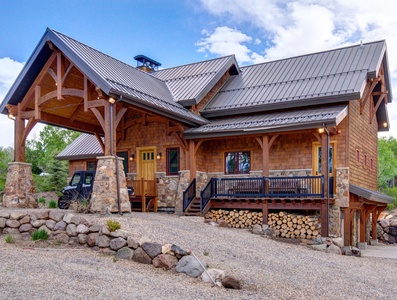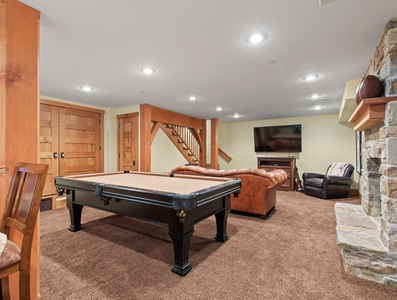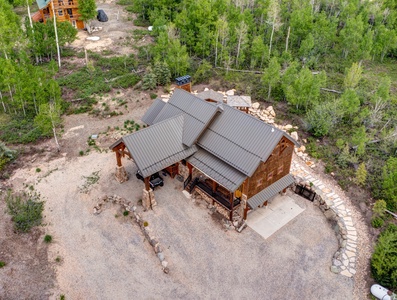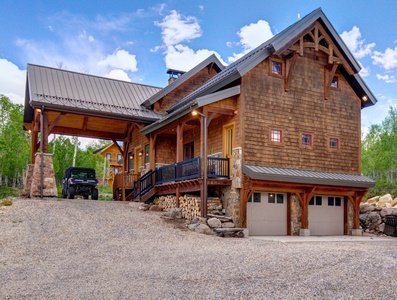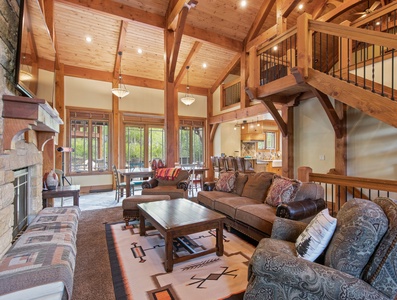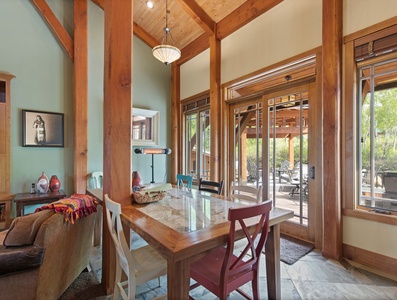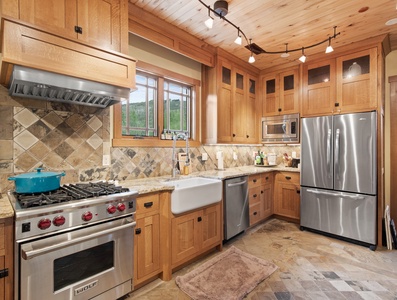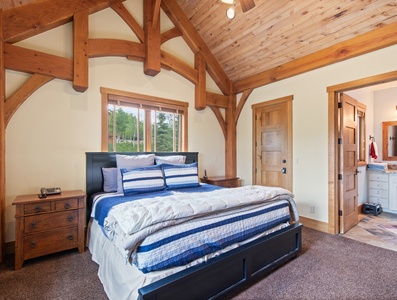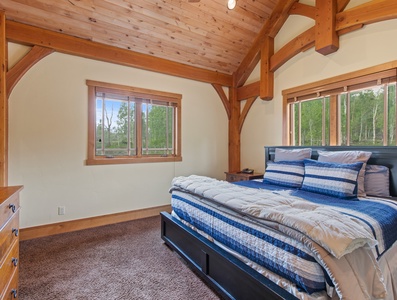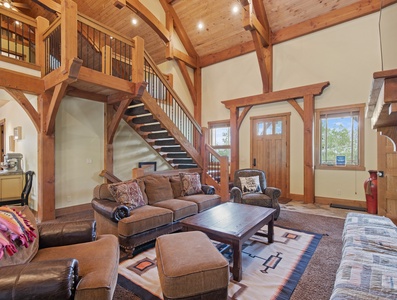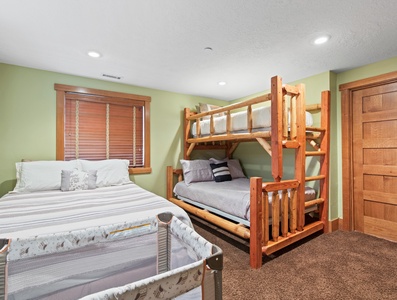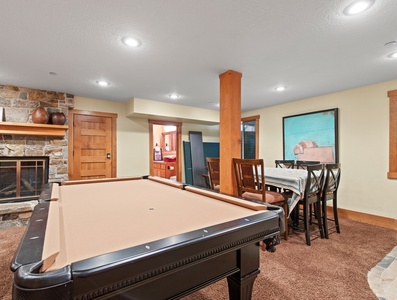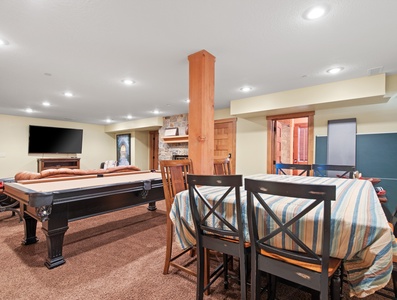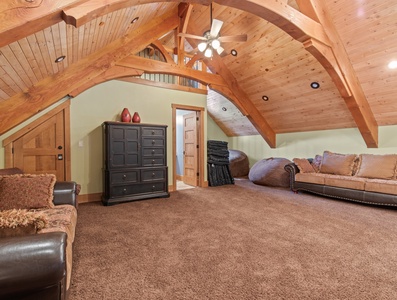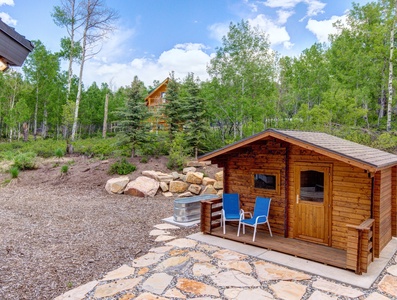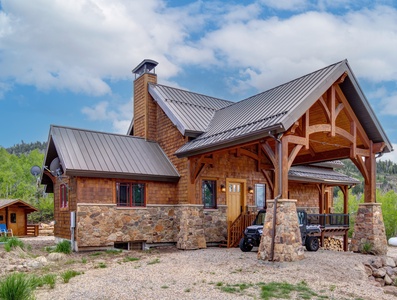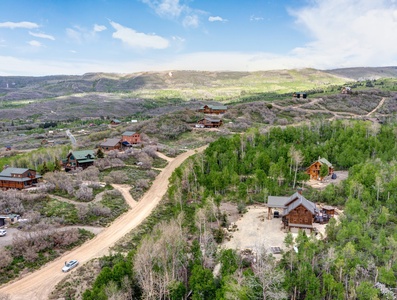 Rooms
rooms
Bedroom # 1

Primary Bedroom

1 King

Bedroom # 2

Guest Bedroom 2

1 Queen

Bedroom # 3

Guest Bedroom 3

1 Queen, 1 Bunk Bed,

Common

Loft
---
---
Description
Welcome to Timber Lakes Escape by Gather, a stunning 3-bedroom, 4-bath vacation retreat nestled in the picturesque woodland landscapes of Timber Lakes, Utah. This custom-built home, sleeping up to 8 guests, captures the tranquility of mountain living in a luxurious setting on a private one acre lot.

Step inside, and you'll immediately appreciate the master craftsmanship that distinguishes this property. Custom-made oak doors open to expansive spaces framed by spectacular timber beams and large windows that let in ample natural light, offering enchanting views of the surrounding forest.

In the heart of the home, a gourmet kitchen features striking granite countertops, stone flooring, and unique tiling. Equipped with top-notch appliances, this kitchen is ready for any culinary adventure.

The bedrooms offer havens of relaxation and rejuvenation. The primary suite comes complete with a private ensuite bathroom. A second bedroom and a cozy bunk room, perfect for children or friends, share a well-appointed bathroom, ensuring convenience for all.

Adding to the home's allure is a charming loft area, perfect for lounging or an impromptu game night. A full-size pool table provides endless entertainment and friendly competition.

Situated in the gated community of Timber Lakes, guests can expect frequent wildlife sightings and access to fantastic amenities, including private winter access to the National Forest, lakes, trail systems, a sports court area, picnic areas, and ATV/horse use.

Just seven miles east of Heber and a short drive from the renowned slopes of Park City, Timber Lake Escape offers the perfect balance between a secluded woodland retreat and accessibility to popular attractions. Whether planning a short-term vacation or a long-term stay, Timber Lake Escape is your ideal sanctuary for creating memorable mountain living experiences.

Please note that Timber Lakes Escape requires a minimum 30-day stay, making Heber City an ideal choice for extended vacations or work assignments.
Room
Beds
---
Ensuite Bathroom, Ceiling Fan
---
Guest Bedroom 2
Queen (1)
Ensuite Bathroom
---
Guest Bedroom 3
Queen (1)Bunk Bed (1)
Ensuite Bathroom, Twin-Over-Twin Bunk
---
image
---
image
---
image
---
image
---
image
Kitchen and Dining
Dining Area
Kitchen Basics
Kitchen
Refrigerator
Coffee Maker
Microwave
Dishwasher
Dishes Utensils
Stove
Toaster
Oven
BBQ
Freezer
Blender
Toaster Oven
Wood burning stove
Disposal
Accommodations
House Cleaning Optional ($)
Other Services Chauffeur ($)
Other Services Concierge ($)
Other Services Private Chef ($)
Other Services Massage ($)
Amenities
Essentials
Shampoo
Washer
Hair Dryer
Linens
Keypad
Wifi/Internet
High Chair
Pack and Play
Cleanliness
24Hr Check-In
Self Check In / Check Out
Safety Features
Carbon Monoxide Detector
First Aid Kit
Fire Extinguisher
Smoke Detector
Deadbolt Lock
Outdoor Lighting
Suitability
Children Welcome
Pets Not Allowed
Smoking Not Allowed
Free Parking
Ceiling fans
Fireplace
Long Term Stays Allowed
Heating
Bath Tub
Hot Water
Entertainment
Television
DVD
Satellite or Cable TV
Laptop Friendly
Location/Property Types
Mountain
Mountain View
Private / Secluded
November 2023
| S | M | T | W | T | F | S |
| --- | --- | --- | --- | --- | --- | --- |
| | | | 01 | 02 | 03 | 04 |
| 05 | 06 | 07 | 08 | 09 | 10 | 11 |
| 12 | 13 | 14 | 15 | 16 | 17 | 18 |
| 19 | 20 | 21 | 22 | 23 | 24 | 25 |
| 26 | 27 | 28 | 29 | 30 | | |
December 2023
S
M
T
W
T
F
S
01

$400

02

$400

03

$400

04

$400

05

$400

06

$400

07

$400

08

$400

09

$400

10

$400

11

$400

12

$400

13

$400

14

$400

15

$400

16

$400

17

$400

18

$400

19

$400

20

$400

21

$400

22

$400

23

$400

24

$400

25

$400

26

$400

27

$400

28

$400

29

$400

30

$400

31

$400
January 2024
S
M
T
W
T
F
S
01

$400

02

$400

03

$400

04

$400

05

$400

06

$400

07

$400

08

$400

09

$400

10

$400

11

$400

12

$400

13

$400

14

$400

15

$400

16

$400

17

$400

18

$400

19

$400

20

$400

21

$400

22

$400

23

$400

24

$400

25

$400

26

$400

27

$400

28

$400

29

$400

30

$400

31

$400
February 2024
S
M
T
W
T
F
S
01

$400

02

$400

03

$400

04

$400

05

$400

06

$400

07

$400

08

$400

09

$400

10

$400

11

$400

12

$400

13

$400

14

$400

15

$400

16

$400

17

$400

18

$400

19

$400

20

$400

21

$400

22

$400

23

$400

24

$400

25

$400

26

$400

27

$400

28

$400

29

$400
March 2024
S
M
T
W
T
F
S
01

$400

02

$400

03

$400

04

$400

05

$400

06

$400

07

$400

08

$400

09

$400

10

$400

11

$400

12

$400

13

$400

14

$400

15

$400

16

$400

17

$400

18

$400

19

$400

20

$400

21

$400

22

$400

23

$400

24

$400

25

$400

26

$400

27

$400

28

$400

29

$400

30

$400

31

$400
April 2024
S
M
T
W
T
F
S
01

$162

02

$162

03

$162

04

$162

05

$162

06

$162

07

$162

08

$162

09

$162

10

$162

11

$162

12

$162

13

$162

14

$162

15

$162

16

$162

17

$162

18

$162

19

$162

20

$162

21

$162

22

$162

23

$162

24

$162

25

$162

26

$162

27

$162

28

$162

29

$162

30

$162
May 2024
S
M
T
W
T
F
S
01

$162

02

$162

03

$162

04

$162

05

$162

06

$162

07

$162

08

$162

09

$162

10

$162

11

$162

12

$162

13

$162

14

$162

15

$162

16

$162

17

$162

18

$162

19

$162

20

$162

21

$162

22

$162

23

$162

24

$162

25

$162

26

$162

27

$162

28

$162

29

$162

30

$162

31

$162
June 2024
S
M
T
W
T
F
S
01

$162

02

$162

03

$162

04

$162

05

$162

06

$162

07

$162

08

$162

09

$162

10

$162

11

$162

12

$162

13

$162

14

$162

15

$162

16

$162

17

$162

18

$162

19

$162

20

$162

21

$162

22

$162

23

$162

24

$162

25

$162

26

$162

27

$162

28

$162

29

$162

30

$162
July 2024
S
M
T
W
T
F
S
01

$162

02

$162

03

$162

04

$162

05

$162

06

$162

07

$162

08

$162

09

$162

10

$162

11

$162

12

$162

13

$162

14

$162

15

$162

16

$162

17

$162

18

$162

19

$162

20

$162

21

$162

22

$162

23

$162

24

$162

25

$162

26

$162

27

$162

28

$162

29

$162

30

$162

31

$162
August 2024
S
M
T
W
T
F
S
01

$162

02

$162

03

$162

04

$162

05

$162

06

$162

07

$162

08

$162

09

$162

10

$162

11

$162

12

$162

13

$162

14

$162

15

$162

16

$162

17

$162

18

$162

19

$162

20

$162

21

$162

22

$162

23

$162

24

$162

25

$162

26

$162

27

$162

28

$162

29

$162

30

$162

31

$162
September 2024
S
M
T
W
T
F
S
01

$162

02

$162

03

$162

04

$162

05

$162

06

$162

07

$162

08

$162

09

$162

10

$162

11

$162

12

$162

13

$162

14

$162

15

$162

16

$162

17

$162

18

$162

19

$162

20

$162

21

$162

22

$162

23

$162

24

$162

25

$162

26

$162

27

$162

28

$162

29

$162

30

$162
October 2024
S
M
T
W
T
F
S
01

$162

02

$162

03

$162

04

$162

05

$162

06

$162

07

$162

08

$162

09

$162

10

$162

11

$162

12

$162

13

$162

14

$162

15

$162

16

$162

17

$162

18

$162

19

$162

20

$162

21

$162

22

$162

23

$162

24

$162

25

$162

26

$162

27

$162

28

$162

29

$162

30

$162

31

$162
Available
Unavailable
Check-In Only
Check-Out Only
Please select dates
+ tax/fees