Cozy Cactus Pad
Surprise, Arizona 3 Bedrooms Vacation Rental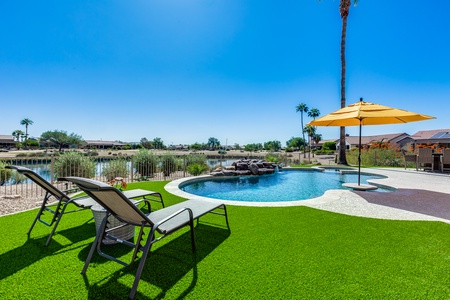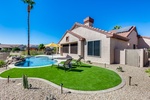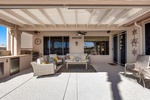 Show All Photos
Unit Photos
Step into the embracing comfort of the Cozy Cactus Pad.

A humble abode of 3 bedroom and 2.5 bath home sits alongside the private Desert Springs Golf Course in a beautifully manicured neighborhood in the charming town of Surprise, AZ.

Enjoy spectacular views of sunrise and sunset from the comfort of the private covered patio overlooking the pond, equipped with several seating options and a ceiling fan for maximum relaxation.

Dive into warmth with our heated pool.

This open concept bungalow style house supports bright, spacious rooms with plenty of windows and elegant modern furnishings to make your stay comfortable and convenient.

Adjacent to the kitchen, the den sports a flat screen television and fireplace along with two cozy sofas and a view of the backyard, while the living room has an additional sofa, sitting chairs and central coffee table.

Start your day in our sunlit breakfast nook.

Welcome home!!

Unwind in the living area, where expansive windows frame the beauty of the backyard.

Living room oasis with expansive windows framing captivating pool views.

Experience seamless living with our open-concept floorplan, blending spaces beautifully.

Where morning coffee meets evening chill: our kitchen bar and breakfast nook flows effortlessly into the living space, framing breathtaking backyard vistas.

Sip and savor at our stylish kitchen bar – where culinary delights meet chic design.

Experience seamless living with our open-concept floorplan, blending spaces beautifully.

Unleash your culinary creativity in our spacious kitchen, boasting expansive countertops and room to gather.

Sip and savor at our stylish kitchen bar – where culinary delights meet chic design.

Master the art of cooking in a kitchen equipped with abundant cabinetry and storage solutions.

Unlock gourmet experiences with the kitchen's top-tier appliances.

Master the art of cooking in a kitchen equipped with abundant cabinetry and storage solutions.

Dine in style: rustic table set for eight awaits hearty feasts.

Complete with grand high ceilings and an elegant hanging lamp fixture, this room will surely provide a lovely setting for all of your group meals.

Dine in style: rustic table set for eight awaits hearty feasts.

Adjacent to the kitchen, the den sports a flat screen television and fireplace along with two cozy sofas and a view of the backyard.

A dedicated home office setup at the den.

The den is situated right off the formal dining.

Elegantly adorned for a dreamy and luxurious experience.

Luxe primary suite with backyard views and window seat.

8Primary suite with a plush king bed clothed with fine linens.

Complete with a flatscreen TV to catch up with favorite shows.

Expansive primary ensuite with a soaking tub, enclosed walk-in shower and a wide vanity space.

Guest suite with scenic outdoor views.

Luxury queen bed for a cozy retreat.

Second guest suite with a plush queen bed in fine linens

Cozy private sanctuary for a restful slumber

Communal bathroom for the guest rooms.

Walkin closet

Around the corner from the living room is a half-bath for general use.

The front of the home displays a large walkway and driveway/garage with ample parking options.

Relax at the patio overlooking the pool

The Cozy Cactus Pad, a 3 bedroom and 2.5 bath home sits alongside the private Desert Springs Golf Course in a beautifully manicured neighborhood in the charming town of Surprise, AZ

Patio grill and meal prep area

Chill at the patio day and night

Wide walkway

Front door with a seating area

The front of the home displays a large walkway and driveway/garage with ample parking options.

Welcome home!

Seamless floorplan that openly connects the main spaces

Luxe kitchen bar

Wide countertop and plenty of cabinetry

Outdoor dining option, perfect for dinner family gathering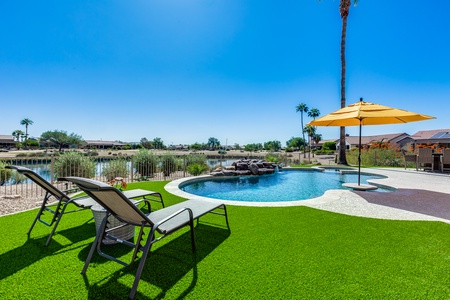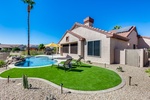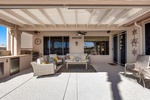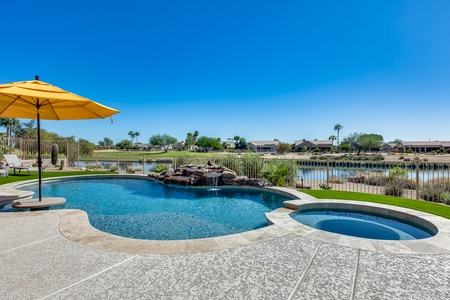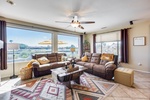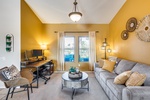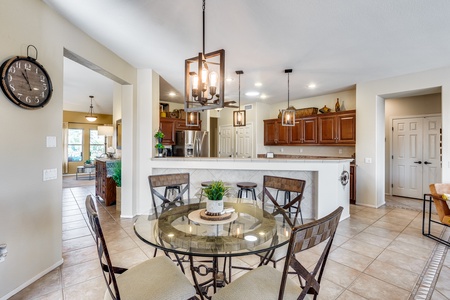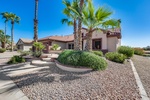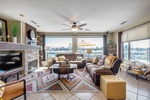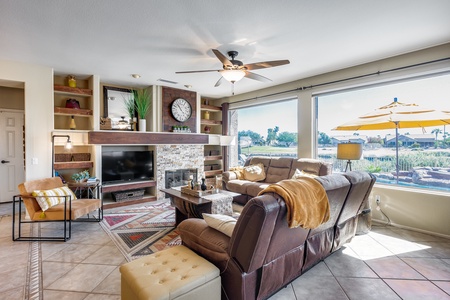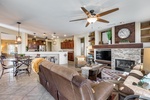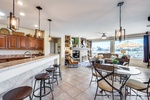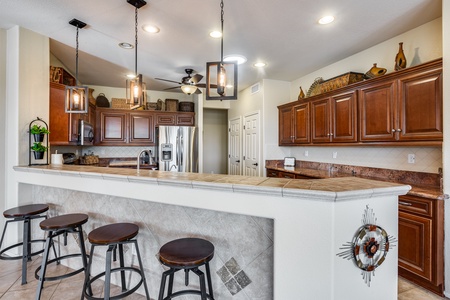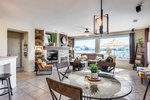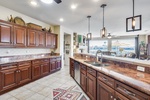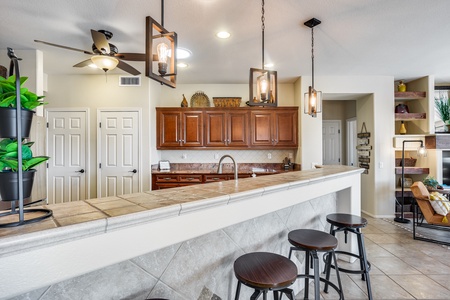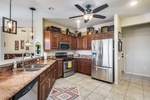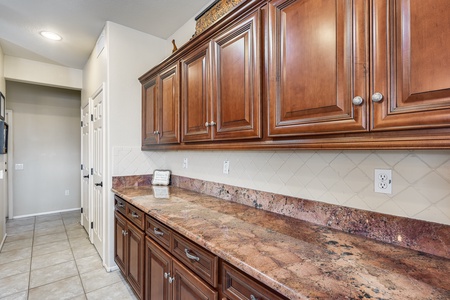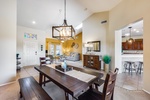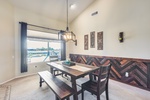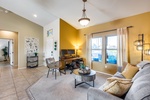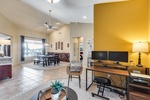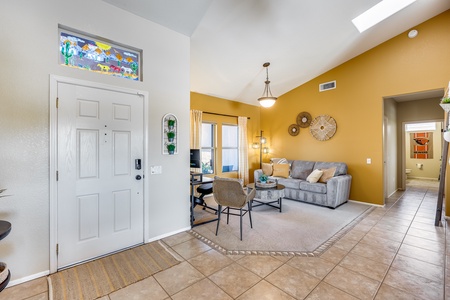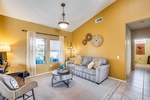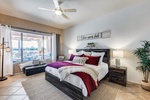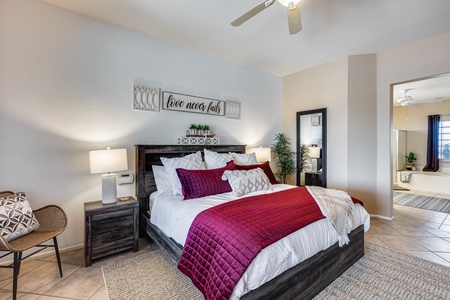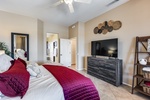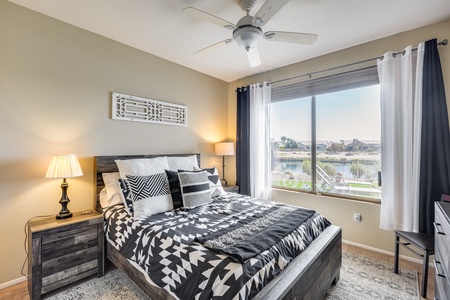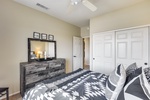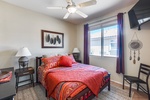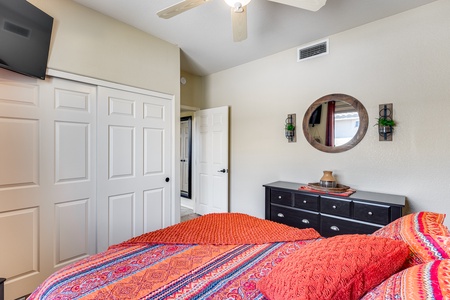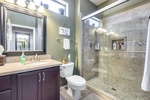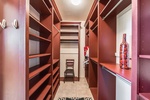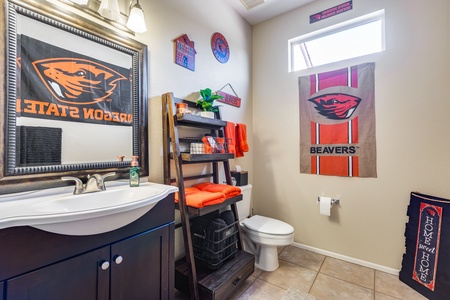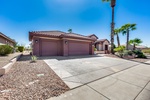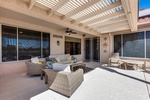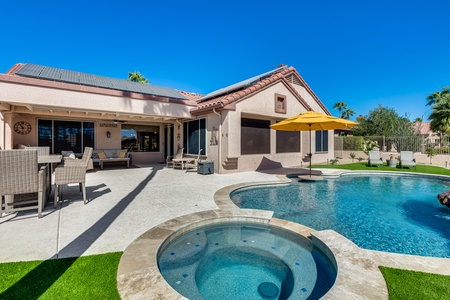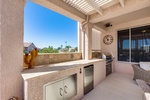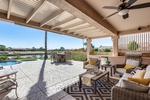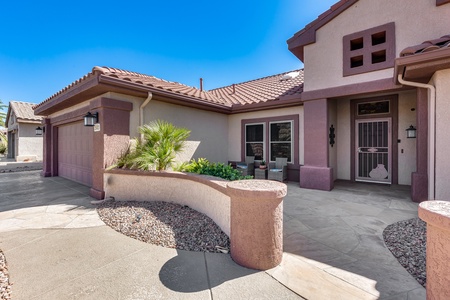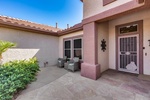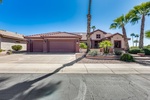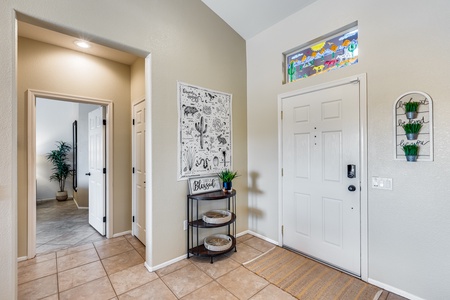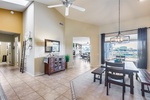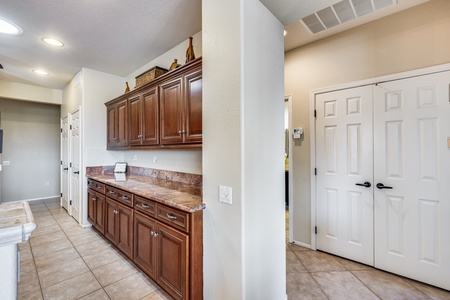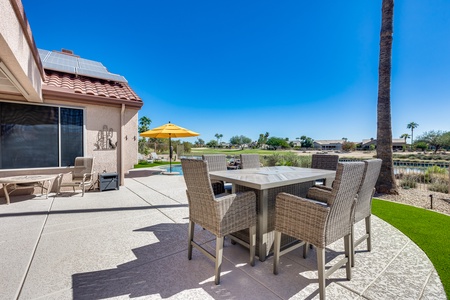 Rooms
rooms
Bedroom # 1

Primary Bedroom

1 King

Bedroom # 2

Guest Bedroom 2

1 Queen

Bedroom # 3

Guest Bedroom 3

1 Queen
---
---
Description
Welcome to the Cozy Cactus Pad. This wonderful 3 bedroom and 2.5 bath home sits alongside the private Desert Springs Golf Course in a beautifully manicured neighborhood in the charming town of Surprise, AZ. Let this home be your answer for a peaceful desert getaway far from the hustle and bustle of Phoenix, but less than an hour away from downtown Phoenix and the Phoenix Sky Harbor International Airport for easy access to all of your metropolitan needs.

This open concept bungalow style house supports bright, spacious rooms with plenty of windows and elegant modern furnishings to make your stay comfortable and convenient. The beautifully outfitted marble-top kitchen comes fully equipped with several modern stainless steel appliances and rich wooden cabinetry. The large three-stool bar and four-person breakfast table allow for entertainment options near the kitchen as well as in the formal dining room where there is a large table fit for 8. Complete with grand high ceilings and an elegant hanging lamp fixture, this room will surely provide a lovely setting for all of your group meals. Adjacent to the kitchen, the den sports a flat screen television and fireplace along with two cozy sofas and a view of the backyard, while the living room has an additional sofa, sitting chairs and central coffee table. Around the corner from the living room is a half-bath for general use.

The master bedroom comes with a King-sized bed, ceiling fan, television, views of the water and golf course, a very spacious walk-in closet, and a private ensuite with a large double vanity, walk-in shower and soaking tub. The 2 guest rooms both include a queen-sized bed, television and ceiling fan, with shared access to the guest bathroom which includes a walk-in shower with single vanity. The entire home, including the bedrooms, is equipped with central air conditioning for optimal temperature control.

The front of the home displays a large walkway and driveway/garage with ample parking options. The backyard area of this home is delicately manicured with a small private golf course, waterfall and garden. Enjoy spectacular views of sunrise and sunset from the comfort of the private covered patio overlooking the pond, equipped with several seating options and a ceiling fan for maximum relaxation. Other outdoor activities in the area include a number of hikes, bike paths, golf courses and shopping venues.

Please note - one occupant must be 45+ and all occupants 18+ as this is an active living community. We hope you enjoy your stay at our lovely desert home-away-from-home!

Please note that a new pool is currently being built at Cozy Cactus Pad with a projected opening date of November 1, 2023. Pool heat will be made available to guests for an additional $75 per day once construction wraps up and the pool is usable.
Room
Beds
---
Golf Course View, Water View, Central A/C, Ceiling Fan, Ensuite Bathroom
---
Guest Bedroom 2
Queen (1)
Central A/C, Ceiling Fan
---
Guest Bedroom 3
Queen (1)
Central A/C, Ceiling Fan
---
image
---
image
---
image
Nearby Activities
Spa and wellness
Museums
Hiking
Shopping
Bike path
Golfing
Kitchen and Dining
Dining Area
Kitchen Basics
Kitchen
Refrigerator
Coffee Maker
Microwave
Dishwasher
Dishes Utensils
Stove
Toaster
Oven
BBQ
Freezer
Accommodations
House Cleaning Optional ($)
Other Services Chauffeur ($)
Other Services Concierge ($)
Other Services Private Chef ($)
Other Services Massage ($)
Amenities
Essentials
Shampoo
Dryer
Washer
Hair Dryer
Linens
Iron
Parking space
Keypad
Extra Pillows And Blankets
Wifi/Internet
Fire pit
Cleanliness
Self Check In / Check Out
Safety Features
Carbon Monoxide Detector
First Aid Kit
Fire Extinguisher
Smoke Detector
Suitability
Pets Not Allowed
Smoking Not Allowed
Free Parking
Ceiling fans
Fireplace
Air Conditioning
Single Level Home
Long Term Stays Allowed
Heating
Bath Tub
Hot Water
Outdoor Amenities
Garden
Private yard
Lanai/Balcony
Location/Property Types
Resort
Golf Course Front
Golf Course View
Garden View
Lake
Waterfront
Property Manager
Kali Goodenough
30 Day Properties
November 2023
| S | M | T | W | T | F | S |
| --- | --- | --- | --- | --- | --- | --- |
| | | | 01 | 02 | 03 | 04 |
| 05 | 06 | 07 | 08 | 09 | 10 | 11 |
| 12 | 13 | 14 | 15 | 16 | 17 | 18 |
| 19 | 20 | 21 | 22 | 23 | 24 | 25 |
| 26 | 27 | 28 | 29 | 30 | | |
December 2023
S
M
T
W
T
F
S
01

$159

02

$159

03

$159

04

$159

05

$159

06

$159

07

$159

08

$159

09

$159

10

$159

11
12
13
14

$169

15

$169

16

$169

17

$169

18

$169

19

$169

20

$169

21

$169

22
23
24
25
26
27
28
29

$325

30

$367

31

$339
January 2024
S
M
T
W
T
F
S
01

$309

02

$206

03

$230

04

$258

05

$262

06

$270

07

$269

08

$181

09
10
11
12
13
14
15
16
17
18
19
20
21
22
23
24
25
26
27
28
29
30
31
February 2024
S
M
T
W
T
F
S
01
02
03
04
05
06
07
08

$1,100

09

$1,100

10

$1,100

11

$1,100

12

$1,100

13

$354

14

$349

15

$439

16

$487

17

$503

18
19
20
21
22
23
24
25
26
27
28
29
March 2024
| S | M | T | W | T | F | S |
| --- | --- | --- | --- | --- | --- | --- |
| | | | | | 01 | 02 |
| 03 | 04 | 05 | 06 | 07 | 08 | 09 |
| 10 | 11 | 12 | 13 | 14 | 15 | 16 |
| 17 | 18 | 19 | 20 | 21 | 22 | 23 |
| 24 | 25 | 26 | 27 | 28 | 29 | 30 |
| 31 | | | | | | |
April 2024
| S | M | T | W | T | F | S |
| --- | --- | --- | --- | --- | --- | --- |
| | 01 | 02 | 03 | 04 | 05 | 06 |
| 07 | 08 | 09 | 10 | 11 | 12 | 13 |
| 14 | 15 | 16 | 17 | 18 | 19 | 20 |
| 21 | 22 | 23 | 24 | 25 | 26 | 27 |
| 28 | 29 | 30 | | | | |
May 2024
S
M
T
W
T
F
S
01
02
03
04
05
06
07
08
09
10
11
12

$431

13

$207

14

$178

15

$198

16

$277

17

$317

18

$308

19

$238

20

$249

21

$172

22

$198

23

$266

24

$425

25

$400

26

$361

27

$315

28

$177

29

$193

30

$239

31

$373
June 2024
S
M
T
W
T
F
S
01

$168

02

$145

03

$145

04

$145

05

$145

06

$240

07

$271

08

$145

09

$145

10

$145

11

$145

12

$145

13

$145

14

$154

15

$174

16

$145

17

$145

18

$145

19

$145

20

$161

21

$167

22

$186

23

$155

24

$145

25

$145

26

$145

27

$152

28

$164

29

$176

30

$152
July 2024
S
M
T
W
T
F
S
01

$167

02

$161

03

$173

04

$182

05

$196

06

$199

07

$177

08

$145

09

$145

10

$145

11

$145

12

$159

13

$160

14

$145

15

$145

16

$145

17

$145

18

$146

19

$169

20

$171

21

$150

22

$145

23

$145

24

$145

25

$154

26

$181

27

$184

28

$159

29

$145

30

$145

31

$145
August 2024
S
M
T
W
T
F
S
01

$152

02

$176

03

$176

04

$150

05

$145

06

$145

07

$145

08

$145

09

$166

10

$167

11

$145

12

$145

13

$145

14

$145

15

$145

16

$156

17

$155

18

$145

19

$145

20

$145

21

$145

22

$145

23

$159

24

$160

25

$146

26

$145

27

$145

28

$145

29

$158

30

$222

31

$220
September 2024
S
M
T
W
T
F
S
01

$201

02

$186

03

$145

04

$145

05

$153

06

$178

07

$179

08

$153

09

$145

10

$145

11

$145

12

$162

13

$199

14

$205

15

$164

16

$145

17

$145

18

$145

19

$166

20

$208

21

$207

22

$155

23

$145

24

$145

25

$145

26

$160

27

$207

28

$205

29

$146

30

$145
October 2024
S
M
T
W
T
F
S
01

$145

02

$145

03

$170

04

$221

05

$213

06

$154

07

$145

08

$145

09

$145

10

$191

11

$233

12

$228

13

$173

14

$145

15

$145

16

$145

17

$210

18

$245

19

$229

20

$178

21

$145

22

$145

23

$150

24

$229

25

$251

26

$238

27

$187

28

$145

29

$145

30

$151

31

$243
Available
Unavailable
Check-In Only
Check-Out Only
Please select dates
+ tax/fees