OFB Cherry Hills
Peoria, Arizona 5 Bedrooms Vacation Rental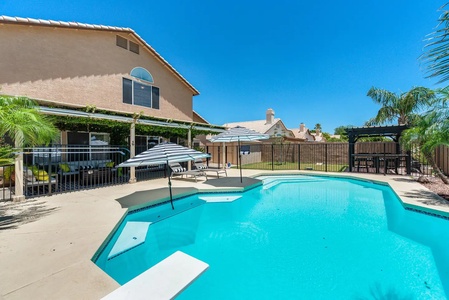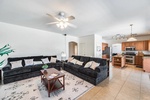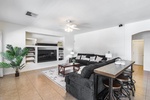 Show All Photos
Unit Photos
Private Pool for your enjoyment

Spacious living room for your Gatherings

Big tv for movie nights

Fun outside area with partial shade

Outdoor Patio

Living room with bar stool

Table for dinners together

Dining room with lots of natural light

Open concept

Full kitchen

Kitchen equipped with everything you need

From the kitchen walk right outside to the yard/pool area

Kitchen

Kitchen

Stairs leading upstairs

Office in the upstairs area

Desk and chair

Primary bedroom with king bed

Guest bedroom with king bed

Barn door separates bedroom from ensuite bathroom

Full bathroom

Big shower and walk in closet with bonus tv!

Another guest bedroom with queen bed

Tv in bedroom

Tv in each room

Full Guest bathroom

Bedroom 4 with queen bed

Bedroom 4 with queen bed

Bedroom 5 with twin beds

Third Guest Full bathroom

Upstairs corridor

Laundry room

Exterior

Entire House

Private Pool

Patio with shade

Outdoor dining for 4

Pool has a gate

Backyard

Covered patio

Pool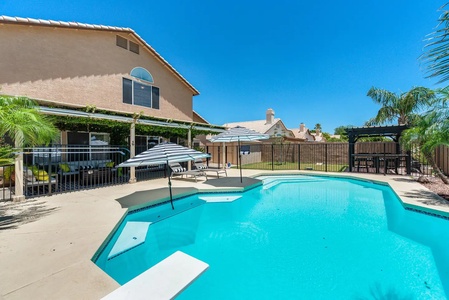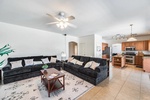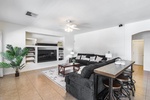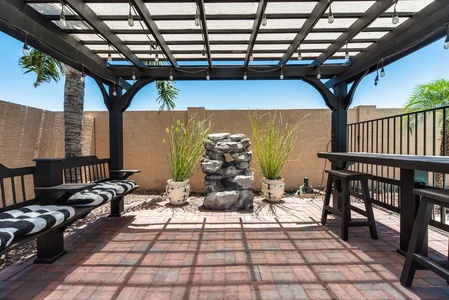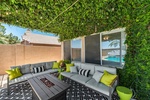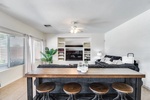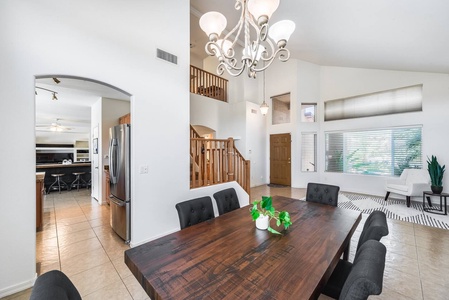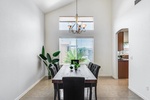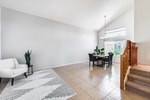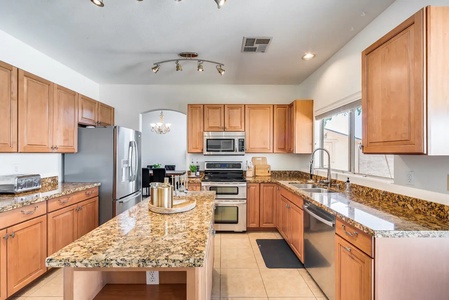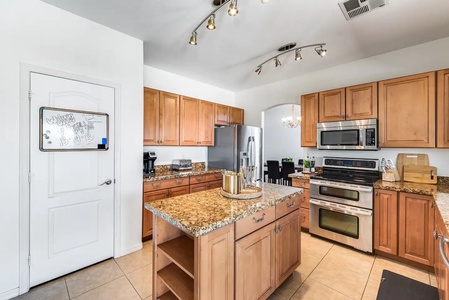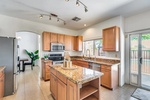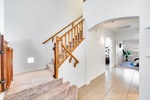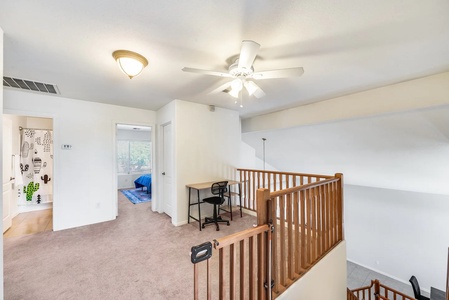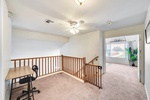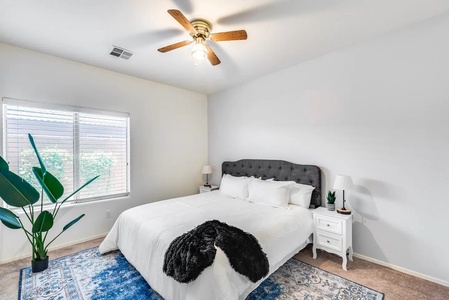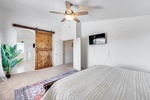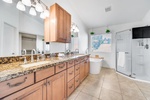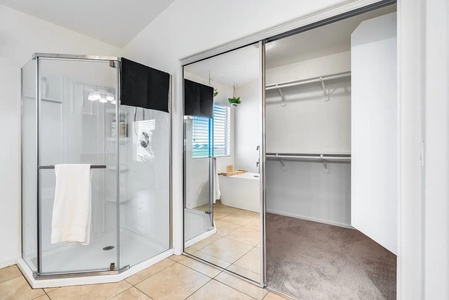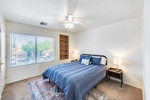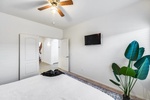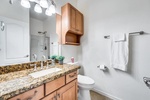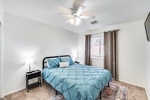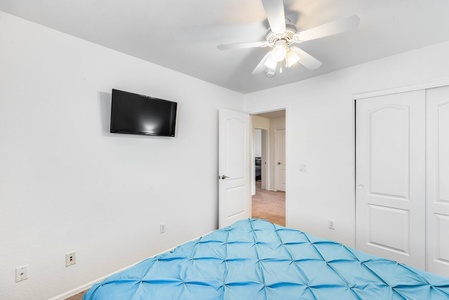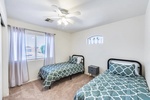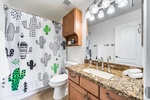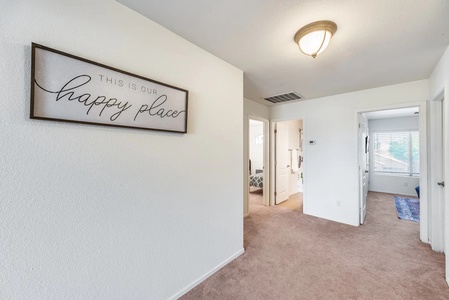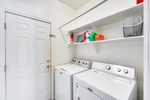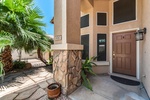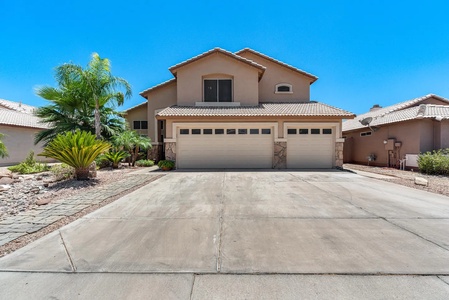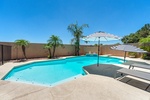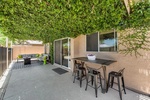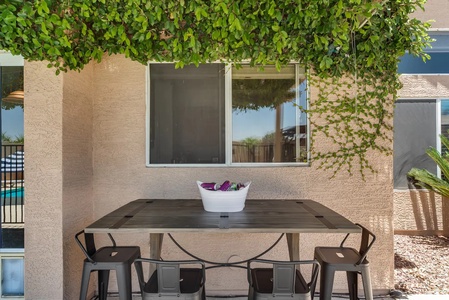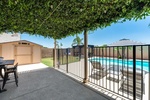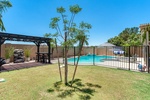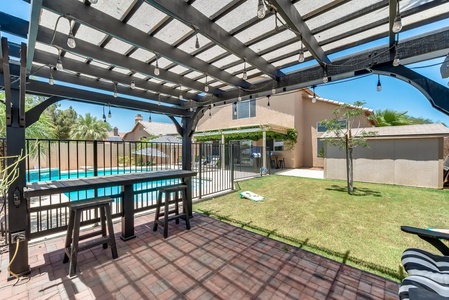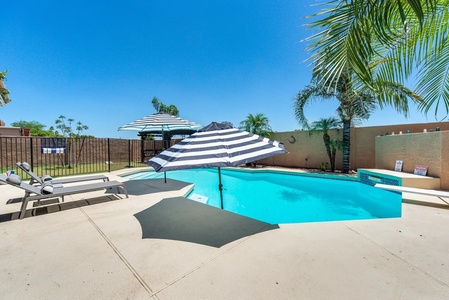 Rooms
rooms
Bedroom # 1

Primary Bedroom

1 King

Bedroom # 2

Guest Bedroom 2

1 King

Bedroom # 3

Guest Bedroom 3

1 Queen

Bedroom # 4

Guest Bedroom 4

1 Queen

Bedroom # 5

Guest Bedroom 5

2 Twin
---
Amenities
Walk to Shops / Restaurants
---
Reviews
Reviews
Apr 03, 2023

Home

Home and all the amenities are exactly like what the property description says. Would stay there again in the future.
---
Description
Gather the whole family together and bask in the bliss of Cherry Hills, a delightful and modern 5 bedroom, 3 bath home that sleeps up to 12 guests in the heart of Peoria, AZ. The tastefully modern interior decor and beach-themed private backyard pool area provide an inviting ambiance for any occasion, making guests feel right at home.

Step into Cherry Hills to experience the open-concept design. The living room is furnished with 2 large plush sofas, a flatscreen television, and a large polished wooden 4-person countertop with stools. Adjacent to the living room is the bright and spacious kitchen, complete with all essential stainless steel appliances, gorgeous marble countertops and rich wooden cabinetry, as well as a central island countertop, making it the perfect locale for any gourmet chef to simultaneously cook and entertain. Beyond the kitchen, the dining room boasts high ceilings with an elegant chandelier above a large dining table that seats up to 6 guests, and ample extra space for other activities. An abundance of windows in each section of the common spaces allows plenty of natural light to flow through the house.

On the second floor, the main bedroom is furnished with a king bed, ceiling fan, flatscreen television as well as views of the neighborhood outside. Across from the sleeping space, a bold wooden sliding door separates the primary ensuite, which includes a double vanity, walk-in shower, soaking tub, plenty of cabinetry, and a large walk-in closet. Guest bedroom 2 also houses a comfortable king bed on the first level of the house, along with a personal flatscreen television and ceiling fan. Bedrooms 3 and 4 each come with a queen bed, ceiling fan and closet space. The 5th bedroom includes 2 twin beds and a ceiling fan. There are 2 additional full bathrooms in this house, 1 including a walk-in shower, and 1 with a shower/tub combo, as well as an in-unit washer and dryer.. A carpeted common space on the second level includes a small desk, overhead ceiling fan and light fixtures.

Outside, the expansive private backyard contains a variety of activities to spend time in the fresh open air. Enjoy lounging on the outdoor sofa or dining table under the uniquely lush and naturally shaded canopy, as you overlook the impressive diving pool. This pool comes equipped with its own diving board and supports a depth conducive for countless rounds of cannonballs into the refreshing blue water. Poolside chairs and umbrellas offer options for soaking up some sun or shade by the waters edge. A shaded cabana is located on the far corner of the backyard where plush bench seating and a high-top table for two can be used. The surrounding foliage and multitude of palm trees along the perimeter of the backyard add to the beachy, summer atmosphere of the space. There is an additional storage shed available for any extra supplies.

Cozily situated in the greater Phoenix area, this property rests just 25 minutes from downtown Phoenix and Phoenix Sky Harbor International Airport, and is within walking distance to a variety of shops, restaurants, parks, and entertainment venues. This wonderfully spacious and welcoming home will surely satisfy any occasion and be the locale for many great memories to come! Make your visit to Peoria one for the whole family to enjoy and cherish.

Optional pool heat is available at an additional cost of $50 per day.
Room
Beds
---
Ensuite Bathroom, Ceiling fan
---
Ceiling fan
---
Guest Bedroom 3
Queen (1)
Ceiling fan
---
Guest Bedroom 4
Queen (1)
Ceiling fan
---
Ceiling fan
---
image
---
Guest Bathroom 2 - Downstairs
image
---
image
Nearby Activities
Spa and wellness
Museums
Hiking
Shopping
Bike path
Kitchen and Dining
Dining Area
Kitchen Basics
Kitchen
Refrigerator
Coffee Maker
Microwave
Dishwasher
Dishes Utensils
Stove
Toaster
Oven
BBQ
Freezer
Blender
Accommodations
House Cleaning Optional ($)
Other Services Chauffeur ($)
Other Services Concierge ($)
Other Services Private Chef ($)
Other Services Massage ($)
Amenities
Essentials
Shampoo
Dryer
Washer
Garage
Hair Dryer
Linens
Iron
Parking space
Private Entrance
Smartlock
Extra Pillows And Blankets
Wifi/Internet
Crib
Pack and Play
Cleanliness
Self Check In / Check Out
Safety Features
Carbon Monoxide Detector
First Aid Kit
Fire Extinguisher
Smoke Detector
Outdoor Lighting
Suitability
Pets Not Allowed
Smoking Not Allowed
Free Parking
Ceiling fans
Air Conditioning
Long Term Stays Allowed
Heating
Bath Tub
Hot Water
Entertainment
Television
Laptop Friendly
Outdoor Amenities
Garden
Private yard
Lanai/Balcony
Outdoor seating
Location/Property Types
Town
Garden View
Popular Town
Walk to Shops / Restaurants
Apr 03, 2023
Home
Home and all the amenities are exactly like what the property description says. Would stay there again in the future.
November 2023
| S | M | T | W | T | F | S |
| --- | --- | --- | --- | --- | --- | --- |
| | | | 01 | 02 | 03 | 04 |
| 05 | 06 | 07 | 08 | 09 | 10 | 11 |
| 12 | 13 | 14 | 15 | 16 | 17 | 18 |
| 19 | 20 | 21 | 22 | 23 | 24 | 25 |
| 26 | 27 | 28 | 29 | 30 | | |
December 2023
| S | M | T | W | T | F | S |
| --- | --- | --- | --- | --- | --- | --- |
| | | | | | 01 | 02 |
| 03 | 04 | 05 | 06 | 07 | 08 | 09 |
| 10 | 11 | 12 | 13 | 14 | 15 | 16 |
| 17 | 18 | 19 | 20 | 21 | 22 | 23 |
| 24 | 25 | 26 | 27 | 28 | 29 | 30 |
| 31 | | | | | | |
January 2024
| S | M | T | W | T | F | S |
| --- | --- | --- | --- | --- | --- | --- |
| | 01 | 02 | 03 | 04 | 05 | 06 |
| 07 | 08 | 09 | 10 | 11 | 12 | 13 |
| 14 | 15 | 16 | 17 | 18 | 19 | 20 |
| 21 | 22 | 23 | 24 | 25 | 26 | 27 |
| 28 | 29 | 30 | 31 | | | |
February 2024
| S | M | T | W | T | F | S |
| --- | --- | --- | --- | --- | --- | --- |
| | | | | 01 | 02 | 03 |
| 04 | 05 | 06 | 07 | 08 | 09 | 10 |
| 11 | 12 | 13 | 14 | 15 | 16 | 17 |
| 18 | 19 | 20 | 21 | 22 | 23 | 24 |
| 25 | 26 | 27 | 28 | 29 | | |
March 2024
| S | M | T | W | T | F | S |
| --- | --- | --- | --- | --- | --- | --- |
| | | | | | 01 | 02 |
| 03 | 04 | 05 | 06 | 07 | 08 | 09 |
| 10 | 11 | 12 | 13 | 14 | 15 | 16 |
| 17 | 18 | 19 | 20 | 21 | 22 | 23 |
| 24 | 25 | 26 | 27 | 28 | 29 | 30 |
| 31 | | | | | | |
April 2024
| S | M | T | W | T | F | S |
| --- | --- | --- | --- | --- | --- | --- |
| | 01 | 02 | 03 | 04 | 05 | 06 |
| 07 | 08 | 09 | 10 | 11 | 12 | 13 |
| 14 | 15 | 16 | 17 | 18 | 19 | 20 |
| 21 | 22 | 23 | 24 | 25 | 26 | 27 |
| 28 | 29 | 30 | | | | |
May 2024
| S | M | T | W | T | F | S |
| --- | --- | --- | --- | --- | --- | --- |
| | | | 01 | 02 | 03 | 04 |
| 05 | 06 | 07 | 08 | 09 | 10 | 11 |
| 12 | 13 | 14 | 15 | 16 | 17 | 18 |
| 19 | 20 | 21 | 22 | 23 | 24 | 25 |
| 26 | 27 | 28 | 29 | 30 | 31 | |
June 2024
| S | M | T | W | T | F | S |
| --- | --- | --- | --- | --- | --- | --- |
| | | | | | | 01 |
| 02 | 03 | 04 | 05 | 06 | 07 | 08 |
| 09 | 10 | 11 | 12 | 13 | 14 | 15 |
| 16 | 17 | 18 | 19 | 20 | 21 | 22 |
| 23 | 24 | 25 | 26 | 27 | 28 | 29 |
| 30 | | | | | | |
July 2024
| S | M | T | W | T | F | S |
| --- | --- | --- | --- | --- | --- | --- |
| | 01 | 02 | 03 | 04 | 05 | 06 |
| 07 | 08 | 09 | 10 | 11 | 12 | 13 |
| 14 | 15 | 16 | 17 | 18 | 19 | 20 |
| 21 | 22 | 23 | 24 | 25 | 26 | 27 |
| 28 | 29 | 30 | 31 | | | |
August 2024
| S | M | T | W | T | F | S |
| --- | --- | --- | --- | --- | --- | --- |
| | | | | 01 | 02 | 03 |
| 04 | 05 | 06 | 07 | 08 | 09 | 10 |
| 11 | 12 | 13 | 14 | 15 | 16 | 17 |
| 18 | 19 | 20 | 21 | 22 | 23 | 24 |
| 25 | 26 | 27 | 28 | 29 | 30 | 31 |
September 2024
| S | M | T | W | T | F | S |
| --- | --- | --- | --- | --- | --- | --- |
| 01 | 02 | 03 | 04 | 05 | 06 | 07 |
| 08 | 09 | 10 | 11 | 12 | 13 | 14 |
| 15 | 16 | 17 | 18 | 19 | 20 | 21 |
| 22 | 23 | 24 | 25 | 26 | 27 | 28 |
| 29 | 30 | | | | | |
October 2024
| S | M | T | W | T | F | S |
| --- | --- | --- | --- | --- | --- | --- |
| | | 01 | 02 | 03 | 04 | 05 |
| 06 | 07 | 08 | 09 | 10 | 11 | 12 |
| 13 | 14 | 15 | 16 | 17 | 18 | 19 |
| 20 | 21 | 22 | 23 | 24 | 25 | 26 |
| 27 | 28 | 29 | 30 | 31 | | |
Available
Unavailable
Check-In Only
Check-Out Only
Please select dates
+ tax/fees