Duck Crossing
Clackamas, Oregon 3 Bedrooms Vacation Rental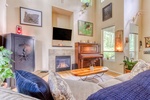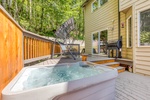 Show All Photos
Unit Photos
Escape the urban hustle and bustle for a cozy Clackamas holiday at Duck Crossing

Gather for quality time with your loved ones in the spacious living area

Enjoy time outdoors on the patio with a private hot tub, charcoal grill, outdoor seating, and fire pit

You'll also find a 2-person sauna, perfect after a workout

Sit out by the small pond to enjoy nature at its best

Gather around the fire pit for smore's time!

Find a book in the library and take some quiet reading time on the sofa

The living room is quite charming and includes a piano!

The comfortable living room furnished with an oversized couch, a flat-screen TV, a gas fireplace, an entire bookshelf, a piano, a large safe, and plenty of fresh plants is a great space to unwind

It opens up to the dining area and kitchen just behind the couch

The sliding glass doors off the living room lead to the outdoor patio

There's a large selection of books for you to choose from

Just behind the living area, you'll find the dining table

Easily navigate to the dining table from the kitchen

Memories are made when gathered around the table

Enjoy a delicious meal here with loved ones

View from the dining area to the workspace

You can easily keep the chef company from the dining table

Adjacent to the kitchen is the dining table that seats 4-6 guests

Enjoy the most important meal of the day or your morning cup of coffee here

The breakfast bar has seating for 2

Enjoy the beautiful sunlight peering through the window

This workspace is perfect for those who work remotely

The kitchen overlooks the dining and living areas

You'll have a view of the outdoor patio to keep an eye on the kids

Equipped with a dishwasher for your convenience

The large, double-basin sink has views to the patio

The kitchen is truly the heart of the home

The spacious kitchen is outfitted with several stainless steel appliances and a large countertop with bar stools for easy meal prep and entertaining while cooking

Fire up a meal or prepare nighttime tea

The primary bedroom is located on the upper floor and it features a king bed

This bedroom has an ensuite full bath

Plush, king-size mattress for the best sleep ever

Easily access the additional bedrooms and your ensuite bath

The primary ensuite bath has a walk-in shower

The ensuite boasts dual sinks and a large vanity

The ensuite bath is bright and lively

Plenty of space for you to get ready for your adventures

Walk-in shower with sliding doors

The Guest bedroom is furnished with a Queen bed, flatscreen television, and views over the garden

Enjoy a movie or catch up on your favorite TV show

Equipped with a queen-size mattress

There's also a 55" TV

Enjoy the beautiful blue skies of Oregon through your window

The colorful queen bedroom

This bedroom sleeps 2 guests

The Bunk bedroom comes with 2 Twin bunk beds (sleeps four guests total) and a comfy room for kids or additional guest

This bedroom is perfect for all of the kids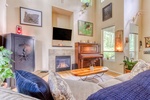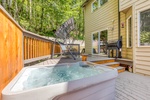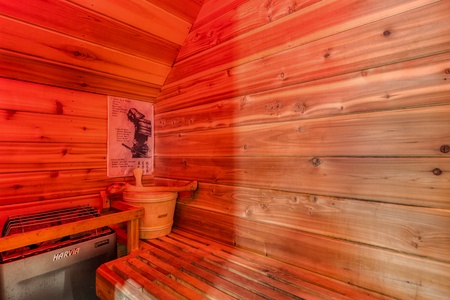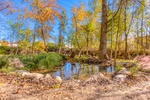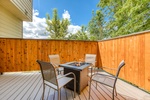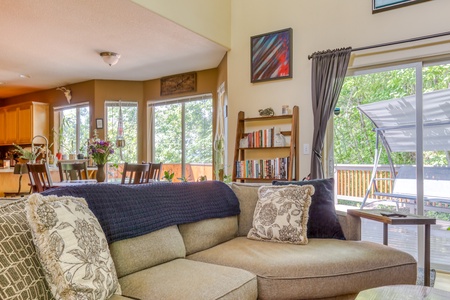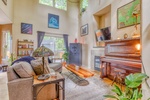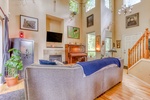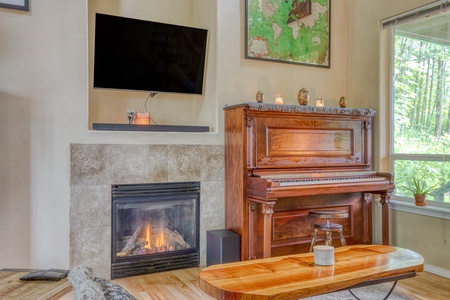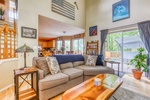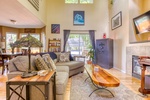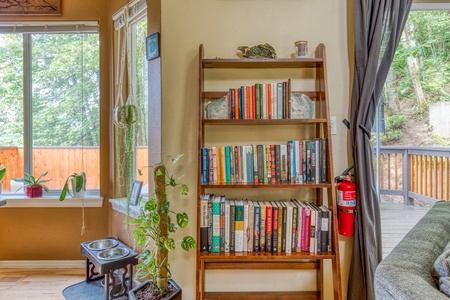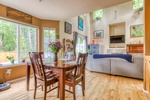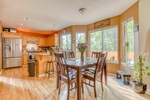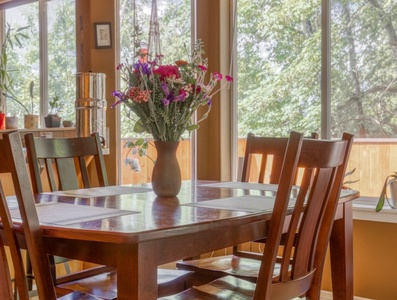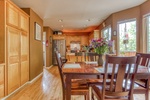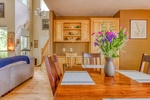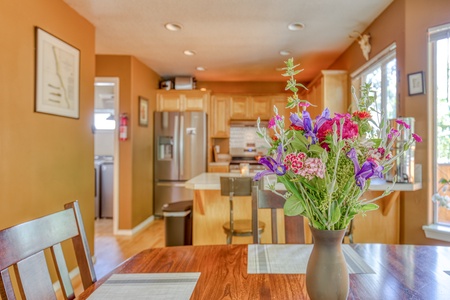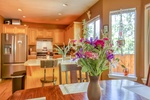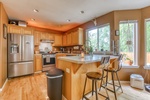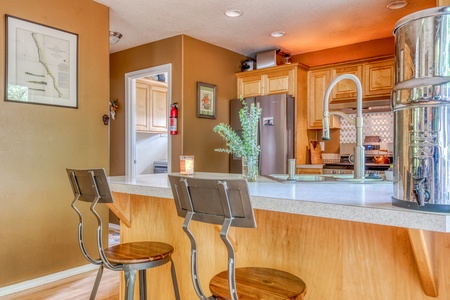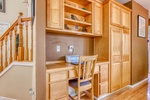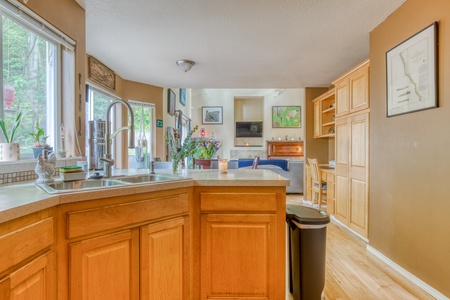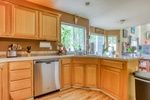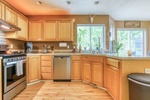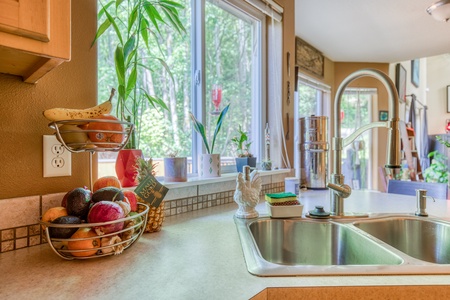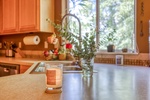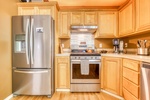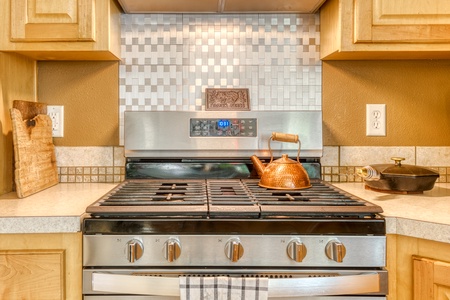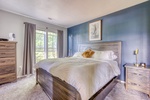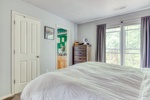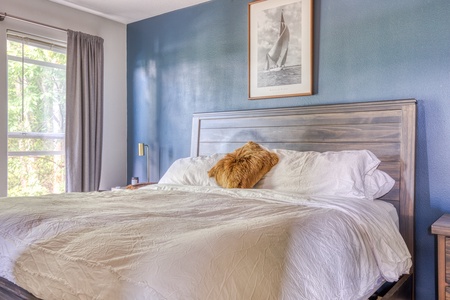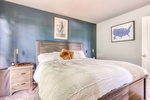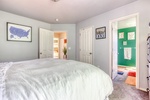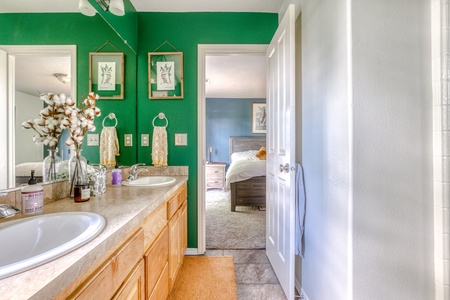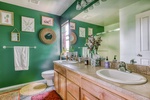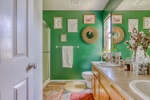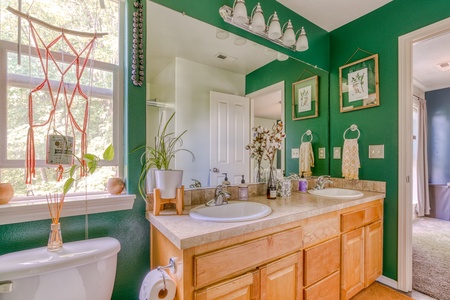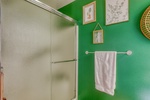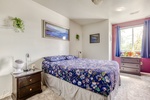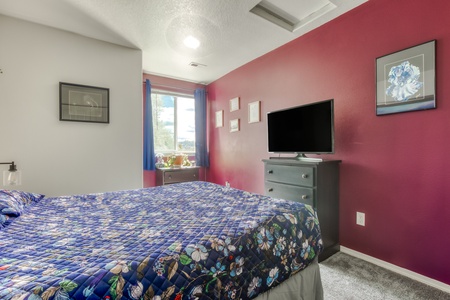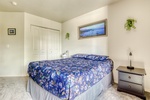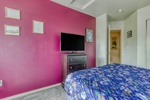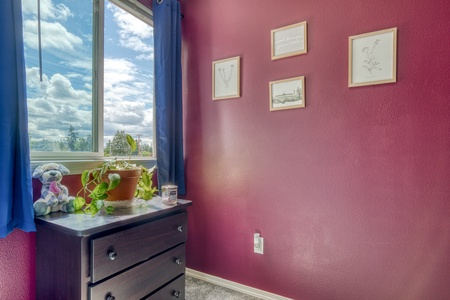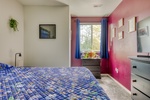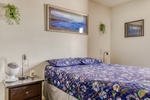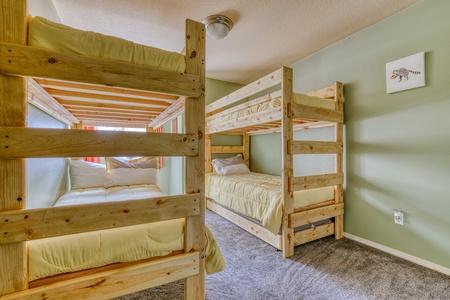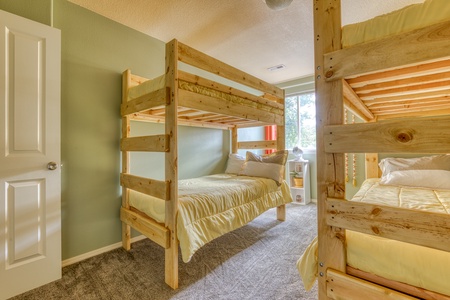 Rooms
rooms
Bedroom # 1

Primary Bedroom

1 King

Bedroom # 2

Queen Bedroom

1 Queen

Bedroom # 3

Bunk Room

2 Bunk Bed
---
---
Reviews
Reviews
Jun 12, 2023

We really enjoyed the stay and looking forward to coming back soon
---
Description
Escape the urban hustle and bustle for a cozy Clackamas holiday at Duck Crossing by Gather, an elegant and abundant 3 Bedroom 2.5 Bathroom home that sleeps up to 8 guests in the tranquility of the lush Oregon forest. With 1.5 acres of land and a long driveway leading up to the home, you can enjoy the peaceful and private nature of the great Pacific Northwest while indulging in the many amenities offered at Duck Crossing, with charm and character in each room.

The spacious kitchen is outfitted with several stainless steel appliances and a large countertop with bar stools for easy meal prep and entertaining while cooking. It overlooks the outdoor patio and welcomes abundant natural light for an open and airy atmosphere. Adjacent to the kitchen is the dining table that seats 4-6 guests, as well as the workspace area with a large desk and printer available for computers or paperwork. The comfortable living room with an oversized couch, a flat-screen TV, a gas fireplace, an entire bookshelf, a piano, a large safe, and plenty of fresh plants is a great space to unwind. It is also equipped with high ceilings for ample spaciousness — it's the perfect room for the entire family to come together for a peaceful morning of relaxation or an engaging evening of entertainment.

Upstairs, the Primary bedroom has a plush King bed, views over the garden, and a private ensuite bathroom with a walk-in shower and large dual vanity. The Guest bedroom has a Queen bed, flatscreen television, and views over the garden. The Bunk bedroom has 2 Twin bunk beds (sleeps four guests total) and a comfy room for kids or additional guests. The home is equipped with central air conditioning for your comfort.

In the backyard is the large and private wooden back patio with a Traeger barbecue station, outdoor fireplace with seating, covered porch swing, and a hot tub that fits 2. The home is located in an industrial area but allows you to bask in the beauty of the green forest that lines one side of the house while enjoying a lively night of fun with friends and family. The garage is outfitted as a complete fitness room for a powerful workout session, with a total weight rack, water rowing machine, medicine balls, free weights, and a punching bag. After a successful workout, sweat it out in the wet sauna fit for two people. We ask that children under 14 not be allowed in the garage area.

Spend your days strolling the ample treeline, sitting by the pond out front that attracts wild ducks, or visiting nearby attractions such as Mount Albert Nature Park, downtown Clackamas, or downtown Portland. Duck Crossing Is located 20 minutes from downtown Portland and to Portland International Airport. This home is full of charm and will make its guests feel right at home for a vacation full of worthwhile memories that will last a lifetime.

Just so you know, landscaping services are scheduled weekly on Wednesdays. Their arrival time may vary, and they will remain on-site for about an hour.

Pets are welcome with advance notice, agreement to the pet rules, and payment of a pet fee. Just to let you know, a maximum of 2 dogs are allowed per reservation with prior approval. Reach out to management for specific details regarding pets.

So that you know, this property has exterior-facing security cameras onsite. Cameras point exclusively to the driveway and cannot see the inside of the home and hot tub.

You'll need to use the staircase to enter this home. Additionally, all bedrooms are located on the second floor of the property.
Room
Beds
---
Ensuite Bathroom, Garden View, Central A/C
---
Garden View, Central A/C
---
2 Twin over Twin Bunk Beds, Central A/C
---
image
---
image
---
image
Nearby Activities
Spa and wellness
Zoo
Museums
Snowboarding/Skiing
Hiking
Shopping
Horseback riding
Golfing
Cycling
Tennis
Ice skating rink
Bike path
Fishing
Kitchen and Dining
Dining Area
Kitchen Basics
Kitchen
Refrigerator
Coffee Maker
Microwave
Dishwasher
Dishes Utensils
Stove
Toaster
Oven
BBQ
Freezer
Kettle
Ice Machine
Toaster Oven
Disposal
Accommodations
House Cleaning Optional ($)
Other Services Chauffeur ($)
Other Services Concierge ($)
Other Services Private Chef ($)
Other Services Massage ($)
Amenities
Essentials
Shampoo
Dryer
Washer
Garage
Fitness Room
Hair Dryer
Linens
Iron
Parking space
Safe
Private Entrance
Smartlock
Keypad
Extra Pillows And Blankets
Wifi/Internet
Pack and Play
Fire pit
Emergency
Emergency Exit Route
Emergency Medical Contact
Emergency Police Contact
Emergency Fire Contact
Cleanliness
24Hr Check-In
Self Check In / Check Out
Safety Features
Carbon Monoxide Detector
First Aid Kit
Fire Extinguisher
Smoke Detector
Deadbolt Lock
Outdoor Lighting
Suitability
Children Welcome
Pets Considered
Smoking Not Allowed
Minimum Age Limit
Free Parking
Fireplace
Air Conditioning
Long Term Stays Allowed
Snow Removal Provided
Heating
Pet Friendly
Hot Water
Entertainment
Television
Toys
Laptop Friendly
Smart TV
Printer/Scanner/Fax
Speaker System
Outdoor Amenities
Garden
Private yard
Lanai/Balcony
Outdoor seating
Location/Property Types
Mountain
Town
Garden View
Popular Town
Jun 12, 2023
We really enjoyed the stay and looking forward to coming back soon
November 2023
| S | M | T | W | T | F | S |
| --- | --- | --- | --- | --- | --- | --- |
| | | | 01 | 02 | 03 | 04 |
| 05 | 06 | 07 | 08 | 09 | 10 | 11 |
| 12 | 13 | 14 | 15 | 16 | 17 | 18 |
| 19 | 20 | 21 | 22 | 23 | 24 | 25 |
| 26 | 27 | 28 | 29 | 30 | | |
December 2023
S
M
T
W
T
F
S
01

$149

02

$149

03

$149

04

$149

05

$149

06

$149

07

$149

08

$149

09

$149

10

$149

11

$149

12

$149

13

$149

14

$149

15

$189

16

$189

17

$189

18

$189

19

$189

20

$189

21

$189

22

$189

23
24
25
26
27
28
29
30
31
January 2024
| S | M | T | W | T | F | S |
| --- | --- | --- | --- | --- | --- | --- |
| | 01 | 02 | 03 | 04 | 05 | 06 |
| 07 | 08 | 09 | 10 | 11 | 12 | 13 |
| 14 | 15 | 16 | 17 | 18 | 19 | 20 |
| 21 | 22 | 23 | 24 | 25 | 26 | 27 |
| 28 | 29 | 30 | 31 | | | |
February 2024
| S | M | T | W | T | F | S |
| --- | --- | --- | --- | --- | --- | --- |
| | | | | 01 | 02 | 03 |
| 04 | 05 | 06 | 07 | 08 | 09 | 10 |
| 11 | 12 | 13 | 14 | 15 | 16 | 17 |
| 18 | 19 | 20 | 21 | 22 | 23 | 24 |
| 25 | 26 | 27 | 28 | 29 | | |
March 2024
| S | M | T | W | T | F | S |
| --- | --- | --- | --- | --- | --- | --- |
| | | | | | 01 | 02 |
| 03 | 04 | 05 | 06 | 07 | 08 | 09 |
| 10 | 11 | 12 | 13 | 14 | 15 | 16 |
| 17 | 18 | 19 | 20 | 21 | 22 | 23 |
| 24 | 25 | 26 | 27 | 28 | 29 | 30 |
| 31 | | | | | | |
April 2024
| S | M | T | W | T | F | S |
| --- | --- | --- | --- | --- | --- | --- |
| | 01 | 02 | 03 | 04 | 05 | 06 |
| 07 | 08 | 09 | 10 | 11 | 12 | 13 |
| 14 | 15 | 16 | 17 | 18 | 19 | 20 |
| 21 | 22 | 23 | 24 | 25 | 26 | 27 |
| 28 | 29 | 30 | | | | |
May 2024
| S | M | T | W | T | F | S |
| --- | --- | --- | --- | --- | --- | --- |
| | | | 01 | 02 | 03 | 04 |
| 05 | 06 | 07 | 08 | 09 | 10 | 11 |
| 12 | 13 | 14 | 15 | 16 | 17 | 18 |
| 19 | 20 | 21 | 22 | 23 | 24 | 25 |
| 26 | 27 | 28 | 29 | 30 | 31 | |
June 2024
| S | M | T | W | T | F | S |
| --- | --- | --- | --- | --- | --- | --- |
| | | | | | | 01 |
| 02 | 03 | 04 | 05 | 06 | 07 | 08 |
| 09 | 10 | 11 | 12 | 13 | 14 | 15 |
| 16 | 17 | 18 | 19 | 20 | 21 | 22 |
| 23 | 24 | 25 | 26 | 27 | 28 | 29 |
| 30 | | | | | | |
July 2024
| S | M | T | W | T | F | S |
| --- | --- | --- | --- | --- | --- | --- |
| | 01 | 02 | 03 | 04 | 05 | 06 |
| 07 | 08 | 09 | 10 | 11 | 12 | 13 |
| 14 | 15 | 16 | 17 | 18 | 19 | 20 |
| 21 | 22 | 23 | 24 | 25 | 26 | 27 |
| 28 | 29 | 30 | 31 | | | |
August 2024
| S | M | T | W | T | F | S |
| --- | --- | --- | --- | --- | --- | --- |
| | | | | 01 | 02 | 03 |
| 04 | 05 | 06 | 07 | 08 | 09 | 10 |
| 11 | 12 | 13 | 14 | 15 | 16 | 17 |
| 18 | 19 | 20 | 21 | 22 | 23 | 24 |
| 25 | 26 | 27 | 28 | 29 | 30 | 31 |
September 2024
| S | M | T | W | T | F | S |
| --- | --- | --- | --- | --- | --- | --- |
| 01 | 02 | 03 | 04 | 05 | 06 | 07 |
| 08 | 09 | 10 | 11 | 12 | 13 | 14 |
| 15 | 16 | 17 | 18 | 19 | 20 | 21 |
| 22 | 23 | 24 | 25 | 26 | 27 | 28 |
| 29 | 30 | | | | | |
October 2024
| S | M | T | W | T | F | S |
| --- | --- | --- | --- | --- | --- | --- |
| | | 01 | 02 | 03 | 04 | 05 |
| 06 | 07 | 08 | 09 | 10 | 11 | 12 |
| 13 | 14 | 15 | 16 | 17 | 18 | 19 |
| 20 | 21 | 22 | 23 | 24 | 25 | 26 |
| 27 | 28 | 29 | 30 | 31 | | |
Available
Unavailable
Check-In Only
Check-Out Only
Please select dates
+ tax/fees